Shopping Cart
Your Cart is Empty
There was an error with PayPal
Click here to try again
Thank you for your business!
You should be receiving an order confirmation from Paypal shortly.
Exit Shopping Cart
Improving the American Dream

We love referral business and this one is one of them. As you scroll down you'll see where we took this 20x12 deck that was too narrow for the clients to ever really enjoy the outdoors. 
The rendering is what you''ll see at the bottom. :) 
                        Nothing great...
After demo-ing the back deck we started with a new foundation.
The foundation was about 17x16 SF...
The initial framing to get things going....
Let's see...what do we have here. Our lead, Armando, game planning. 
This job had a lot of detail so we pulled out the rendering to help us all make this happen. We purchase our materials from PMC Building Supplies
It's now starting to take shape. 
Notice the shed roof? Blends right in with the house. 
Here's the beautiful TimberTech Composite decking - we're installling the Tigerwood decking from their Legacy Collection....nice
One of our norms, tongue & groove ceilings with rough sawn cedar beams... we seem to do this a lot. 
More beautiful TimeberTech Compaosite Decking - Tigerwood is the main decking, Mocha is the border decking....
Here you can see them both better. 25 year warranty - no staining, cracking....low low maintenance
Installed the ceiling fan and about 4 outlets...
Here she sits...3-season 2nd level deck with a nook for the bbq grill.
A finished look....
Sweet!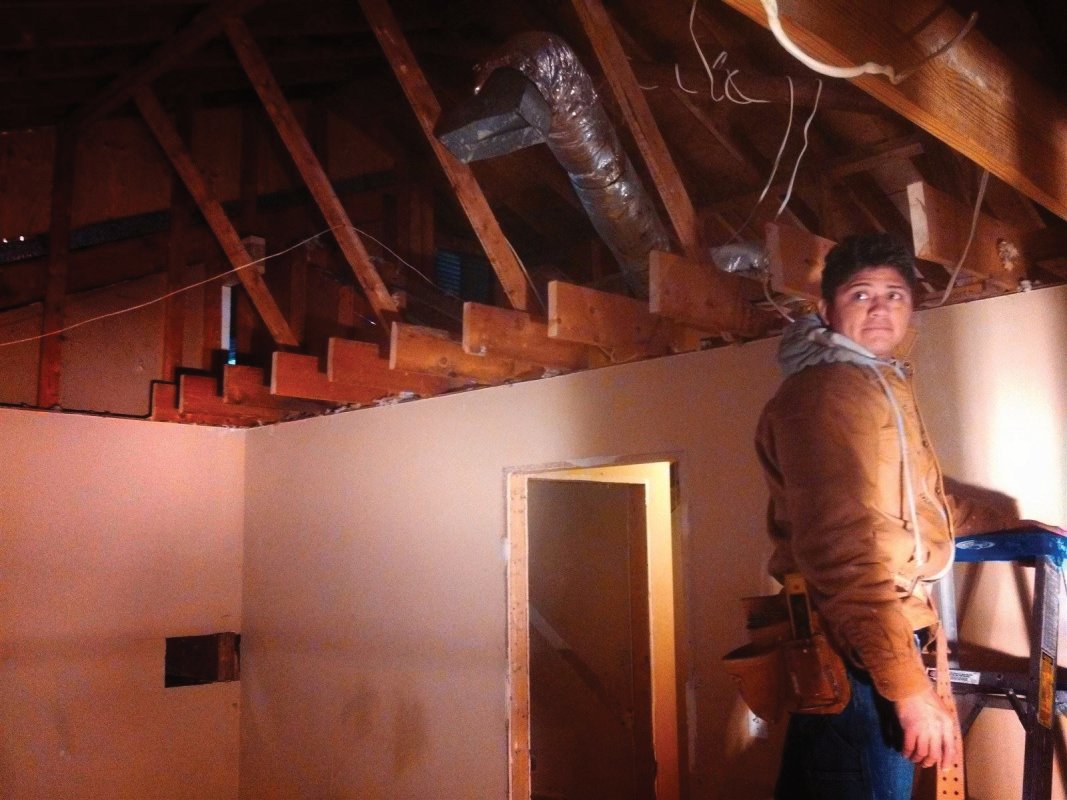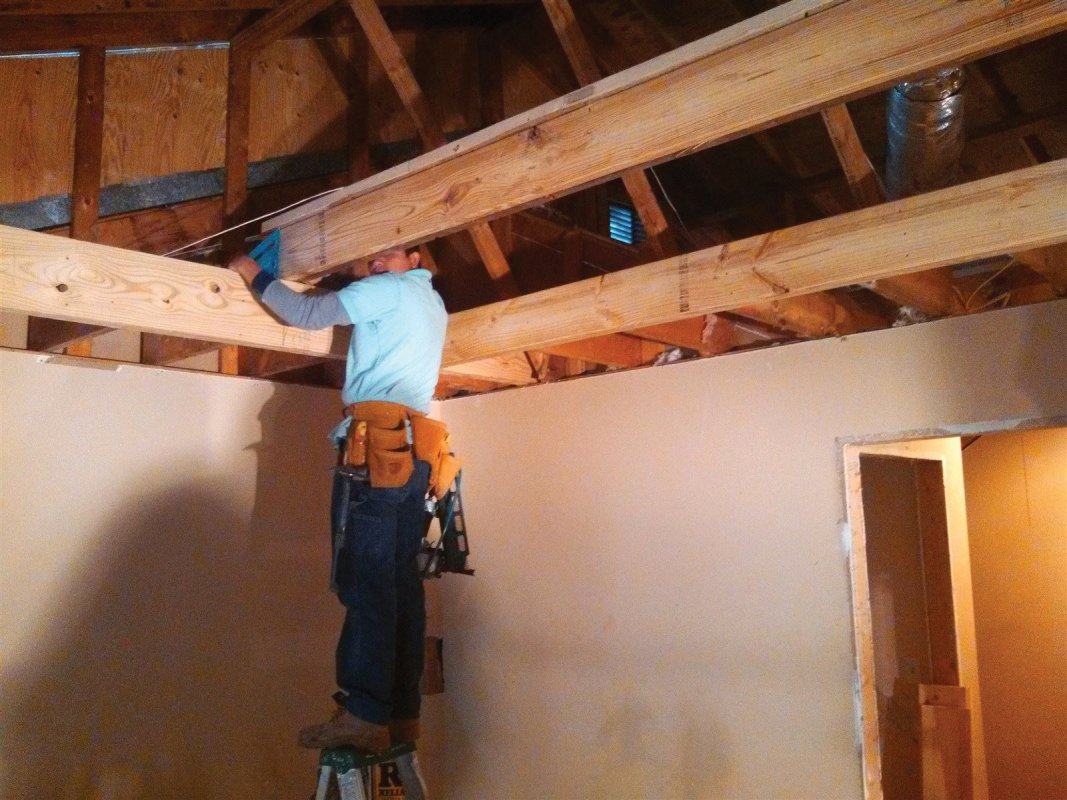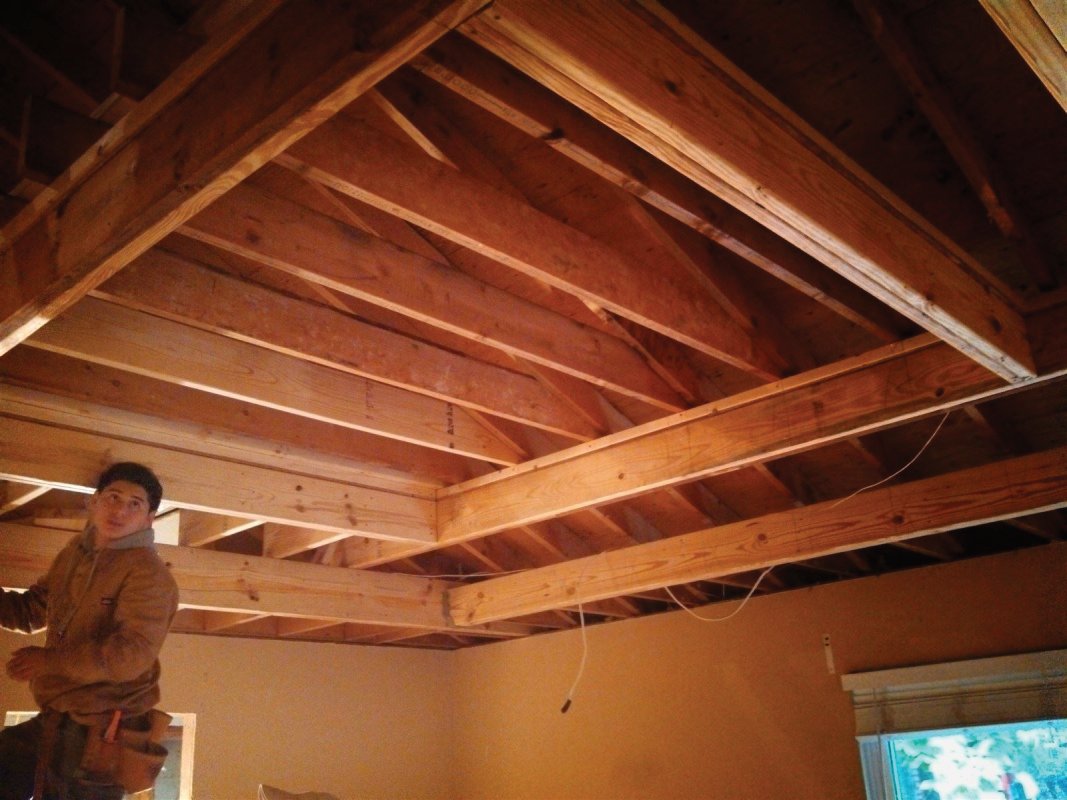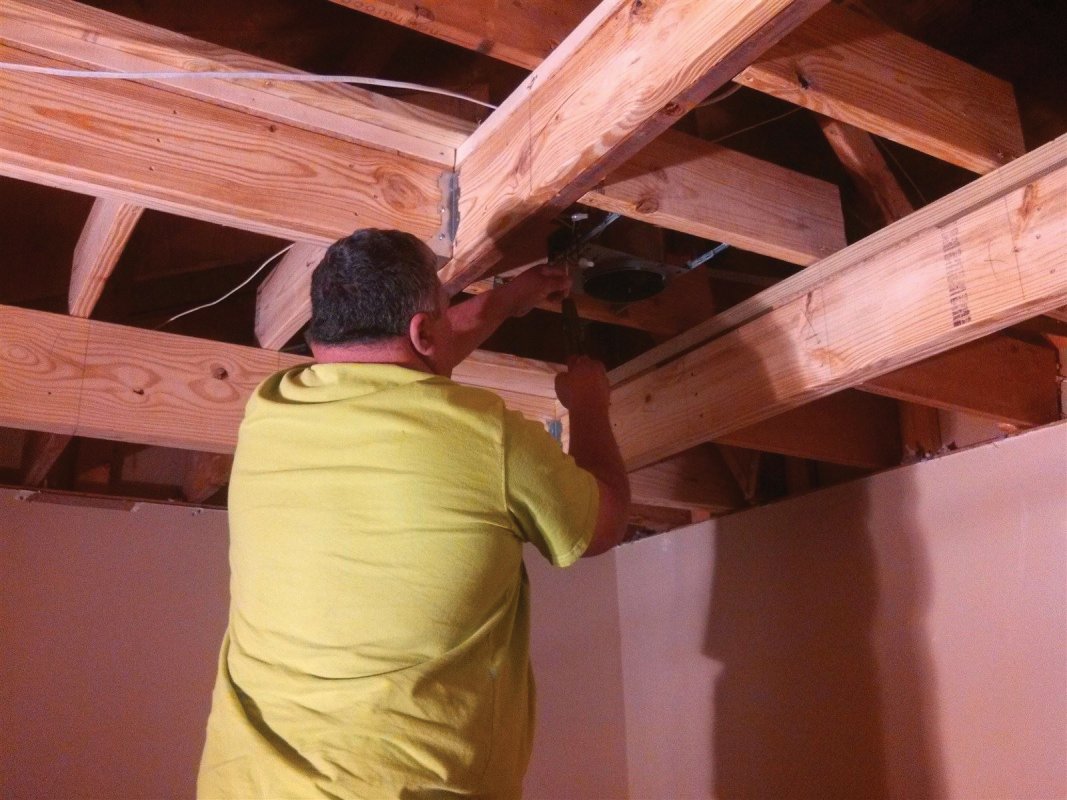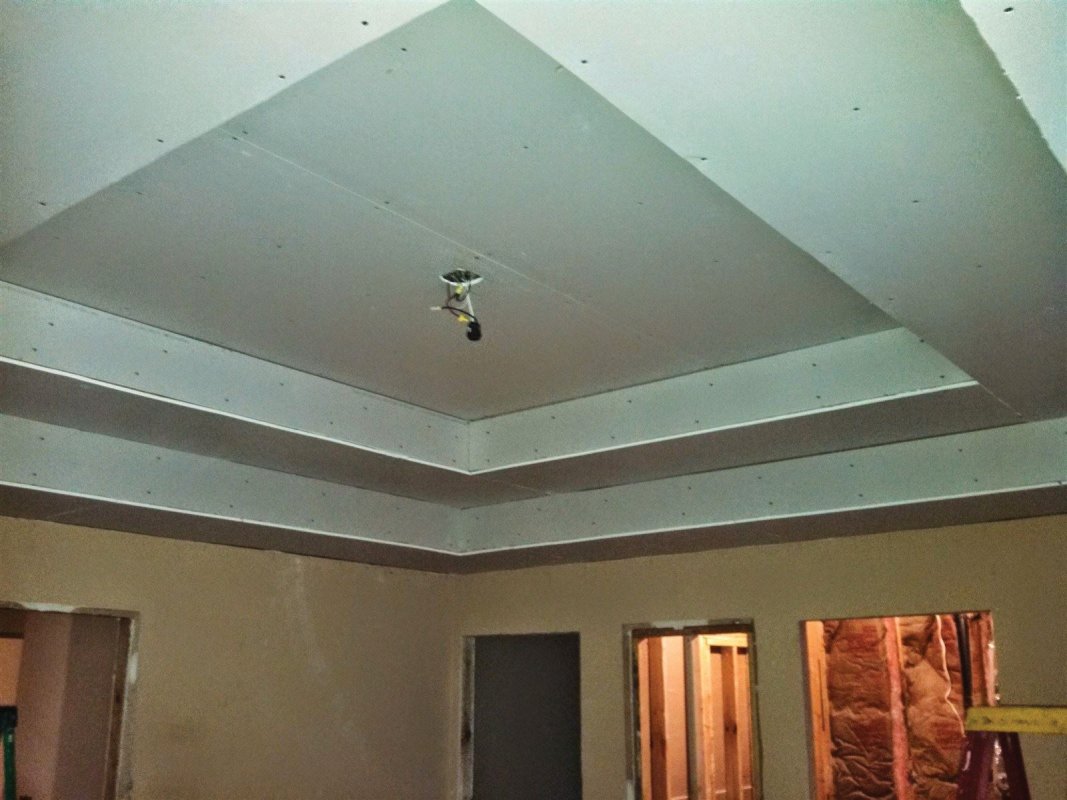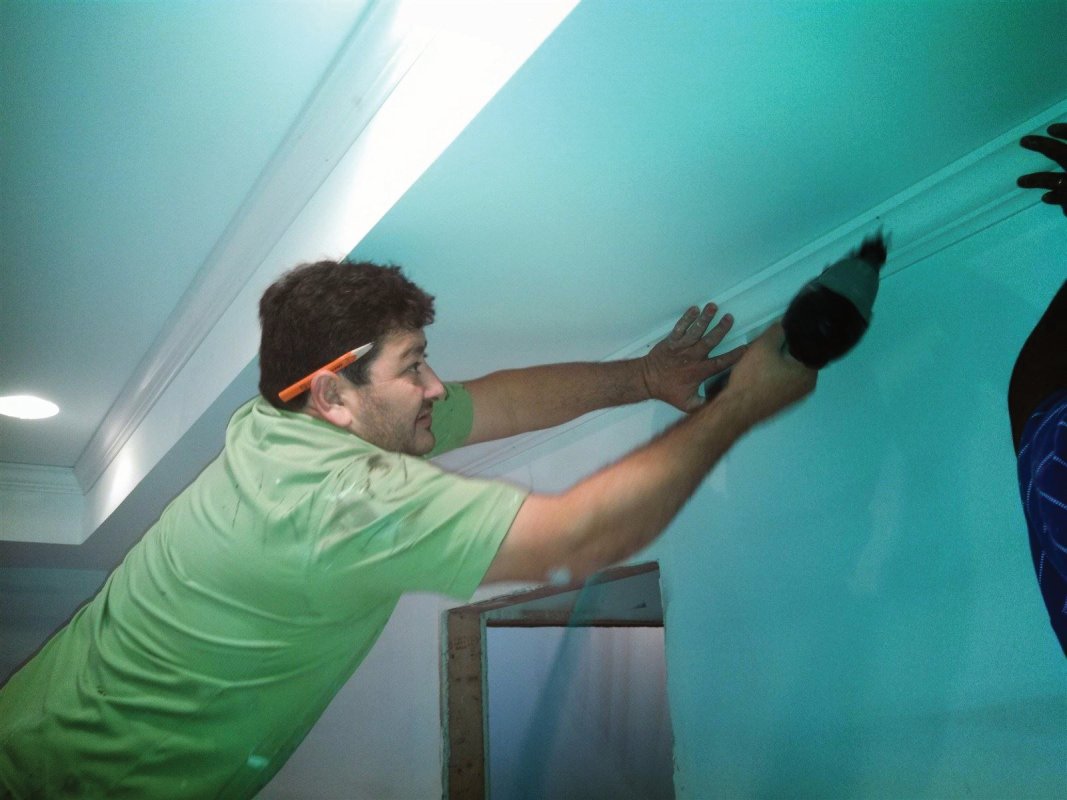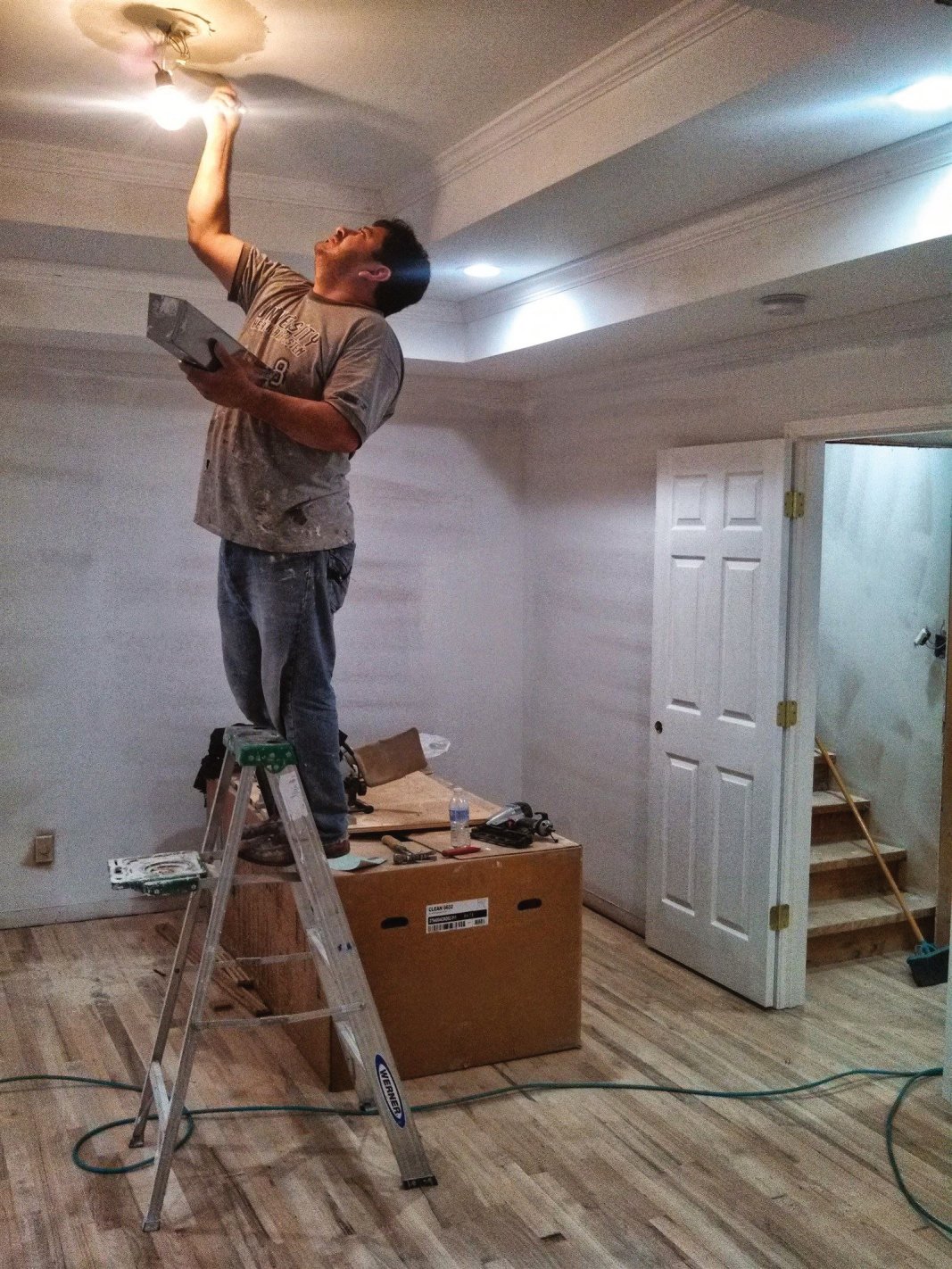 This is our clients master bedroom which before we cut the ceiling joists was only 8' high. The clients are tall, and 8' ceilings made it not practical to install a ceiling fan. 
So what did they request? That's right, trey ceilings. Off we went cutting the joists, framed the new ceilings, installed wiring for recessed lights, drywall, & crown moulding - just waiting on the painters. :)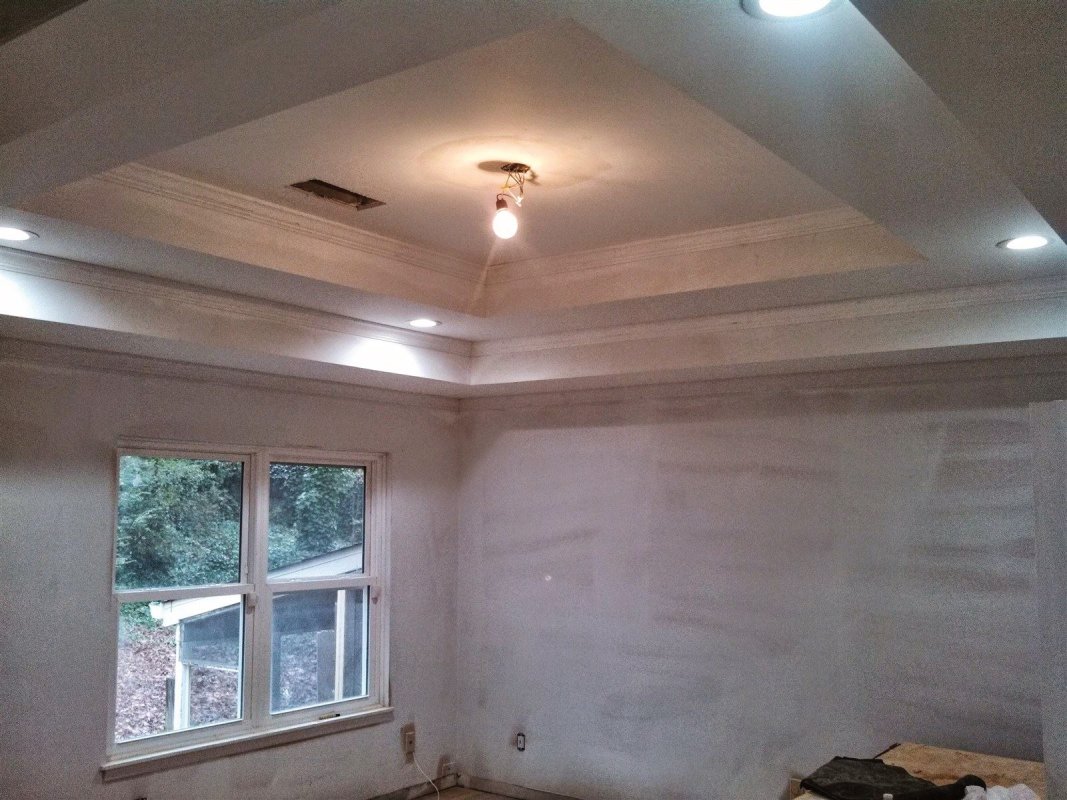 Here we are in Roswell updating a handrail system, plus a few other things. We replaced the trim wood on the chimney, did some facia/soffit repairs, replaced a broken 4x4 fence post, & added some Simpson Strong-Tie galvanized joist brackets & 1/2 lag screws for the deck. AND we did some interior electrical work as well as lowering the exterior entrance light to accommodate a nicer one. 
What exactly is that we do? We provide a little help for a little while for a lot of things. From home improvements & home repairs, to moving services, handyman help, exterior house painting and more. 
Love to be involved in bathroom redo's. On this particular situation we were not the original contractor; we got involved after he left. 
We jumped in essentially into a gutted bathroom and finished installing the tub, insulation, backer board, wall tile, some floor tile, toilet, and 4" vanity.
We also finished the wood floor on the foyer bath, along with its vanity and toilet. Replaced some acoustic tiles in the basement and honestly a few other things like ceilings fans etc...
Please call us if you need any help. 
What exactly is that we do? We provide a little help for a little while for a lot of things. From home improvements & home repairs, to moving services, handyman help, exterior house painting and more.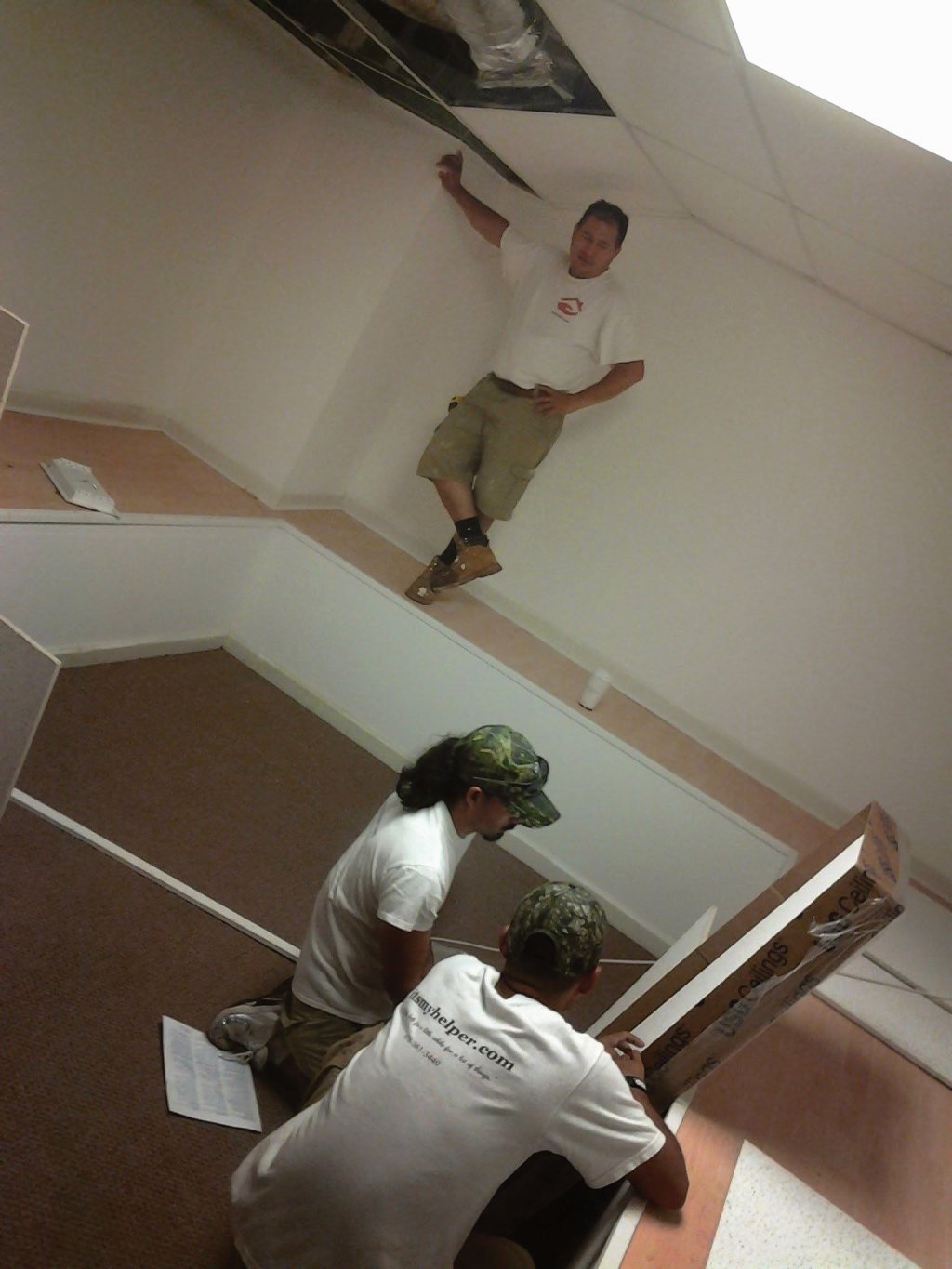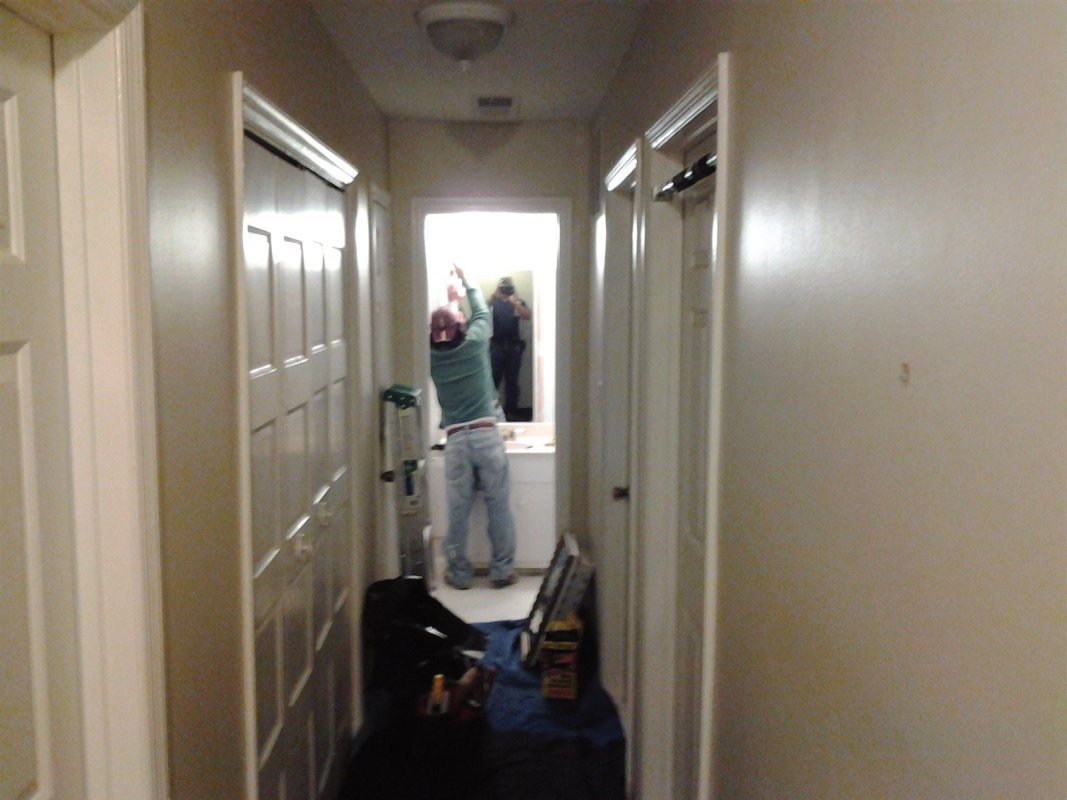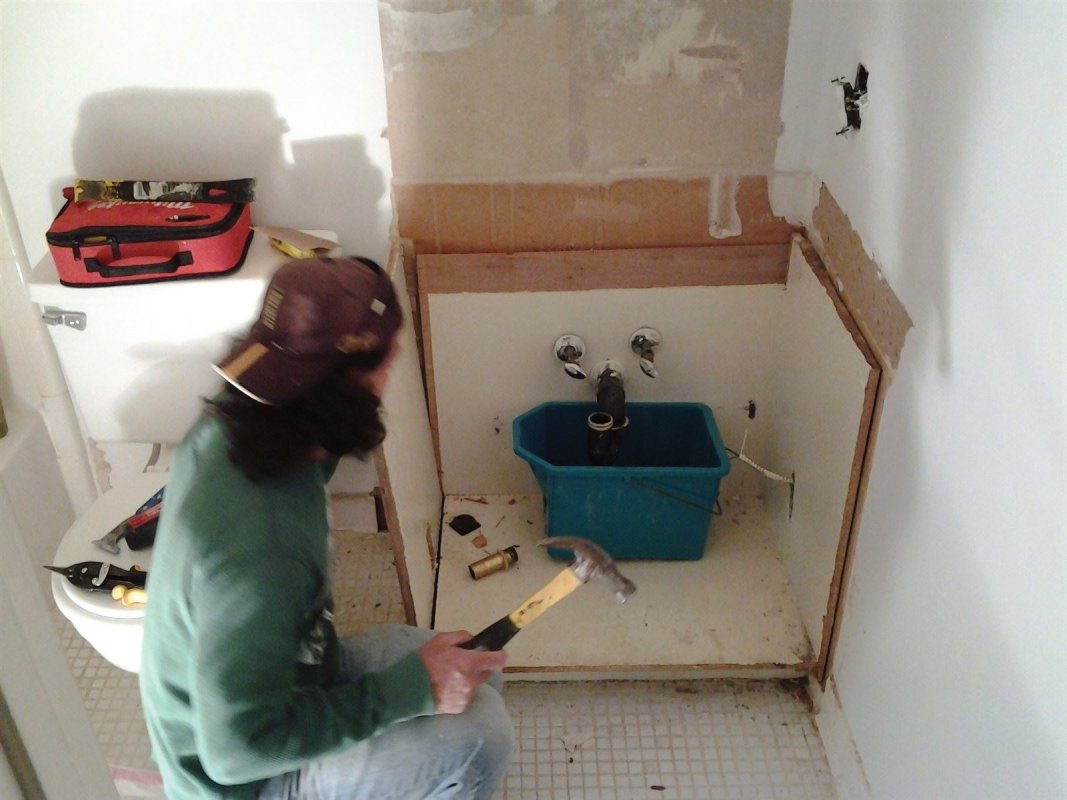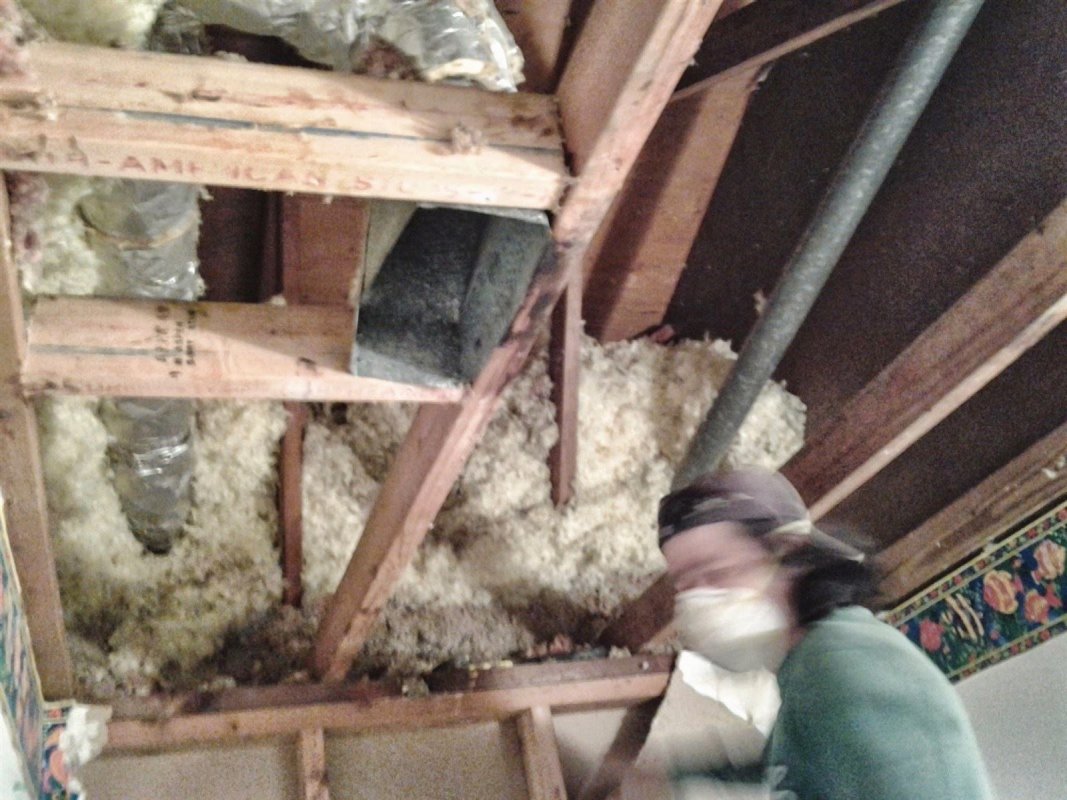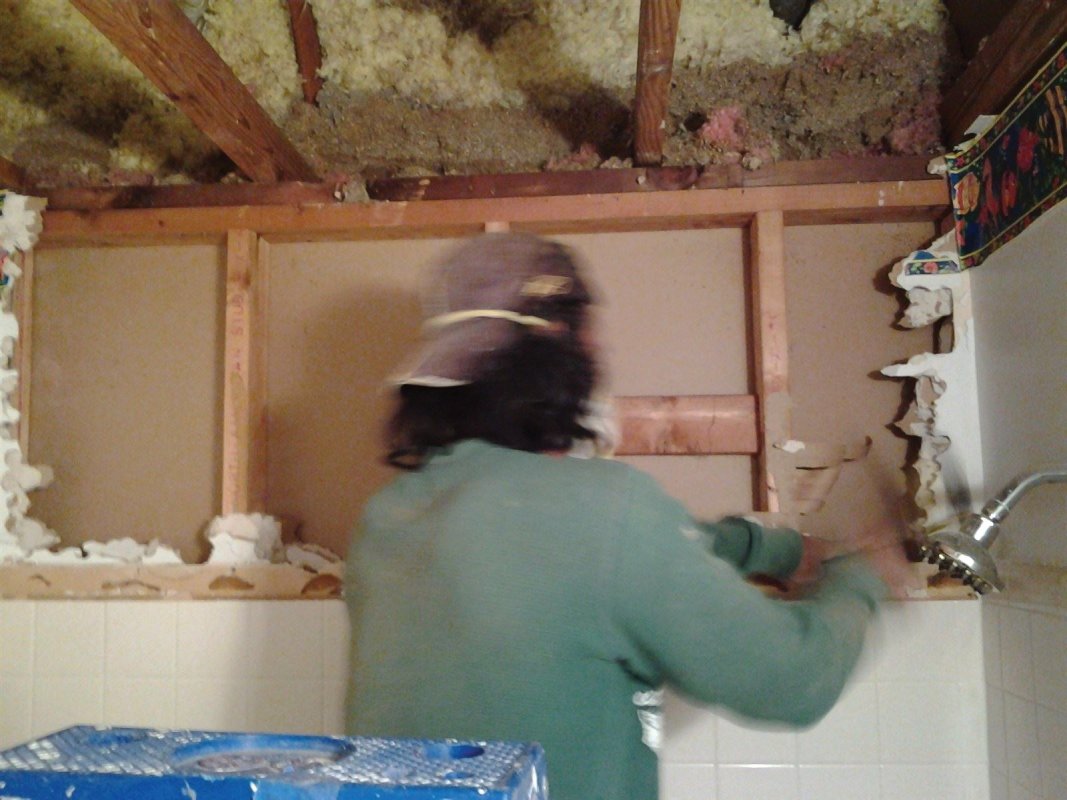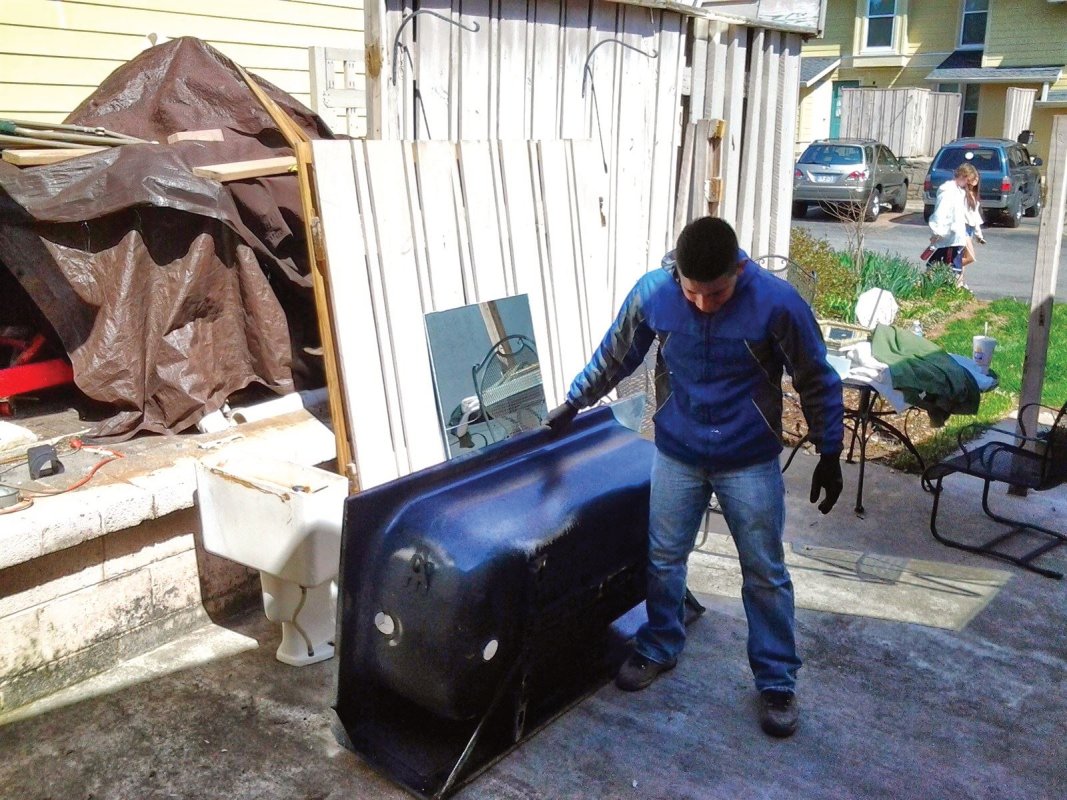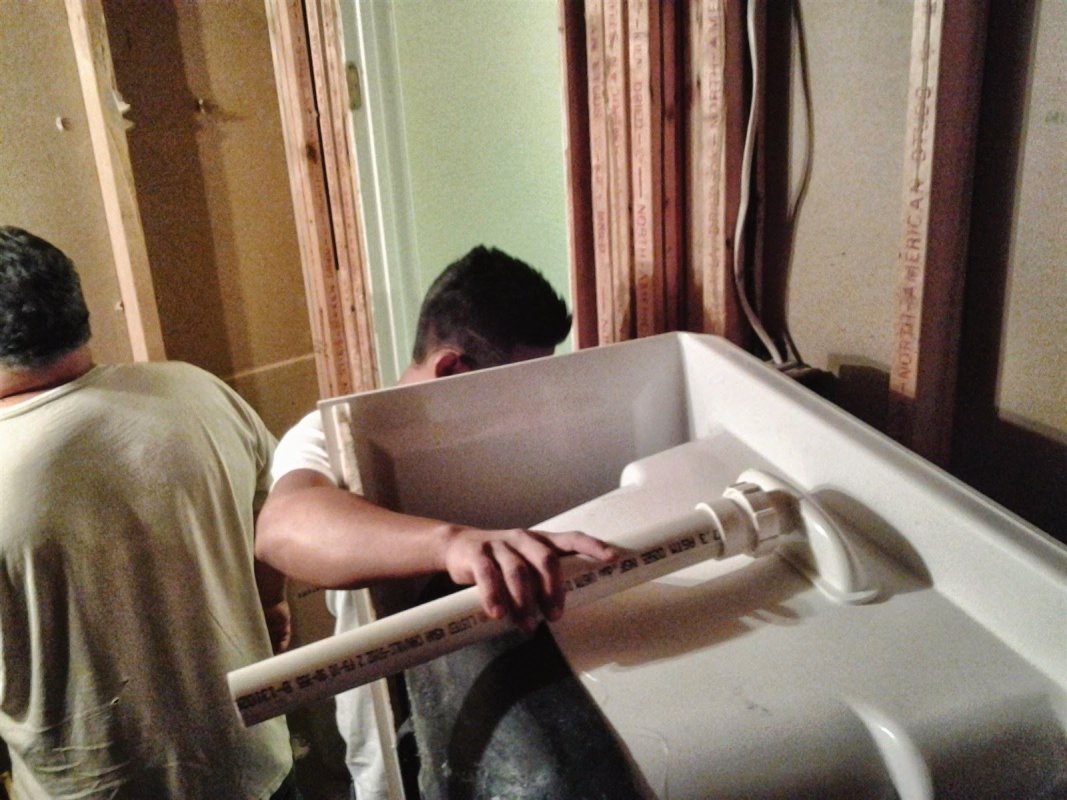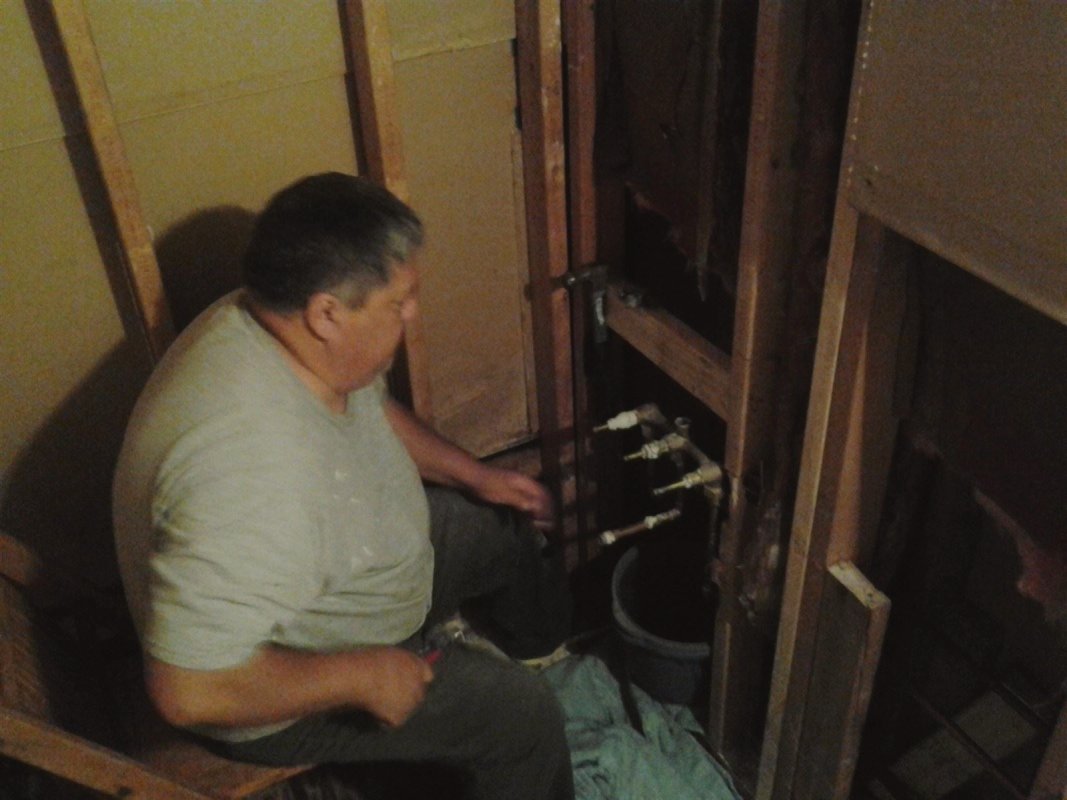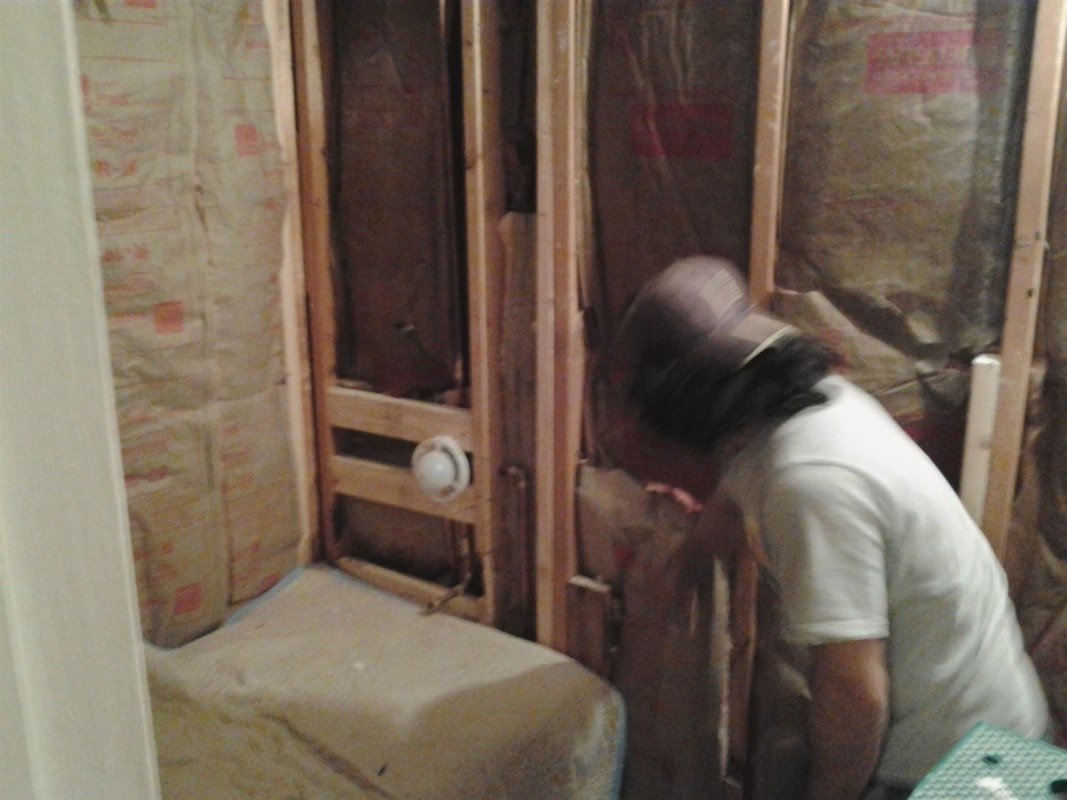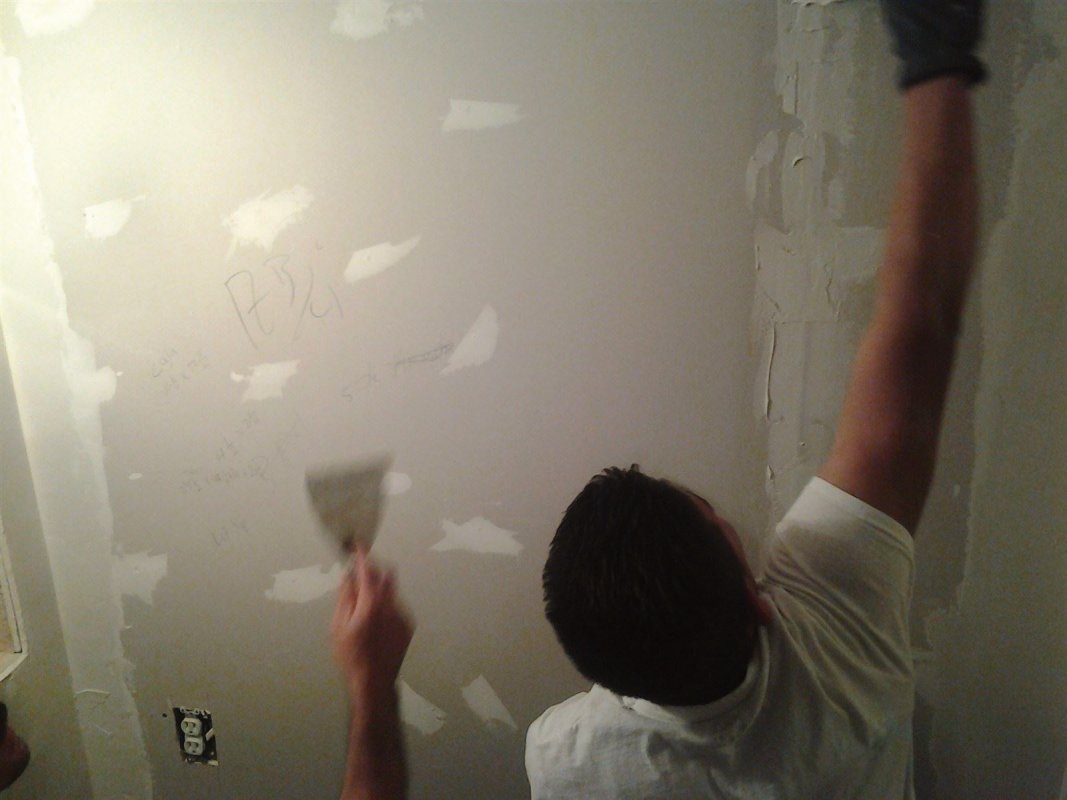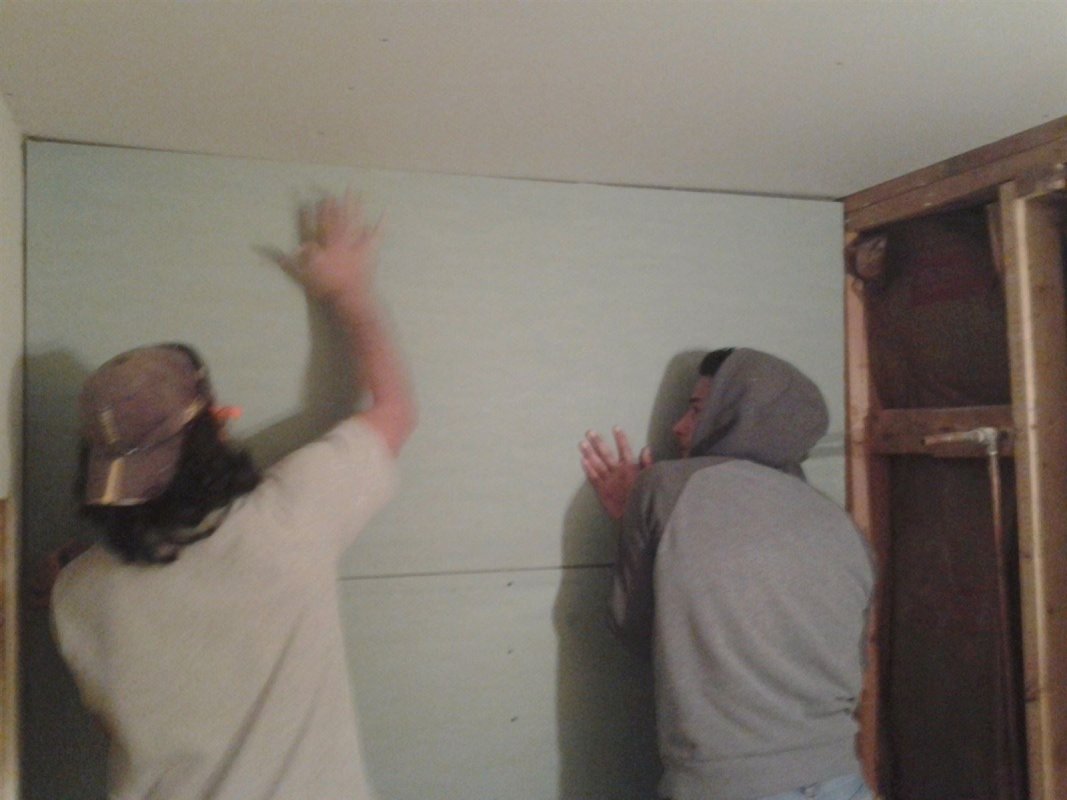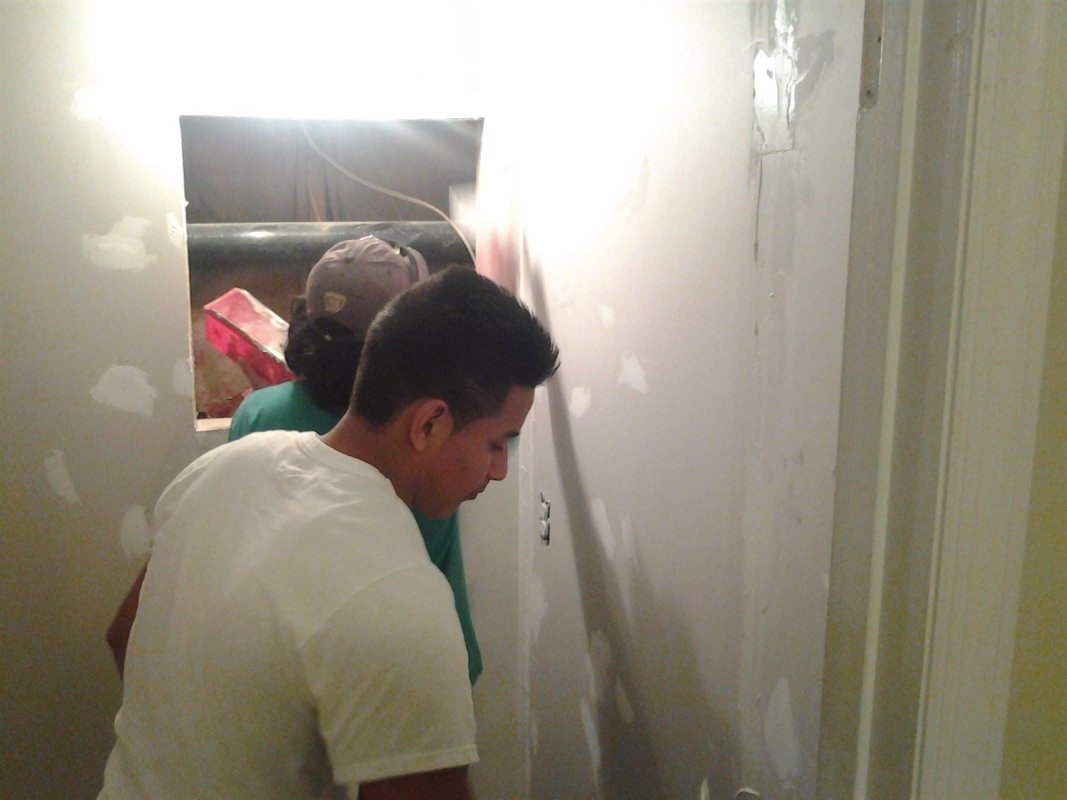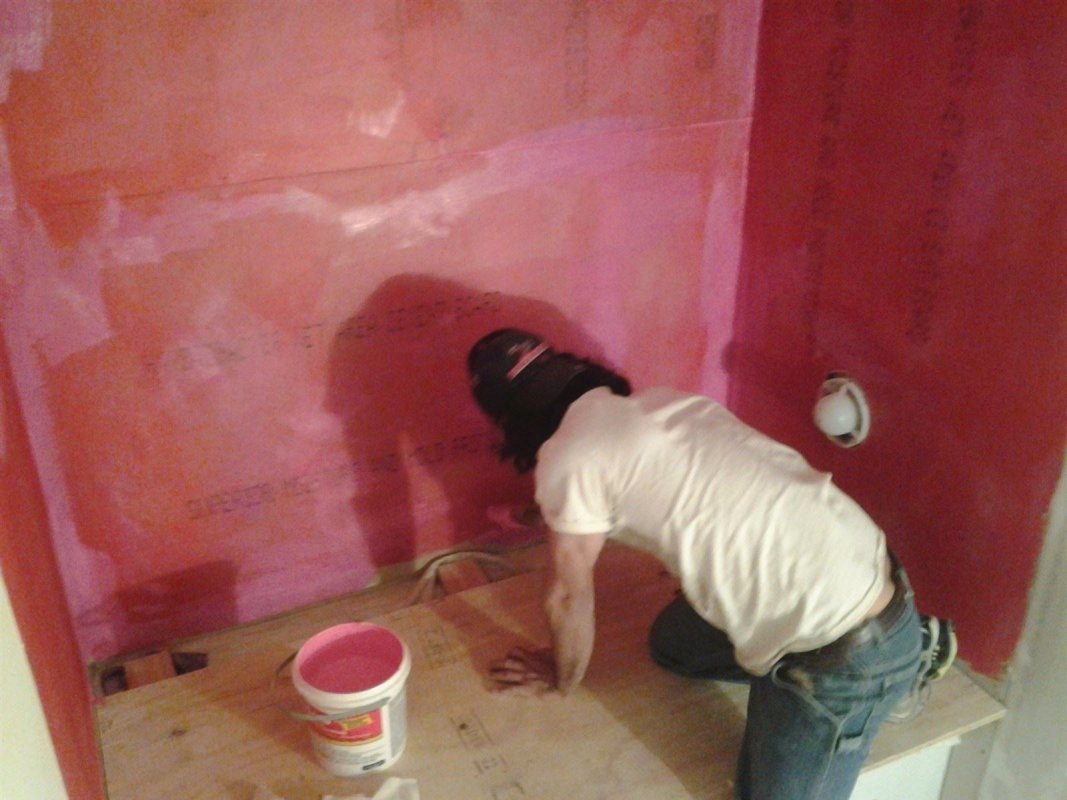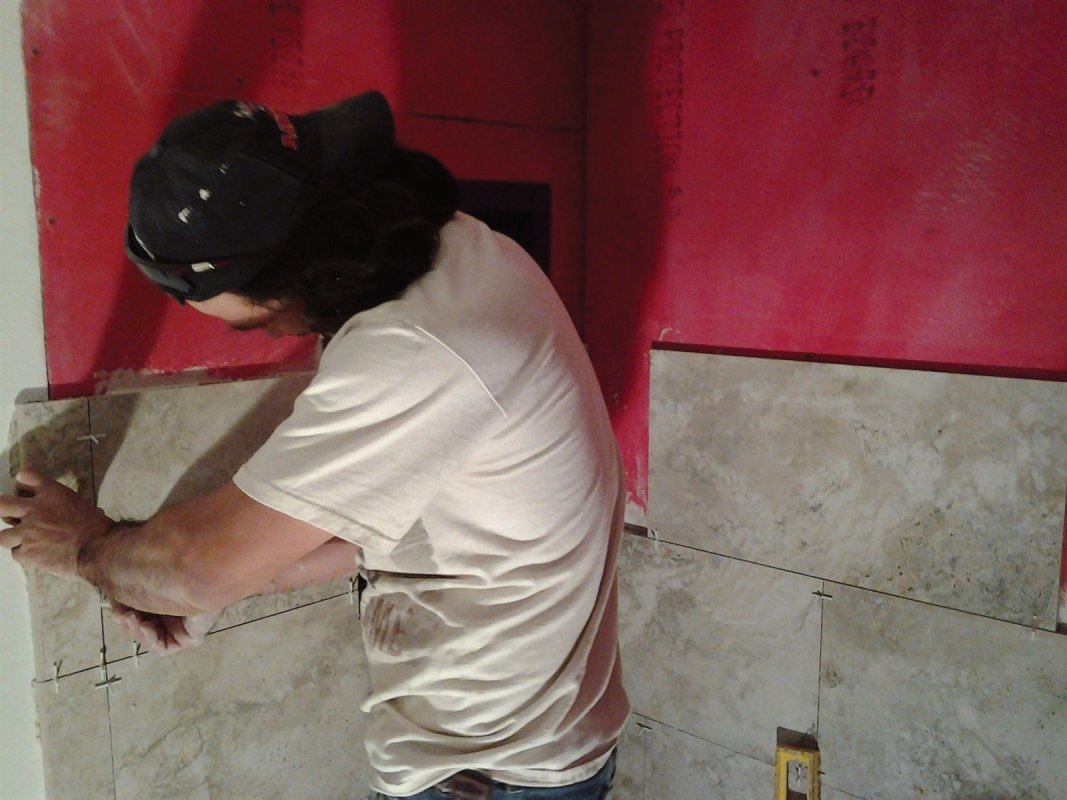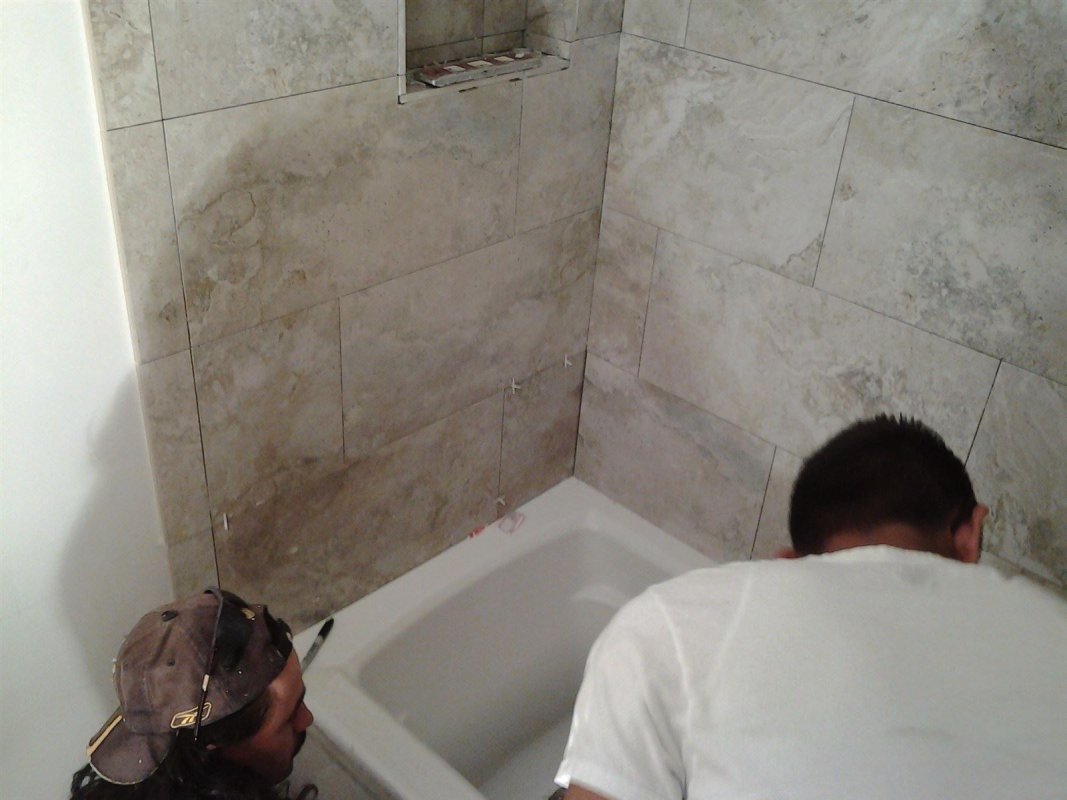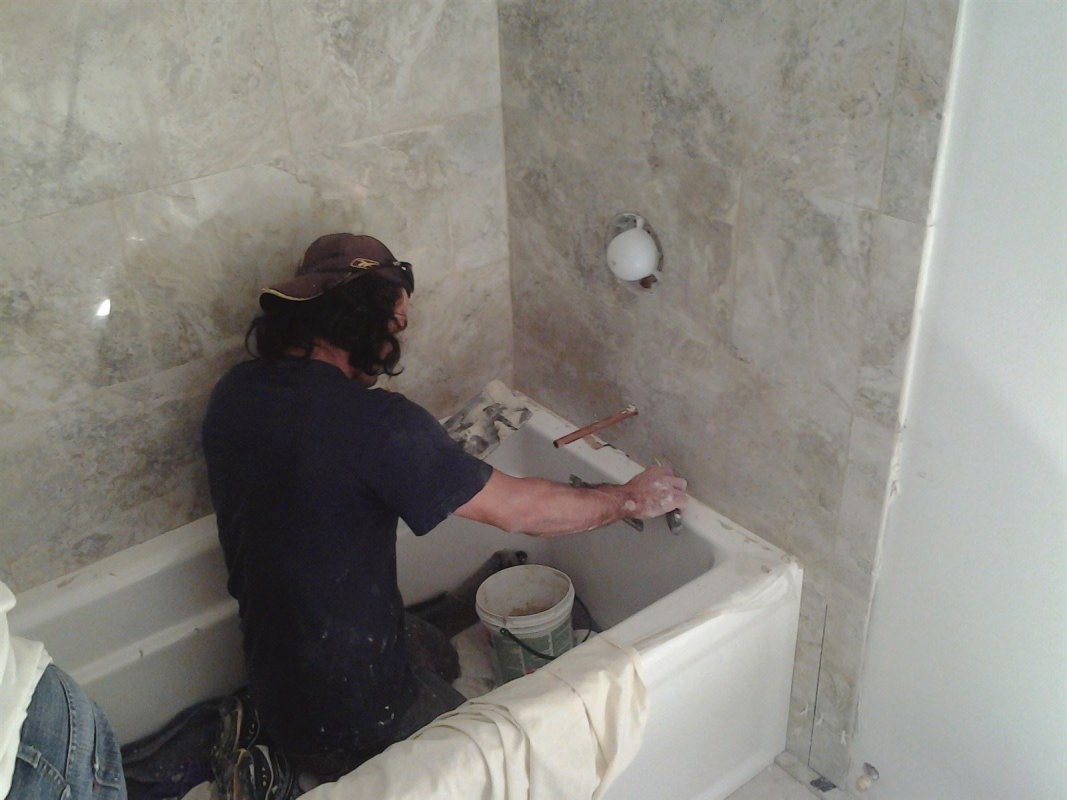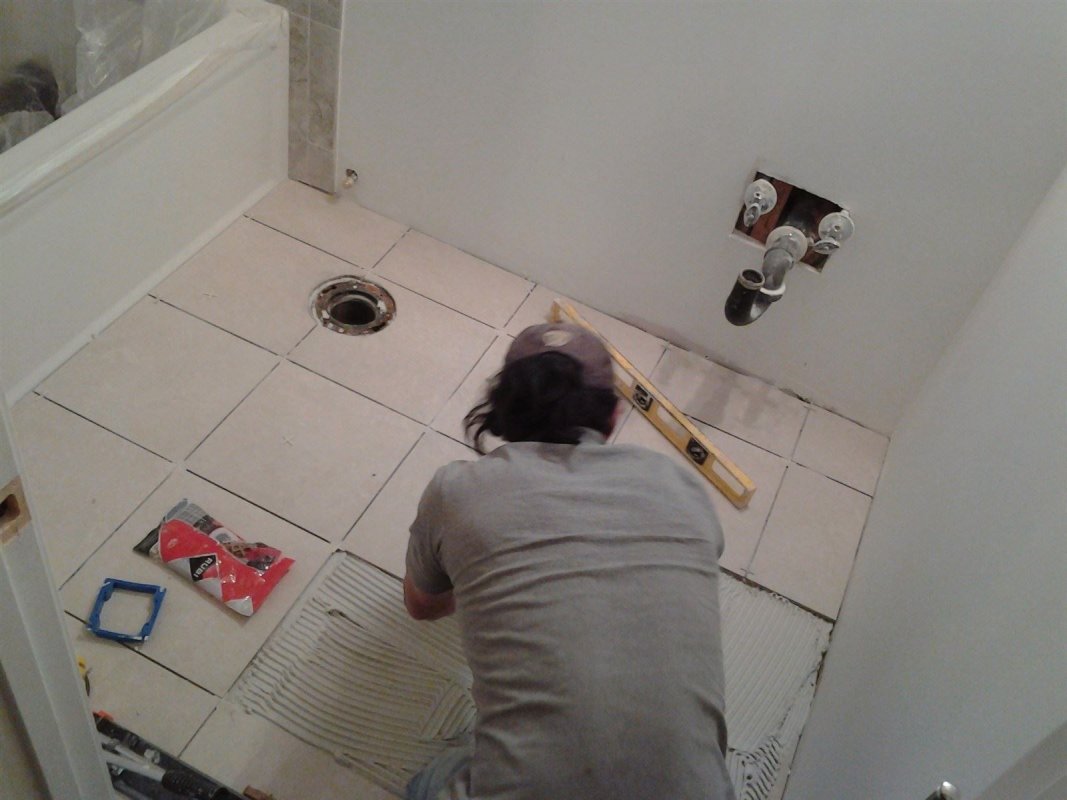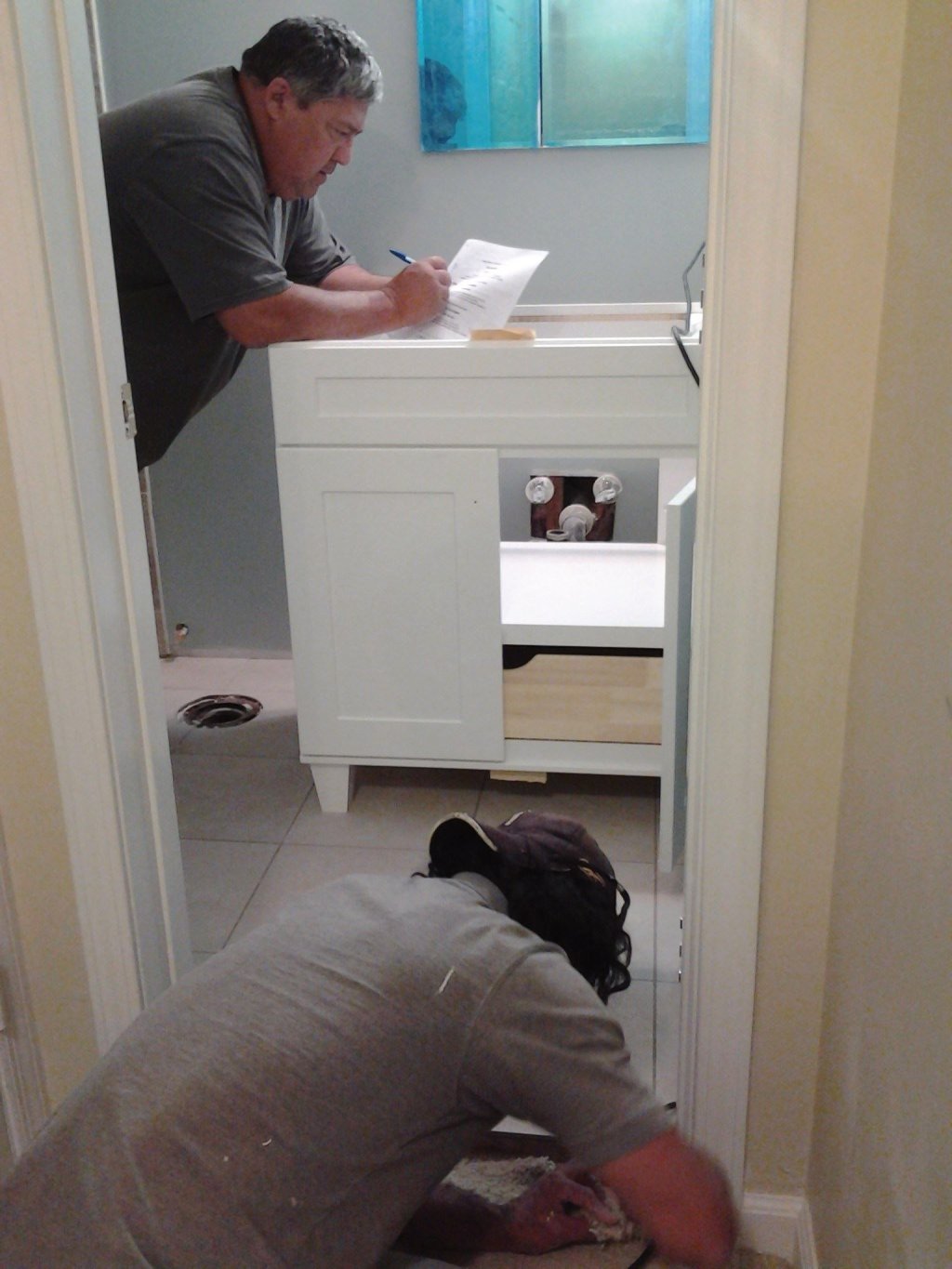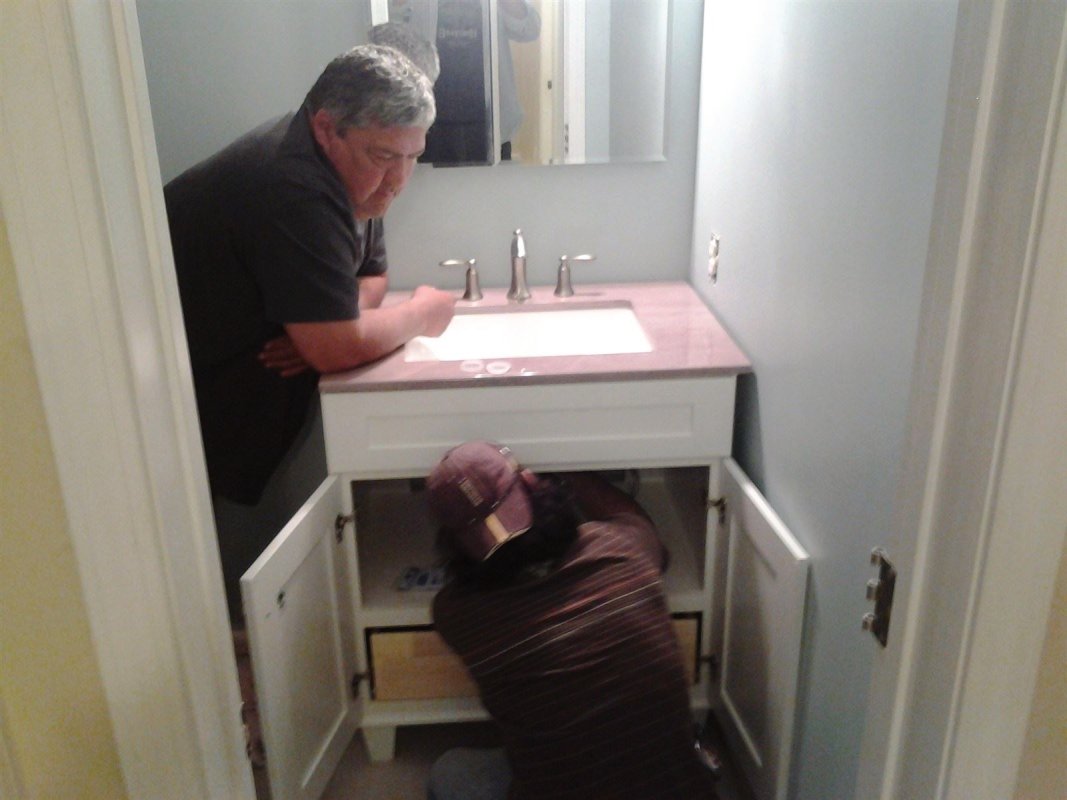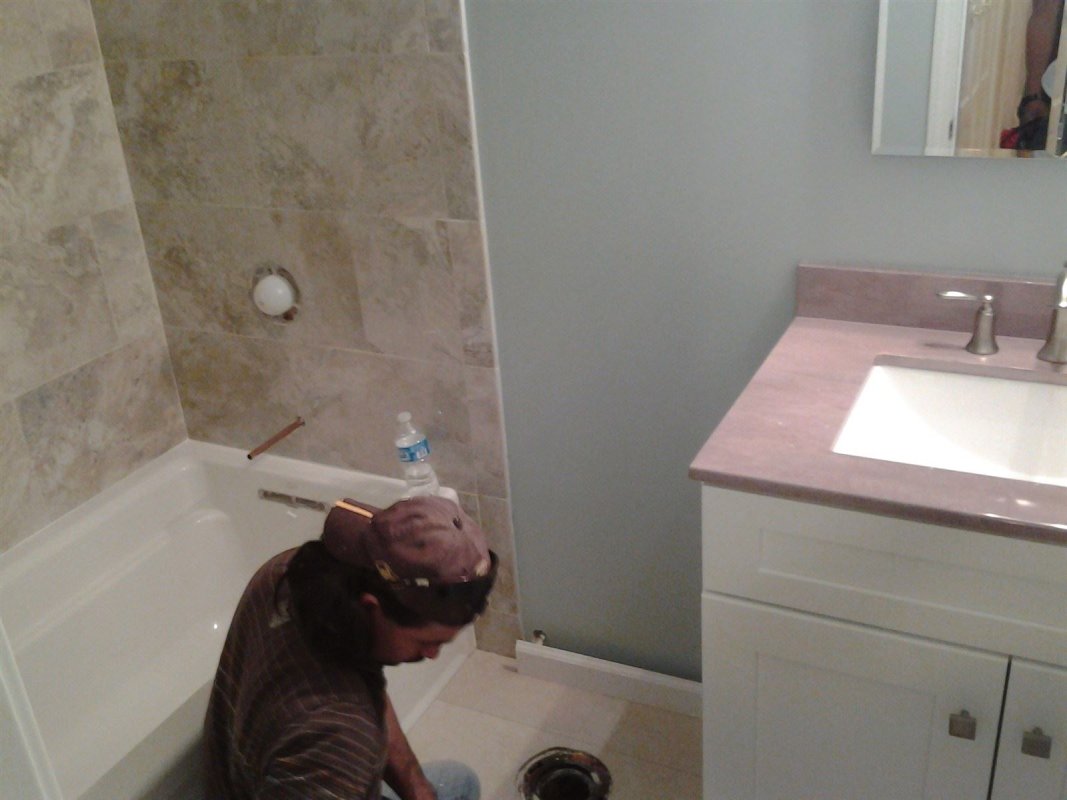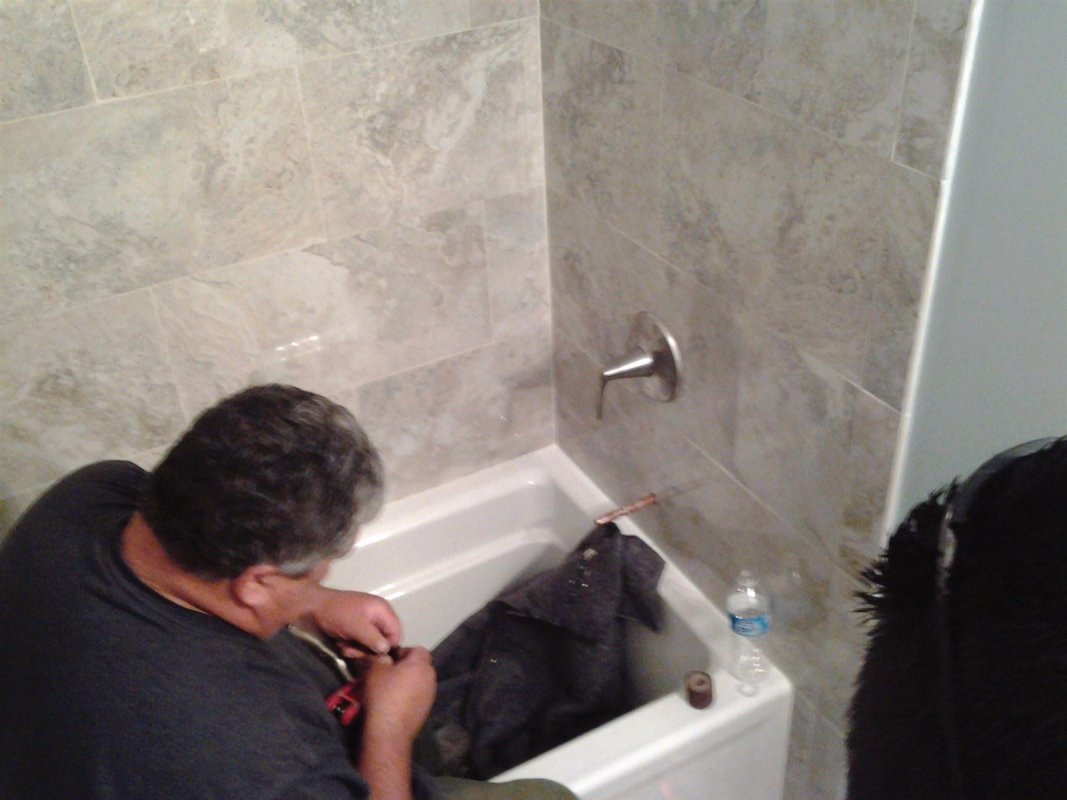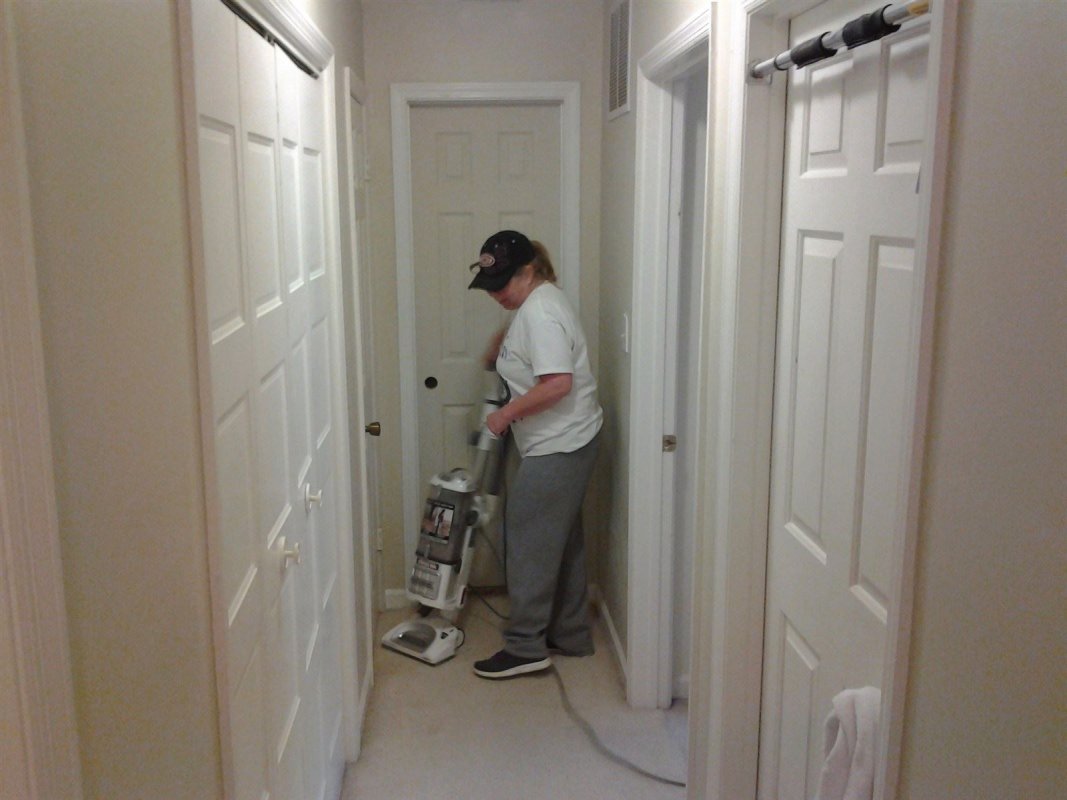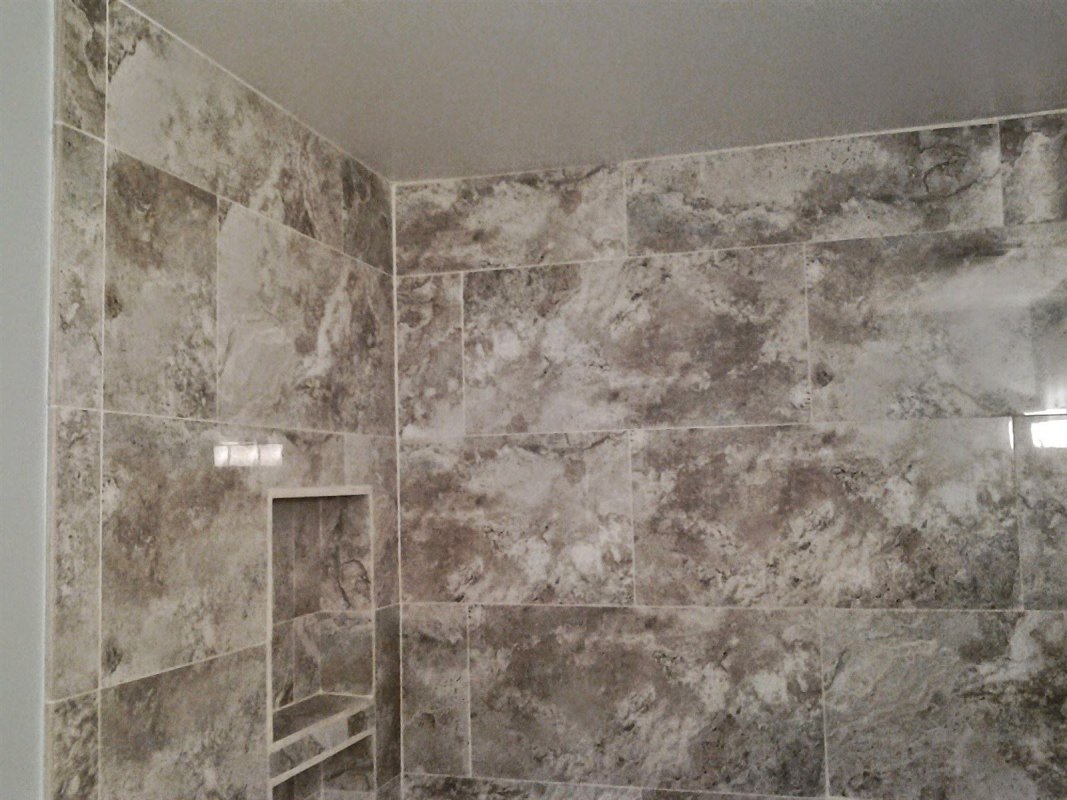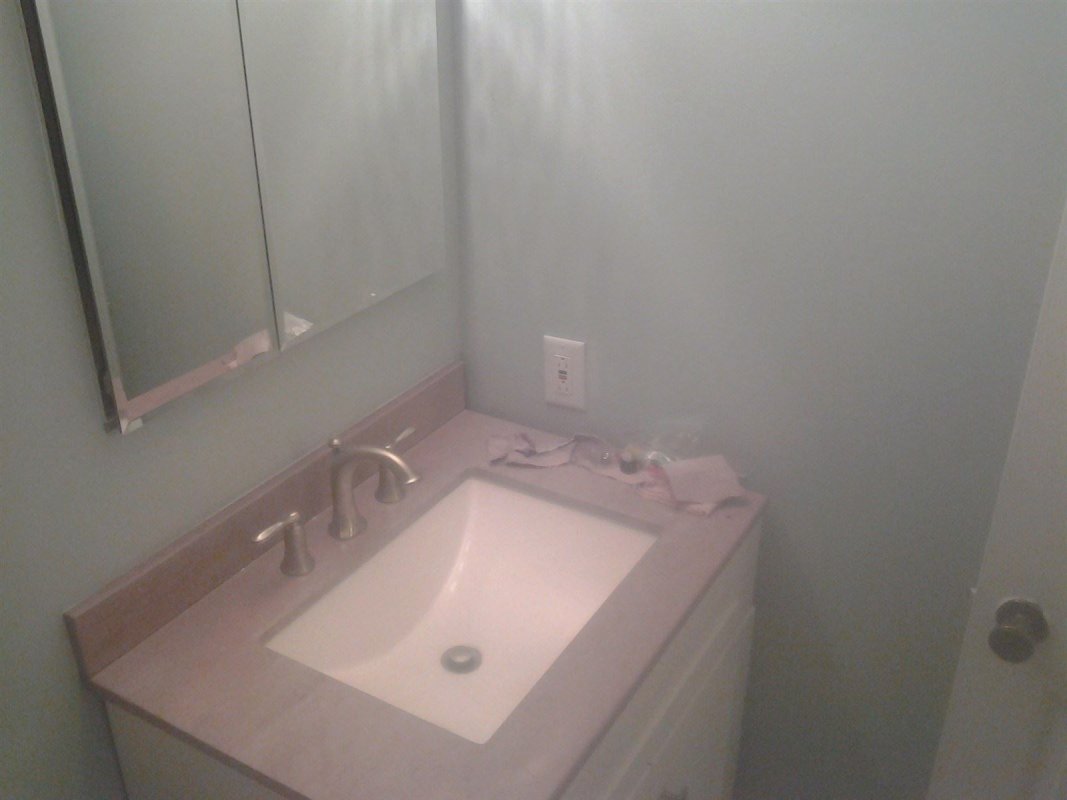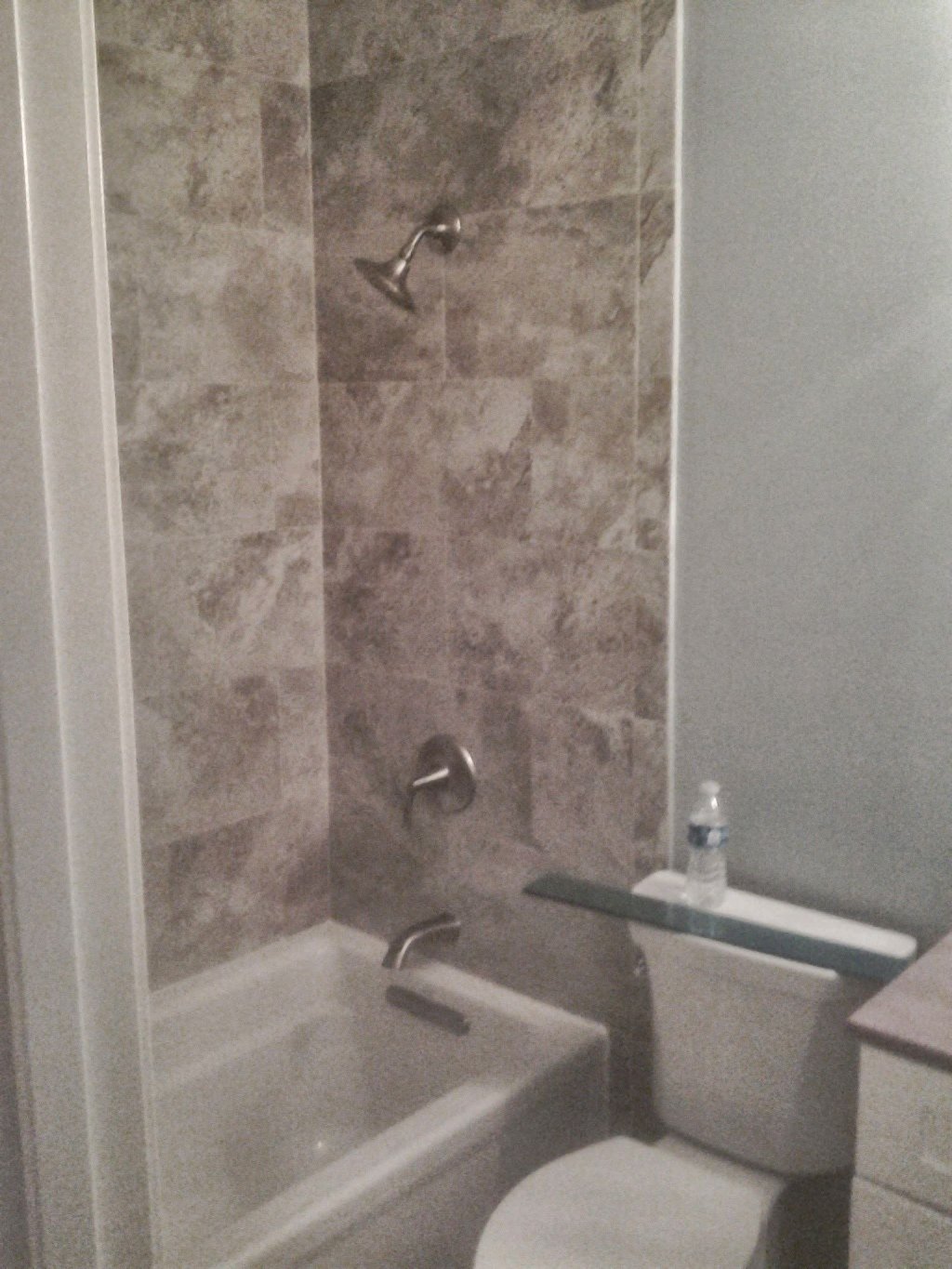 (There are a lot of pics along with the story line, please scroll to the last of this blog's pictures and click "More" to see all the pics and text).
Well three doors down from our previous bathroom remodel is the location of this remodel. Bada-bing, bada-bang, here were are. :)
Although the plumbing wasn't as involved as the previous one, the small space and long hallway prevented us from moving as quickly as we would've liked.. 
This remodel included gutting out all the old sheetrock (all the previous repairs on the sheetrock would've clashed with the new sheetrock). 
We removed the ceiling and walls, base boards, bathtub wall tile, tub, vanity, medicine cabinet....everything,  
Out with the old...
In with the new Kohler deep dish (tub)...
...converting the old plumbing to match the new (e.g. mixing valve)...
...the new tub is installed (adjusted/tweaked/aligned the drain pipe to match the new) & covered the new tub because we didn't want to scratch it an d buy a new one :) - notice the new 2x4's? we had to plumb the walls to ensure our tile lines would meet at the corners.
...installed, taped, pasted, sanded the new drywall (sheetrock). Smooth walls take 2-3 days of pasting and sanding ...
...same for the tub area except that we used 'greenboard' (green mildew/mold resistant sheetrock)...
...cut a hole in brand new sheetrock! No worries, it was planned, we framed the opening prior to installing the sheetrock for a recessed medicine cabinet...
...after the greenboard we installed 1/2" backer board (a firm/rigid underlayment designed to support tile installations) and then sealed the area with a liquid water proof membrane...
...client opted for beautiful  extra large tile (reminded me of an upscale resort sauna tile)...
...plus a nook for her shampoo and soap...
...almost doe with the tub tile, wrapping things up...
...next was the floor tile. Used 1/4" backer board as the underlayment...
...brought Leroy back to help install the fixtures....
...and to lean and look at Sergio do all the work...
....the light at the end of the tunnel is shining bright, tub's done, tile looks awesome, vanity looks sharp, mirror was a breeze....
....finally Leroy's working and we're the bystanders. Actually, Leroy's instrumental to our success....
...why is she here? Well we're not perfect. Brought the cleaning crew to help us look good. Even though the blankets protected the carpet, the sheetrock work generated a lot of dust. You'd be surprised how far and where dust travels....
...now that we're done I couldn't get the camera to produce one quality picture of our finished product (the glare's killing me)....
...all this bathroom lacks is the clients great touch to make it feel spa-ee, and warm....
..,.this pic does not do this incredibly nice looking tile any justice.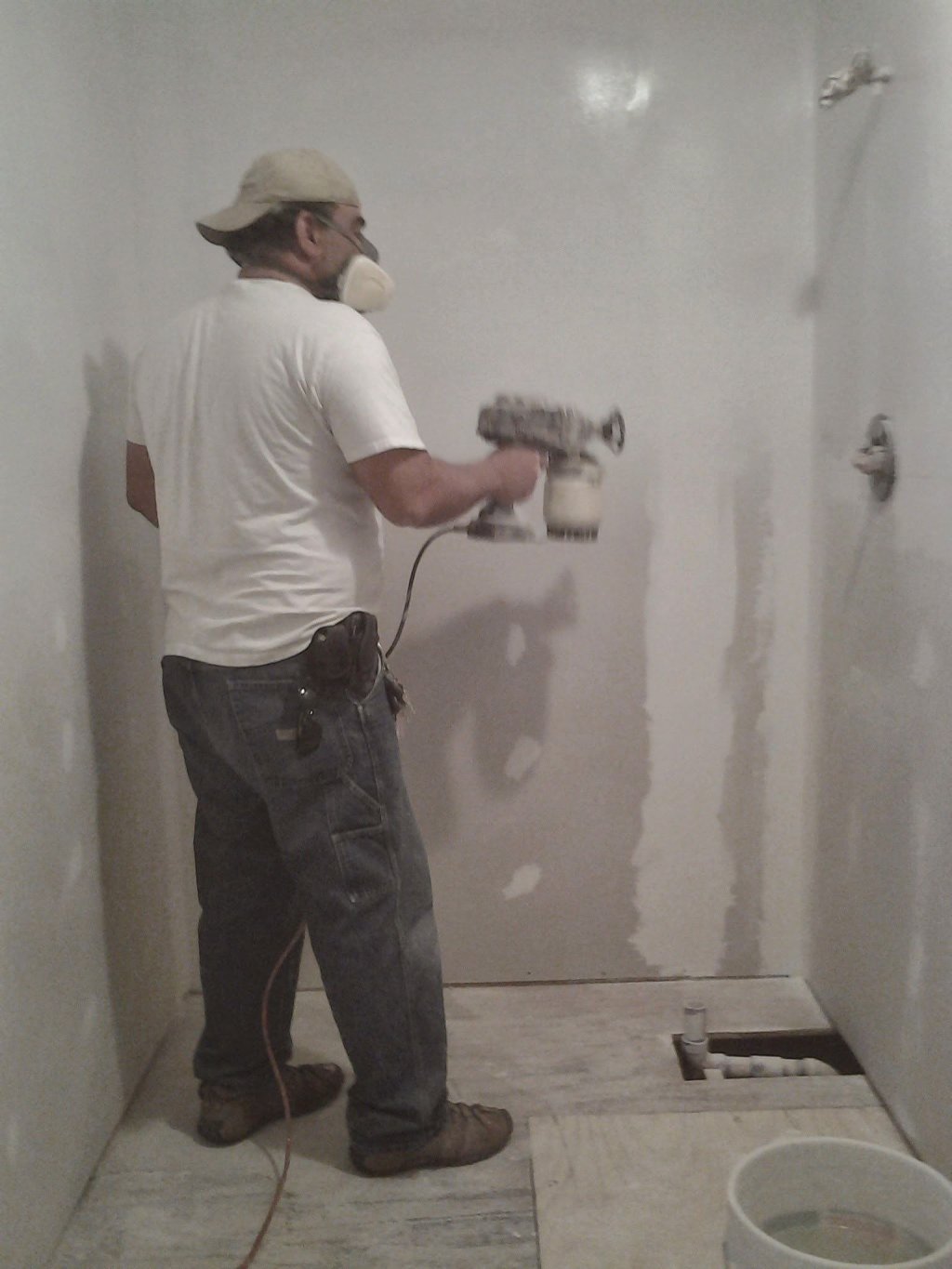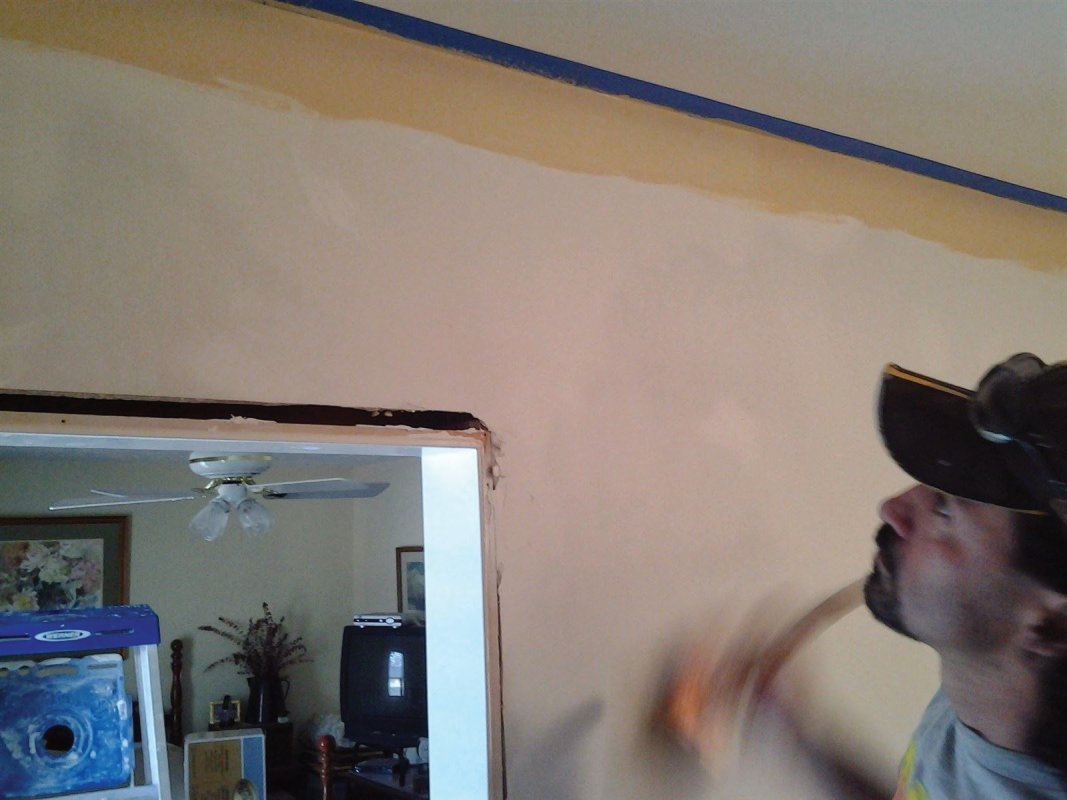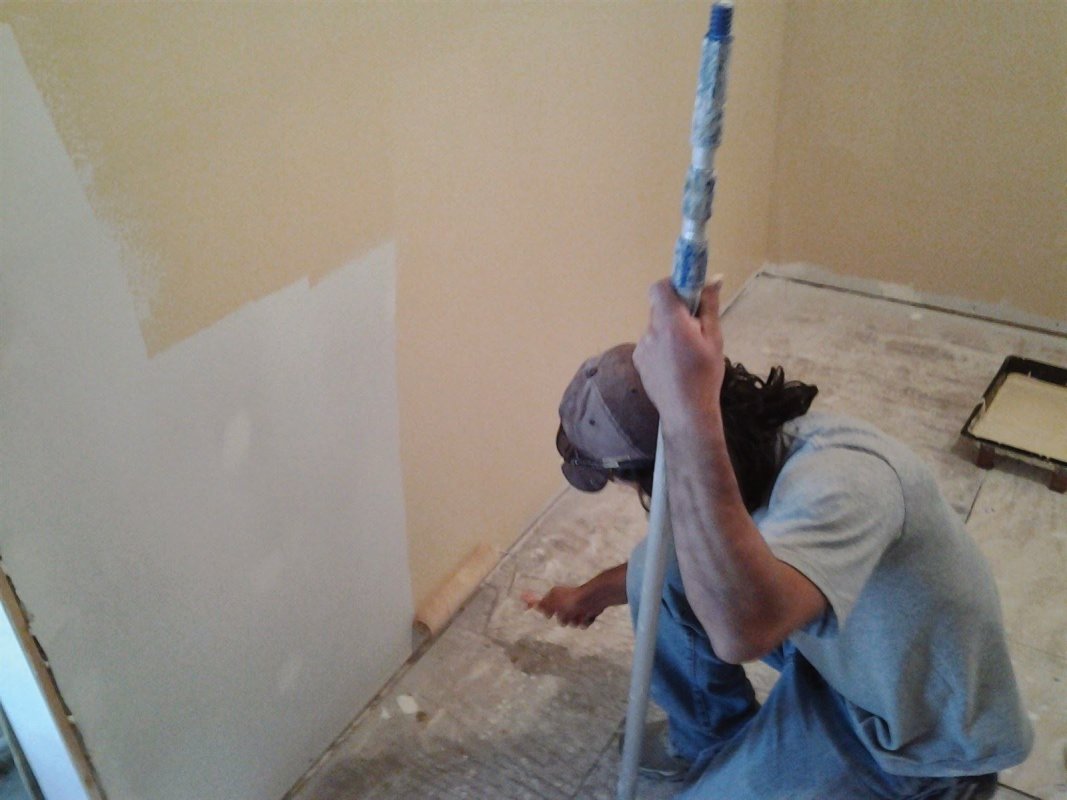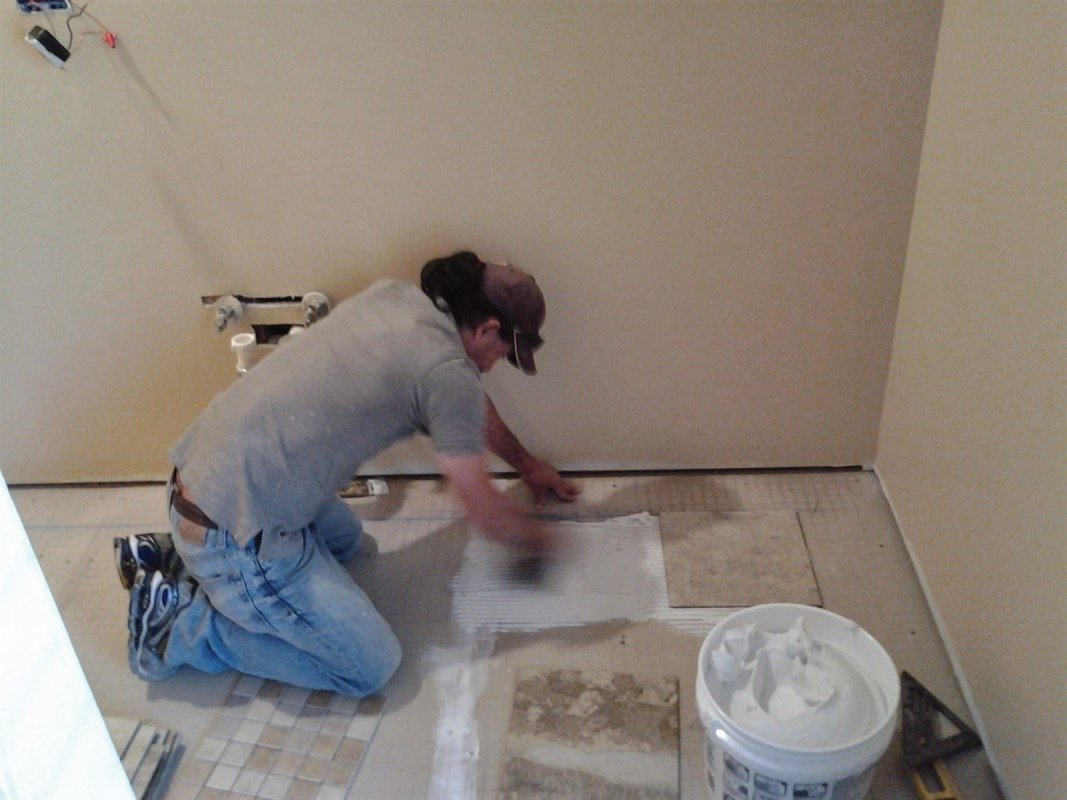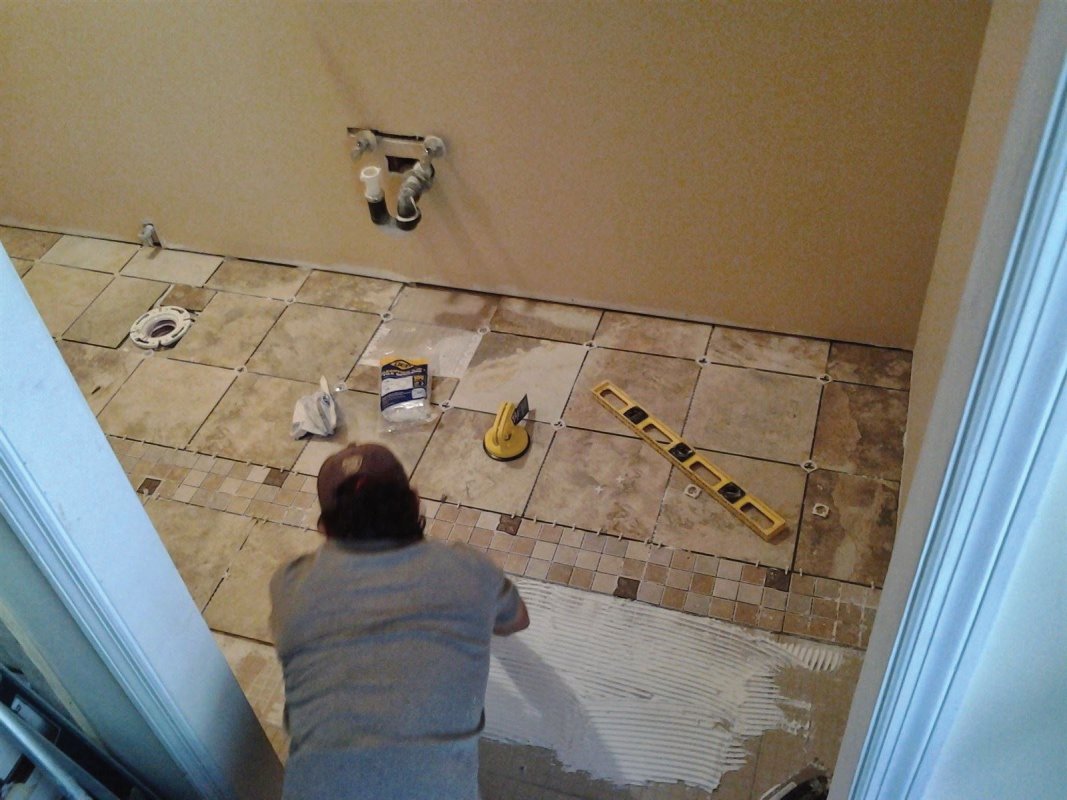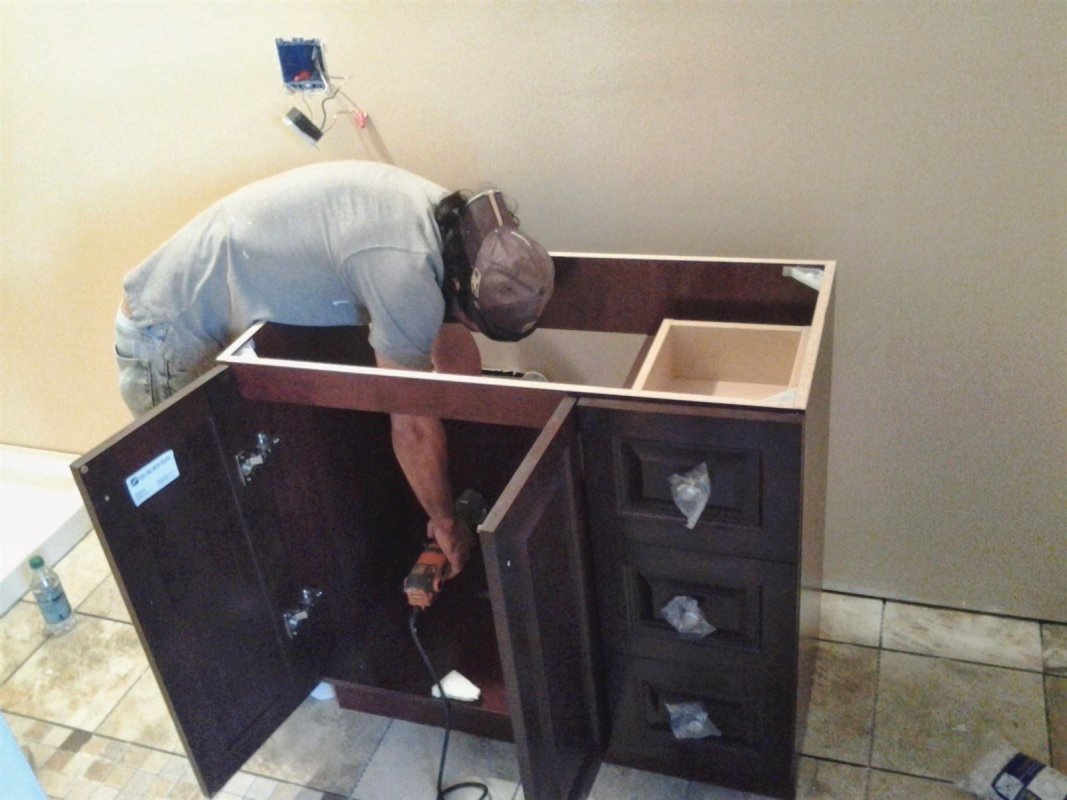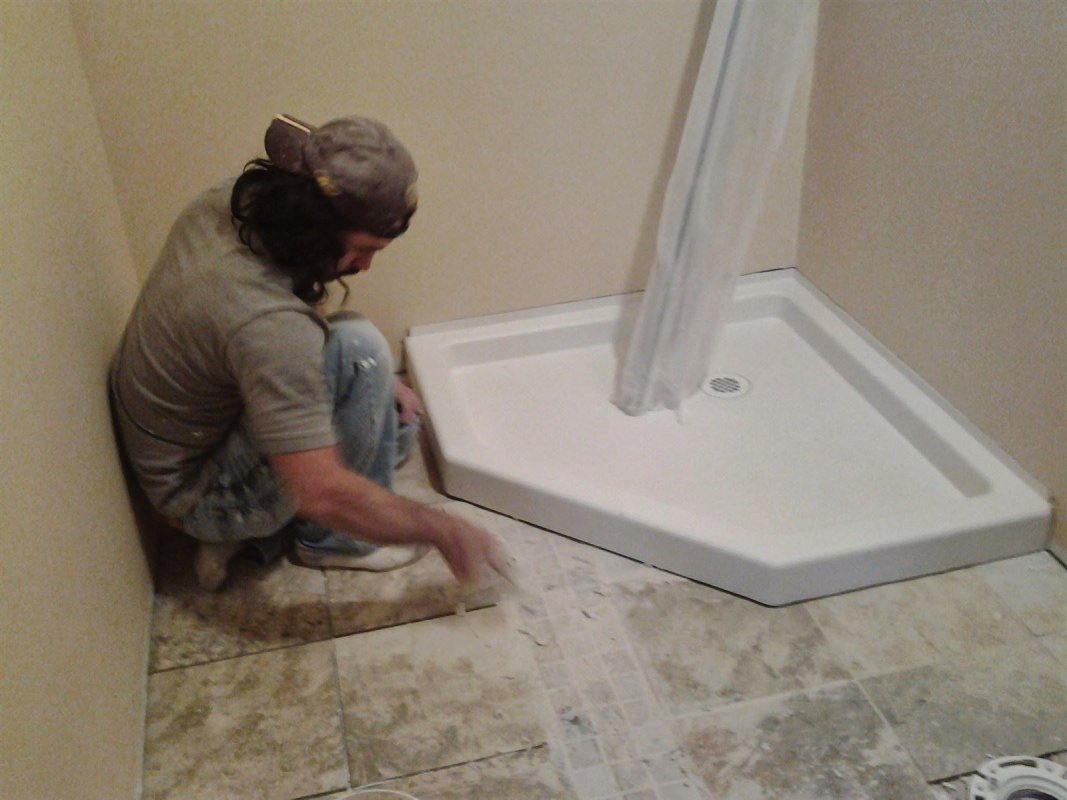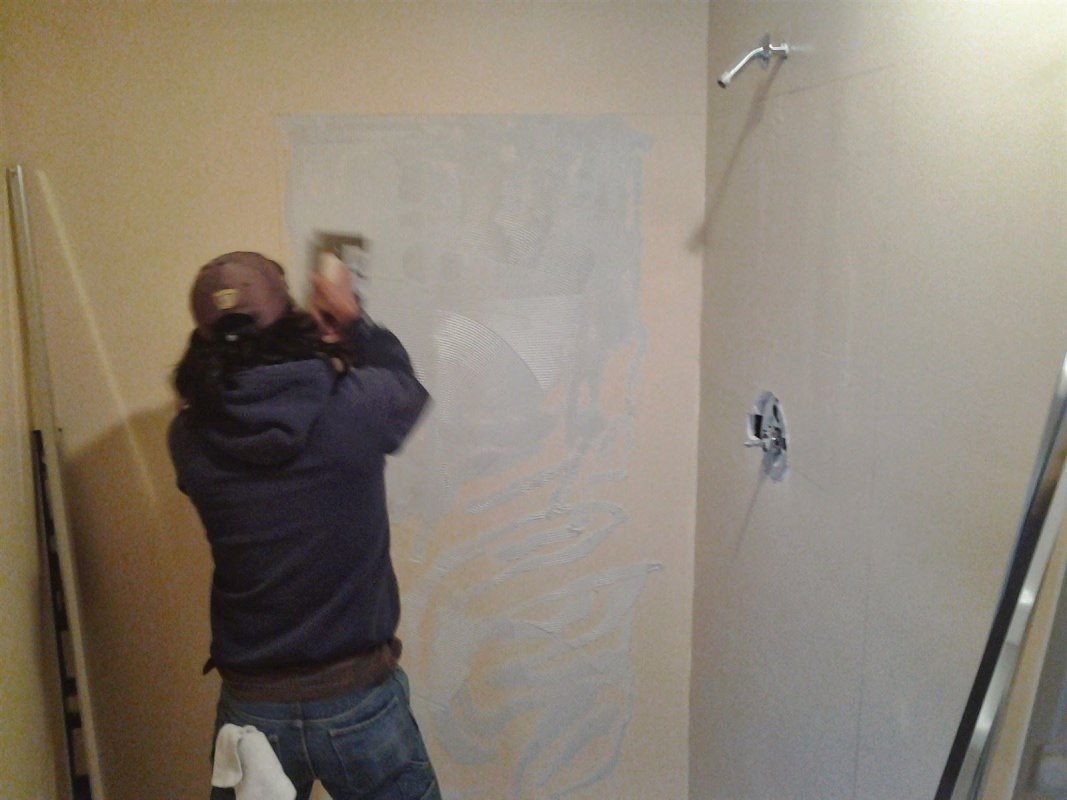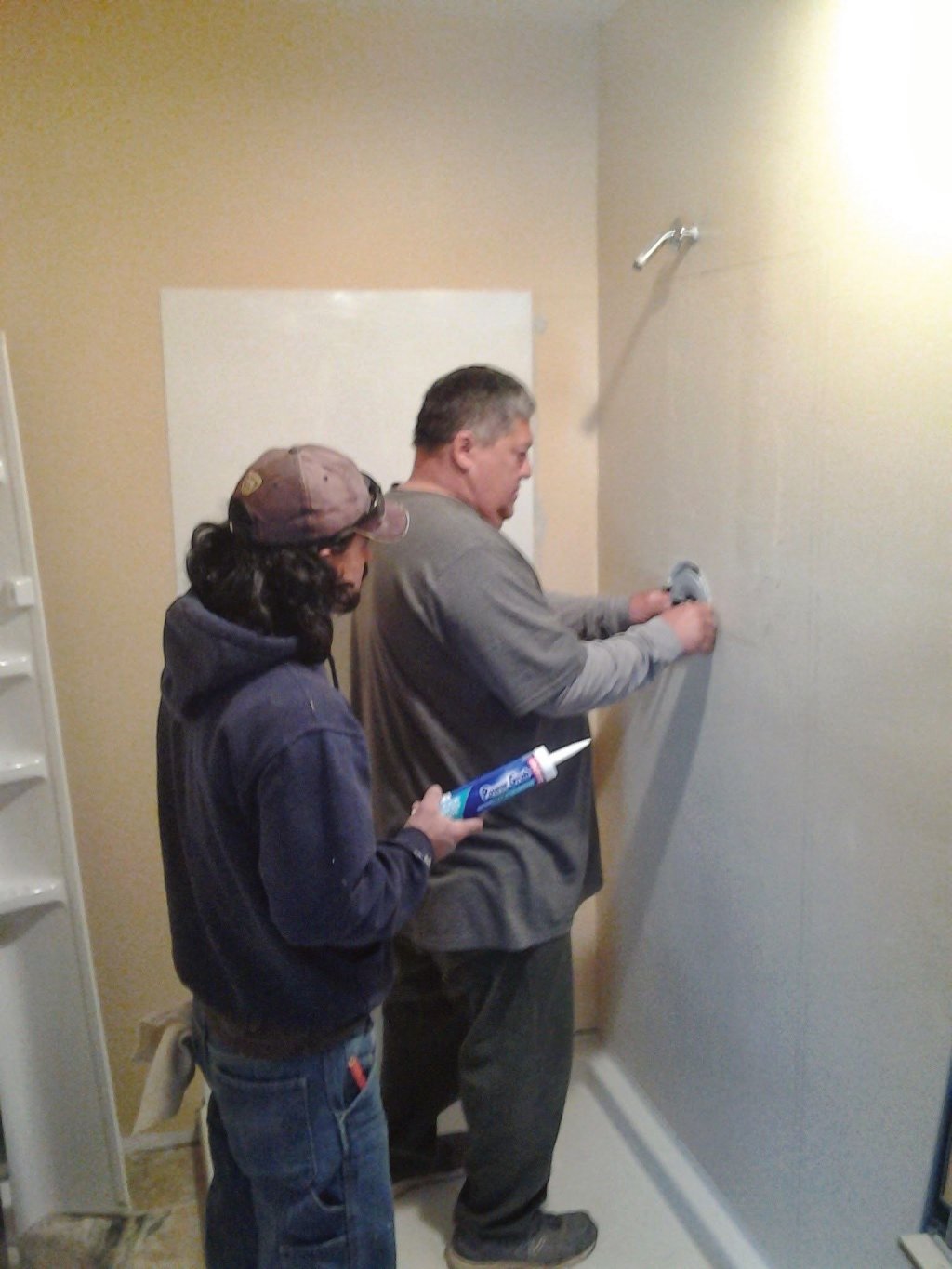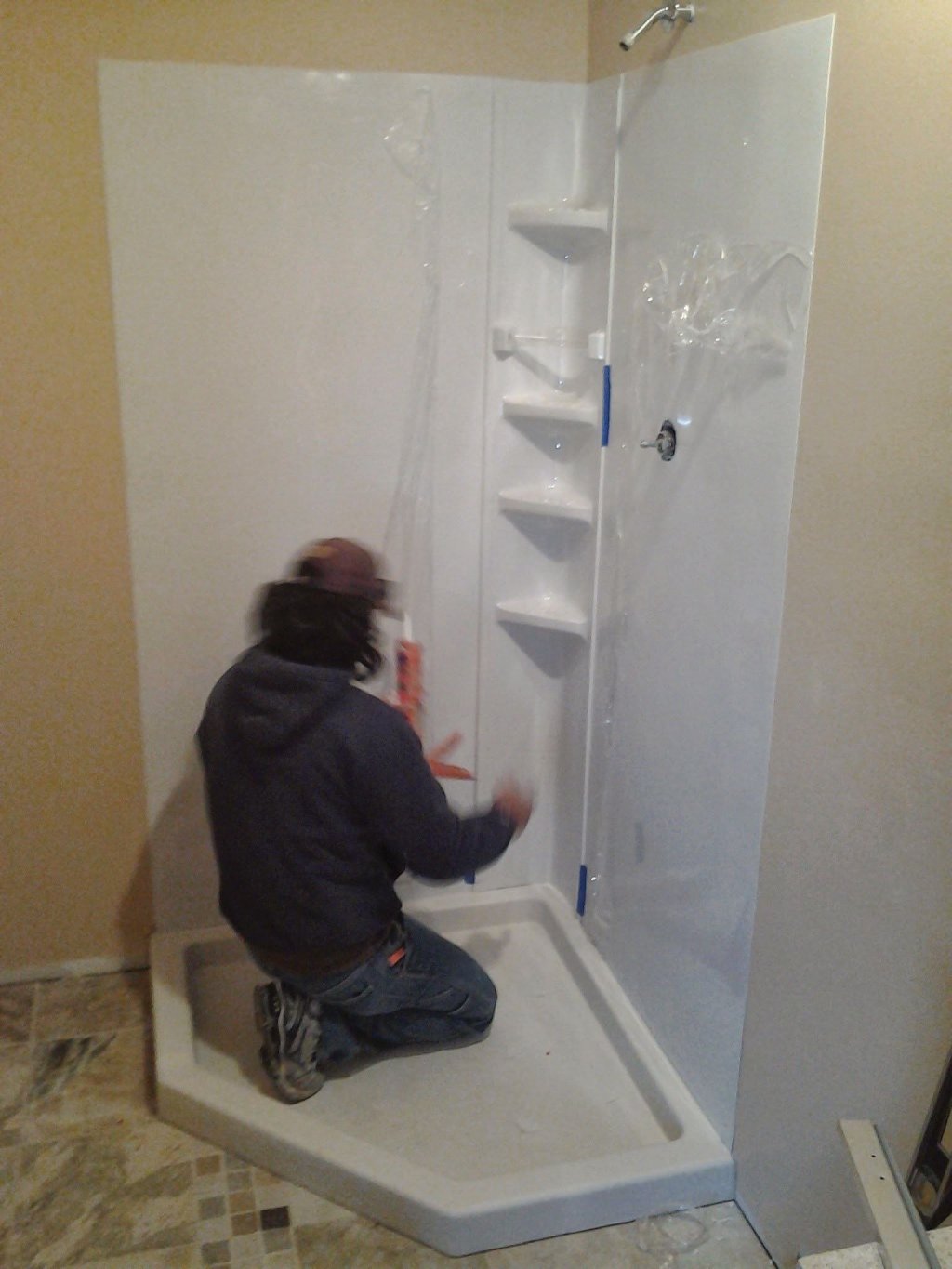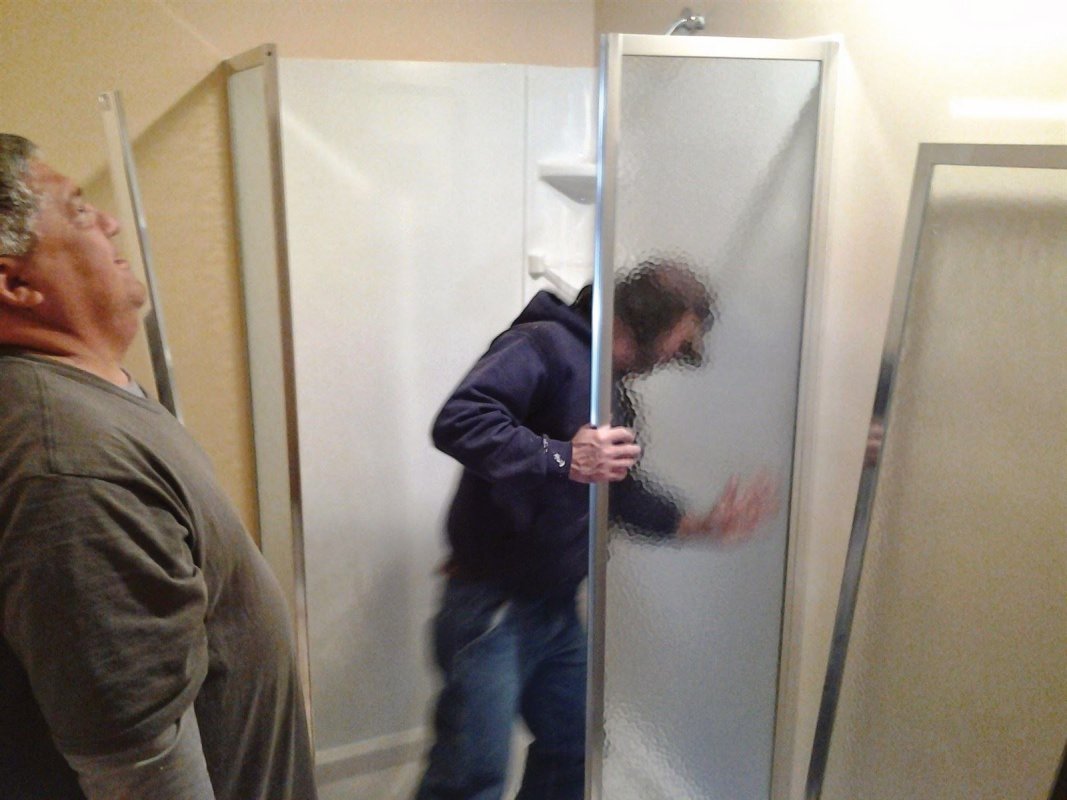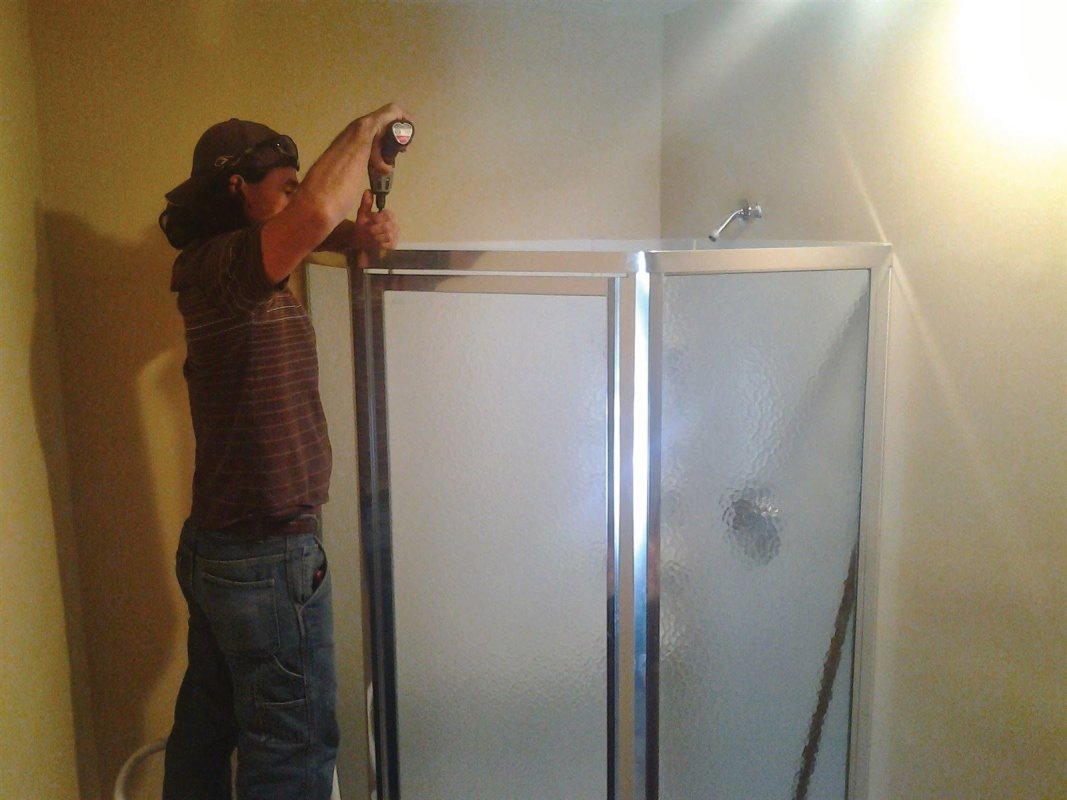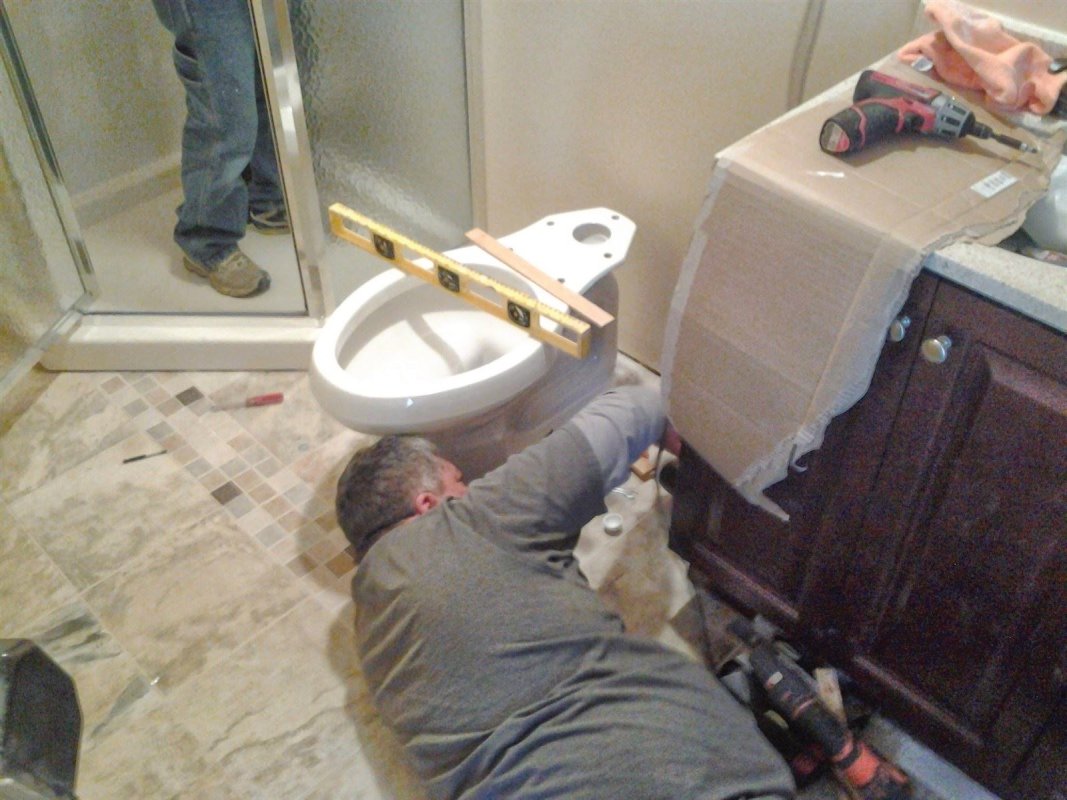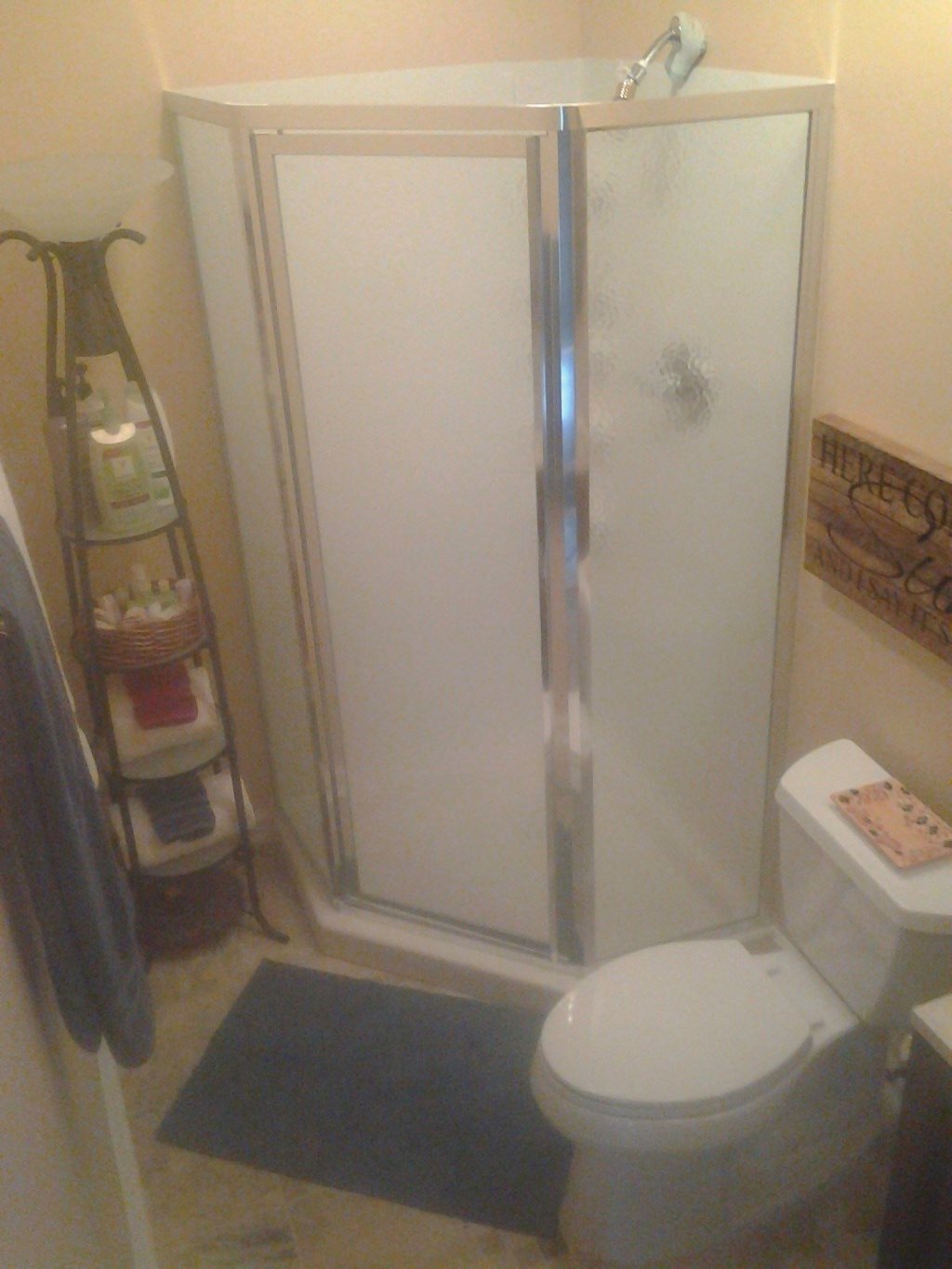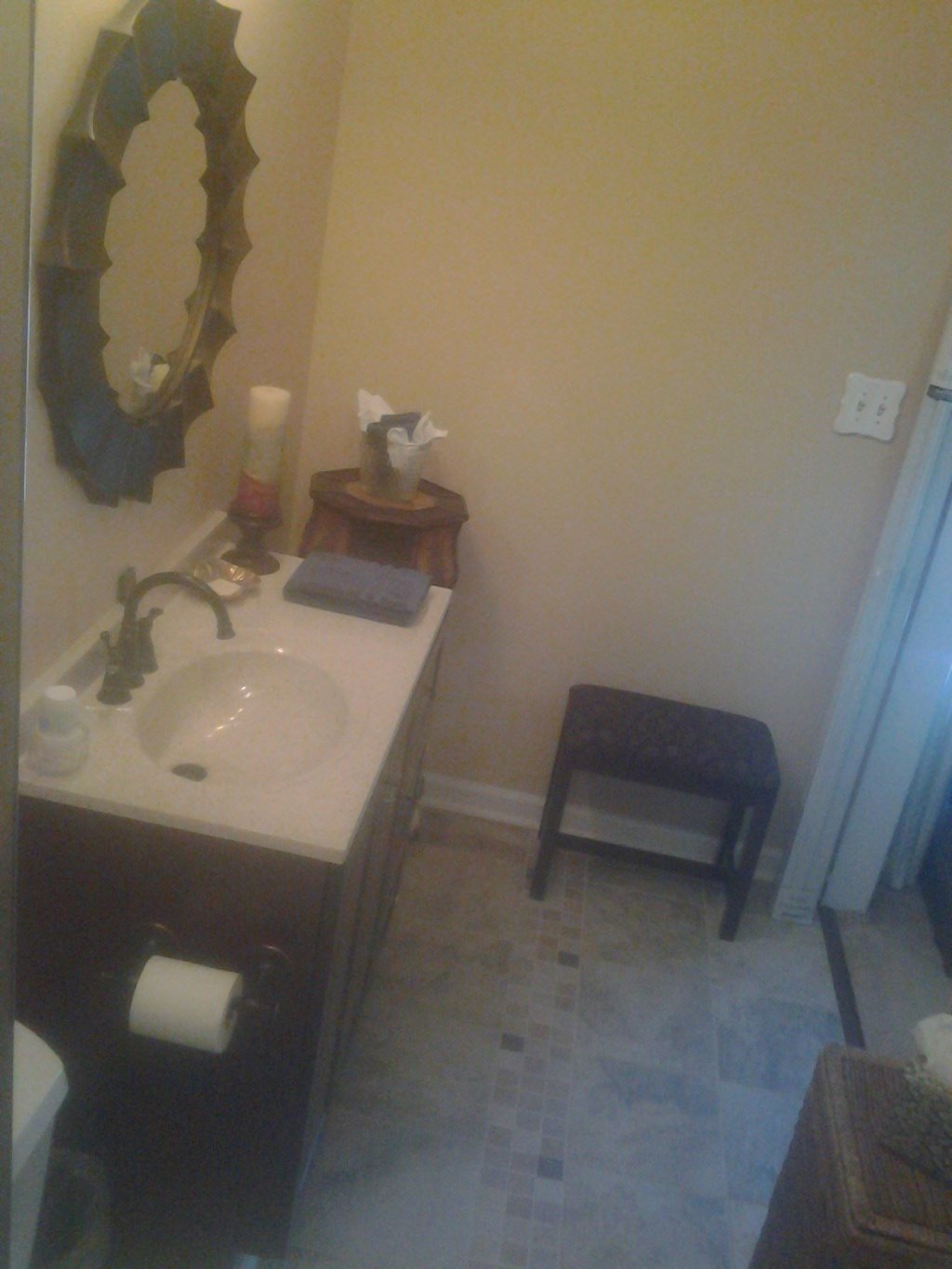 (There are over 20 pics for this blog, click "More" at the bottom of the last pic to see all the pics and text.)
We were so lucky, if not the luckiest, to been hired by one of the nicest clients ever.  
Our client wanted more space, a shower instead of the tub, taller vanity and toilet.  The toilet/tub area was cramped, however, the vanity area used about 3' of space that could serve a better purpose. 
On this particular remodel we gutted everything and started from scratch all over. We 'scooted' things to the right by moving the toilet about 10". 
As you scroll down you'll see that we removed the vanity, wall mirror, wall, toilet, tub, wall and floor tile, as well as all the wall and ceiling sheetrock.
We then went to work on converting the plumbing from tub to shower (including moving the shower drain to match the new shower) as well as cutting into the subfloor to literally move the toilet. 
After things were ok'd we started with installing all of the sheetrock (taping, pasting, sanding etc). Sheetrock is a process you can't rush. It typically takes three rounds of mud (paste) to have a smooth looking wall. . This means letting the paste dry 24 hours before you can sand and apply more.
Once the joint compound (mud) process is complete we primed the walls for sheetrock proctection (mildew) and adhesive purposes (so the paint sticks/grabs/holds well). 
Right around this time we're all smiles as we're past the halfway mark with the finish work commencing. We used a satin finish paint from Sherwin Williams as a satin finish helps resist moisture. 
Our client opted for tile flooring with a slight decorative look. We used 1/4" backer board on top of the subfloor & thin set prior to installing the tile. The tile was spaced with 1/4" spacers for a nice look when we applied the grout (and sealed afterwards). We found nice small tile pieces that matched well with her 36.5" h cherry vanity. 
Next came assembling and installing the new shower. After the prep work we used a safe adhesive to glue the panels as recommended by the manufacturer. We then started with the framing, panels and polished trim until the shower was erect and secure. 
The porcelain piece was next along with the light fixtures and other accessories. 
Conclusion? To us the real magic occurred when our client put her touches and made the bathroom feel warm all over again.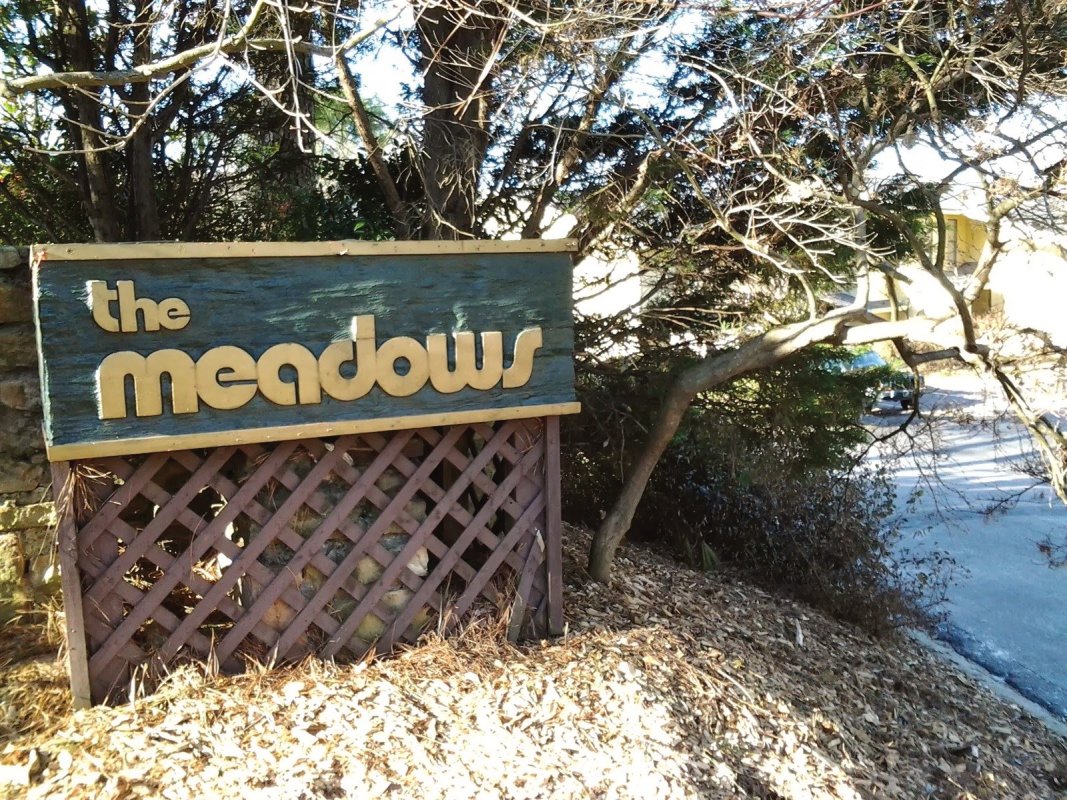 Love the Ace of Spades, but it's tough to beat this. 
There's such a great feeling when a clients neighbor comes to see your work & hires you as well. 
This is the second garage we've done at The Meadows. We removed all the drywall, installed, taped & plastered new, then primed & painted. Even did some electrical to get the light fixture wiring to work. 
In preparations for the new tenant, and in addition to the usual cleaning, this time we painted a majority of the residence & repaired some splitting sheet rock corners, installed a recessed electrical outlet for a wall mounted t.v. & replaced some damaged grout in the master shower. 
Call us - we might not do everything but we certainly can provide a little help for a little while for a lot of things. 
itsmyhelper.com 
678-361-3440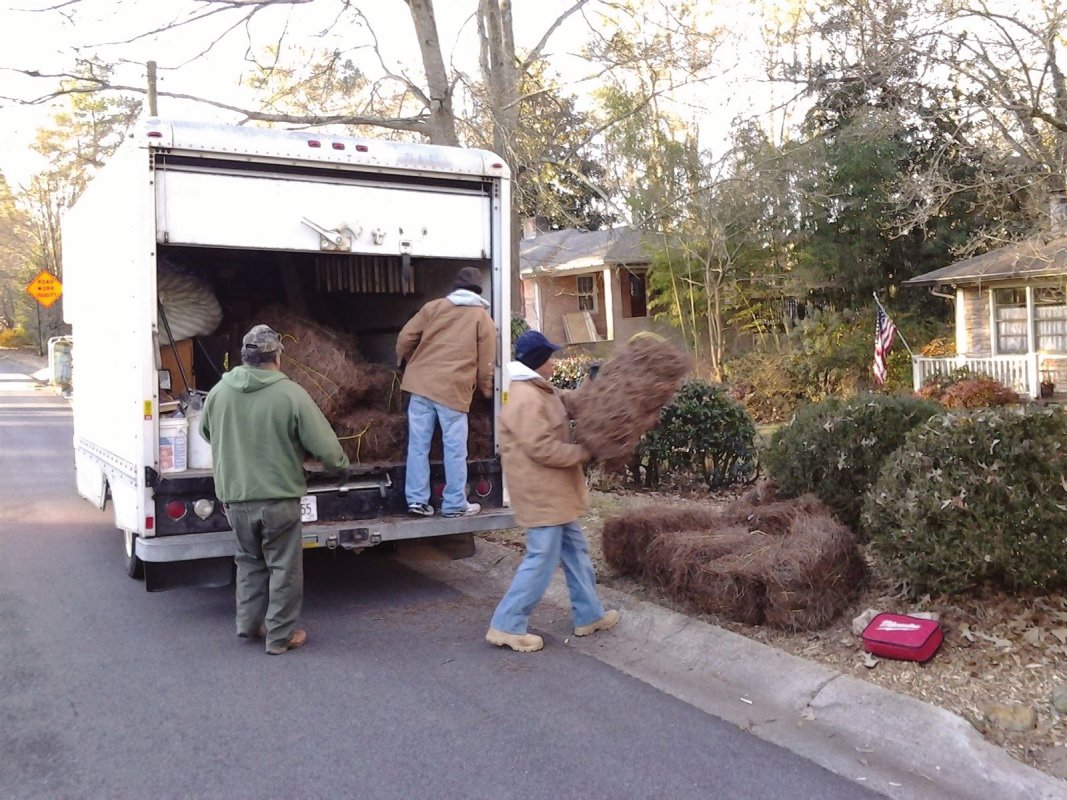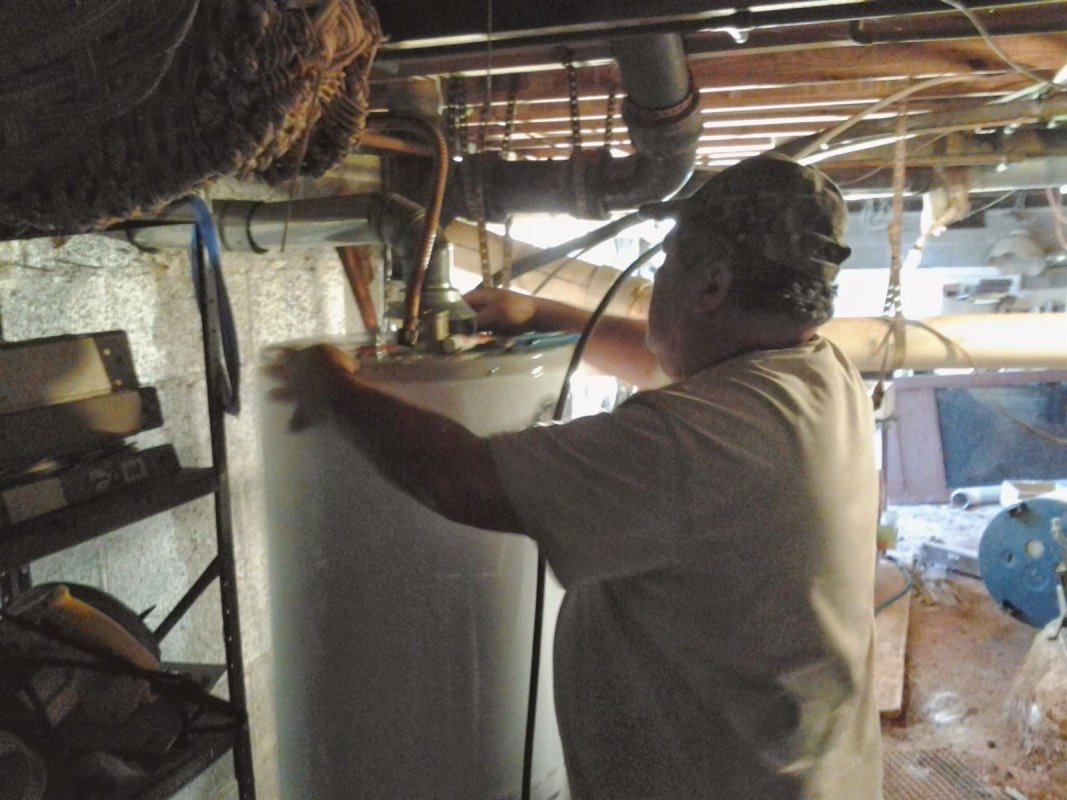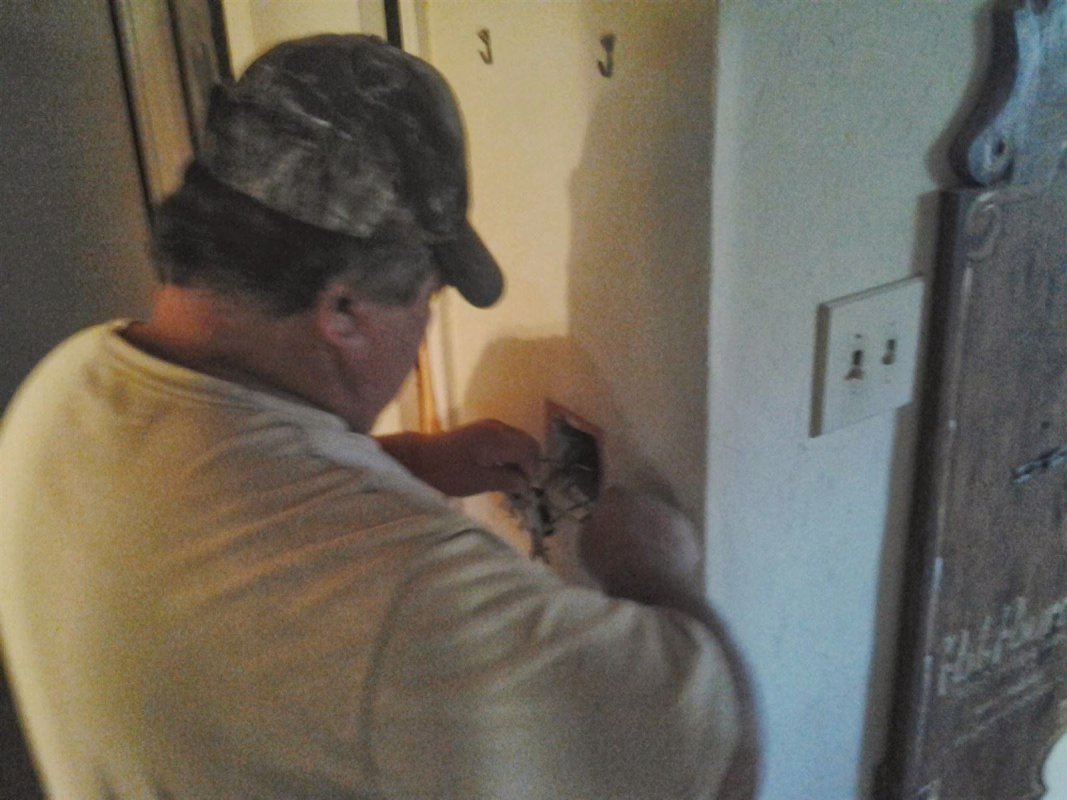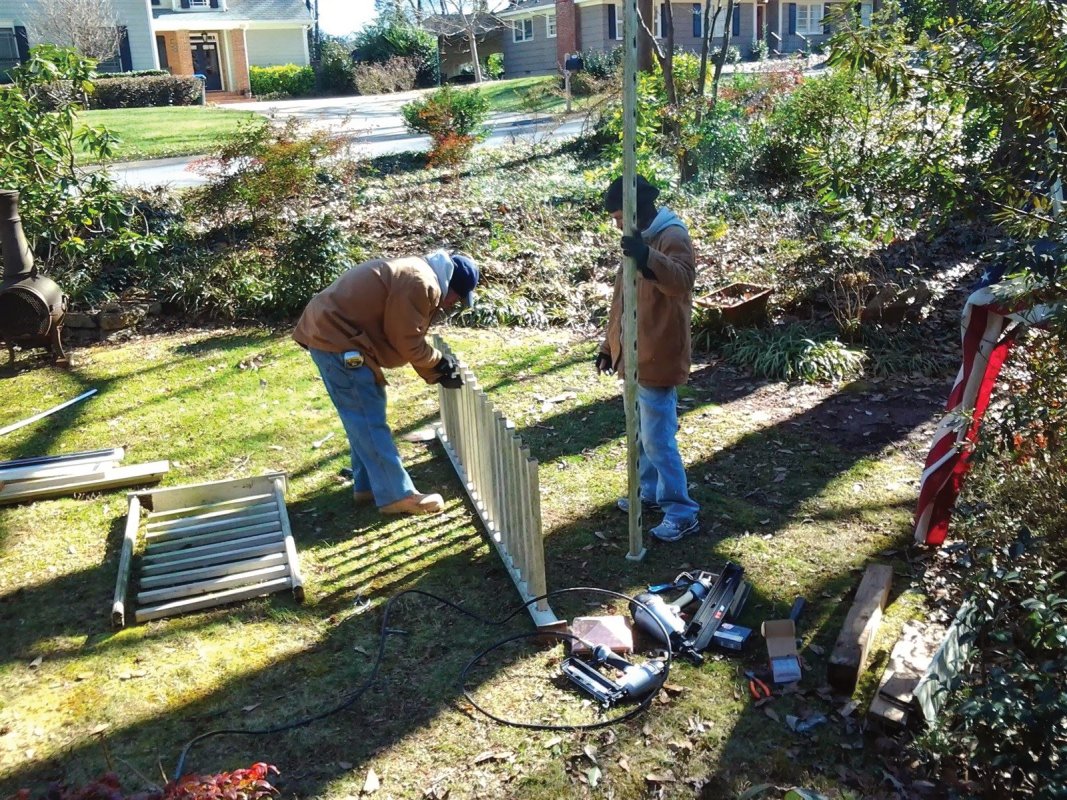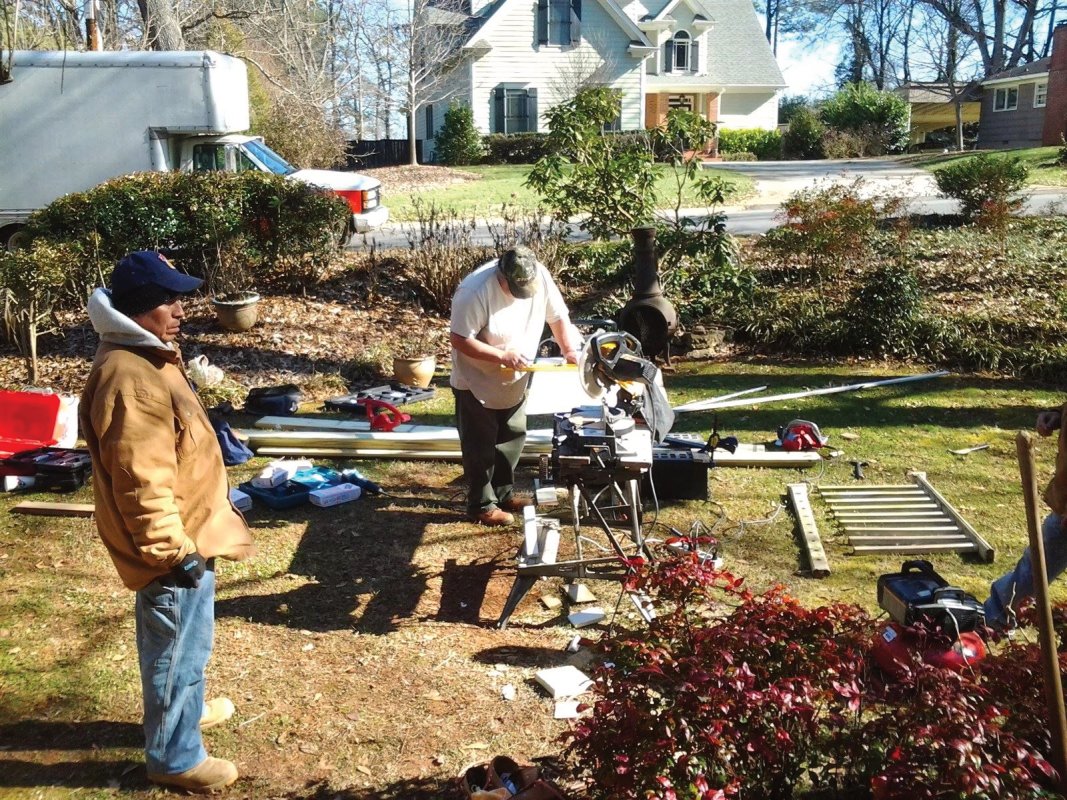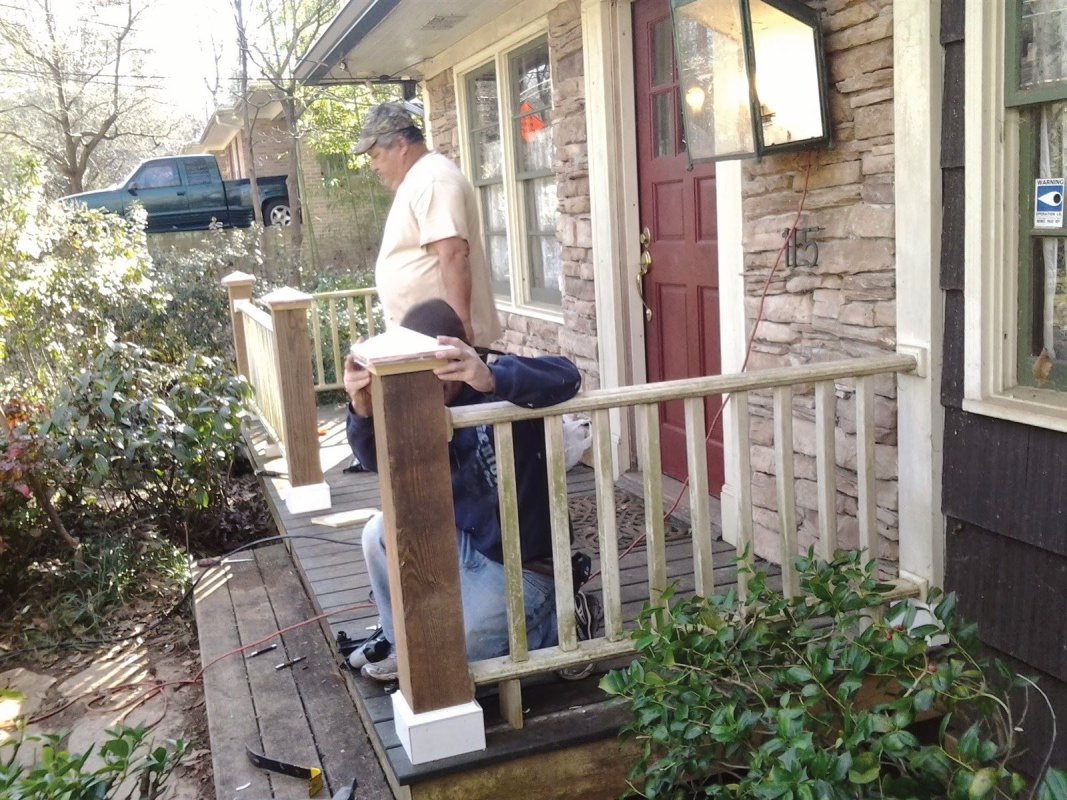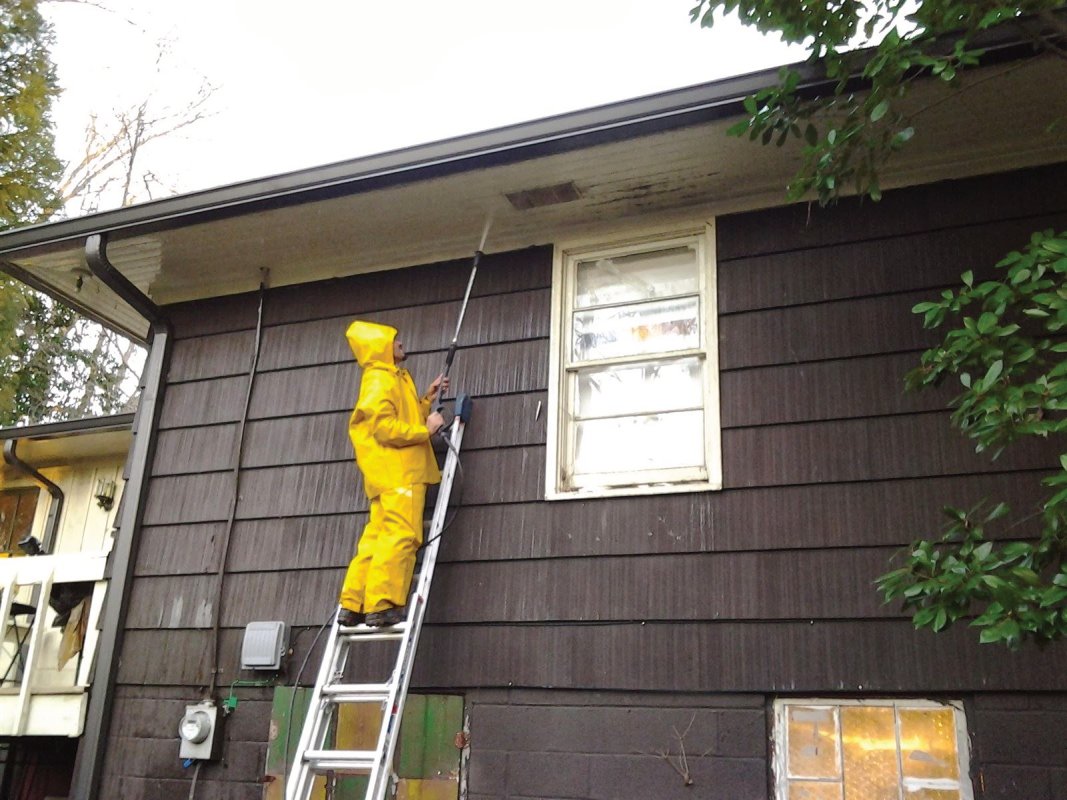 We were referred to this very nice couple by a previous client (thank you) to help redo the front porch. This is an adorable little house a couple of blocks from Roswell Square. 
We were asked to deliver and spread some pine straw, replace the water heater, electric switch and install an exhaust fan in the bathroom.
We enjoyed actually repairing the porch and utilizing some good wood the homeowner had saved. The railing was decorative style and in excellent condition, glad we didn't have to throw it away.
These 6x6 posts were under their other deck an in great condition as well. We added the post caps and base molding and got it ready for the homeowners to paint themselves.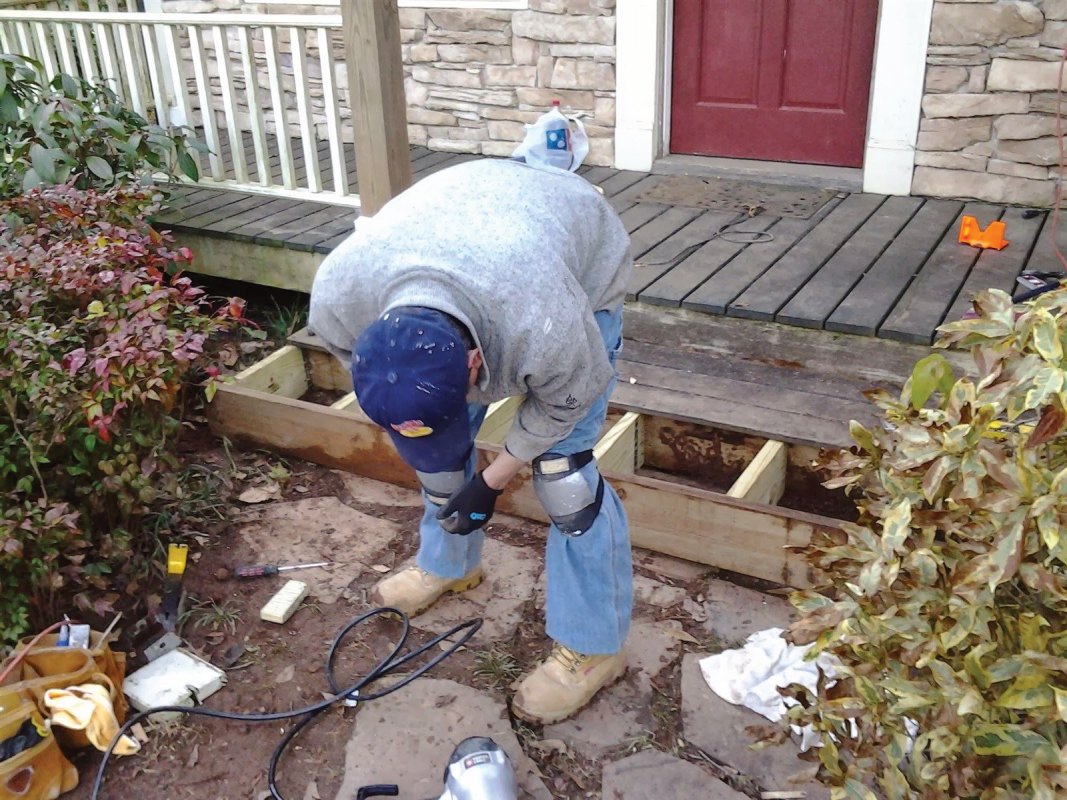 We pressure washed the house and additional two decks giving the home an early spring cleaning.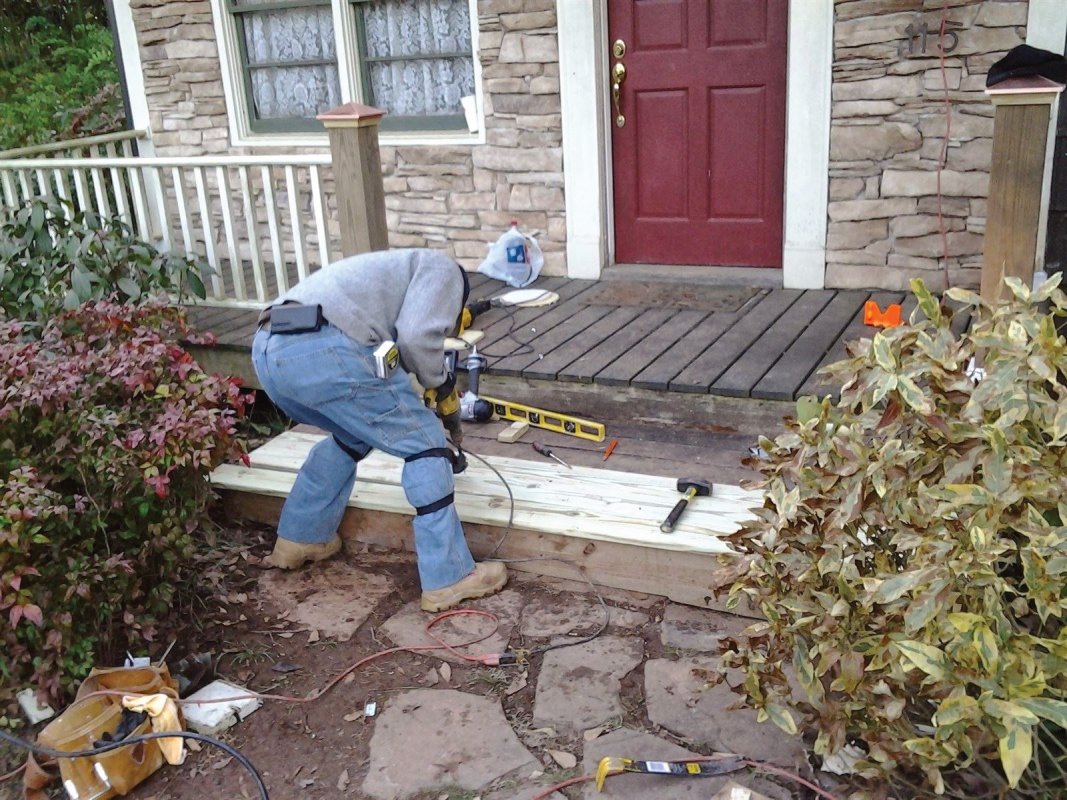 Almost forgot, per the homeowners request we added square footage to the first step giving it more of a platform area. This helps with trip hazards and drier shoes when it rains hard.  
Home Improvements - Home Repairs - Handy Man Help - Moving Services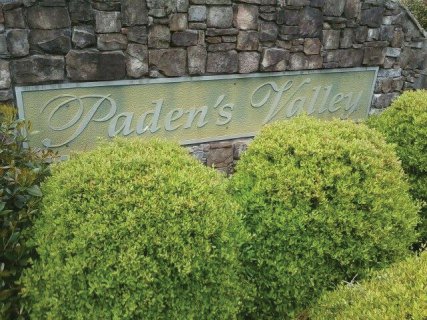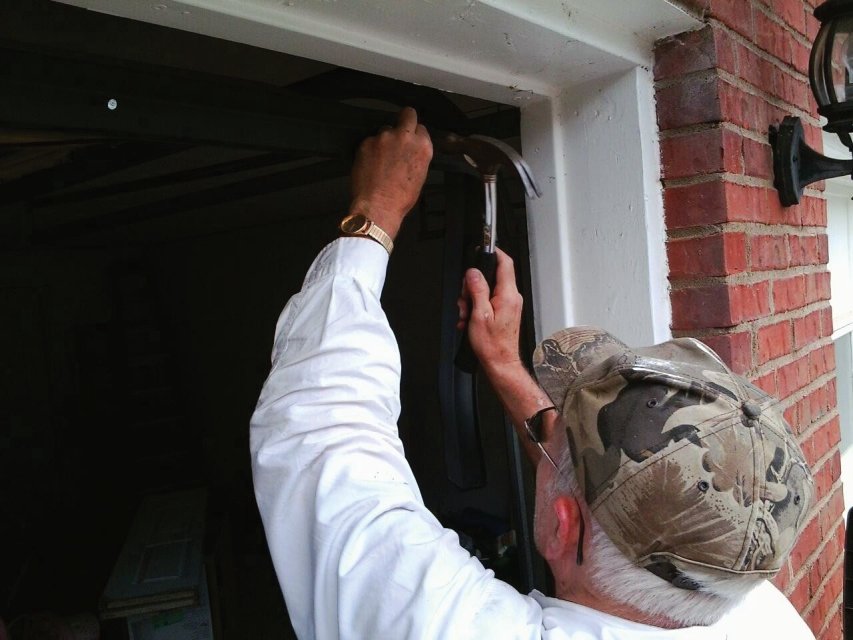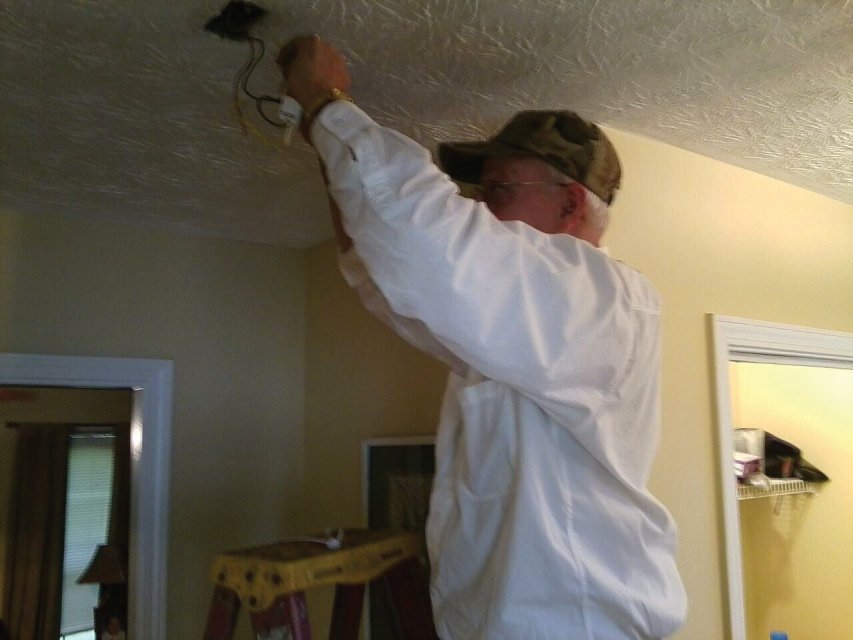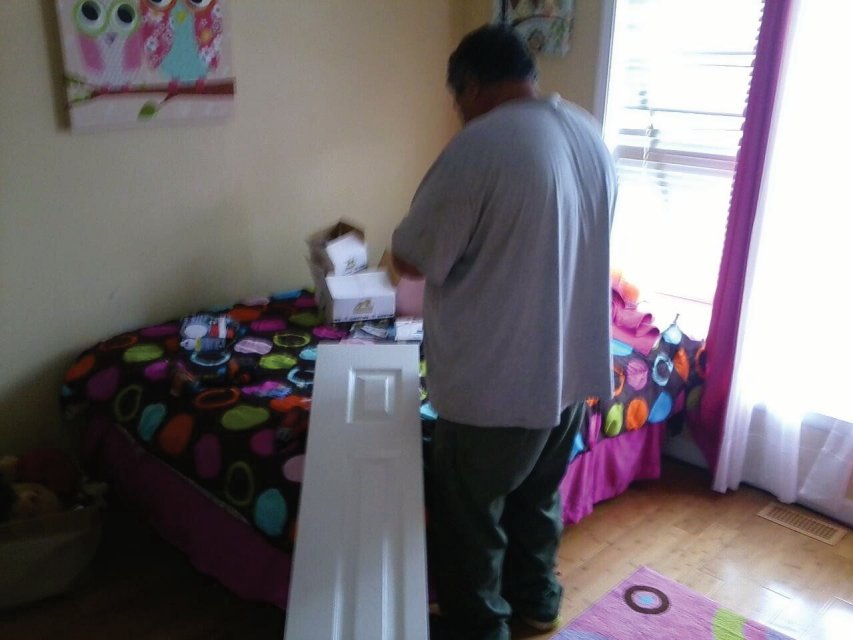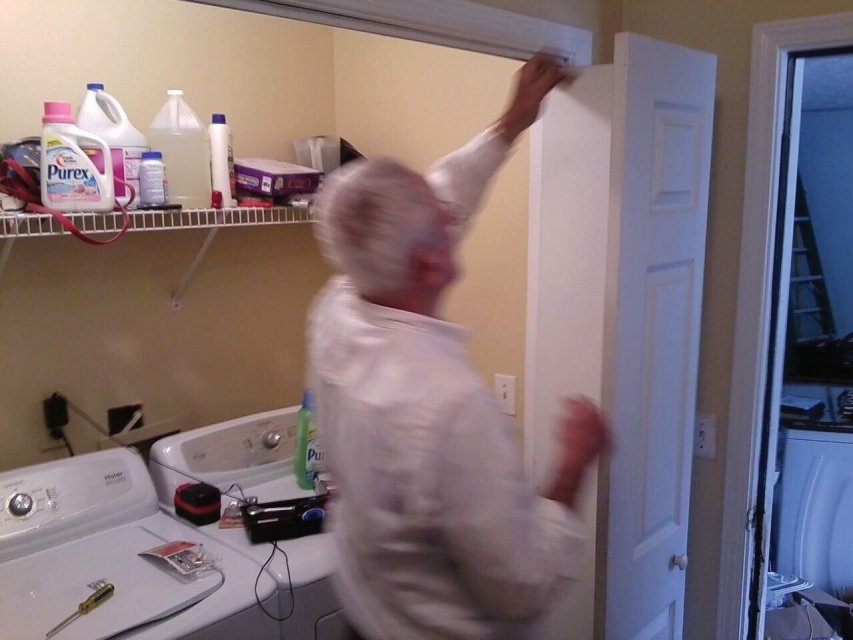 What a very nice lady Ms. Karen was to meet and work for. She called and had her self a good 'honey do list' - from installing a toilet with a bad flange, to installing several closet doors, smoke detectors, edging her yard, fixing her garage door, hanging mirrors and pictures, to permanently installing a coat hanger for her grand daughter. We'd be more than happy to work for this home  owner again. 
/