Shopping Cart
Your Cart is Empty
There was an error with PayPal
Click here to try again
Thank you for your business!
You should be receiving an order confirmation from Paypal shortly.
Exit Shopping Cart
Improving the American Dream

I wish I had some pics before the boys busted tings up. As you can likely imagine the concrete was buckled but no one expected this massive root (the massive tree outside should've cued us). 
We had to pose with our catch. Had to. 
Back to work...ok so as in other concrete work we do, we drilled and inserted rebar to the existing slab to help prevent cracking and help keep the new concrete together with the old. 
We also rolled out welded wire mesh. 
This is what it looks like as we're finishing up. 
Not bad, not bad. 
Let me tell you that there's no better feeling than being highly recommended by a previous client.  
These homeowners are just awesome people. They really are. We ended up doing sooo much for them on this blog we're covering just the concrete slab. 
We demo'd the deck with plans to build a 16'x20' concrete slab
Our lead, Armando, as always committed to doing a great job. 
Here we are doing the prep work in order to set up the proper concrete forming frame. 
Forming is almost complete and believe it;s a lot of work in itself. 
It's really a process. Maybe not complex per se, but it's not something as easy as 1-2-3 either. 
And here's what proper forming looks likes. You have your wood framing and support. Everything is leveled along with the welded mesh wiring. 
The day we started pouring concrete the clouds started pouring rain.
Here;s our man Erik doing his thing making all this concrete look pretty. 
Just this last corner and we're done...
Yup, it's pretty cool to see this process end up as nice as it does. 
This was like a 10" concrete slab. We poured ready mix concrete with fiber mesh in the mix itself. 
The welded mesh and fiber mesh all help the concrete stay strong and not crack. 
Yes, we built this beautiful deck, & roof AND we replaced all the siding, 45 windows & painted. 
This particular project is a lot more than just a concrete slab. However, this time I wanted to showcase more of this phase to help you better understand the process involved. 
The big project is an AZEK PVC new deck. The existing deck will be replaced with AZEK PVC "porch" decking and the rails are Fortress aluminum railis. Visit azek.com or contact us for more info. It's a create product with a 30 warranty. 
Here's the concrete part of the project. It's hard to tell in this pic but there's a lot of slope which untilmately ends up in a 10" thick slab.
Lot's of shoveling and moving of water drain pipes.
Bam! Is that not a lot of dirt from an unsuspecting 16x21' area.?
In this pic you also see the "forming" - the 2x8's, stakes etc needed to ensure the slab takes the shape we want it to. 
The "trench" you see will be for the 6x6 posts that will support the new deck...aka "footings." Footings have to be at least 12" deep or until we hit hard/virgin soil. 
We have to transport every bit of concrete in this ready-mix truck to the back yard. 
This time we rented a concrete "scoot" buggy that carries twice as much concrete than a wheel barrow and spares much back pain. 
Prior to pouring and after we "formed" we also installed sheared welded steel wire remesh sheets to further enhance the slab's strength and prevent cracking. 
This is our new best friend...the Wacker Neuson concrete vibrator. When concrete is poured it's likely to have 100's or 1000's of air bubbles that can substantially weaken the dry slab. 
Concrete vibrators will eliminate air bubbles by vigorously shaking the freshly poured concrete with this mechanical vibrator. 
This equipment allows us to leave a much better product for our clients. 
Here she lays...
and after she decided to firm up some we resumed our work -- here' we are leaving what's called a "broom" finish. As opposed to a smooth slippery finish a broom finish leaves a safer walk-able yet nice surface top. 
After about a week of let this thick slab cure, watering it down in the evening to prevent cracks during the curing process and rain we came back to the job site to build the deck. 
Beautiful slab.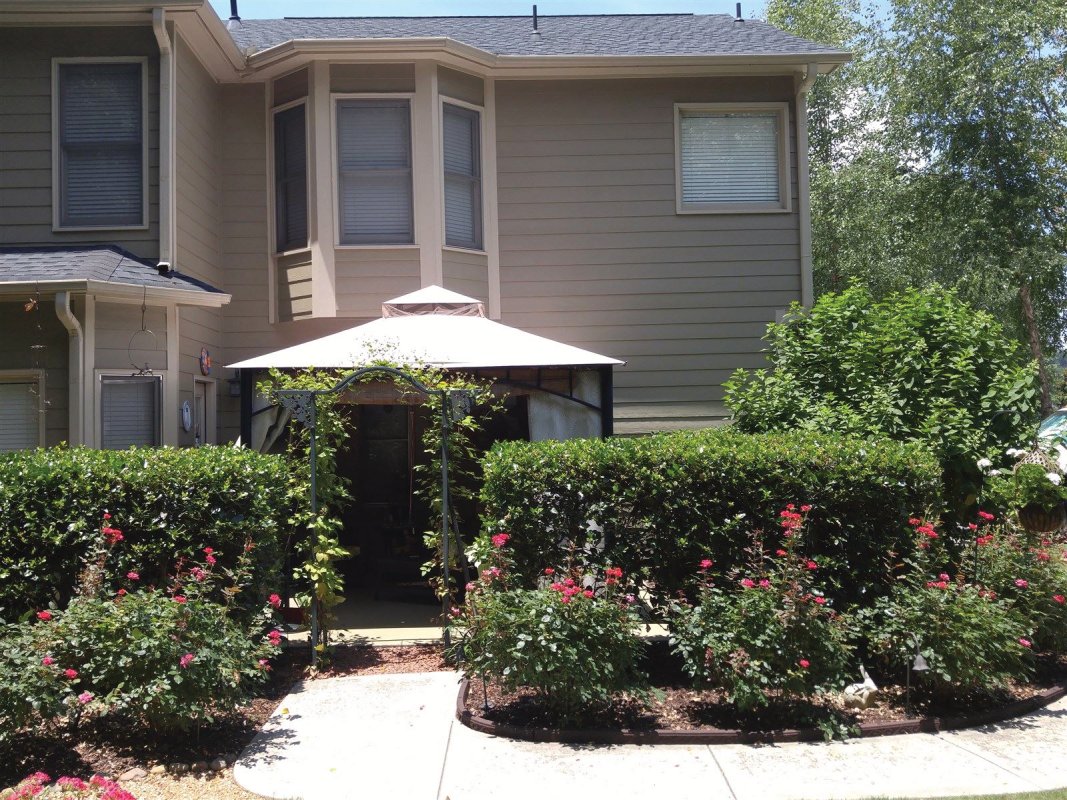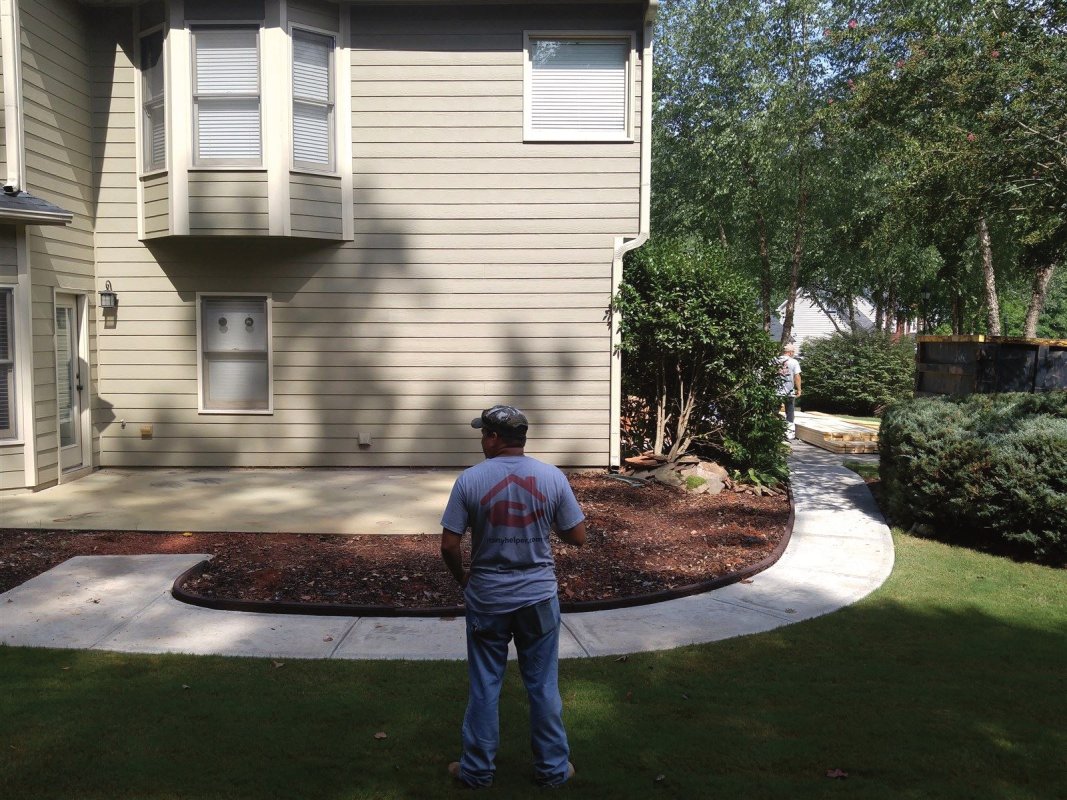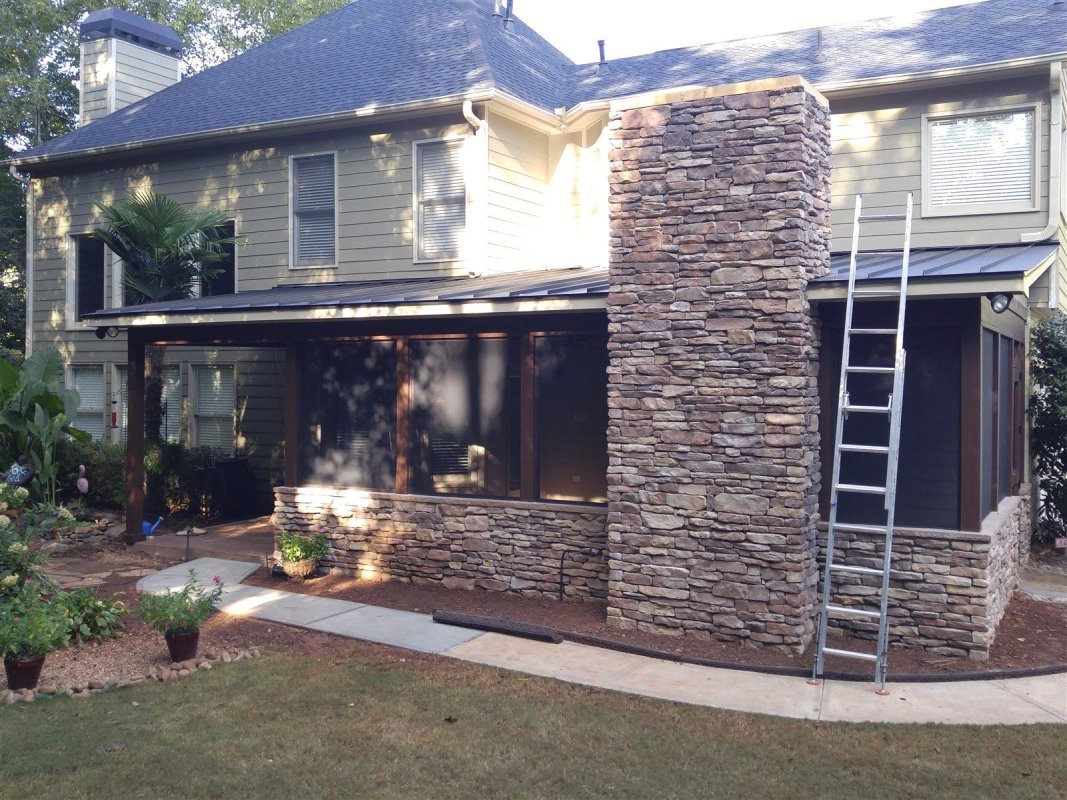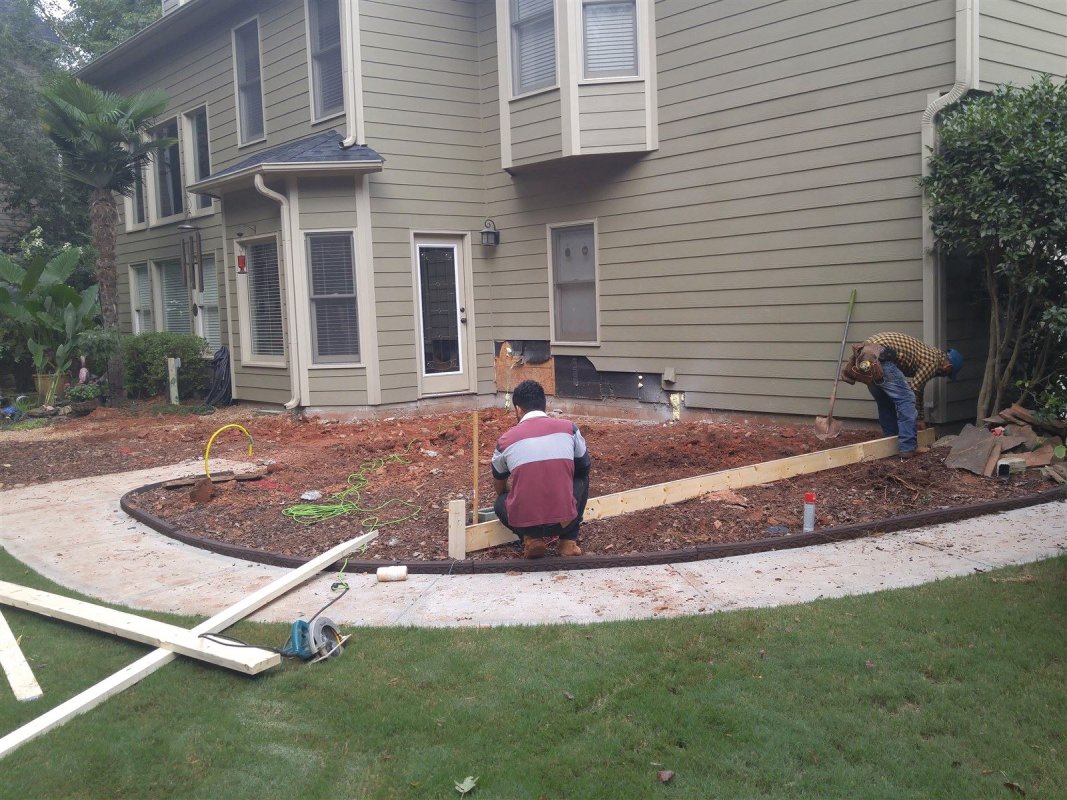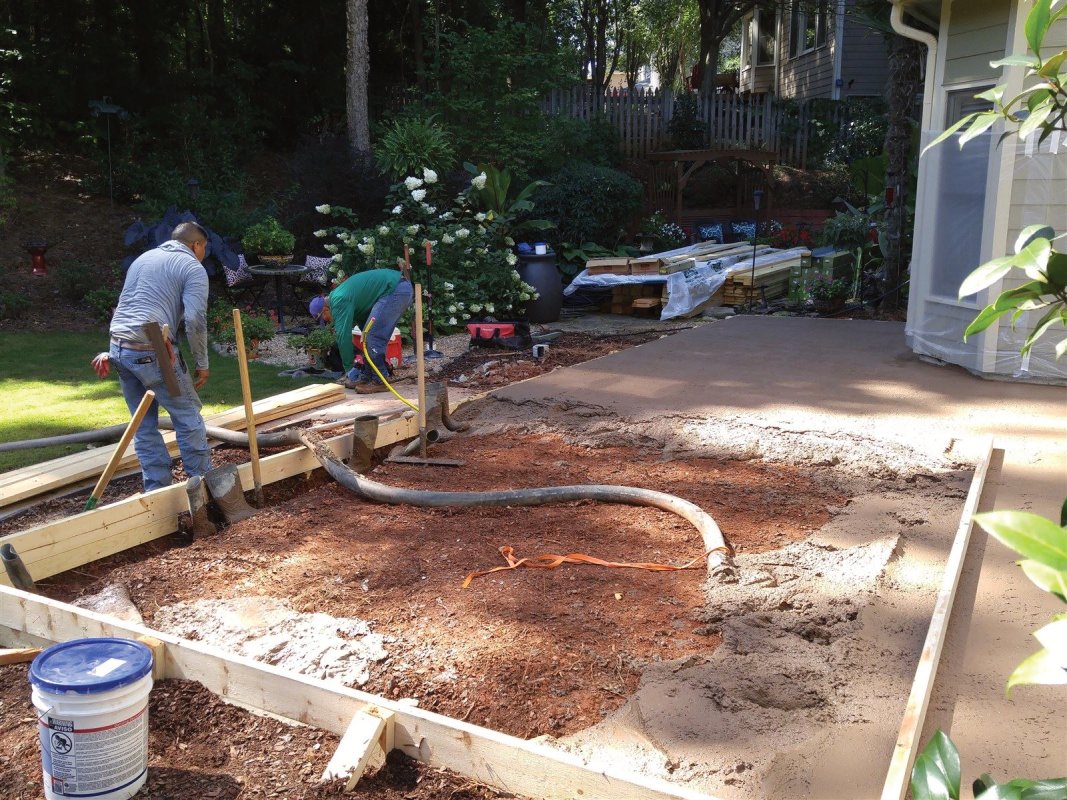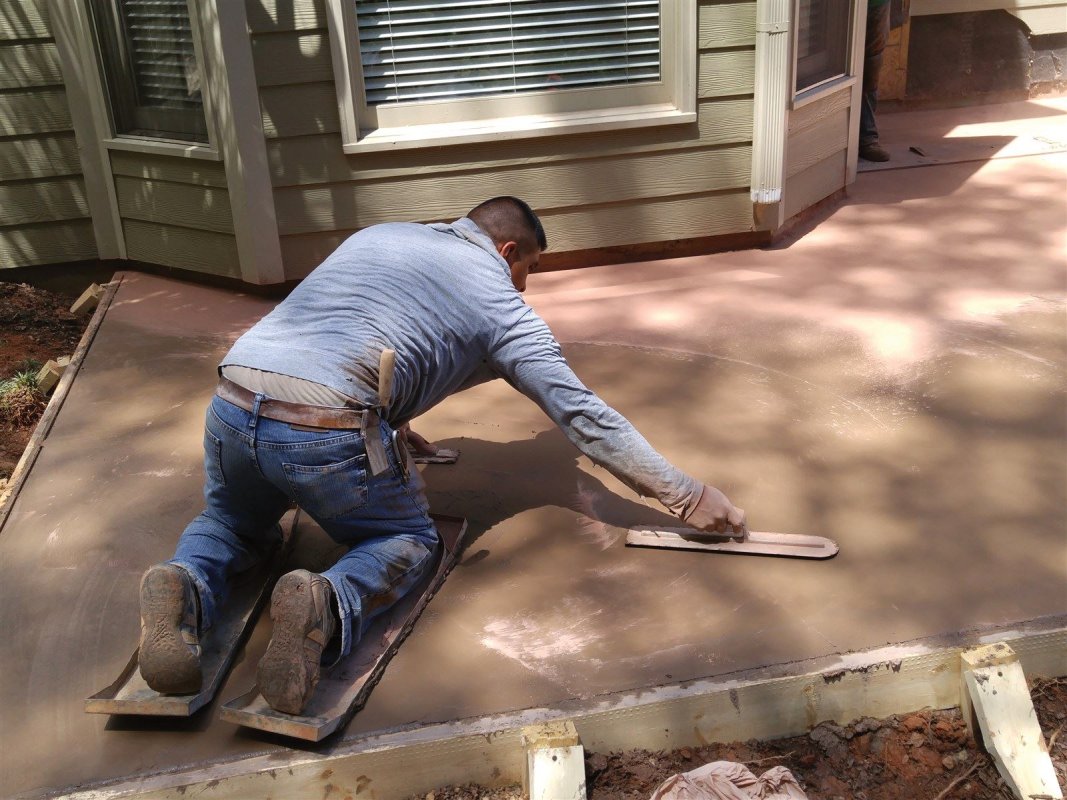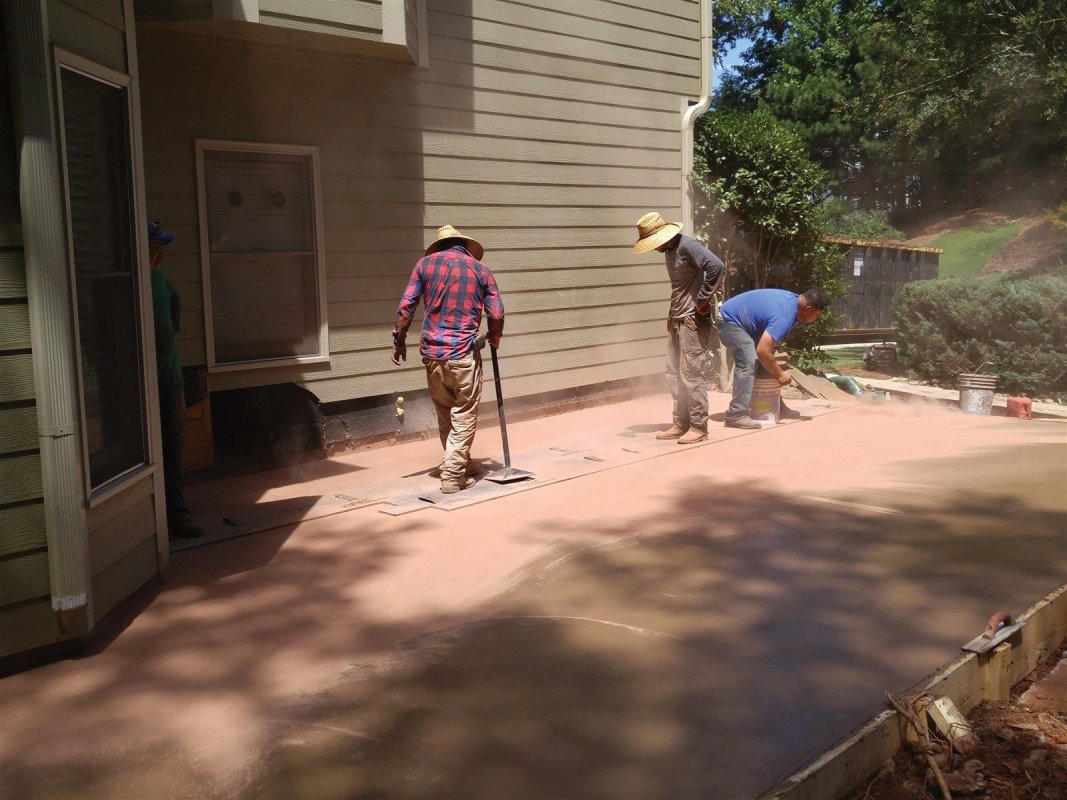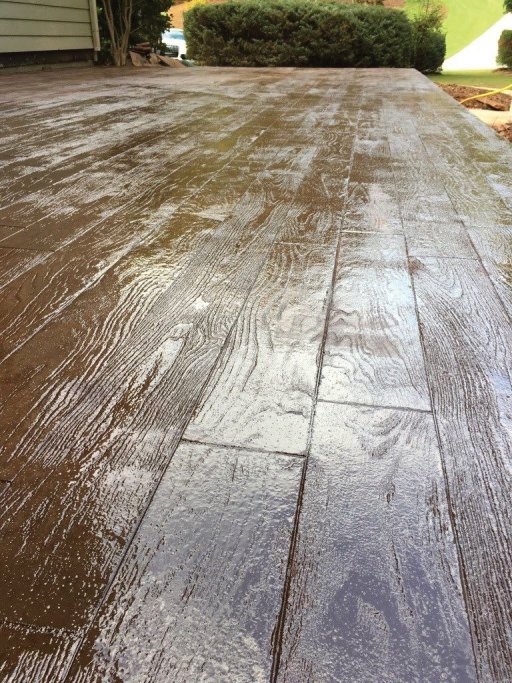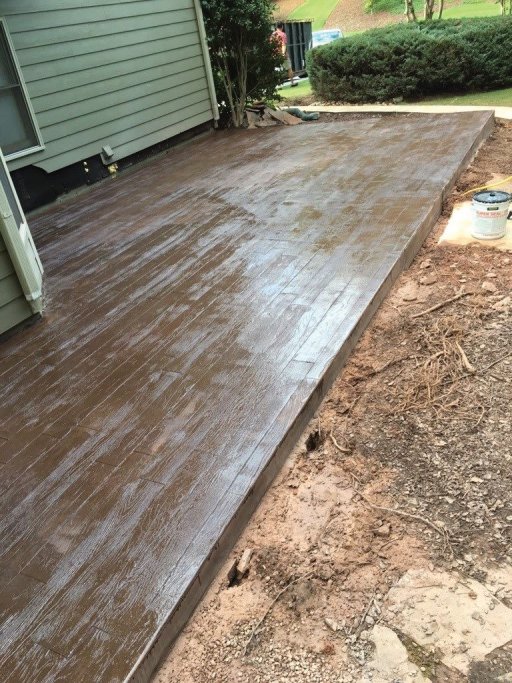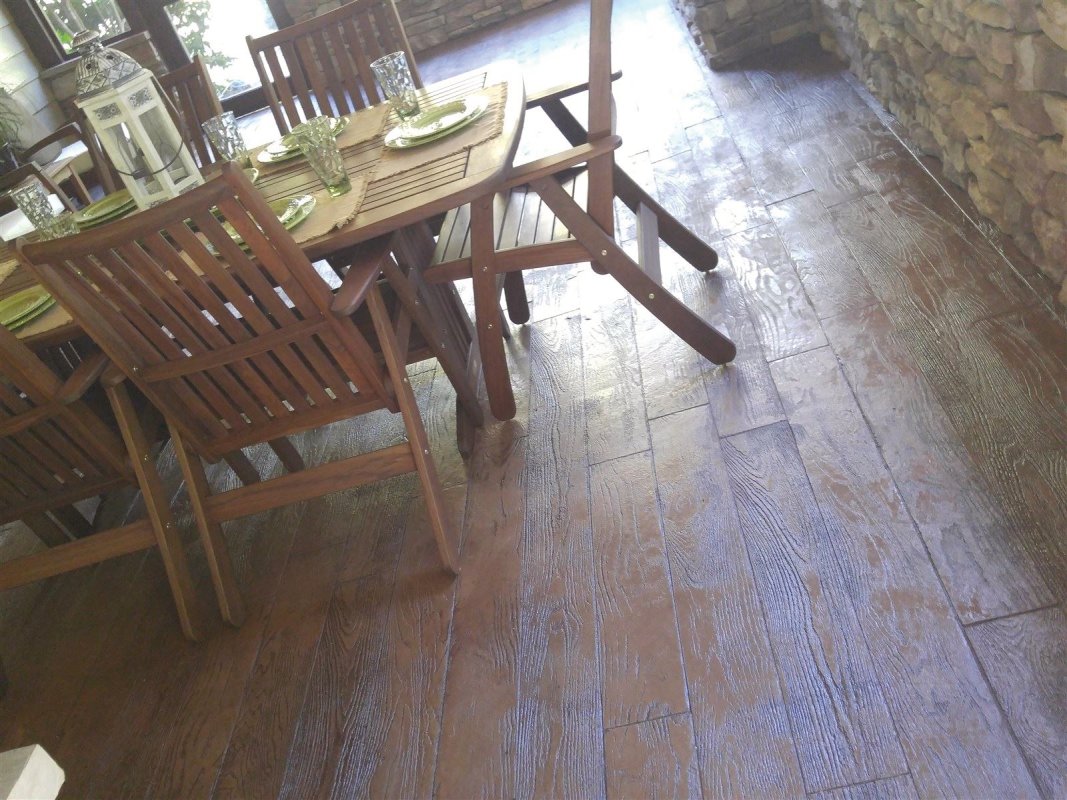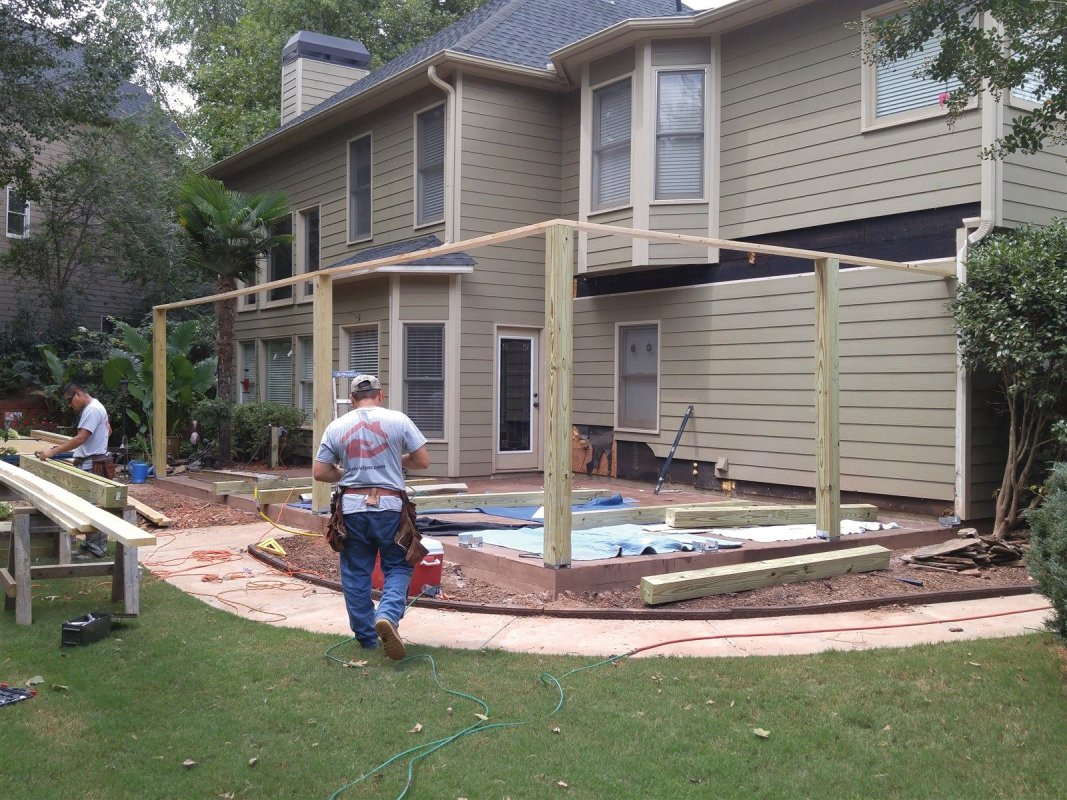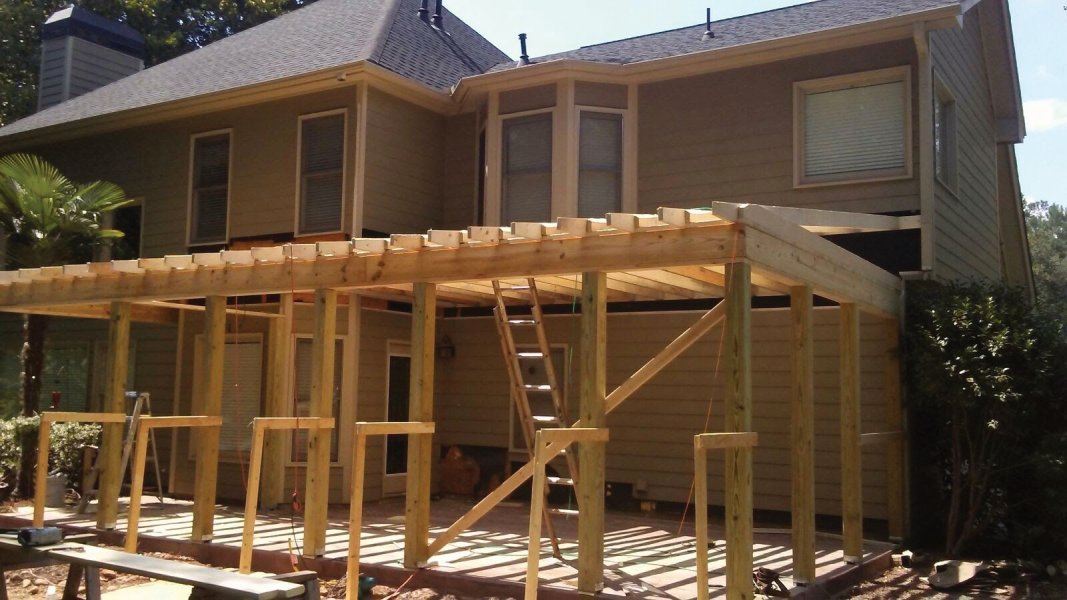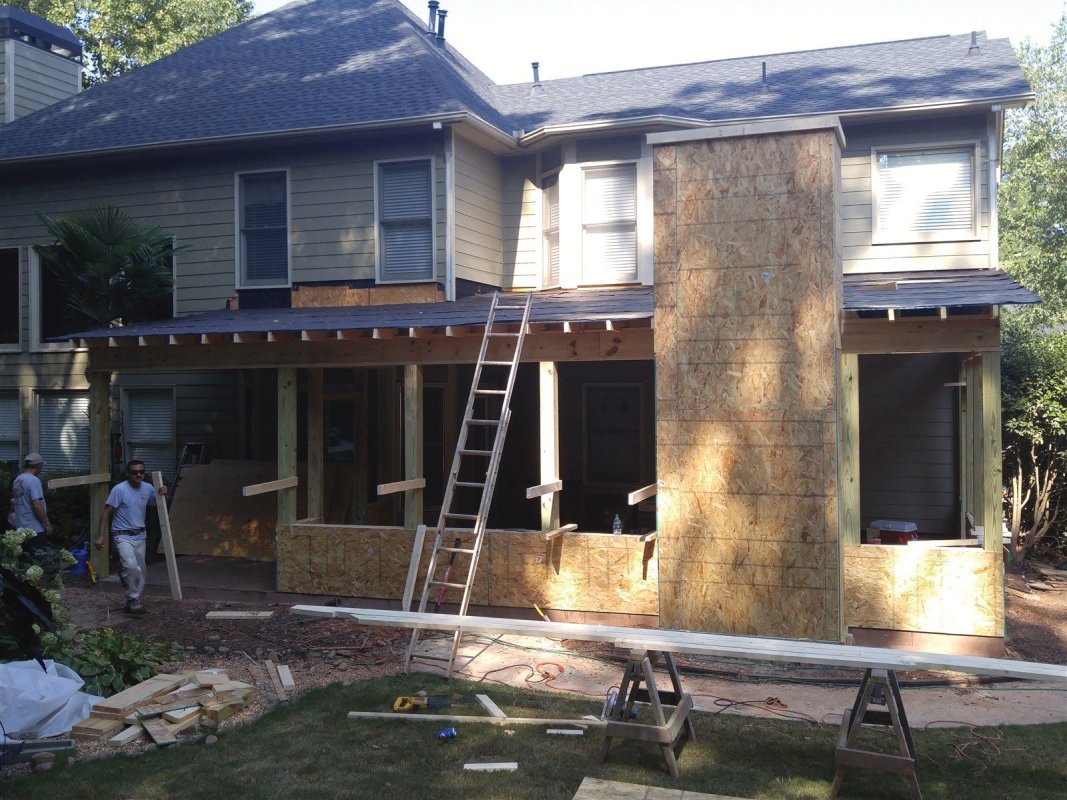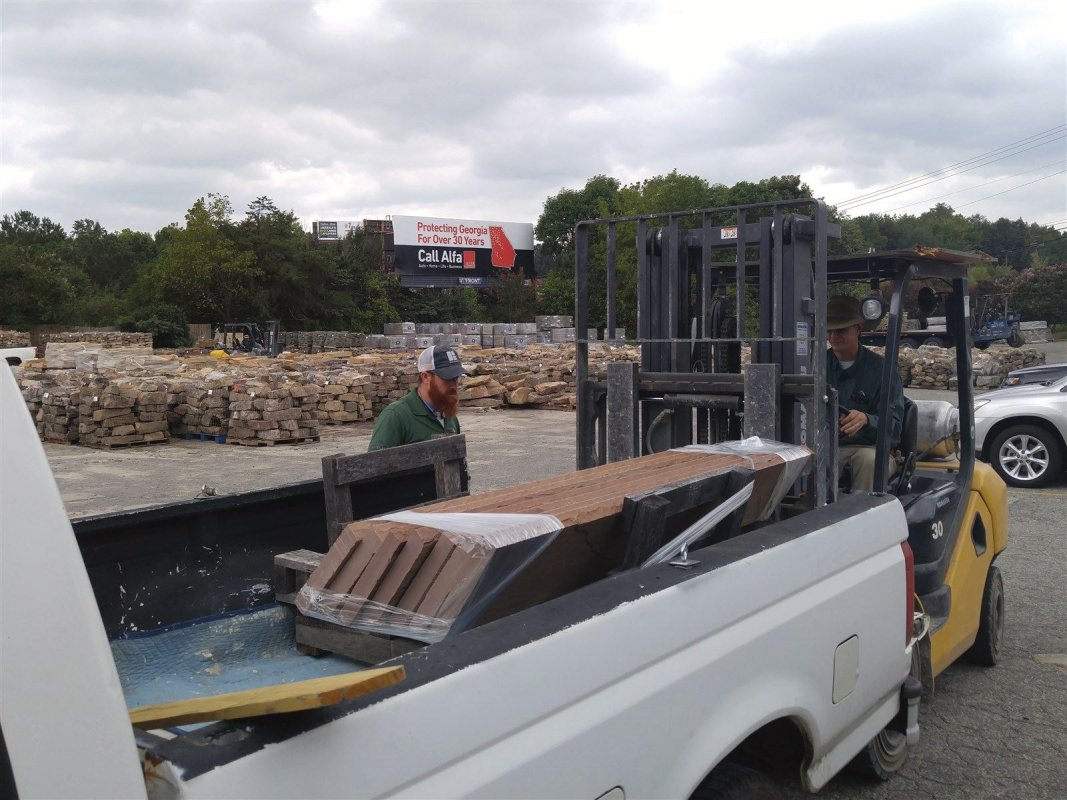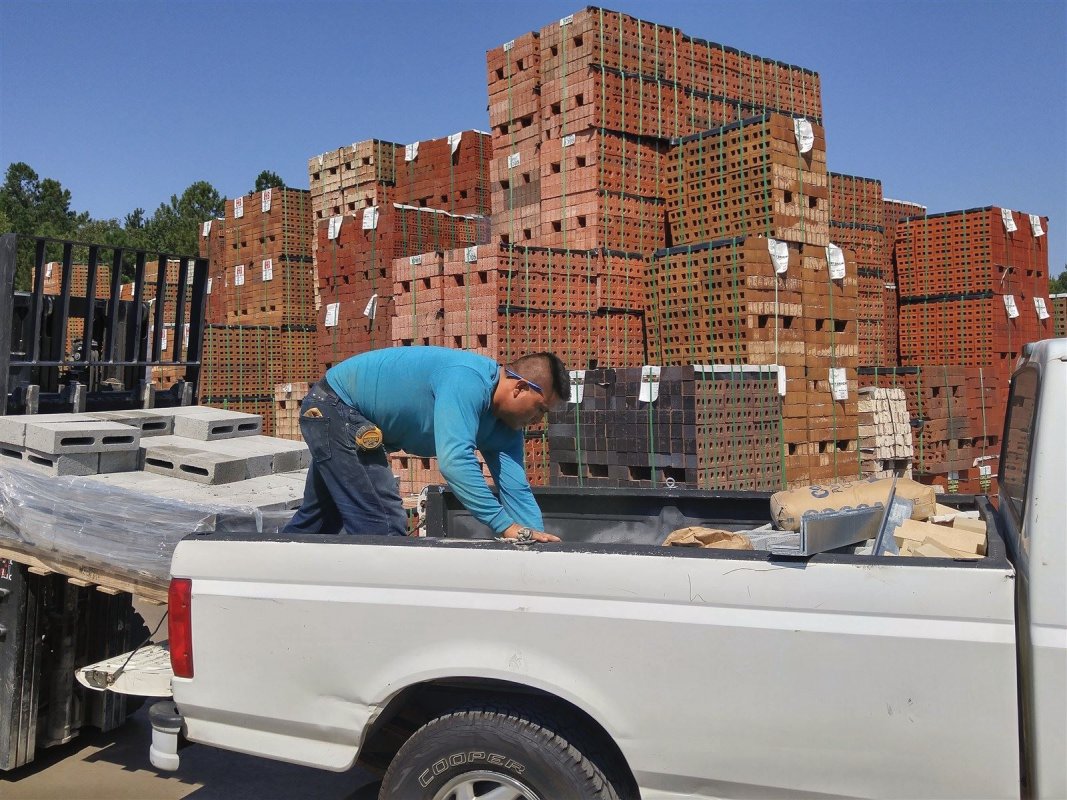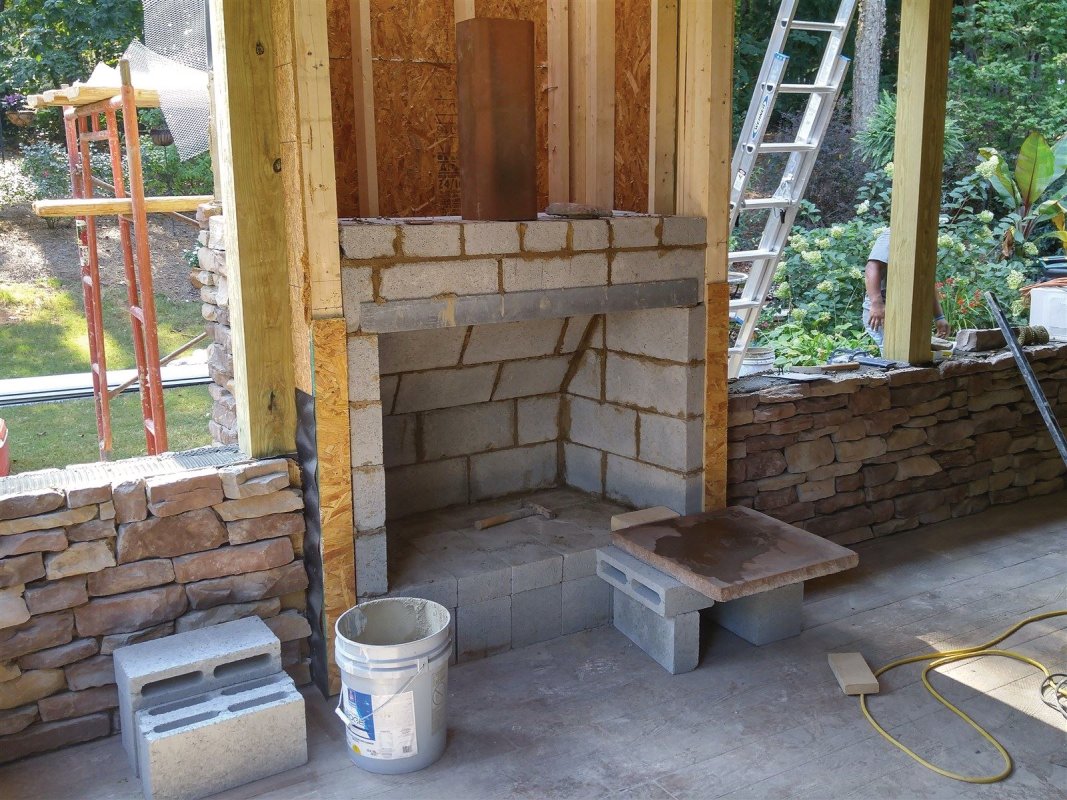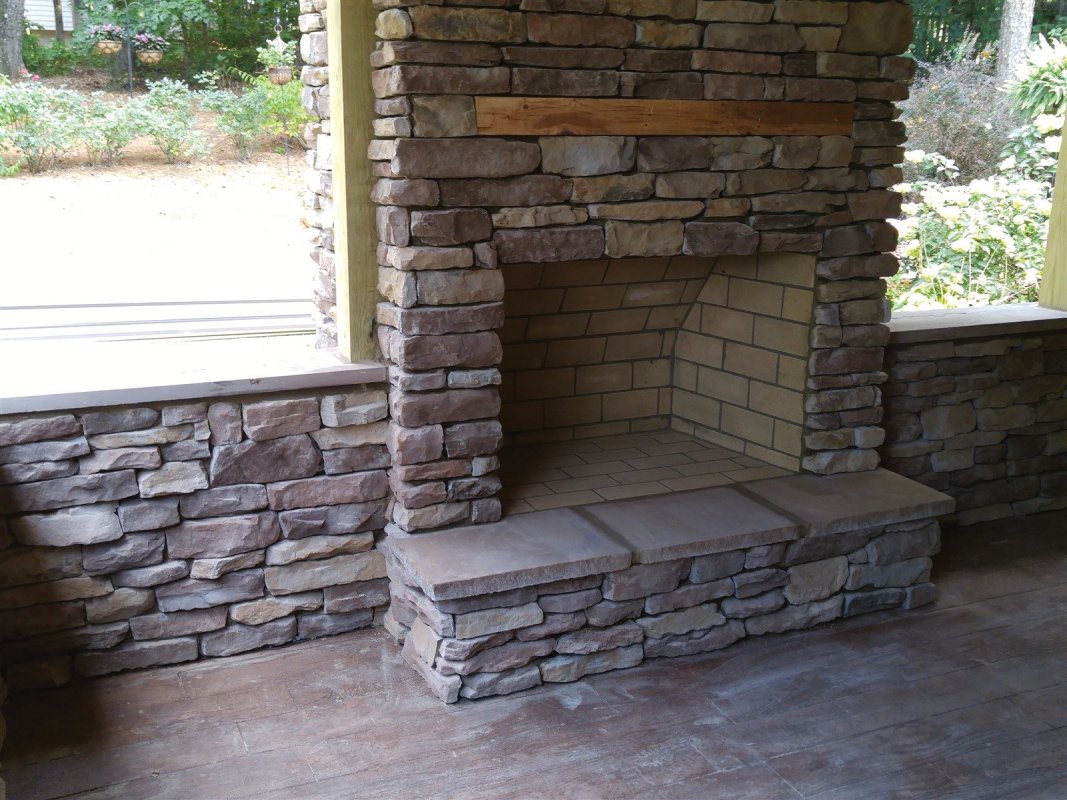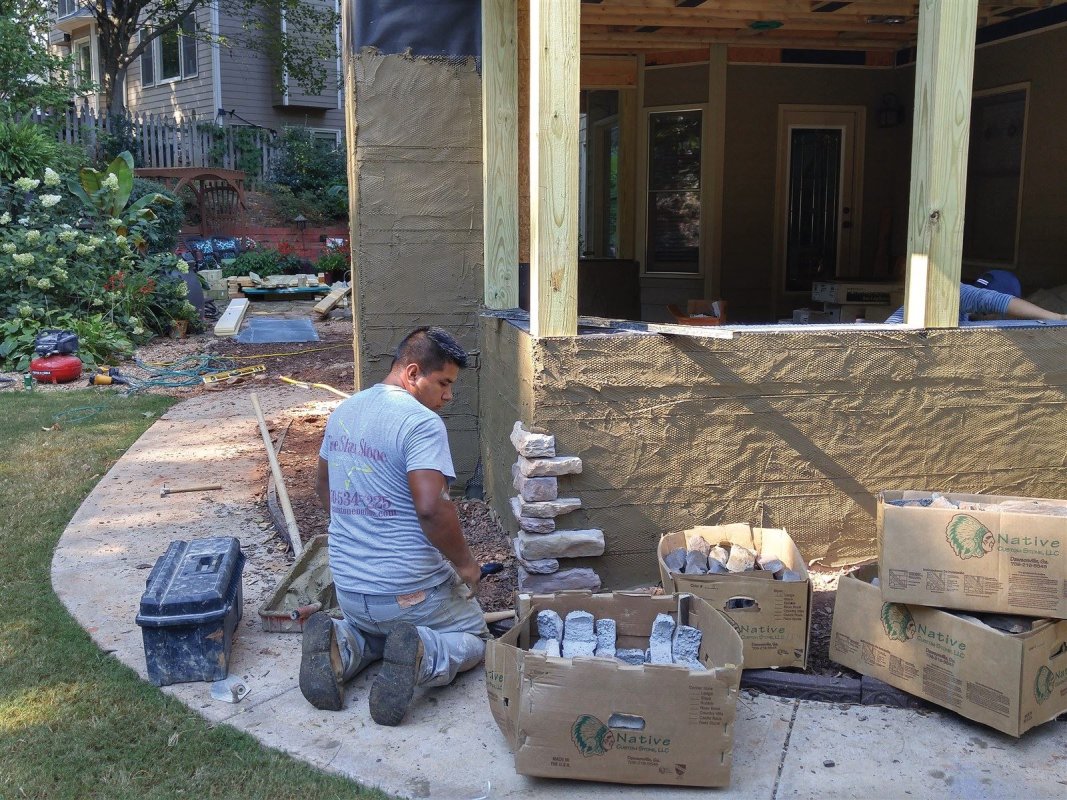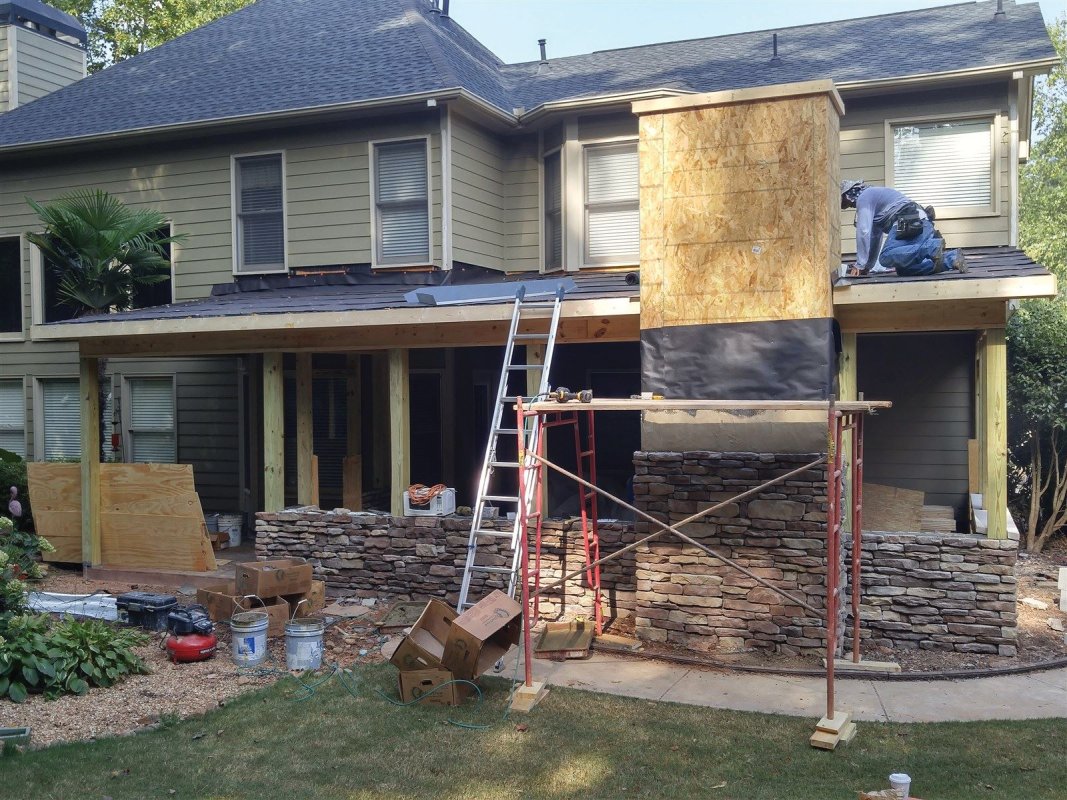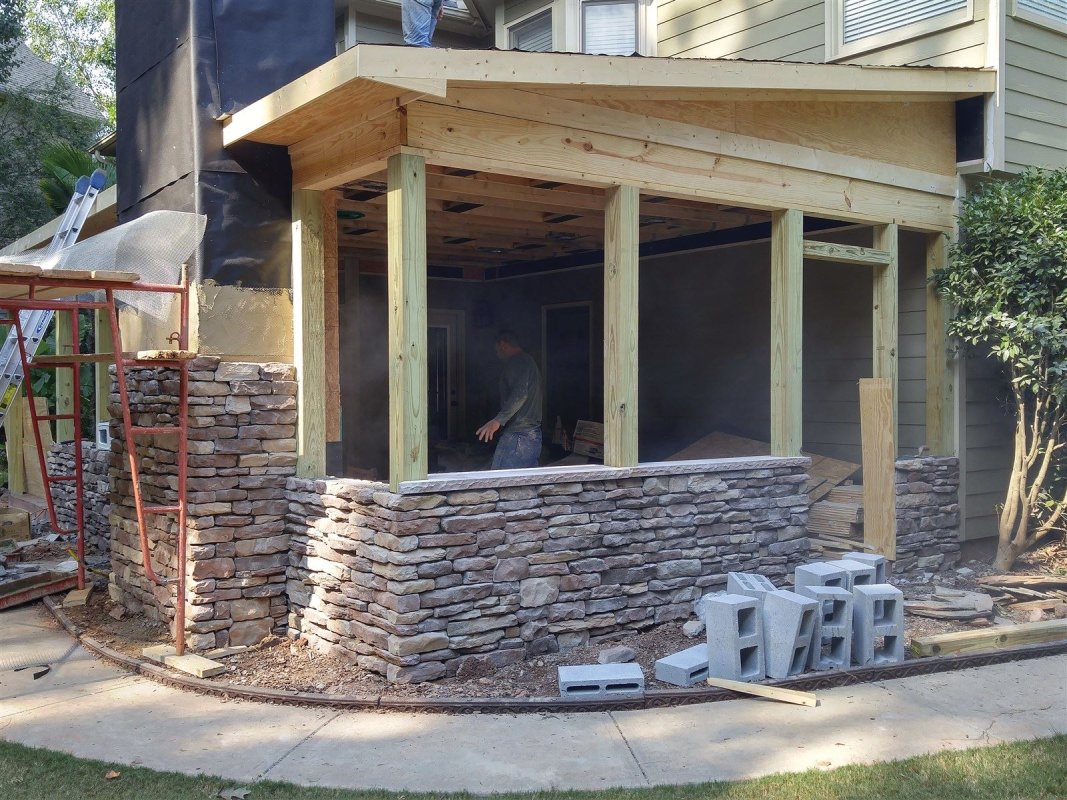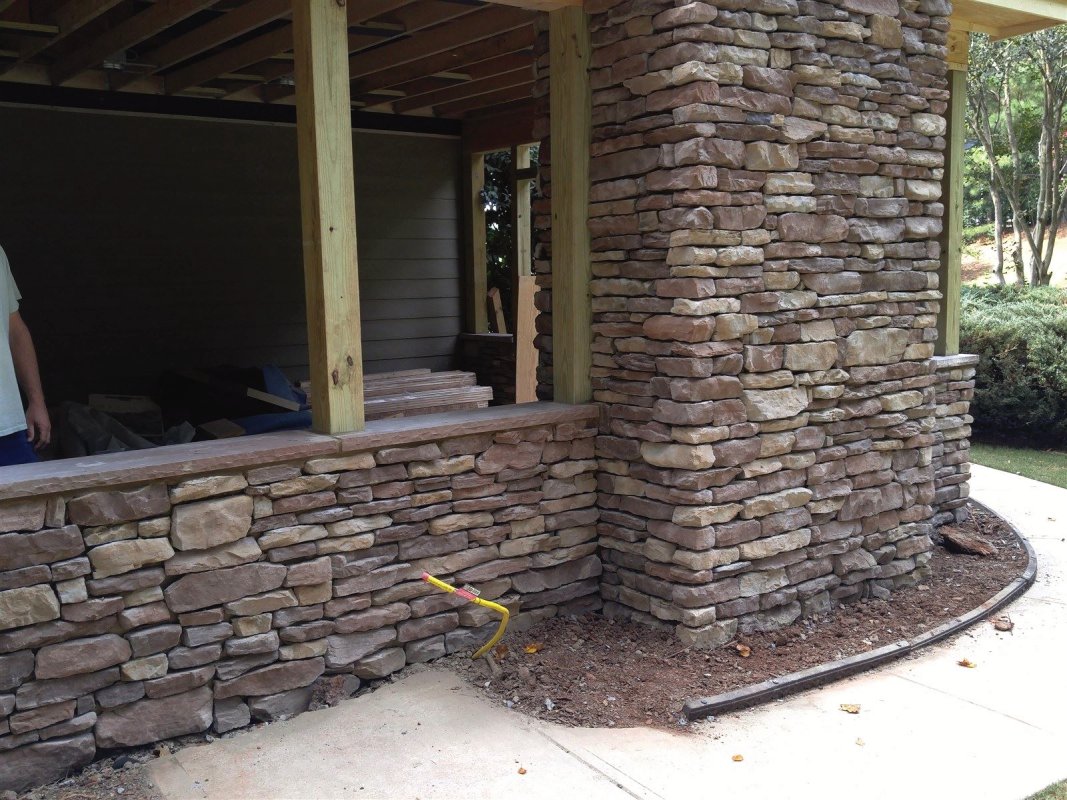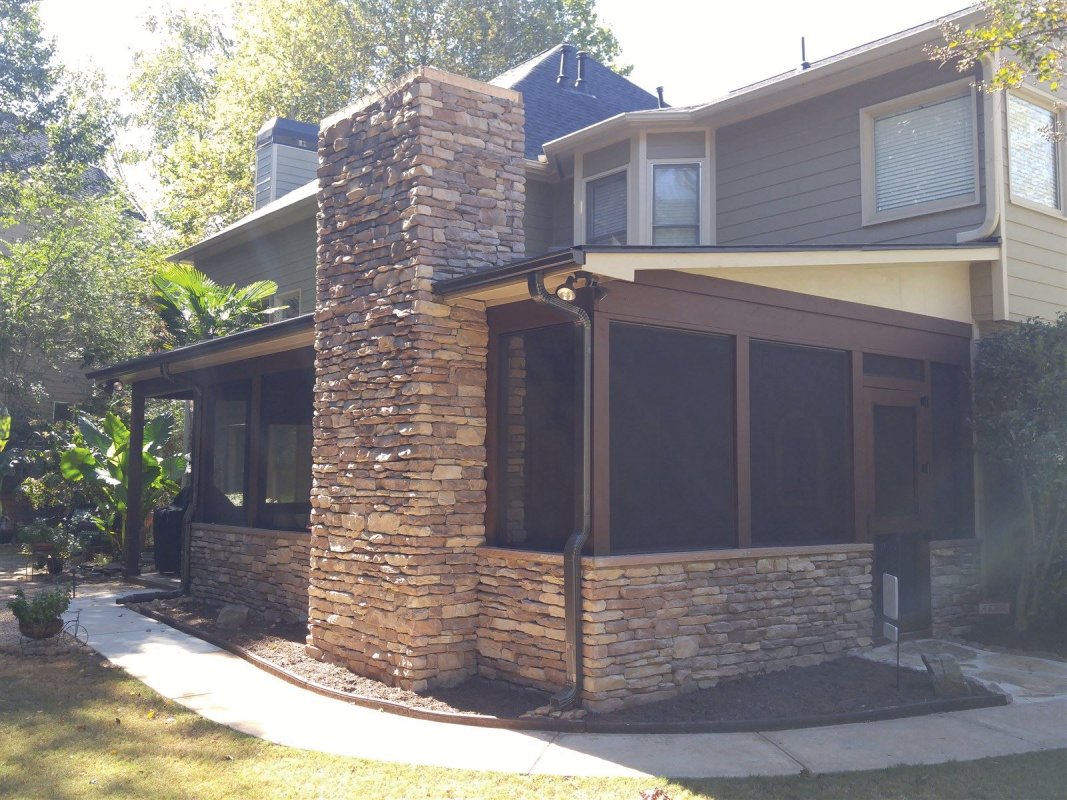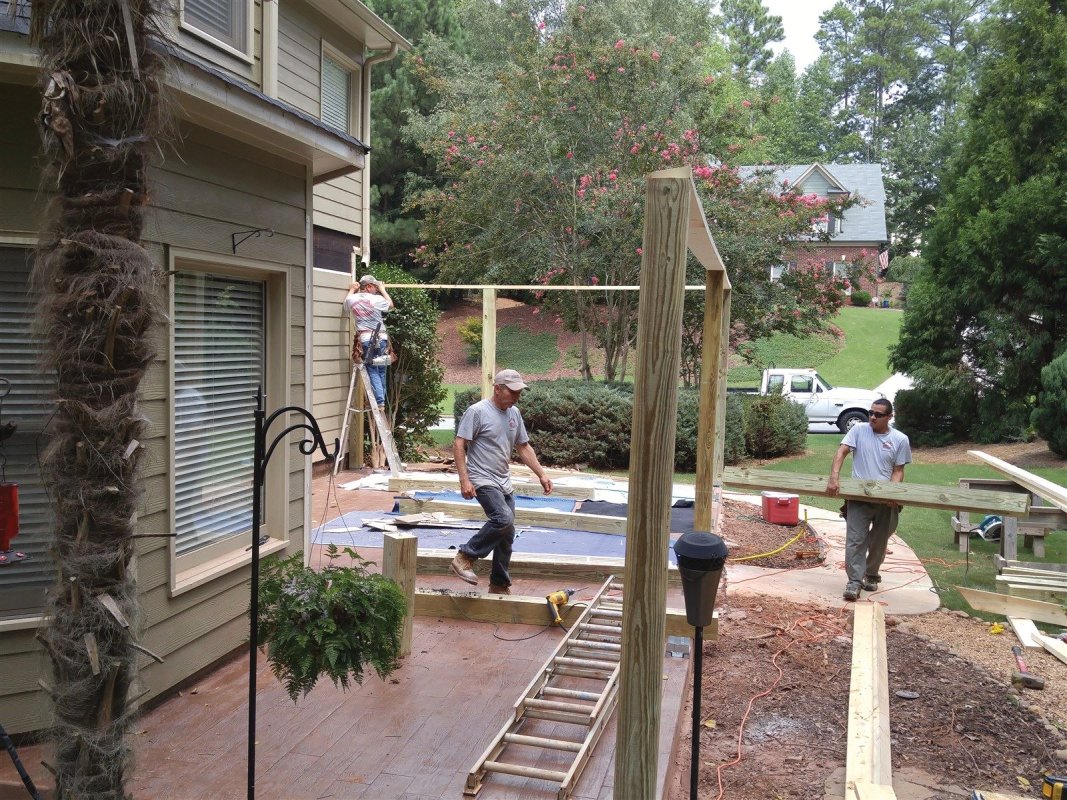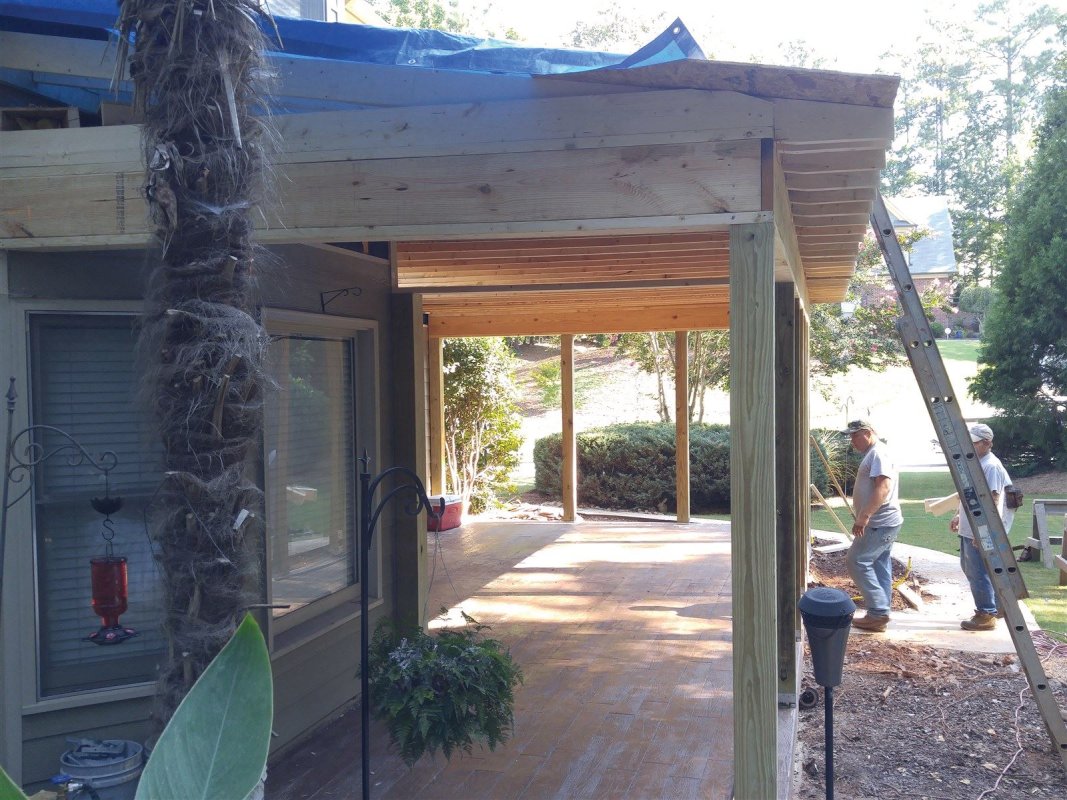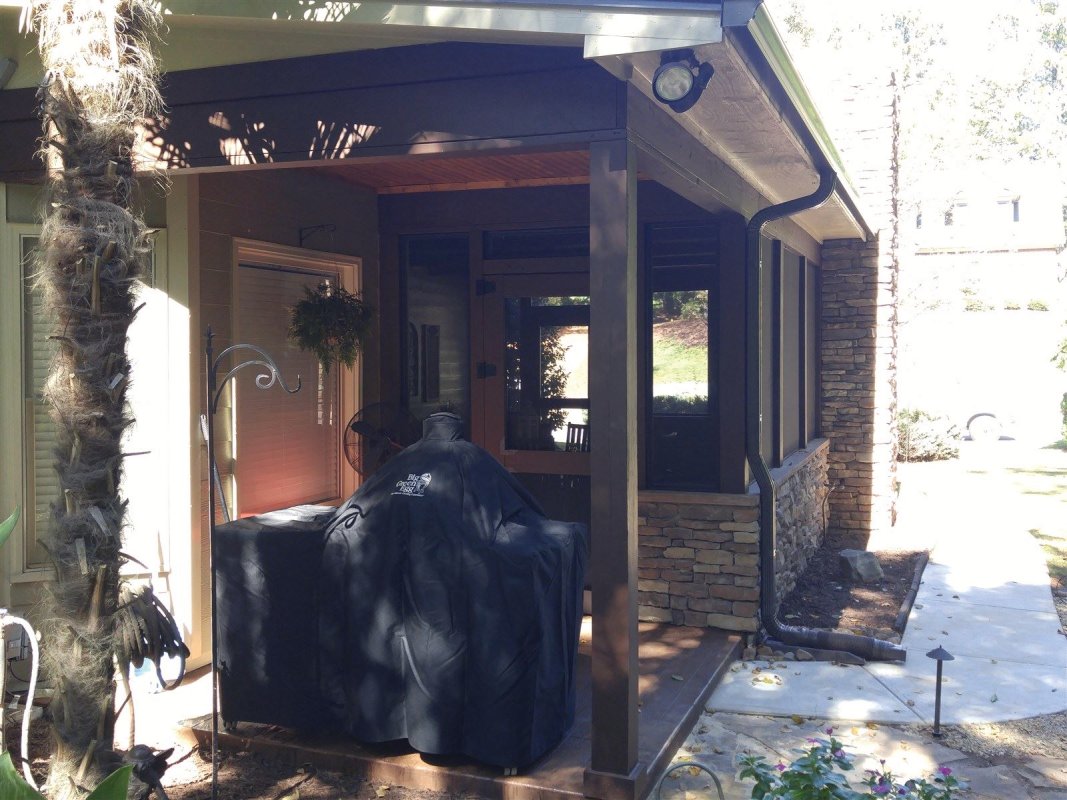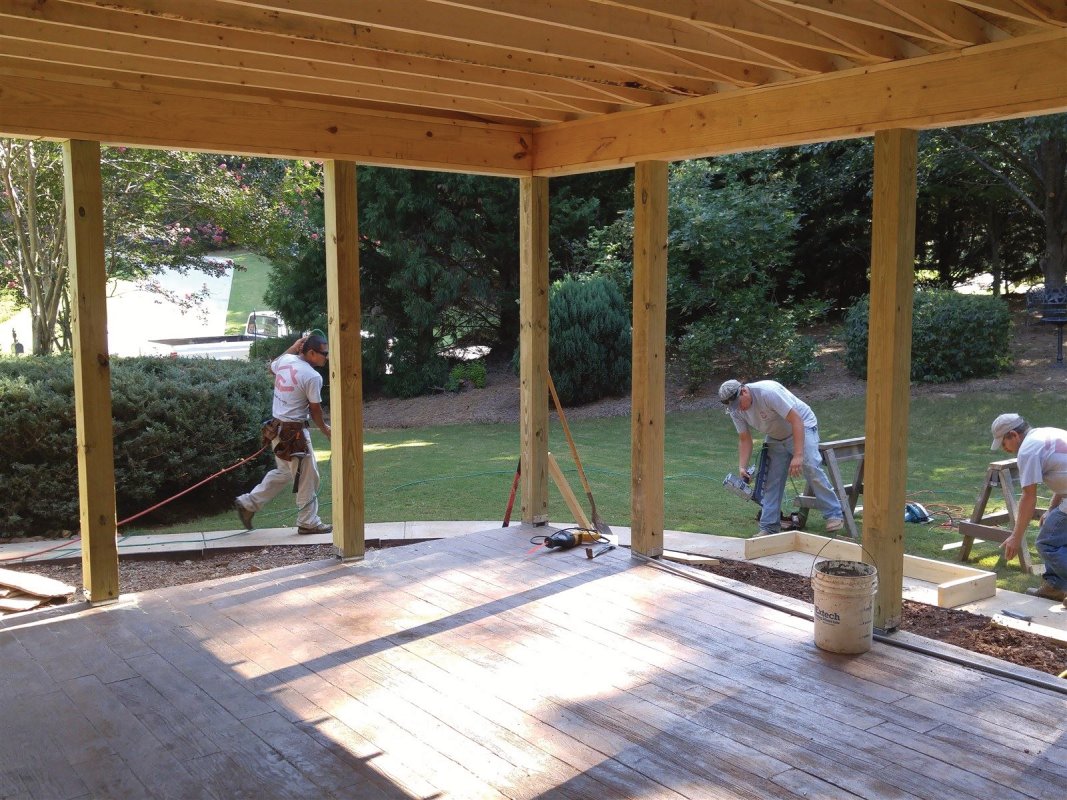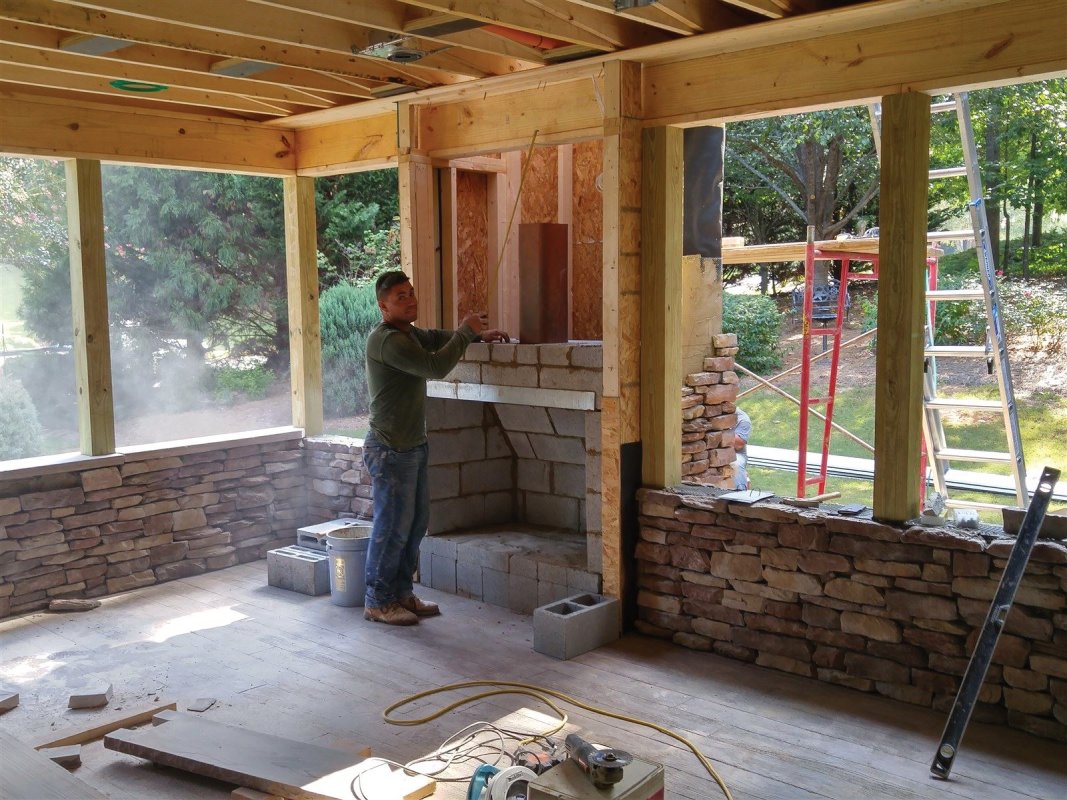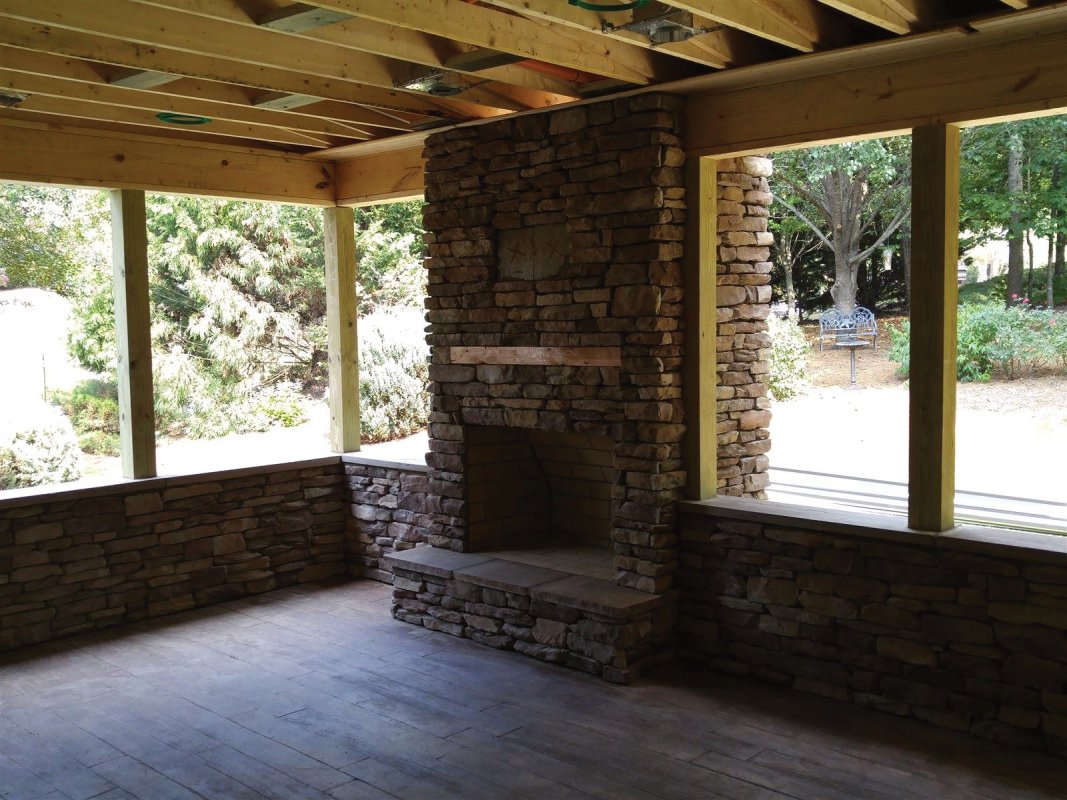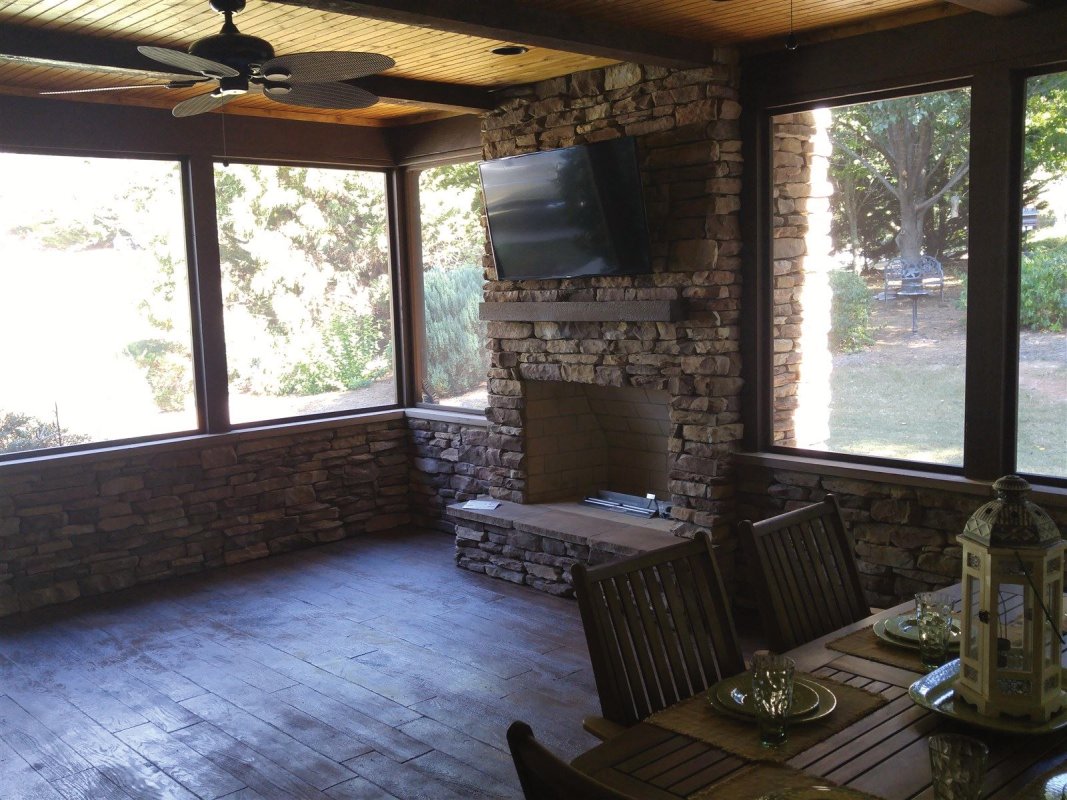 CUMMING: We try to do good business and good work for many good reasons. And what do we get? We get our objective which is to be referred by our clients and we're very thankful when it occurs. 
Here is our referral project. Great homeowners, really, really good people. But, we had to tear this little oasis down to build a new one.
Armando in thought as he's the one leading the project. The clients actually removed all the plants and furniture. 
Here's the pretty much finished project but it's the pics below that demonstrate the process. 
We busted up the concrete that was unusually thick for a patio slab.
And we're off to pouring the new slab. 
             This is certainly a skill....
The slab is poured, pretty much dried and onward to the next step...
                   BAM!!!!
How awesome is this huh? Wood plank stamped concrete. It's not a cheap process but it is a great looking product. The clear coat is still wet but it'll tone down some. 
the color is Leather - with a semi-gloss clear coat finish.
Here it is with furniture....looks really nice. 
This was the start....
The framing went up pretty quick...
The knee walls, chimney and roof...
This is the fireplace mantel....I went to PMC Building Supplies for a 4x6 rough-sawn cedar mantle. Walked the warehouse with Joe from PMC Building Supplies, and found our piece way up on a shelf, needed the forklift to bring it down it was so high. 
We went to Stone Center of Georgia to select the knee wall stone caps...they had to match the stones selected by the homeowner.
Here were are at the North Georgia Brick yard getting fire rated bricks and stones for the chimney we're building.
There's the start...
There's the finish....rough-sawn cedar mantel, knew wall cap stones, and fire rated brick for the chimney.
The stone processes start with this corner first....
Stone work is yet another skill....
Looking nice...
Look at this....beautiful
All that's missing is the custom ordered chimney cap....screen in 3-season addition...
       The start from afar....
Looking nice....
           Looking Done!!
My corner, my view....
Making it happen....
Beautiful stone work
BAAAAMMM! look at the ceiling....tongue & groove ceiling, stained. 4x6 rough-sawn cedar beams, recessed lights, ceiling fans (the clients had speakers installed). This looks great
We love referral business and this one is one of them. As you scroll down you'll see where we took this 20x12 deck that was too narrow for the clients to ever really enjoy the outdoors. 
The rendering is what you''ll see at the bottom. :) 
                        Nothing great...
After demo-ing the back deck we started with a new foundation.
The foundation was about 17x16 SF...
The initial framing to get things going....
Let's see...what do we have here. Our lead, Armando, game planning. 
This job had a lot of detail so we pulled out the rendering to help us all make this happen. We purchase our materials from PMC Building Supplies
It's now starting to take shape. 
Notice the shed roof? Blends right in with the house. 
Here's the beautiful TimberTech Composite decking - we're installling the Tigerwood decking from their Legacy Collection....nice
One of our norms, tongue & groove ceilings with rough sawn cedar beams... we seem to do this a lot. 
More beautiful TimeberTech Compaosite Decking - Tigerwood is the main decking, Mocha is the border decking....
Here you can see them both better. 25 year warranty - no staining, cracking....low low maintenance
Installed the ceiling fan and about 4 outlets...
Here she sits...3-season 2nd level deck with a nook for the bbq grill.
A finished look....
Sweet!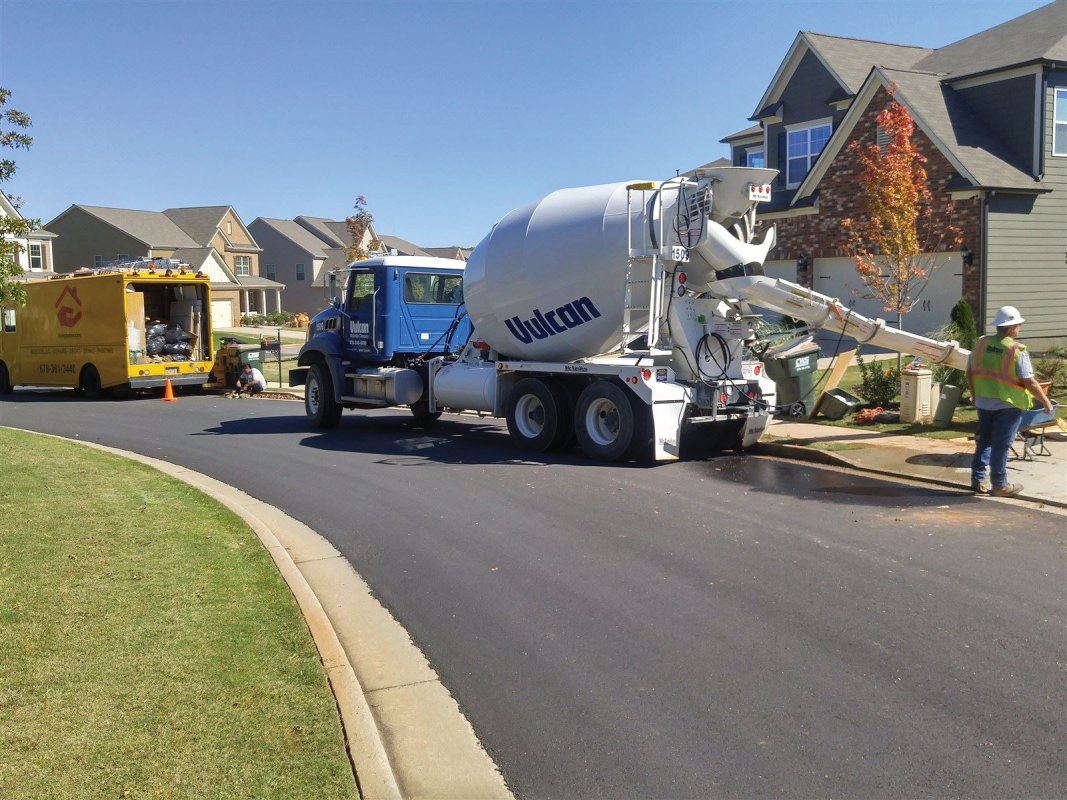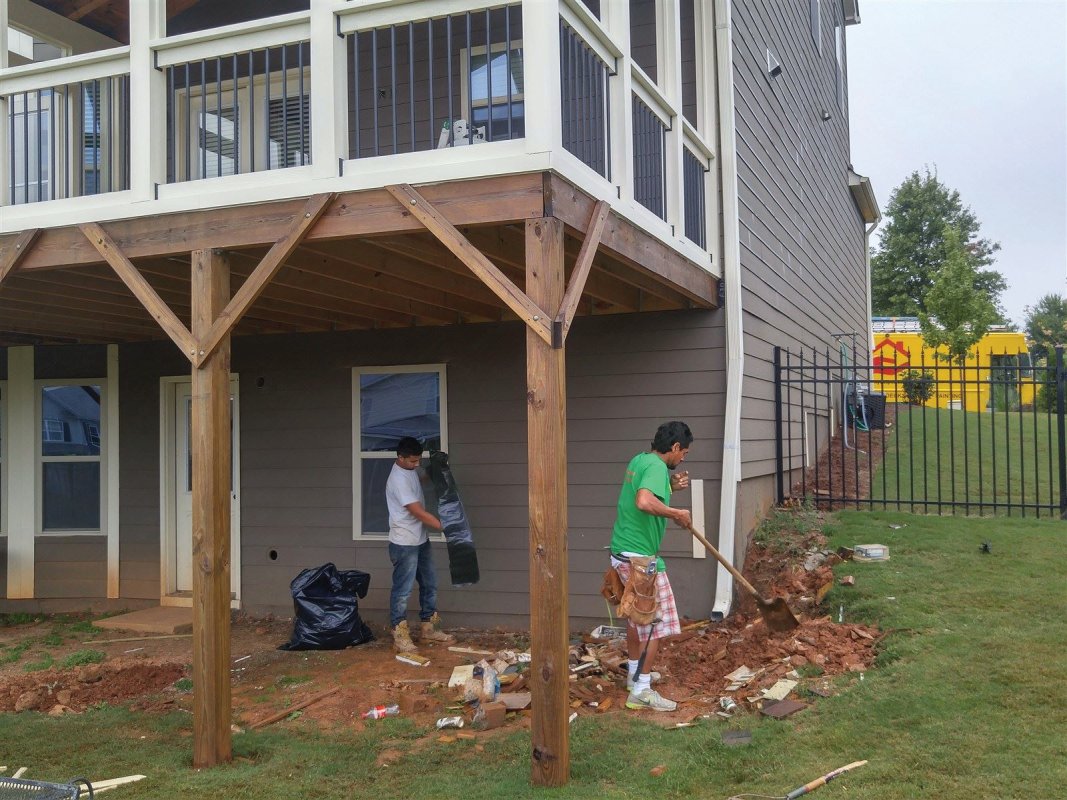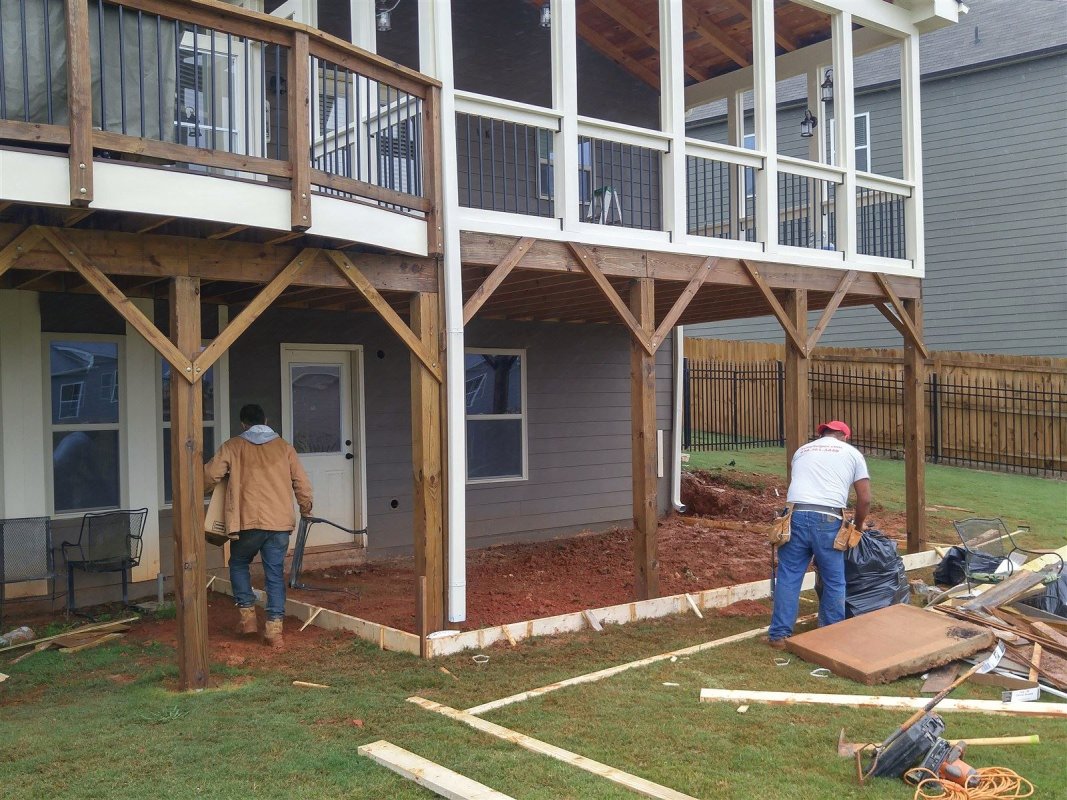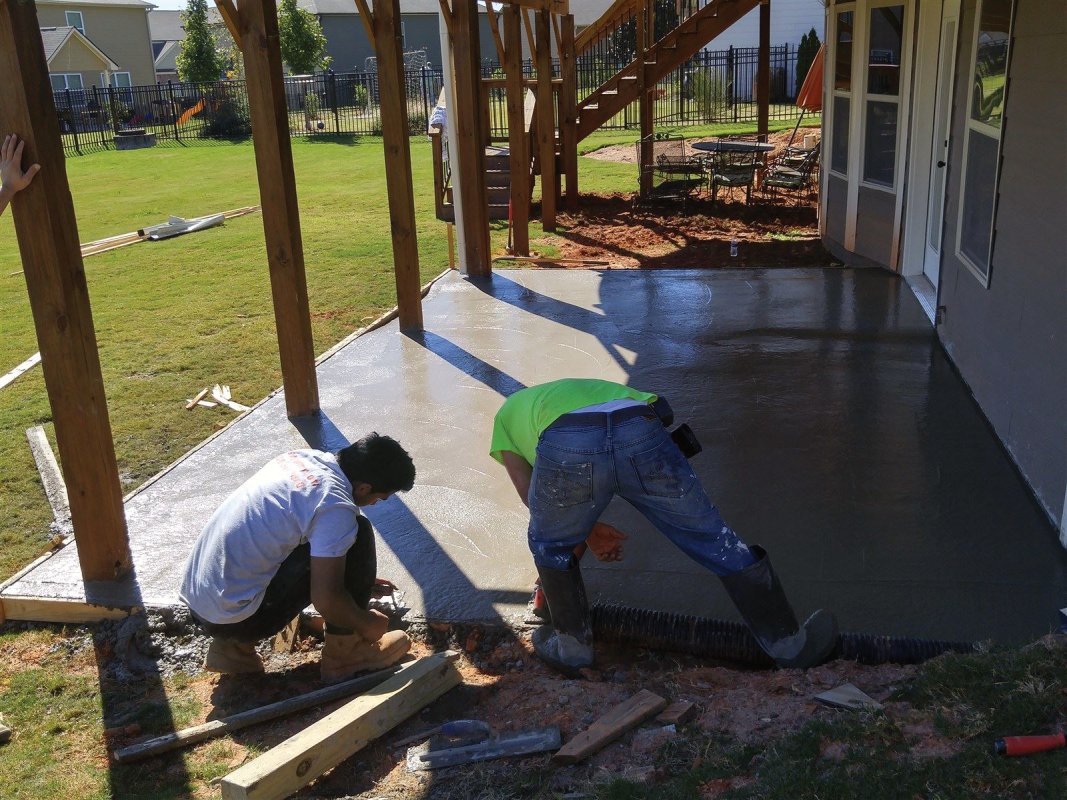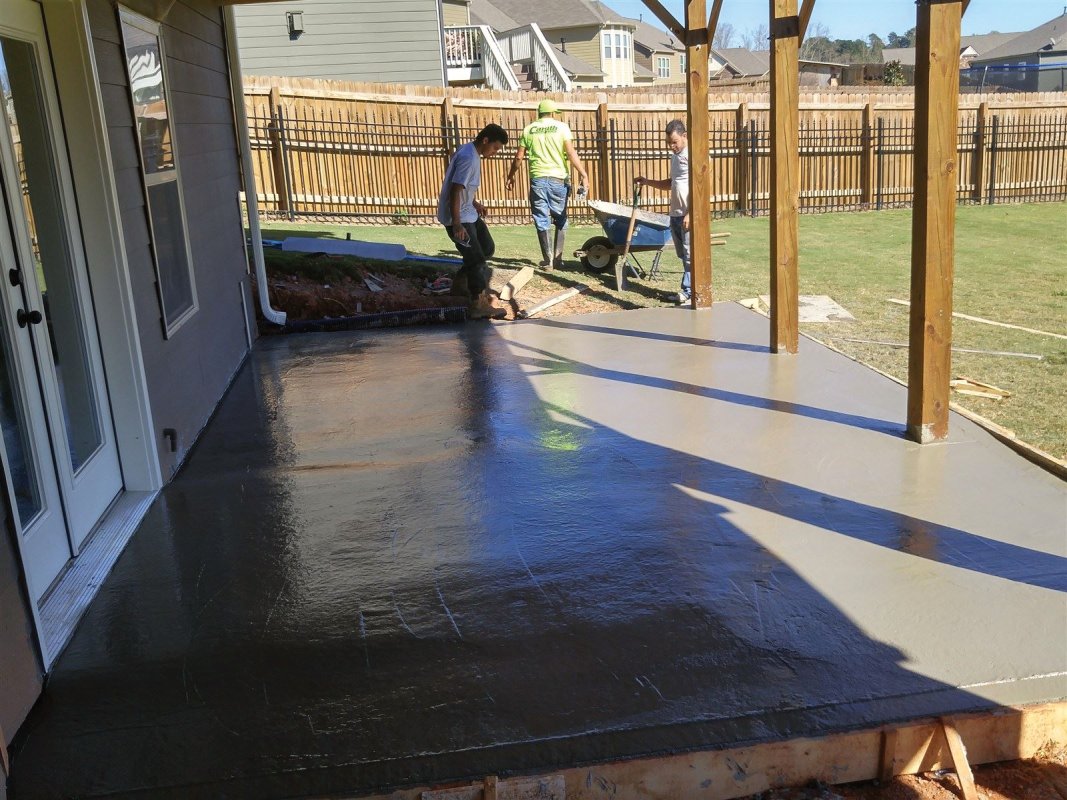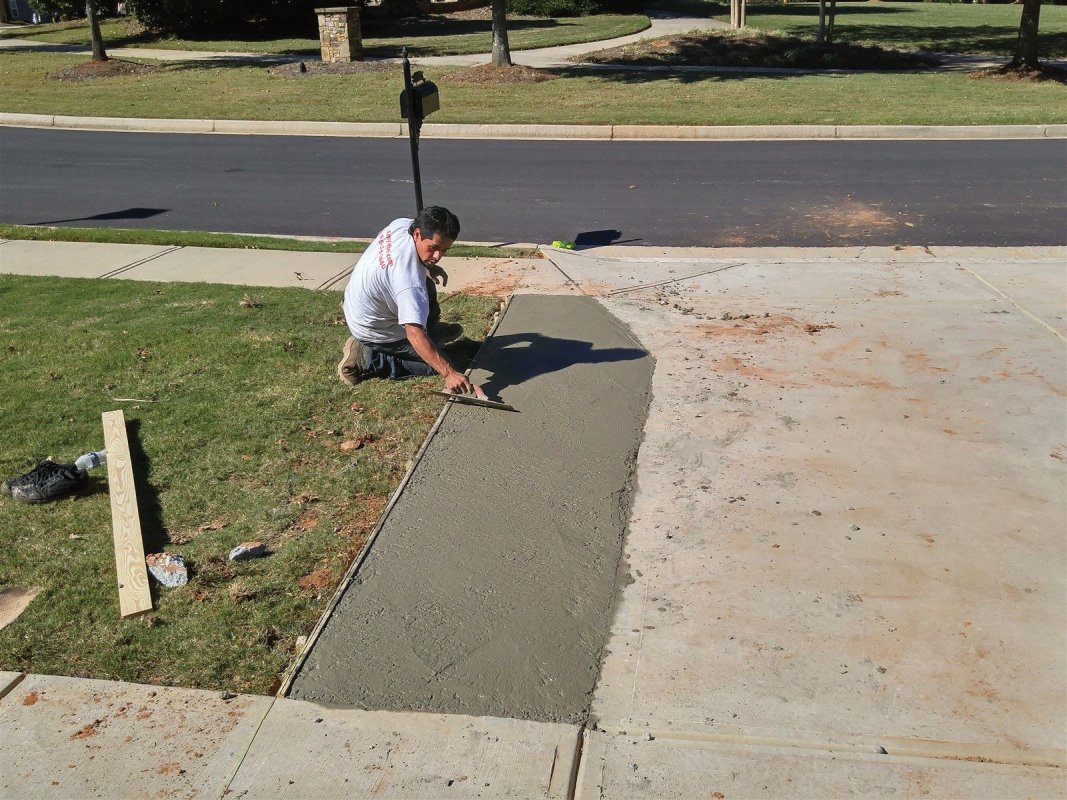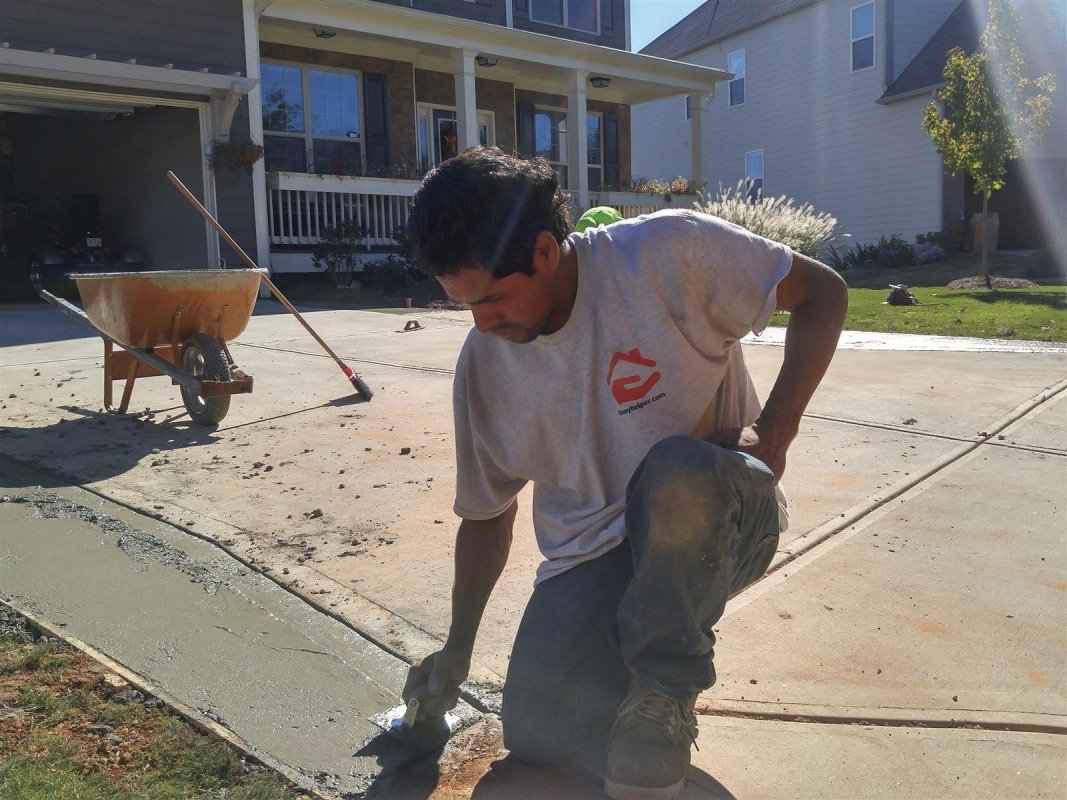 We did  few thing for the homeowners and the concrete patio and driveway extensions were the last of it.
We prepping/cleaning under the deck in order to build the concrete forms correctly.
The dimensions are were approx 12'x21'...
We used 10 yards of premium grade concrete that comes with fiber meshing to help it prevent cracks over the long run. 
There's a swell/ramp by french doors (we installed them as well) to make it easier for them to store their motorbike.
They wanted the driveway wider on both sides for easier parking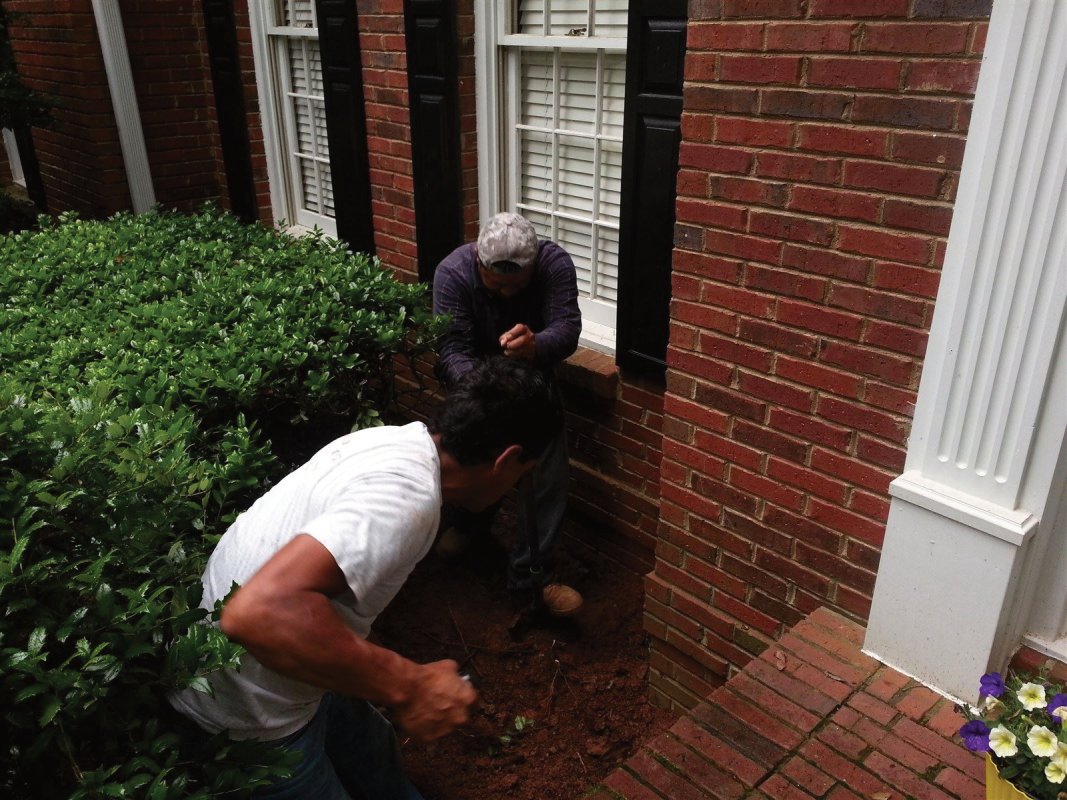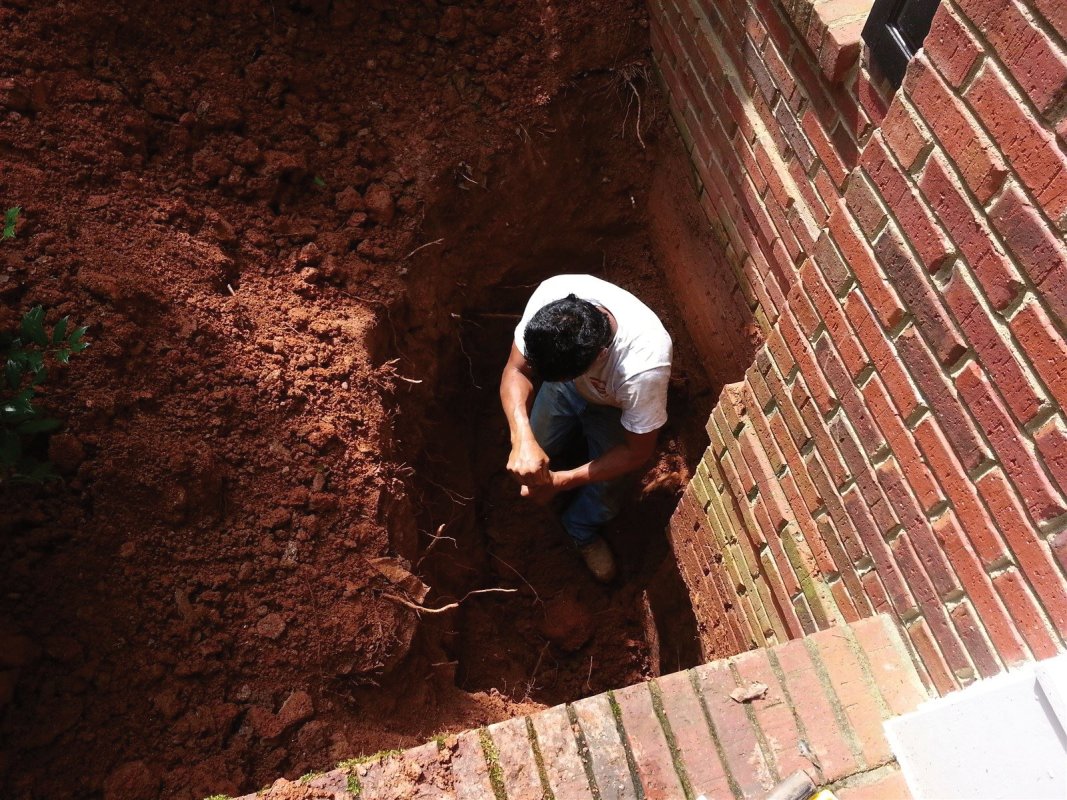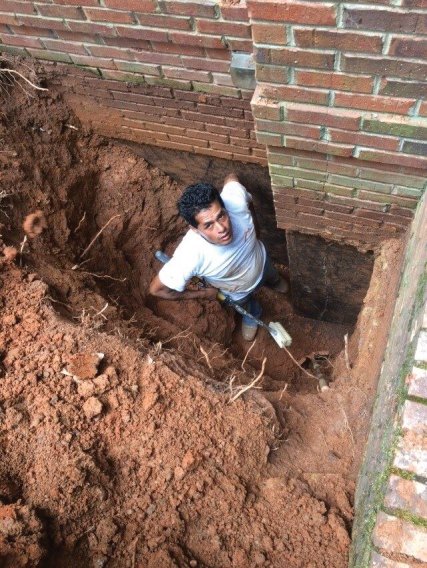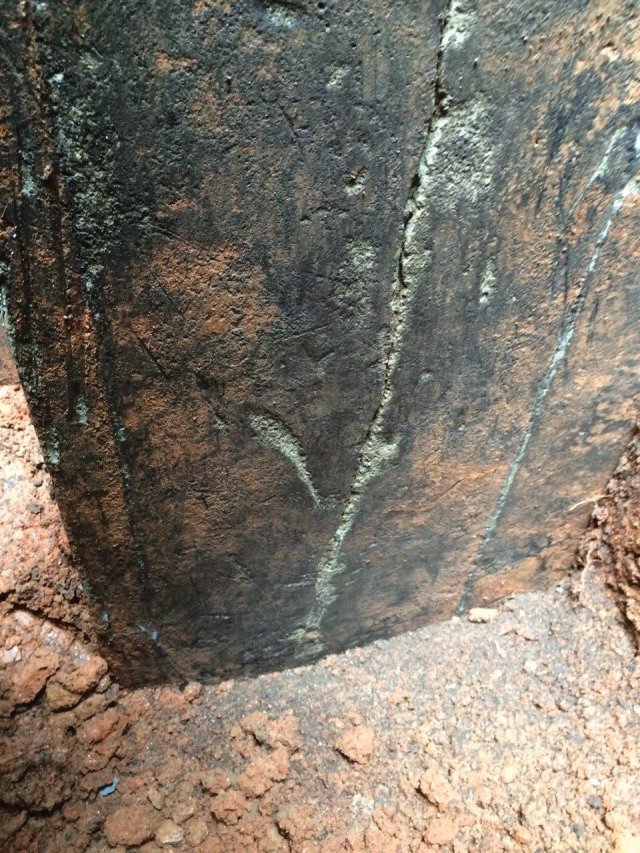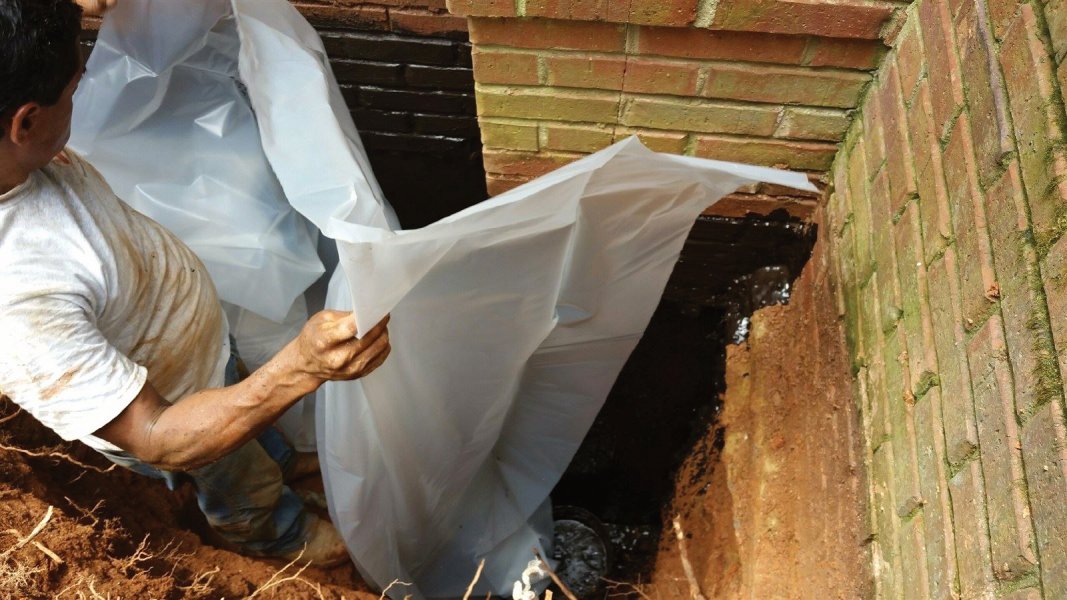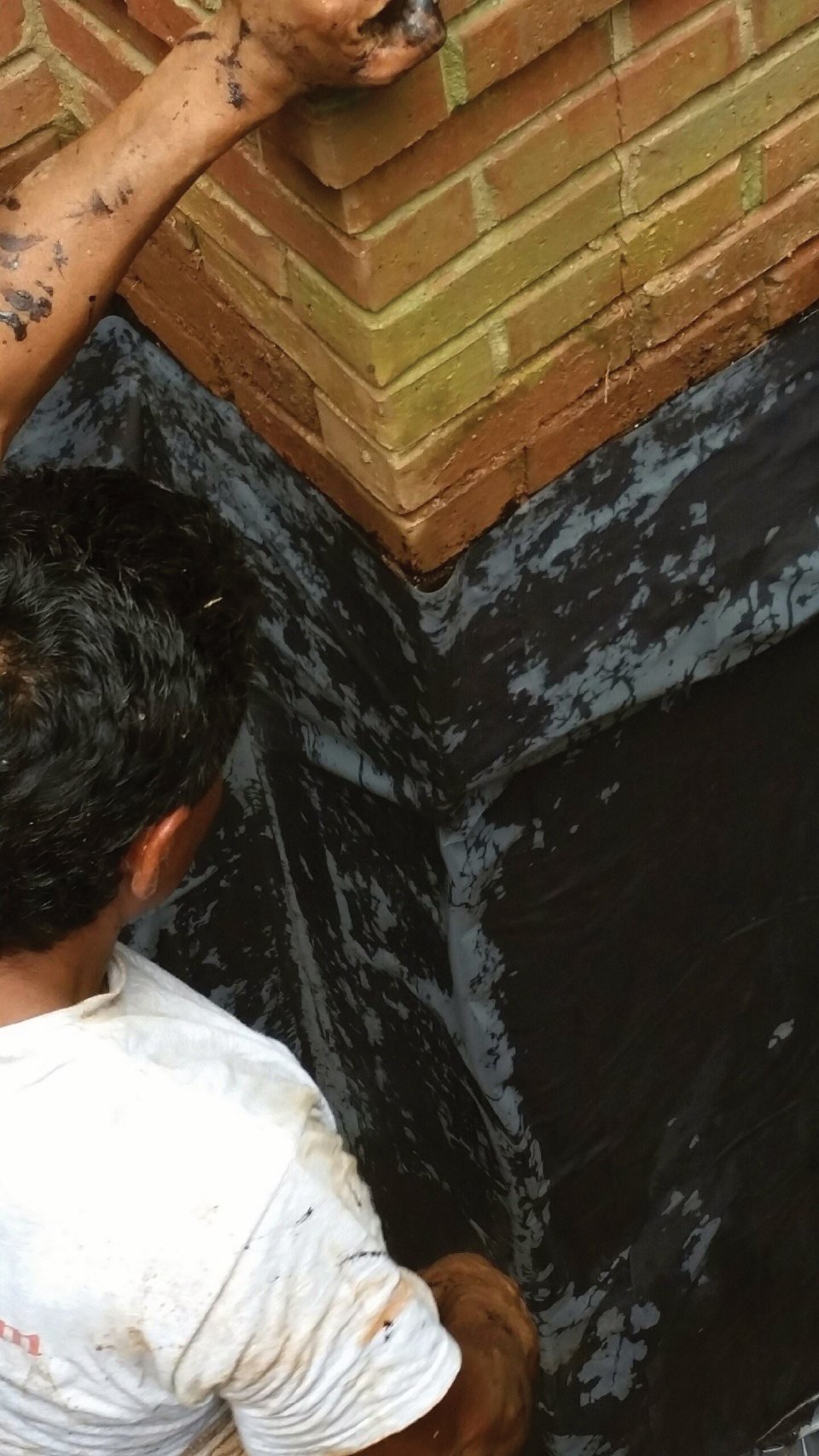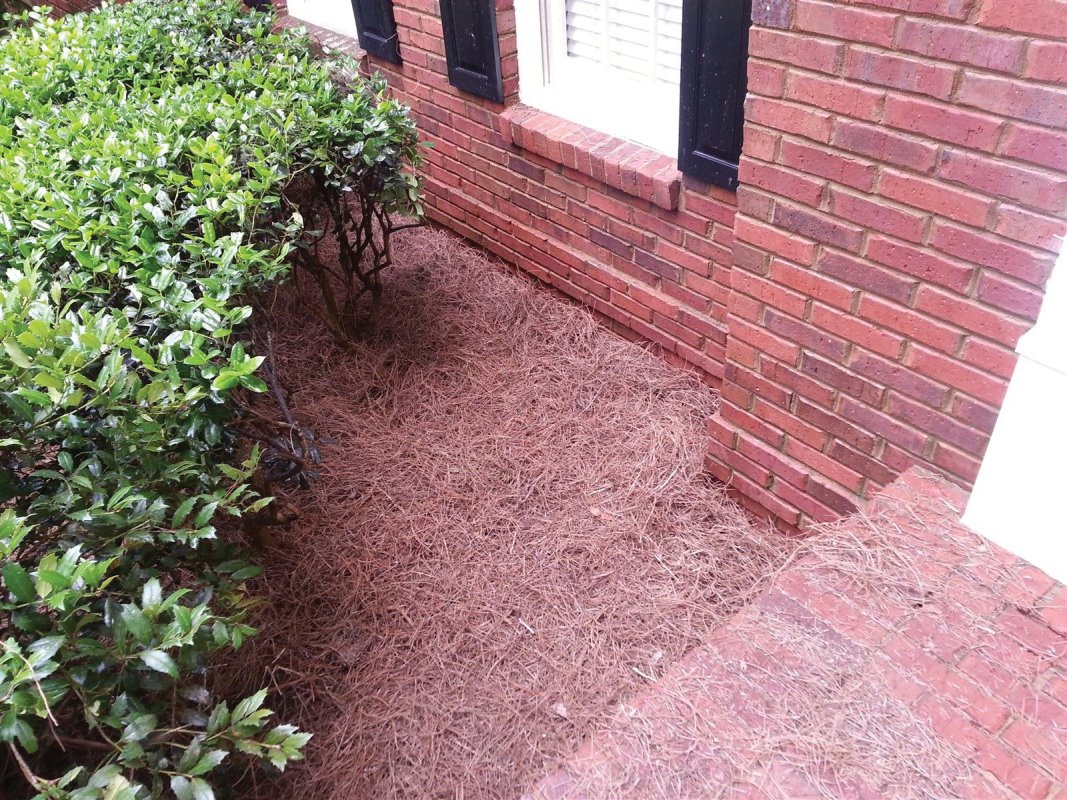 This is the outside phase of repairing the crack in the basement that resulted in water entering the basement.
Getting machines to do the work would've increased that cost significantly & not to mention destroying the shrubs. We instead used our might and dug down. 
We kept digging and digging just to get this photo --- not really, but you can see we were about 7'-8' down under.
Here was the crack that caused all the water issues
We applied a special tar like coat to the surrounding area. Then a heavy mil plastic and then a thick plastic panel (I forgot to take the pic)....
...and then we sealed the edges with the sealant.
The End - :)
We did several things for these homeowners, concrete was one of them. 
The basement had been converted to a bedroom but the slab was never leveled-up.
The garage being the new master needed plumbing and then new concrete. 
Nice big house had a miniscule brick step. The homeowners made a good decision by enhancing the front entrance.
Another good decision by the homeowners was to add a sidewalk from the detached garage to the back entrance. 
/