Shopping Cart
Your Cart is Empty
There was an error with PayPal
Click here to try again
Thank you for your business!
You should be receiving an order confirmation from Paypal shortly.
Exit Shopping Cart
Improving the American Dream

Hoschton: Sometimes that's all the creativity that I have....puppies.
Once again we were referred by one of our real estate pro's to help bring this home up to speed on a few things. 
We did a lot of touch painting and caulking inside but the primary focus was replacing these bad windows. 
Unfortunately we had to remove and replace all the siding with new JamesHardie fiber cement lap siding. 
We do a good bit of siding work, this was no big deal for us. 
We're thankful grateful that our work gives others comfort in referring us. 
As always we're glad we can help. 
Right:
BEFORE - 
Here we are in Milton replacing a lot of siding with a fiber cement siding. You'll also see the newly installed white fascia boards (they're made out of PVC - a real smart move since PVC will not rot).
We're replaced in all nine windows. Three in the garage, two dormer windows, plus four more.
Right:
After removing the old siding and install a weather/moisture barrier, installed window flashing, and then installed the windows. 
Left:
Up goes the fiber cement siding...
Right:
We also removed all the siding and trim from the dormers, and installed windows in each dormer.
Left:
Close-up on the dormer work. 
Right:
Notice the white trim (fascia)? That's made of the PVC product. 
Left & Below 
More windows and siding opposite end of garage. 
Left & Below: 
The last of the window replacements - no new siding on this side, just new windows. 
We were referred by Home Depot's RedBeacon referral program to help this couple build a frame & install their awesome Eze-Breeze porch enclosure (find out more about their products at: http://pgtezebreeze.com/). 
This really is a pretty cool product. It breathes out but doesn't let wind nor rain in. These particular windows slide left to right, other slide up & down.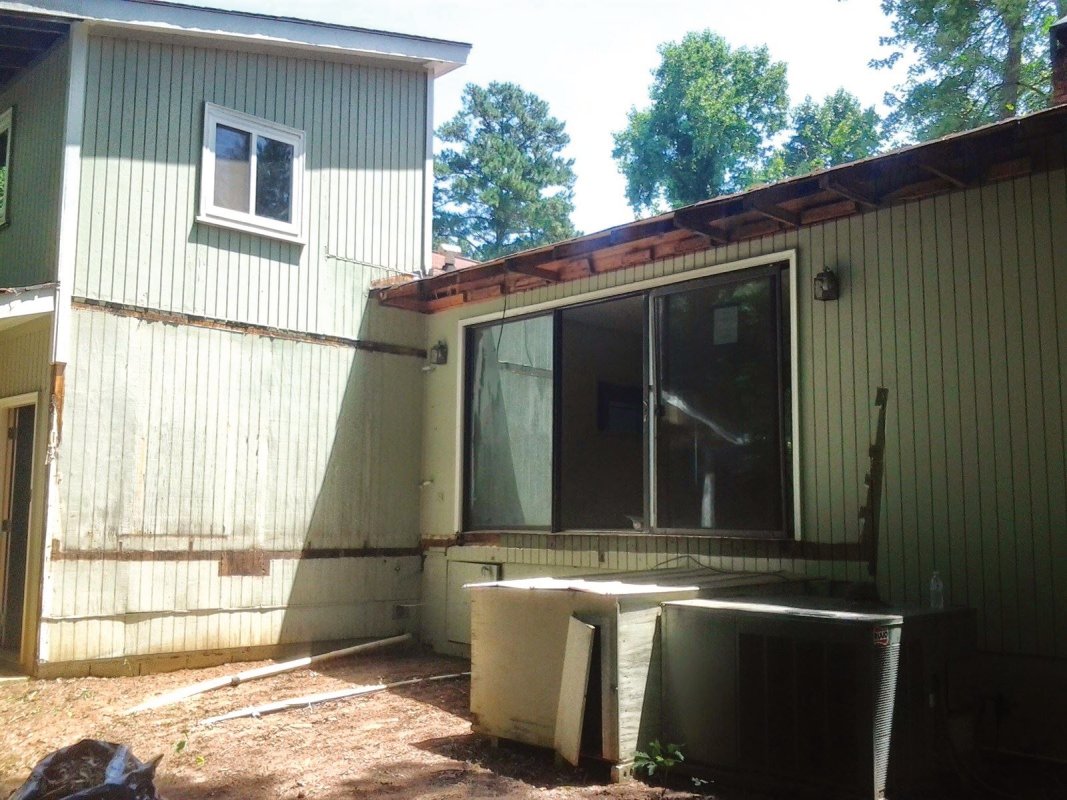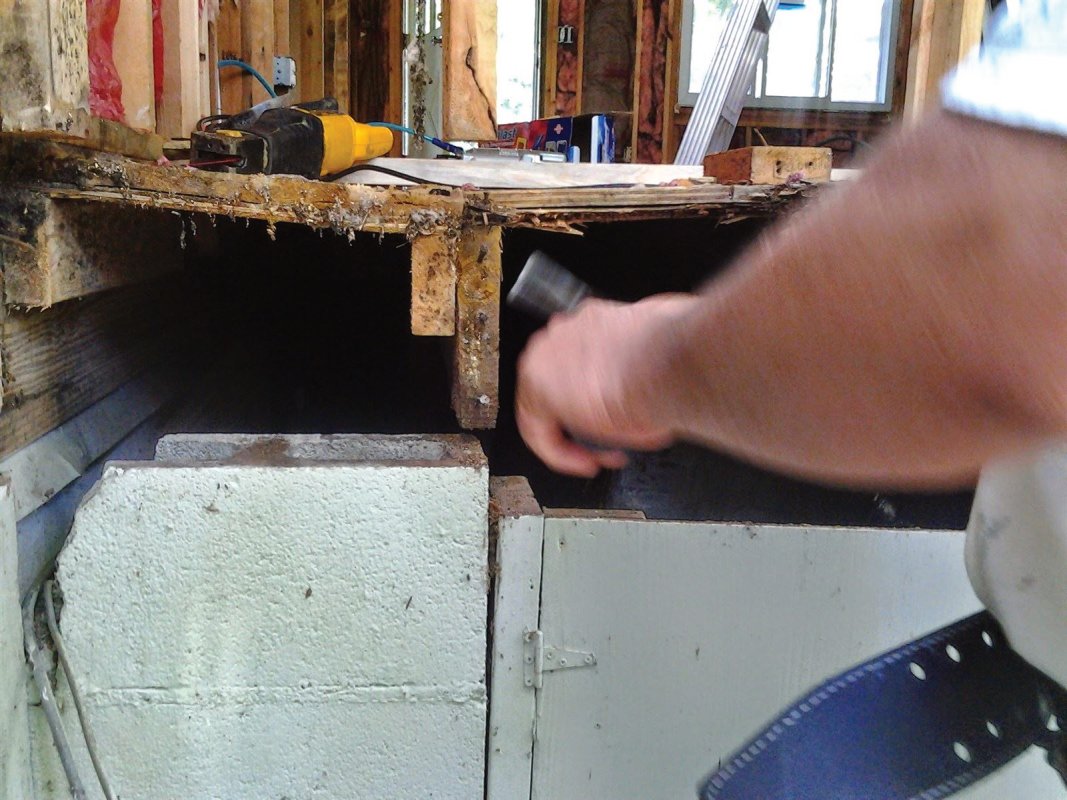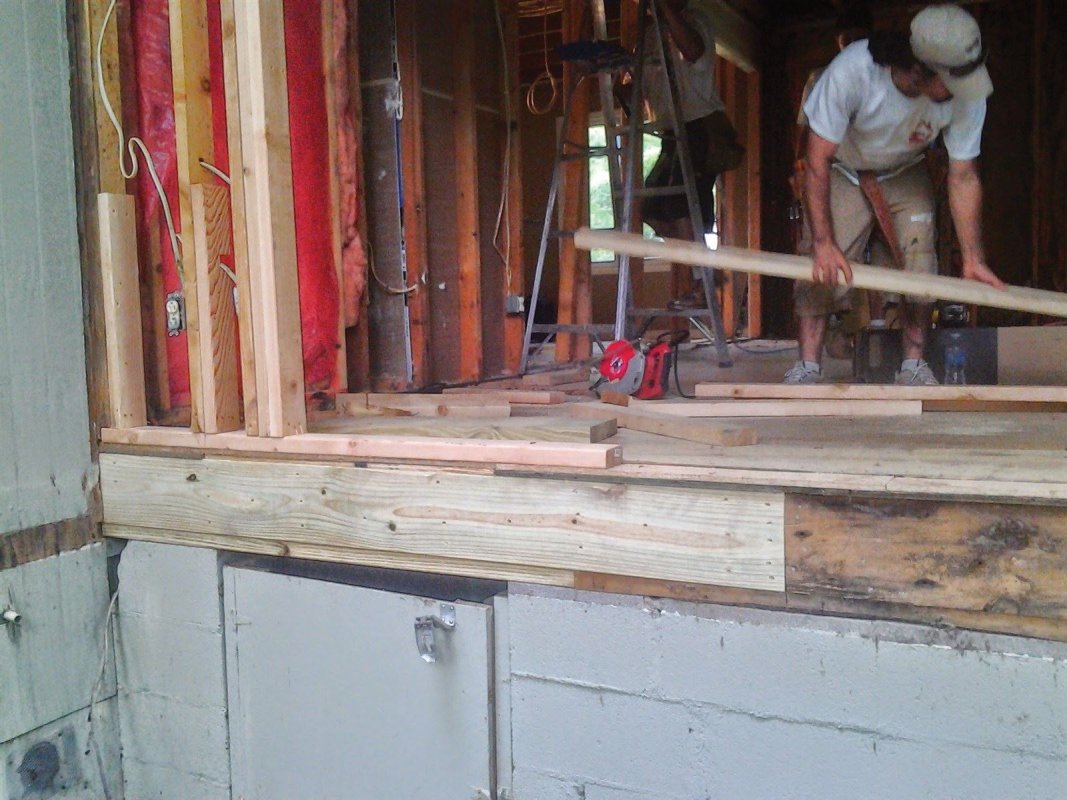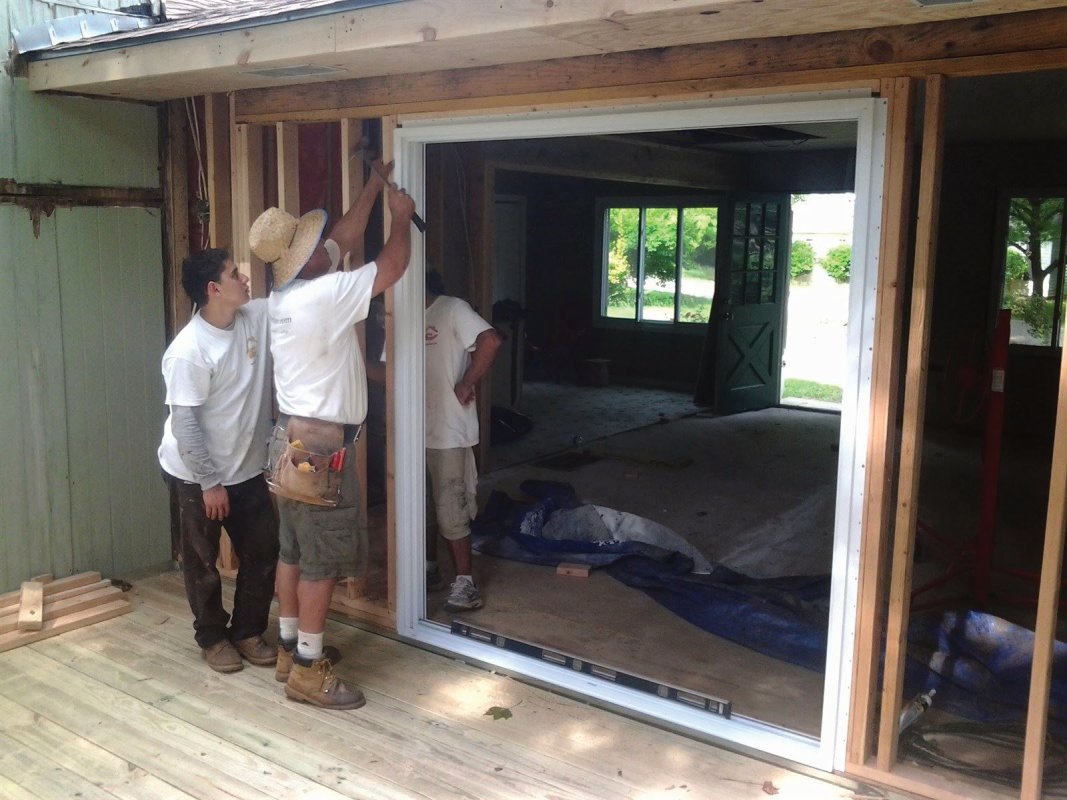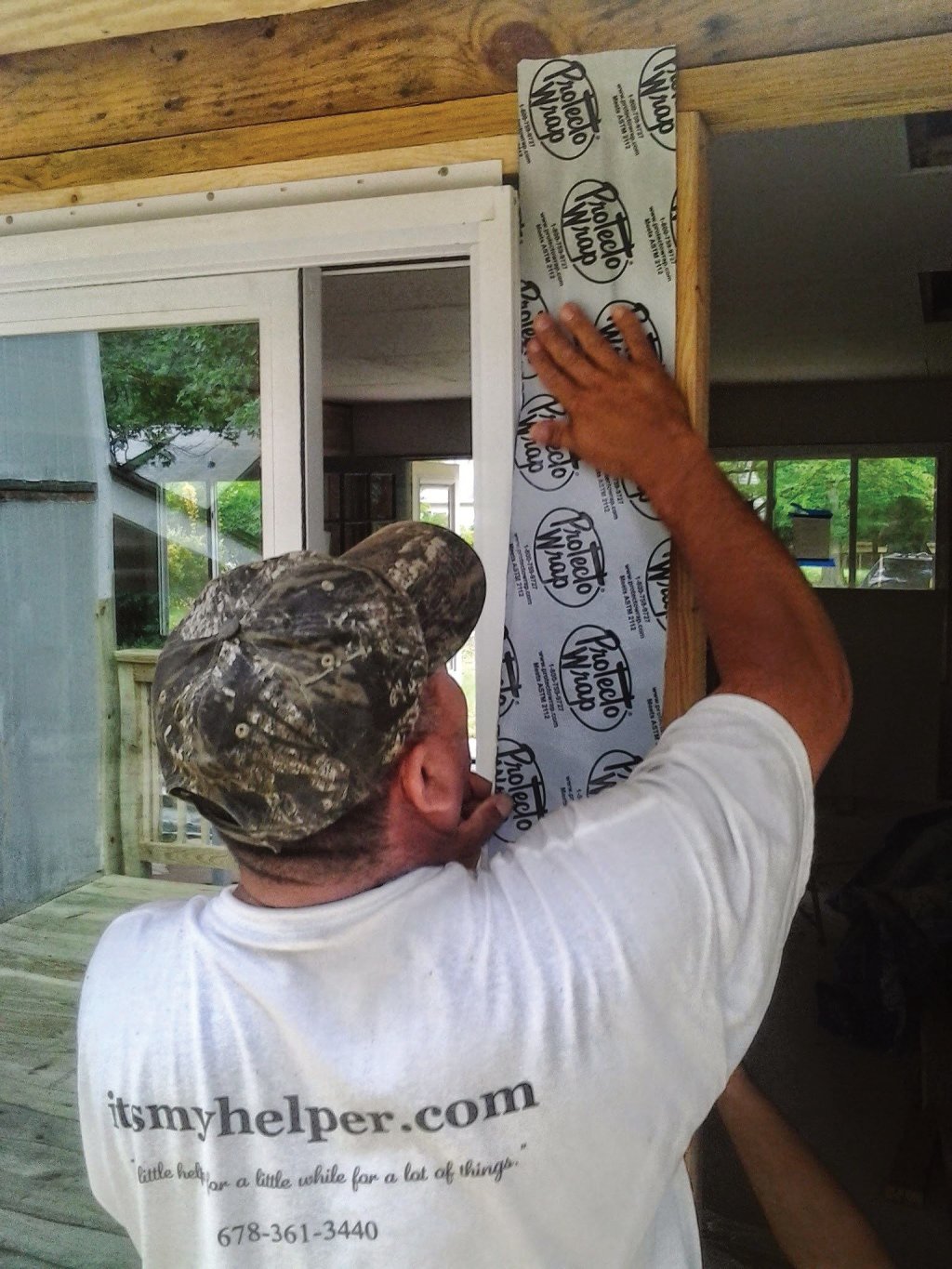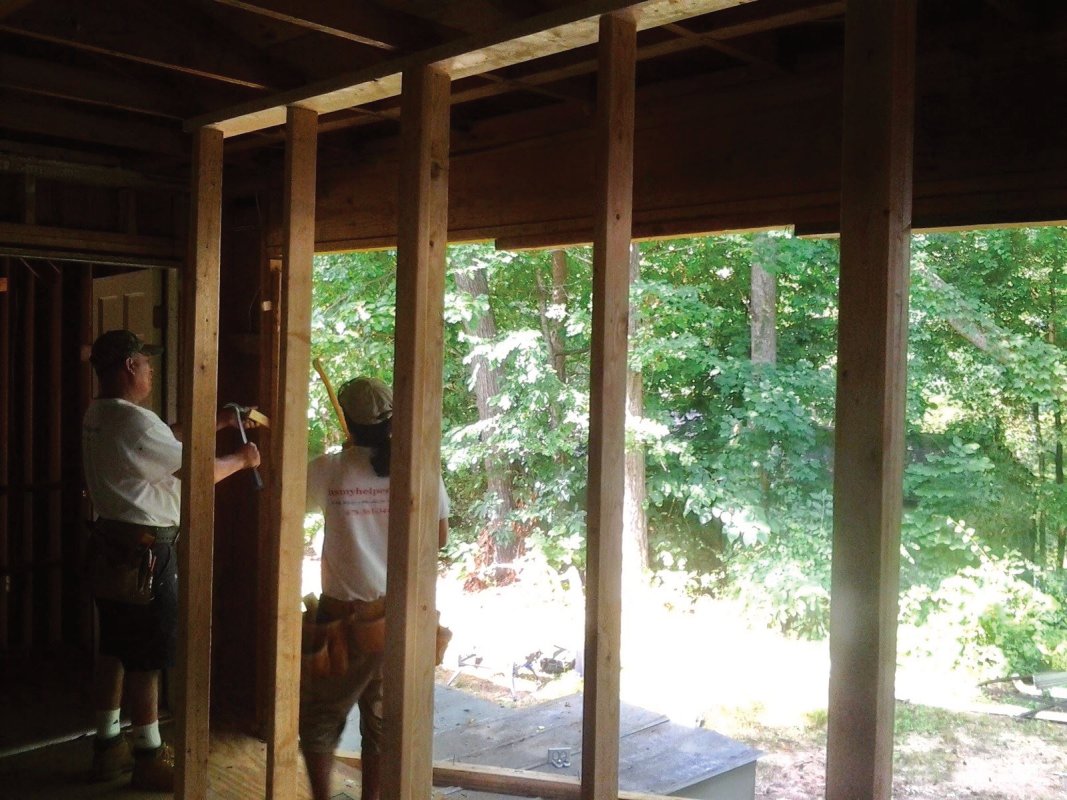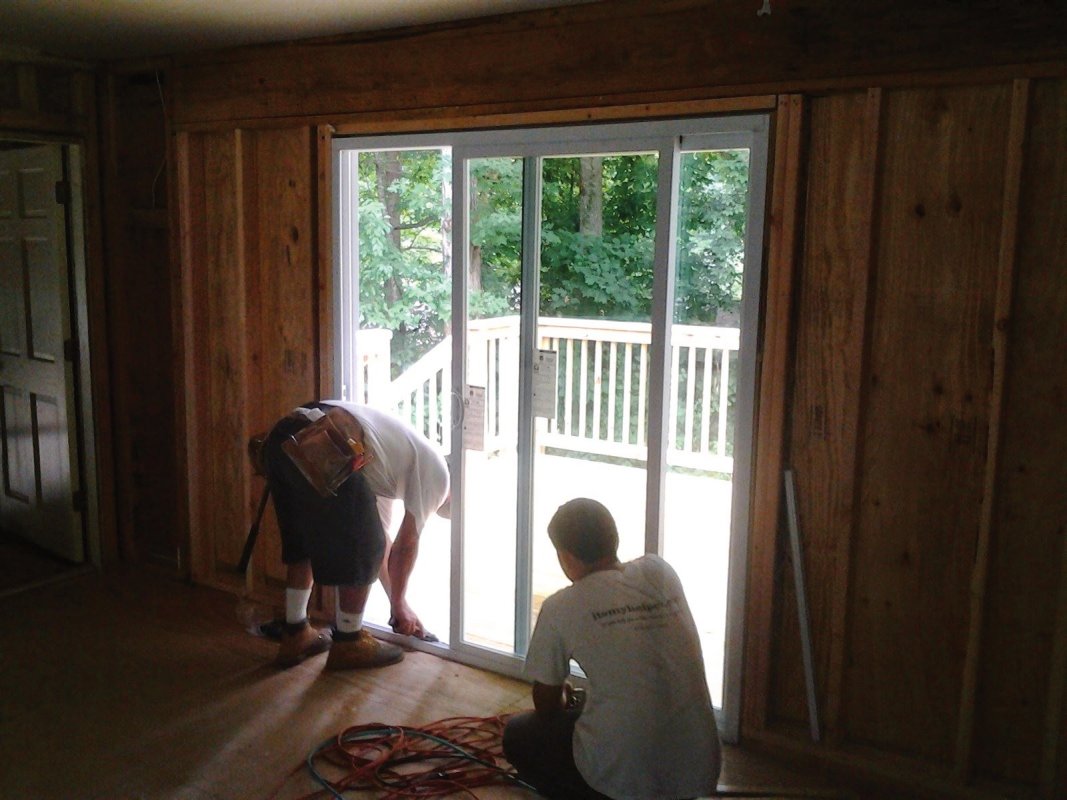 This glass door on the left seemed easy to change until we removed it and discovered the subfloor was about to throw in the towel. One simple door required us to correct the the flooring with new beams AND we also had to build new headers (above the sliding door) because it too wasn't properly positioned. We had to build a temporary wall to ensure the roof wouldn't collapse while we replaced the original header.
Give us a call, we're happy to help. 
itsmyhelper.com
If you look closely you'll see that the original window was too up-close & personal to the door. We re-worked the window framing to create a little space between the two that ultimately gives it a nicer appearance.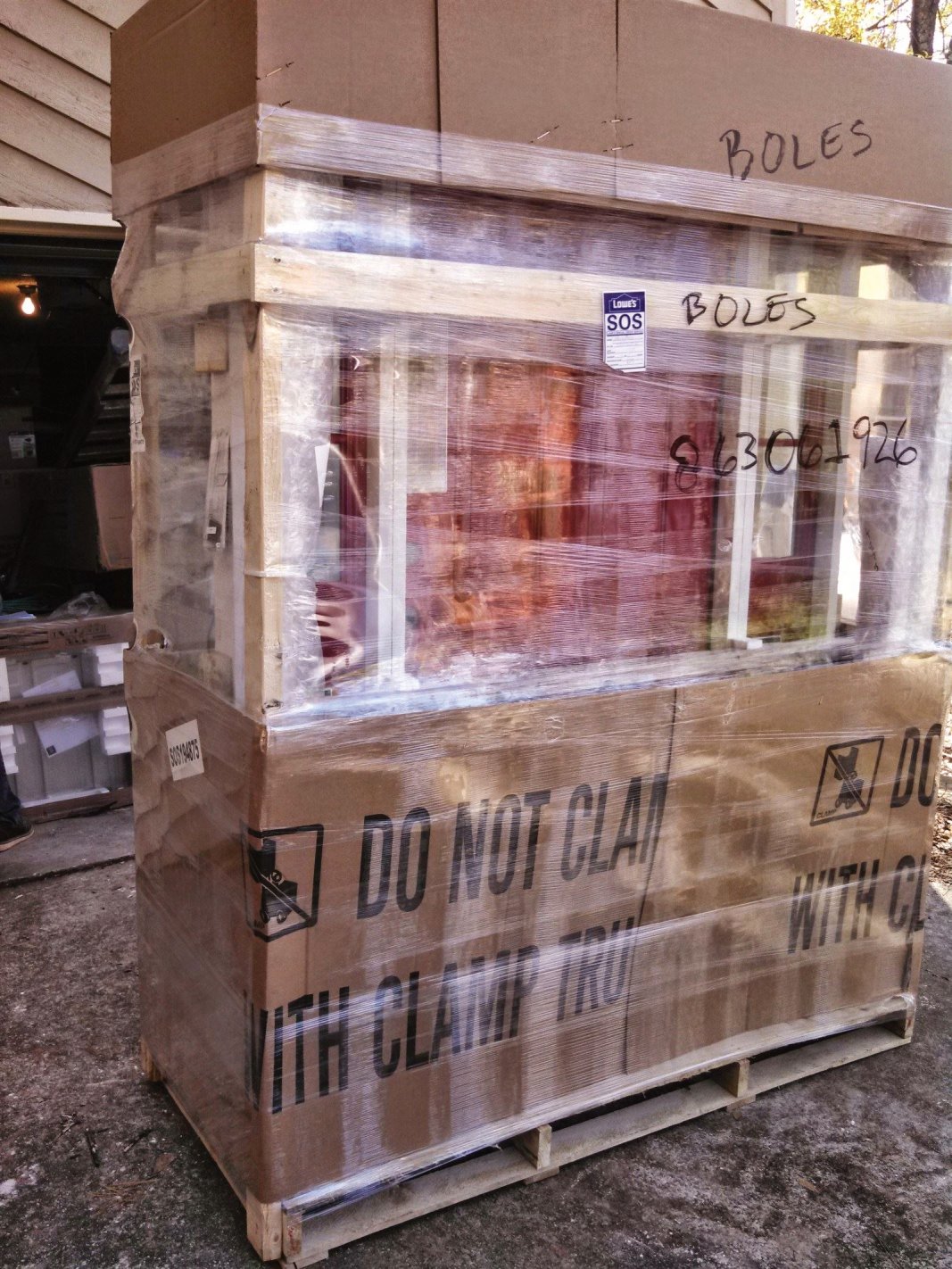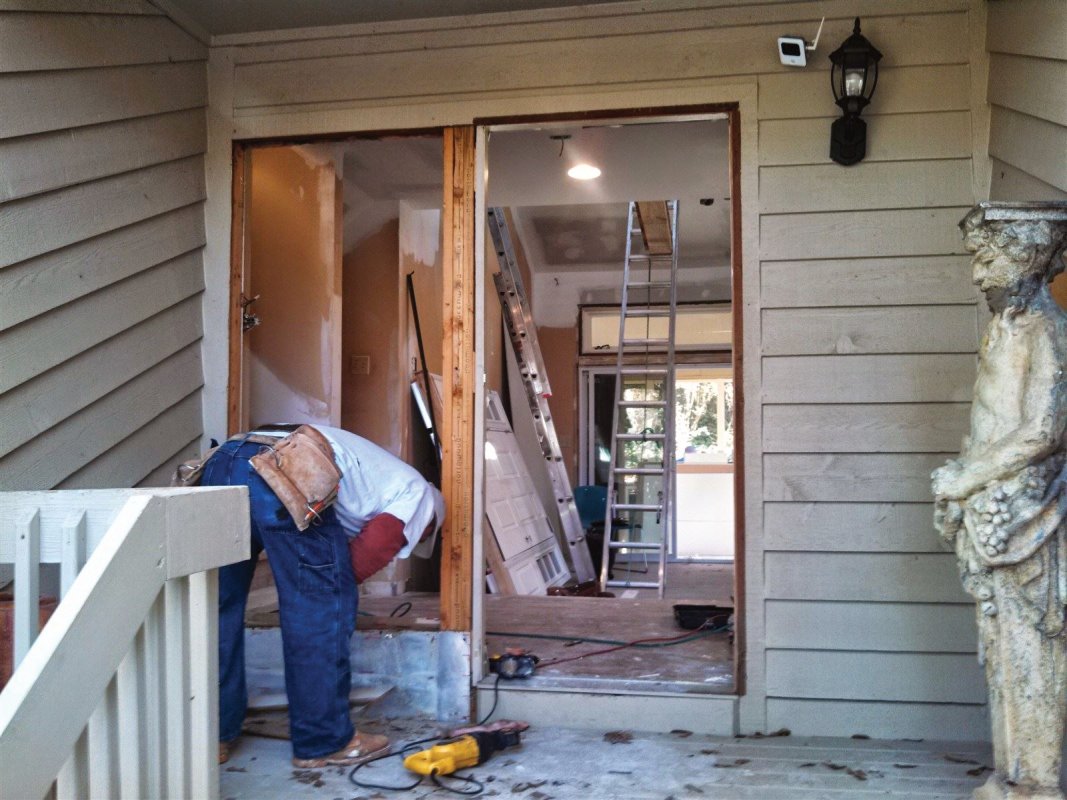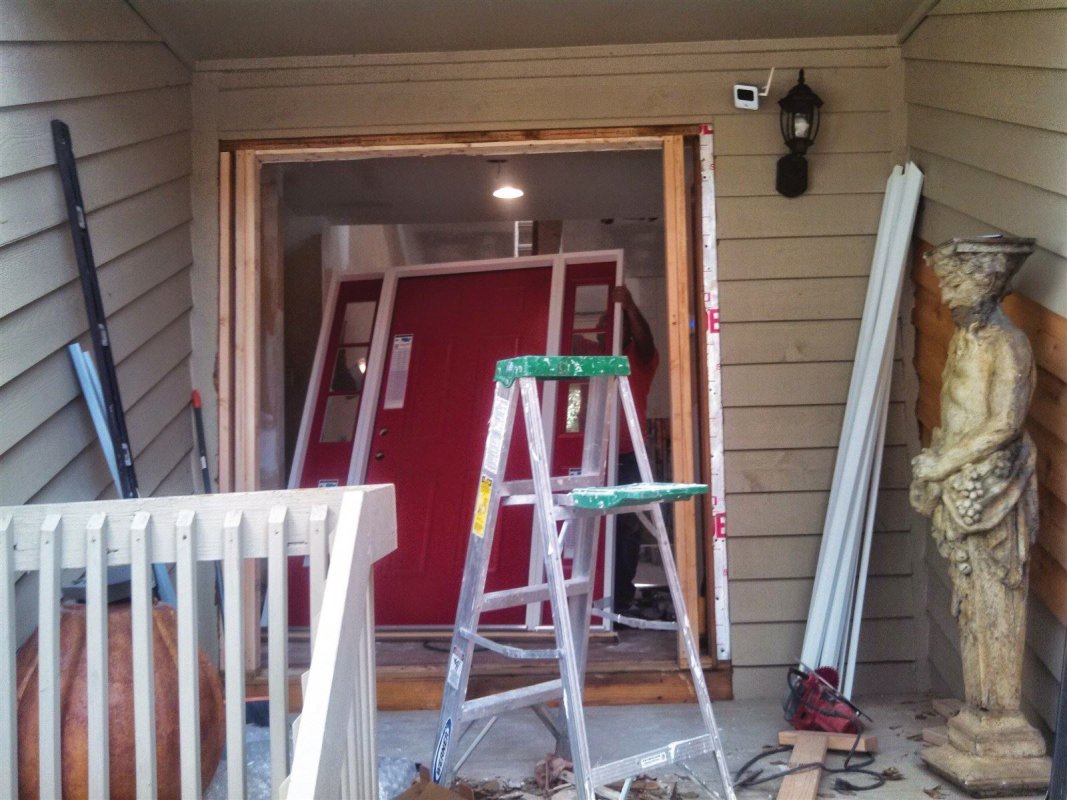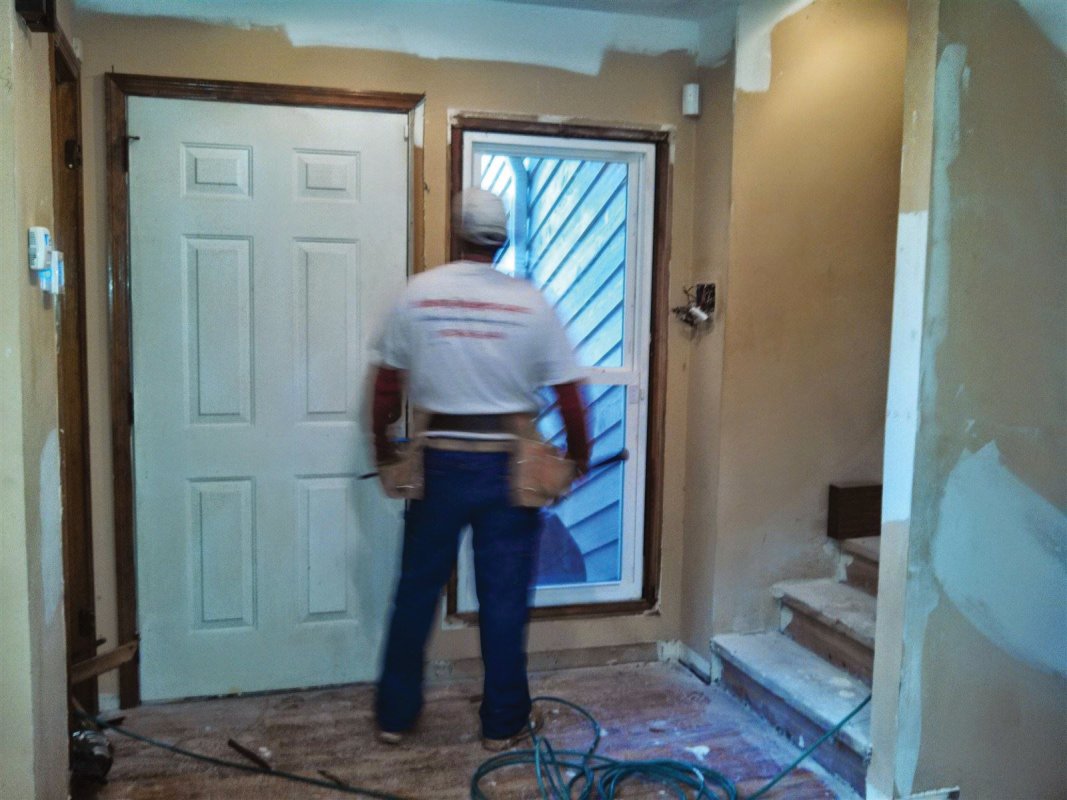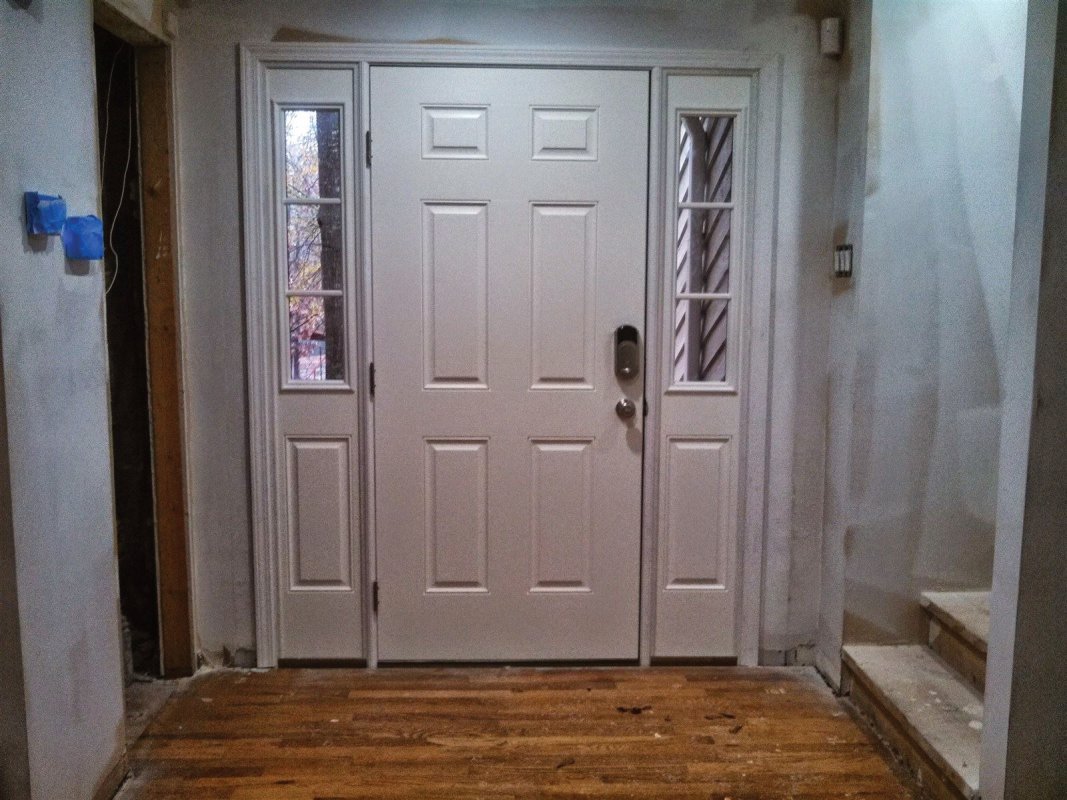 There's nothing like a red front door that really makes things Americana (in our humble opinion). It's a great choice, it's a high sitting corner home that tastefully says,"look at me." 
Here we are doing our thing, among many other things, to this home. This door was purchased from Lowe's and came with two side lights. Really nice.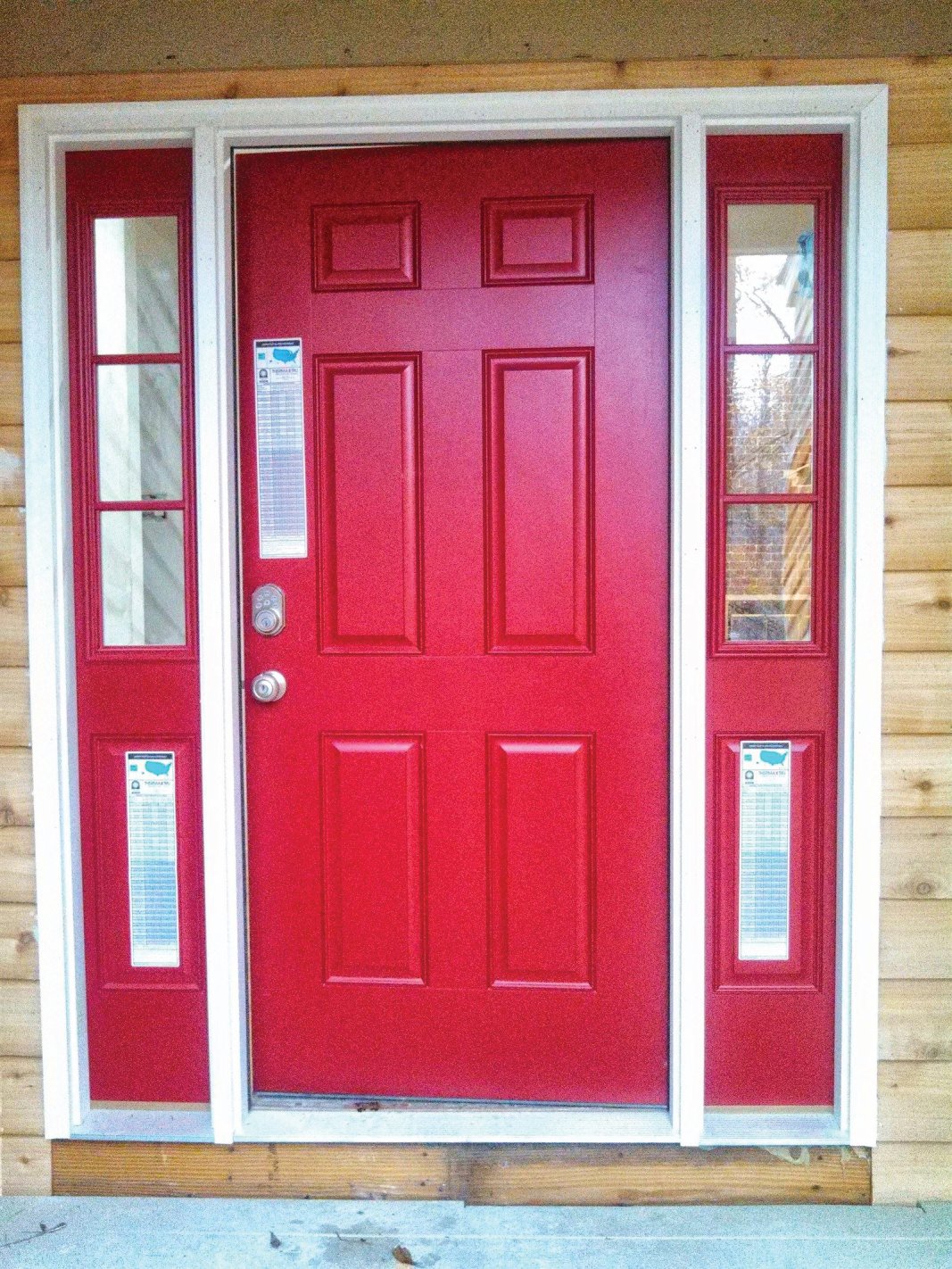 /