Shopping Cart
Your Cart is Empty
There was an error with PayPal
Click here to try again
Thank you for your business!
You should be receiving an order confirmation from Paypal shortly.
Exit Shopping Cart
Improving the American Dream

This home improvement project is driven by passionate vision that soon will come to fruition. 
As you can see it was a little unassuming split-level  that now has some serious curb appeal (and we've not even done yet). 
Gone are all the small windows that made this home feel small on the inside. 
We love the lights over the stone. Love the well lit porch. 
Nice 12' real tongue & groove ceilings. 
How about this?!! 
We've installed re-purposed 5/4 deck wood for siding and it looks even better in person. 
Sorry, I love this. 
Looks sooo good!
The deck wood has what we call a Level Two finish. It's not the original surface from when we demo'd the deck, however, it still has a rustic finish by design. 
More of the tongue & groove ceiling. 
Next is the concrete slab and sidewalk. 
Love the well it front porch. Particularly since the home is a good bit down slope from the street. 
Because of Nextdoor we did repairs and painted the entire house below in this neighborhood. 
The homeowner on the left referred us to the his neighbor across the street (below)
...and this is where we start our blogstory. 
The homeowner was listing his home and needed a lot of trim and siding replacement as well as pressure washing and painting. 
And here's the finished product after it was repaired and painted. 
The trim installed was really MDF (a type of cardboard trim used for inside work) and it didn't last long.
He we are replacing more siding with new JamesHardie siding. 
Yes, we were all over this house making things right. 
Bam!!  The new color matches the stone work much better than before. 
The old color with too much white. 
Nice home, nice job. Great homeowners. 
Hoschton: Sometimes that's all the creativity that I have....puppies.
Once again we were referred by one of our real estate pro's to help bring this home up to speed on a few things. 
We did a lot of touch painting and caulking inside but the primary focus was replacing these bad windows. 
Unfortunately we had to remove and replace all the siding with new JamesHardie fiber cement lap siding. 
We do a good bit of siding work, this was no big deal for us. 
We're thankful grateful that our work gives others comfort in referring us. 
All materials for this siding job were purchased at Home Depot. We get often times good contractor discounts. 
What all did we do? 
1) Removed all the siding
2) Installed plywood on all walls
3) Installed a moisture barrier 
4. Installed Hardie Lap Siding
This plywood is actually called Oriented Strand Board (OSB) - very strong but less than half the costs of regular plywood. Same product used on new construction.
It's the height of the homes that tick-up the costs of replacing siding. One wall like this can take three days. 
The old cardboard siding.... 
On this particular wall we also installed insulation.
The new siding lies sooo much better on OSB as opposed to the blue foam insulation that forces us to secure the siding on the studs. 
Instalinig the house wrap moisture barriers...prevents water from entering but allows the dwelling to breathe out. 
The dreaded and sort of useless foam insulation. We installed insulation on this garage wall as well. 
Staggered lap siding just like the Hames Hardie Installtion Field Manual calls for... 
                           Bam!!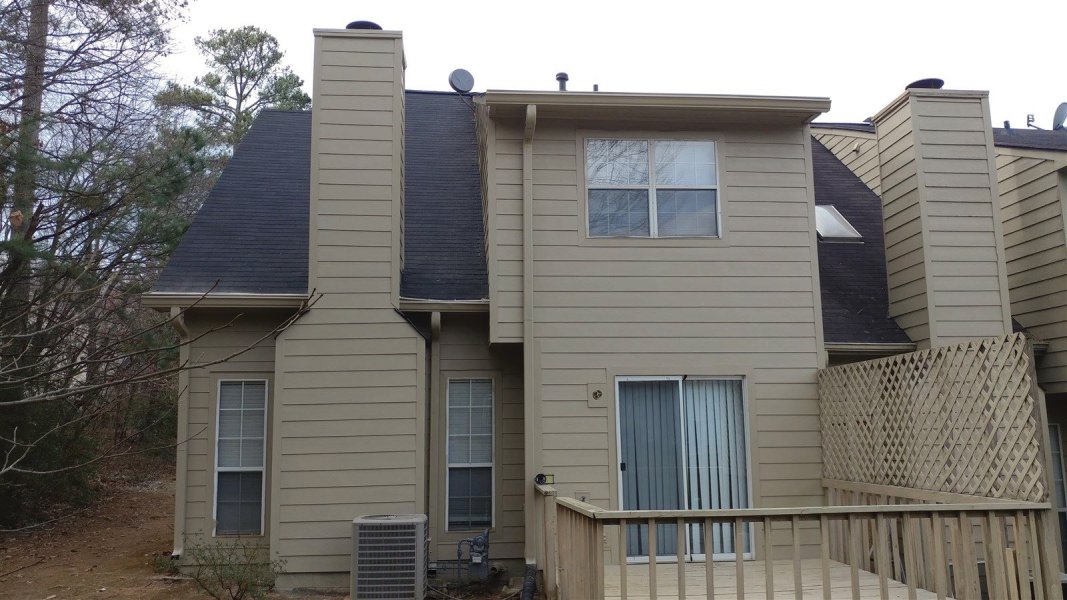 MARIETTA: It's great when a homeowner calls you back for additional work. We repaired the homeowners chimney about 3 years ago. She's now selling and asked that we replace all the siding and paint the town home. 
Our team lead, Armando, plans the project. 
ABOVE: Some of the detailed work we provide.  These "SturdiMounts" hold light fixtures, outlets, and water spigots in place much better and look much nicer.
LEFT: We installed plywood for several reasons.
The plywood (OSB) makes it harder for the wind to come thru the house because it has less seams then when we add the moisture barrier house wrap there's a significant difference inside. 
See how much nicer the HardieSiding lays....that's becuase there's plywood underneath instead of the siding being nailed just to 2x4 studs. Over time the wind damages the look and you can the "waves" on long walls. 
More plywood....we left the chimney alone because we had repaired it a few years ago. 
We work in the cold too...
Looking good....
Looking better....We also painted thie town home with Sherwin Williams' SuperPaint - long lasting.
Call us for a free quote.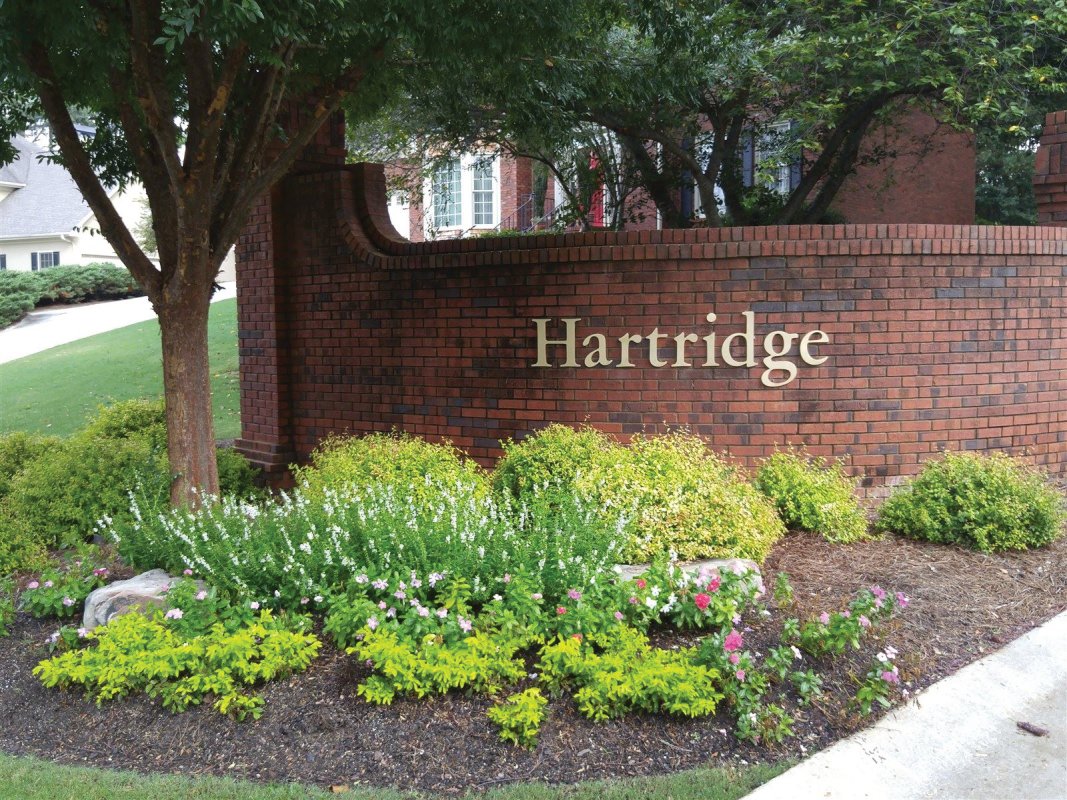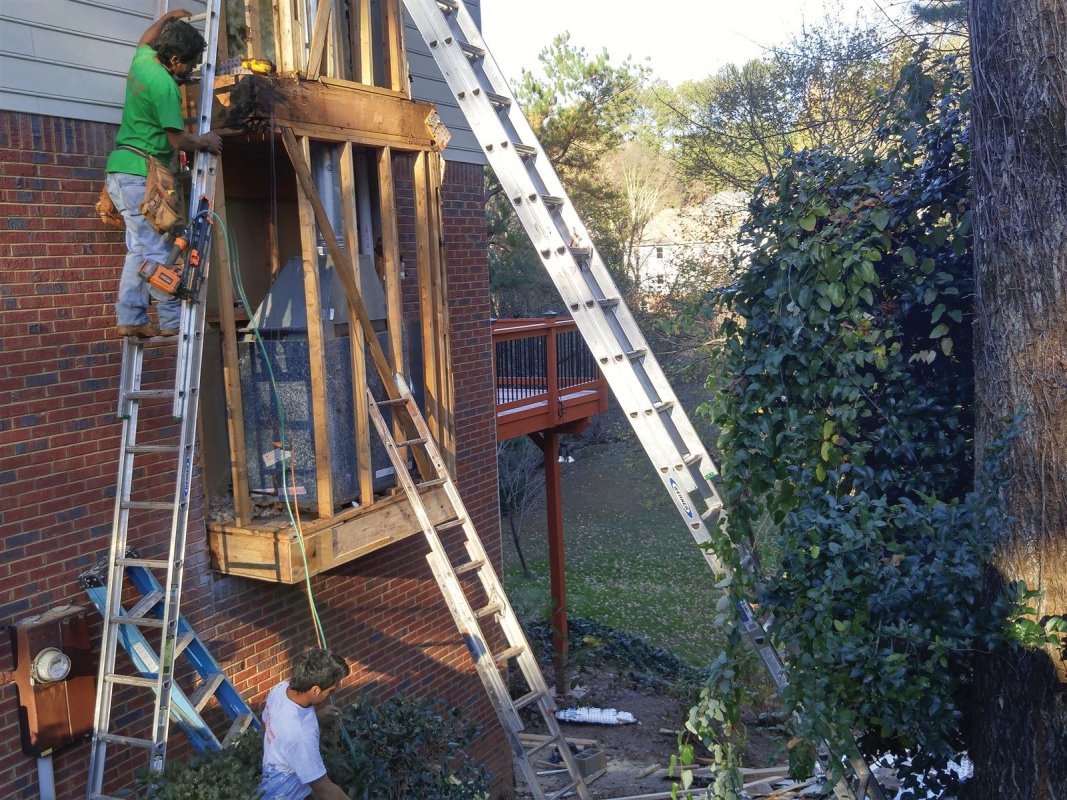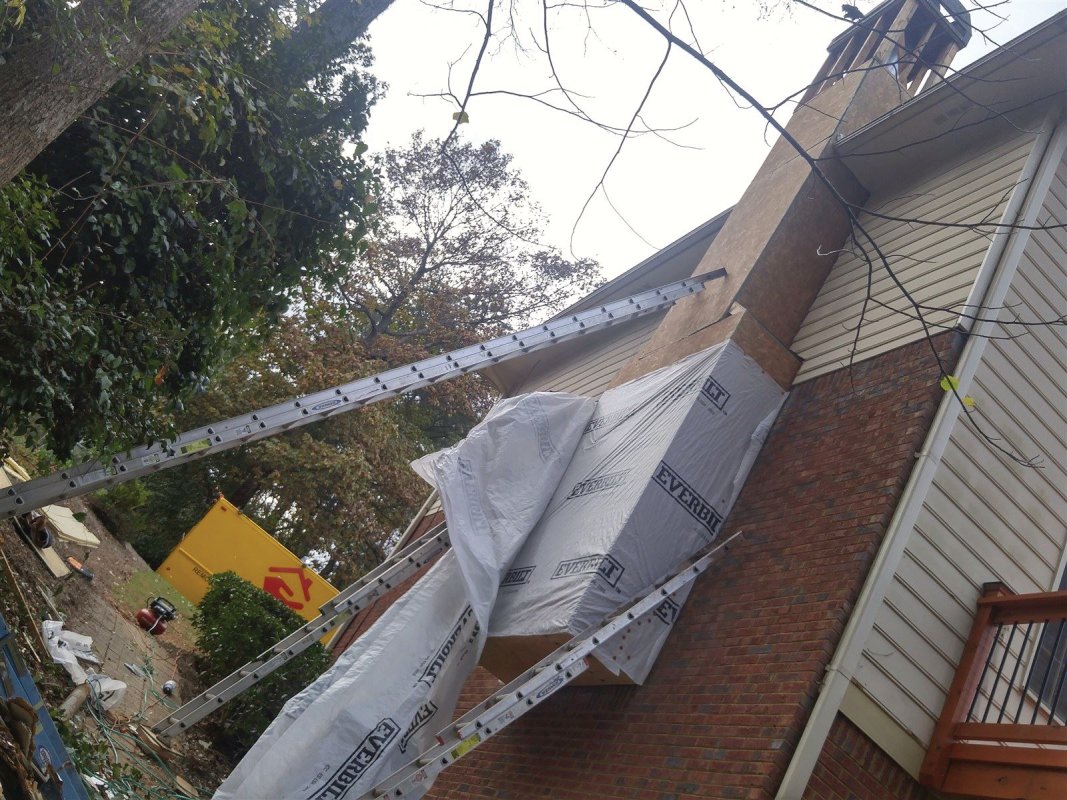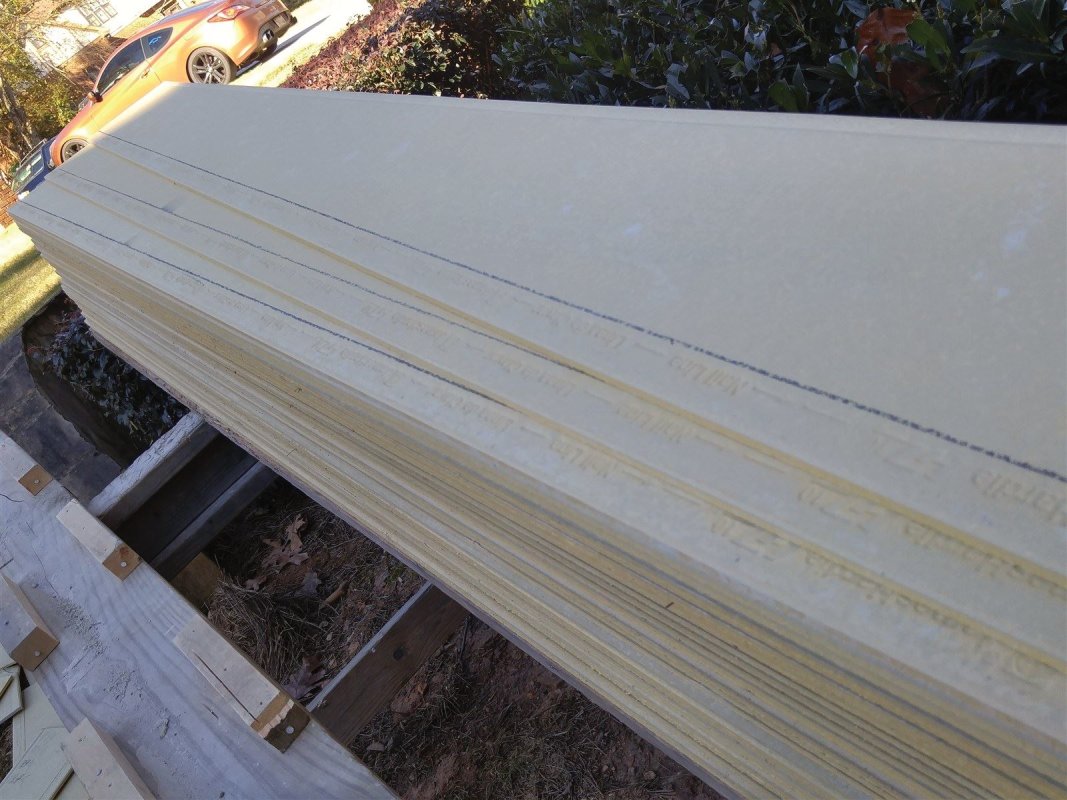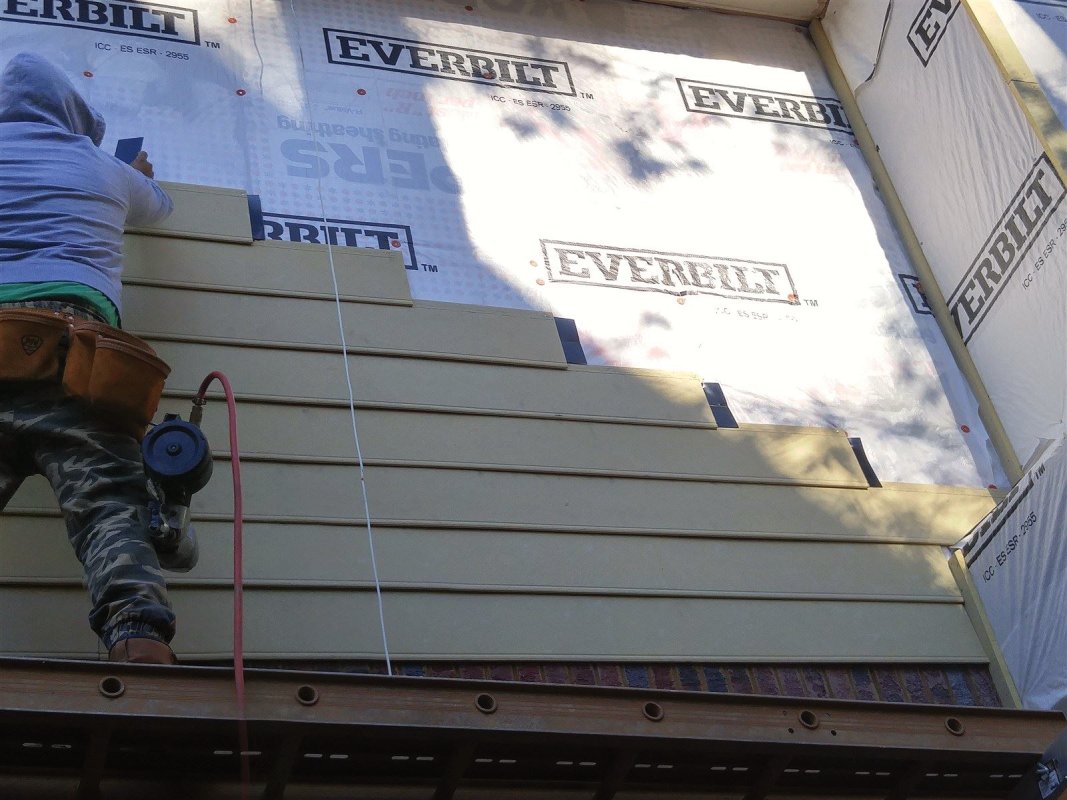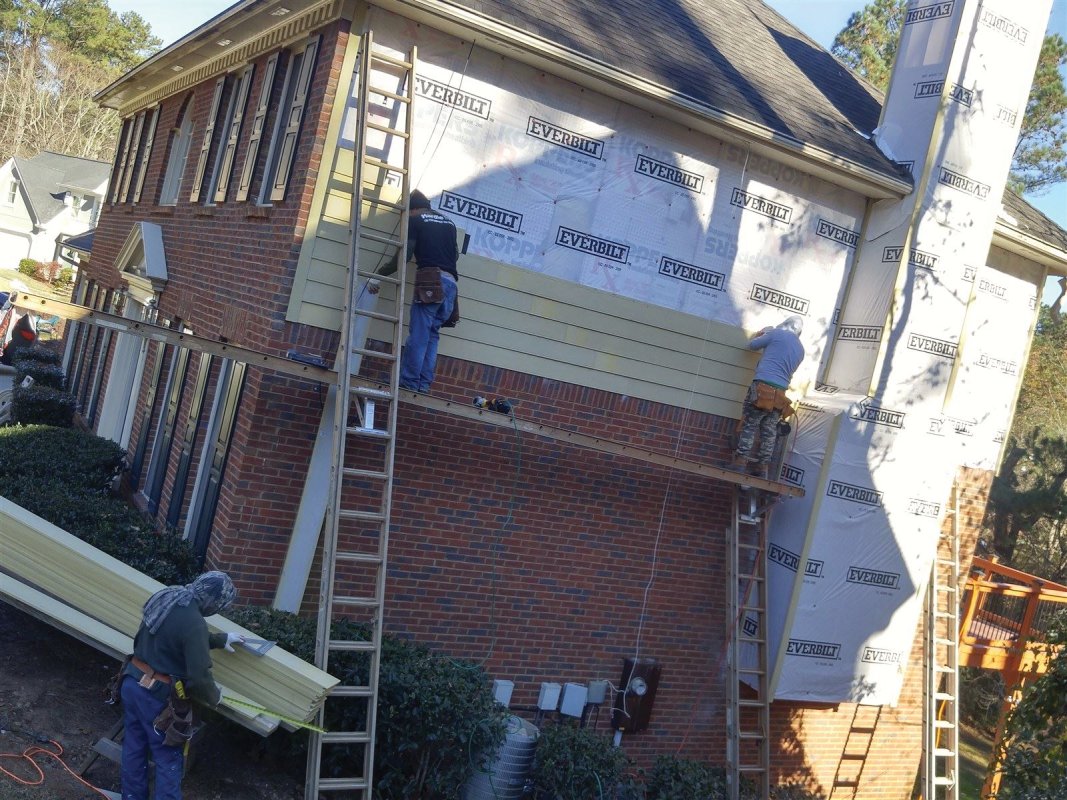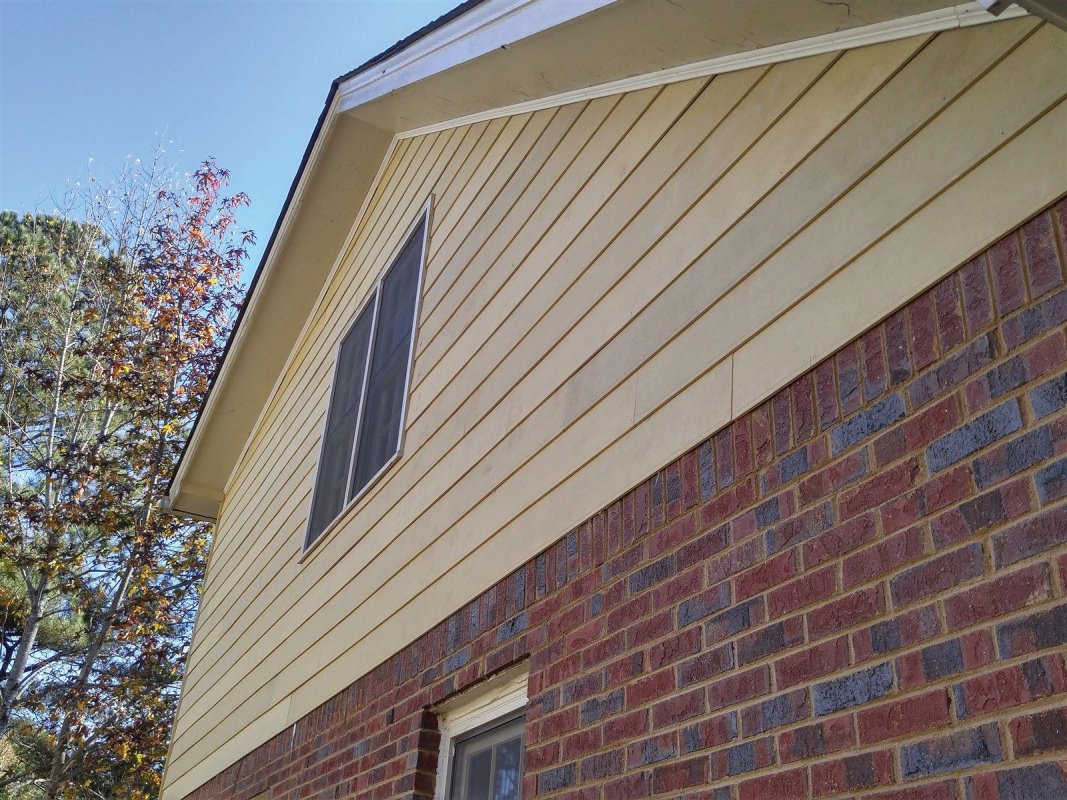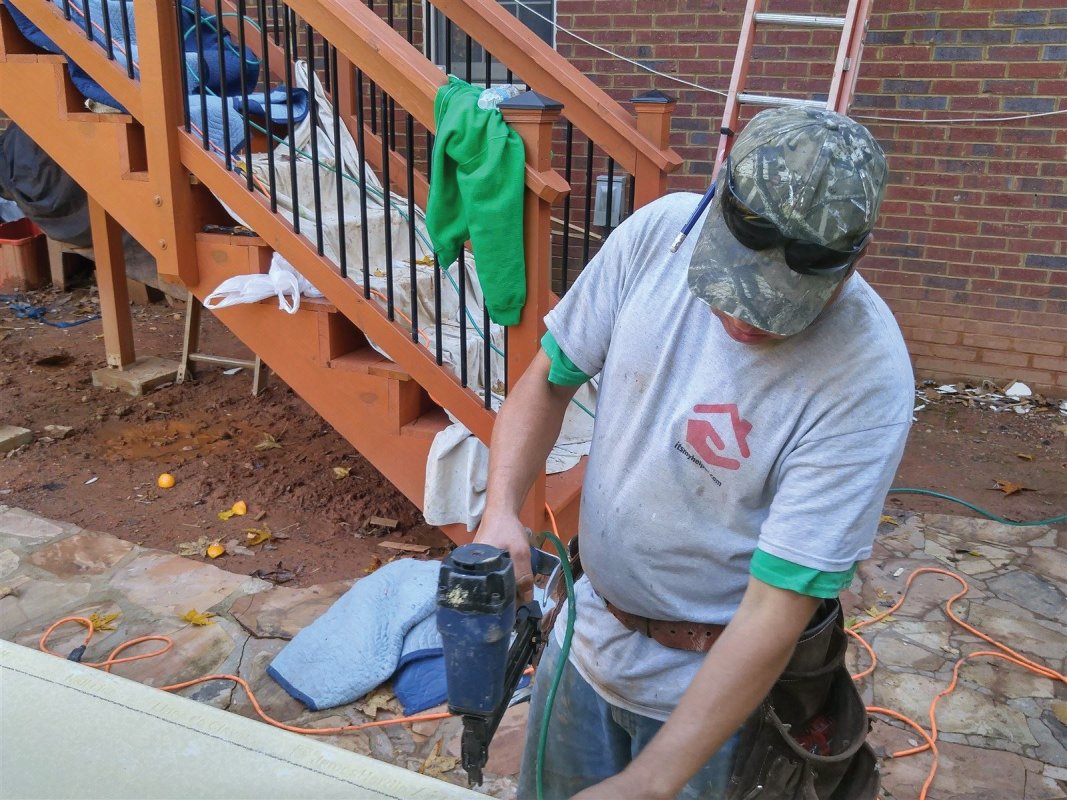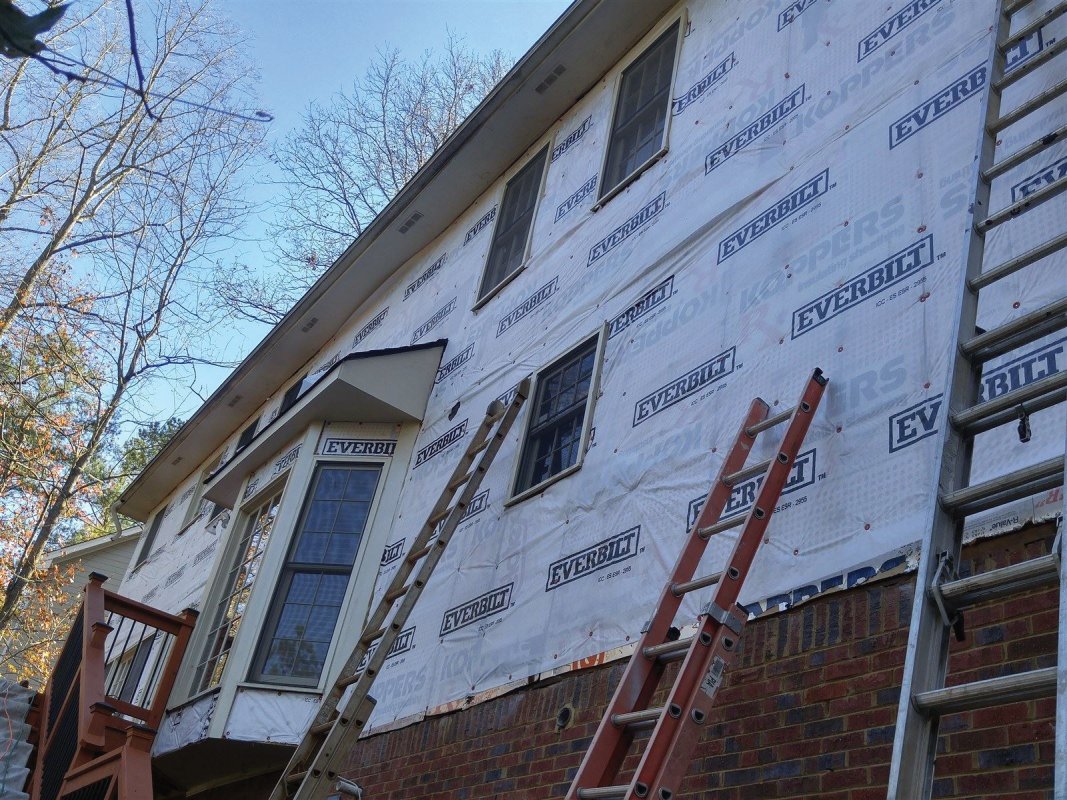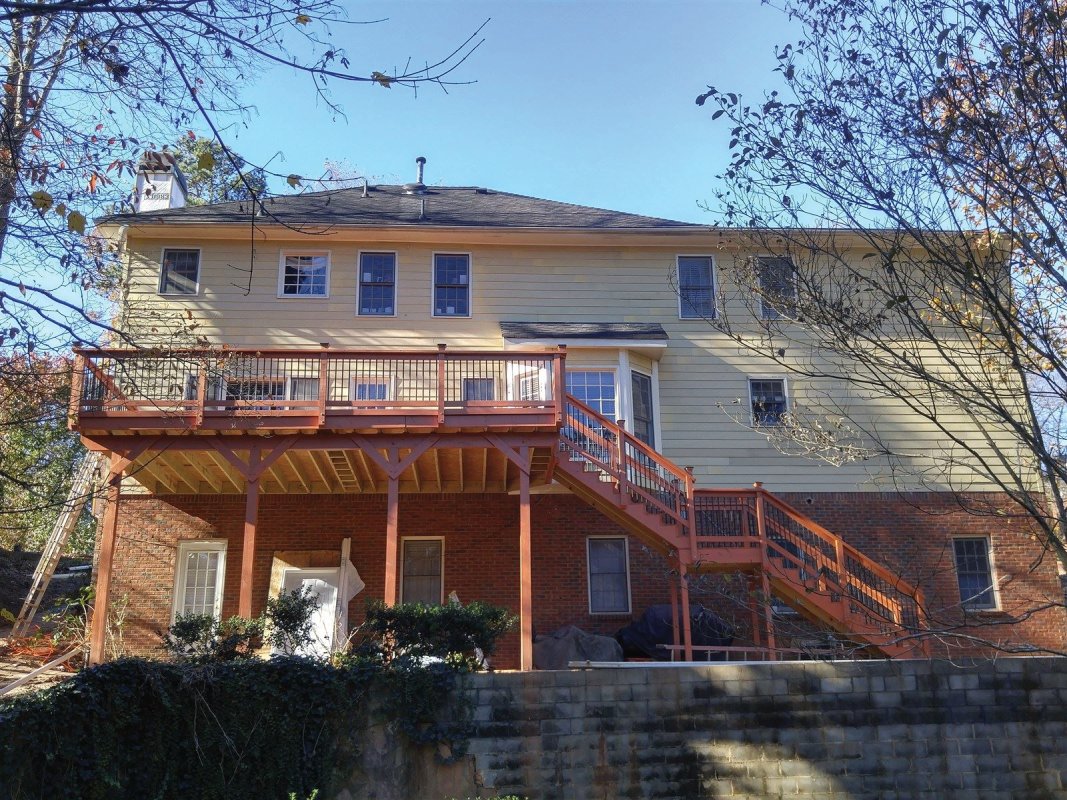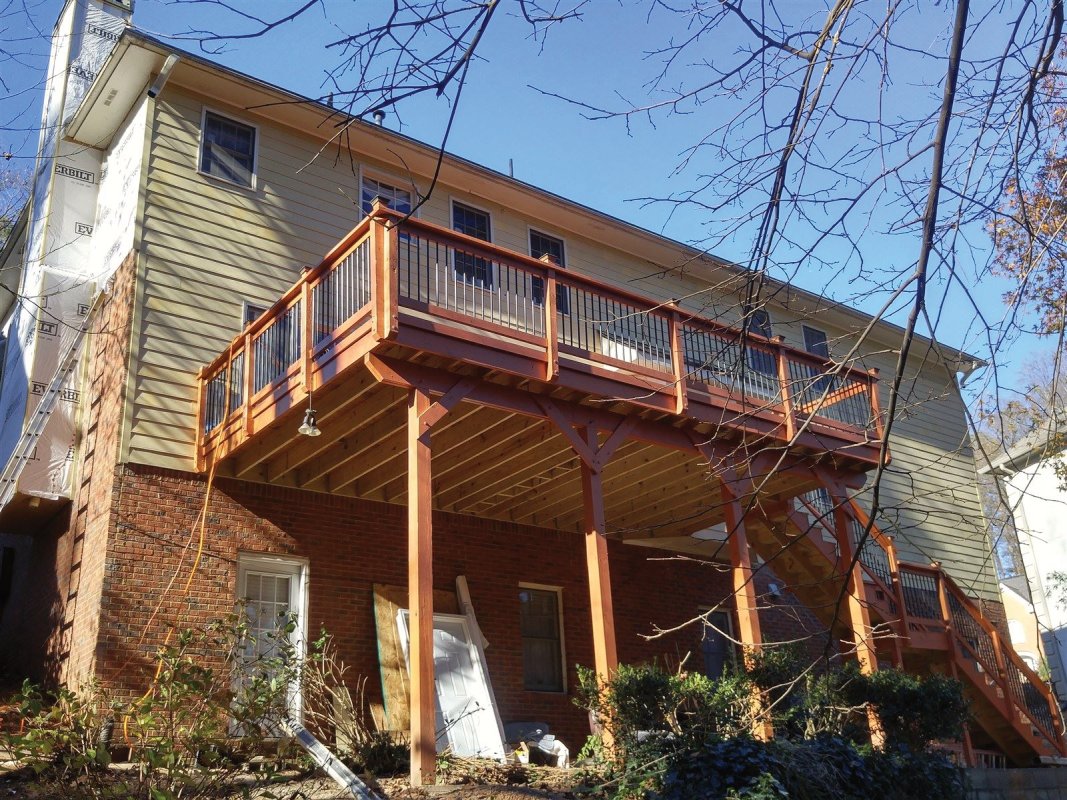 Johns Creek: There's no better feeling than getting hired again by a previous client...it means a to us. We met this client from Home Depot's RedBeacon Referral Program
We built one of the biggest deck's we've been involved with for the homeowners back in July and now were were fortunate to repair their chimney and replace all their siding with JamesHardie fiber cement lap siding.
Like many chimney's this one was not wrapped with a moisture protection barrier and has water damage to it's framing.
We replaced the damaged framing, added OSB boards to rigidity strength and wrapped it.
Internal details but important nonetheless---------------------->>>
We pencil each board to ensure a straight/leveled installation as sometimes your eyes can deceive you.
<----- Another important detail is staggering the siding and installing flashing at the ends of each board. Why? Hardie instructions call for it, staggering prevents water from slipping thru plus helps keep the boards straight. The flashing in between the ends is yet another measure to prevent water from sneaking in. 
The house wrap (moisture barrier) is also a must. It prevents water from getting is + it's a warranty requirement from James Hardie.
<---BEFORE (just the wrap)
                   AFTER------->
<---- Armando - 
      Siding & Deck Team Lead
More wrap---------------------->>>>>
<------- 
That's a lot of James Hardie Fiber Cement Lap Siding 
BTW - this is the deck we built in July (it's under our Deck category)
We were hired by the owners (investors) to replace all the siding with new James Hardie fiber cement siding. 
We use a moisture barrier to wrap the house - t protects against water and wind.
We follow James Hardie guidelines and to your right & below is a nice detail. Notice the square block (it's also made from Hardie fiber cement). To the right a light fixture will place more solidly, & at the bottom is a nicer finish than gaping holes. 
The chimney needed sheathing (we saw where the wind over the years twisted it a bit - the framing wasn't enough) and spent almost an entire day on the chimney alone.
As always we're glad we can help. 
Right:
BEFORE - 
Here we are in Milton replacing a lot of siding with a fiber cement siding. You'll also see the newly installed white fascia boards (they're made out of PVC - a real smart move since PVC will not rot).
We're replaced in all nine windows. Three in the garage, two dormer windows, plus four more.
Right:
After removing the old siding and install a weather/moisture barrier, installed window flashing, and then installed the windows. 
Left:
Up goes the fiber cement siding...
Right:
We also removed all the siding and trim from the dormers, and installed windows in each dormer.
Left:
Close-up on the dormer work. 
Right:
Notice the white trim (fascia)? That's made of the PVC product. 
Left & Below 
More windows and siding opposite end of garage. 
Left & Below: 
The last of the window replacements - no new siding on this side, just new windows. 
We were at the top of the hill in Canton, GA replacing 180 pieces of siding and installing James Hardie Fiber Cement Lap Siding. - Cerdarmill Beaded.
We follow the installation instructions very closely and can't believe I forgot to take pics of the square flashing pieces we place behind the butt-ends!

/