Shopping Cart
Your Cart is Empty
There was an error with PayPal
Click here to try again
Thank you for your business!
You should be receiving an order confirmation from Paypal shortly.
Exit Shopping Cart
Improving the American Dream

We really enjoyed the project below. We built a deck, a retaining wall, and fence. 
The home owner decided on TimberTech's Tropical Collection: Antigua Gold for the main deck and Antique Palm for the borders. This collection has a beautiful real wood grain look. One of my favorites. 
Here's the design the home owner approved. 
Notice the fence in the back ground? We built it too.
It's amazing how compact all the materials are when delivered. 
One of our concerns from the initial visit is how low the deck sits. Low-lying decks are actually more laborious and challenging than a normal height deck. 
We certainly did not want to build the frame directly on the ground. But we didn't want to excavate too much of the Earth (none of it really) because we didn't want to create an issue with pooling water. 
This is what happens when lumber lays on the ground. It appears that some joist rotted and the fix was to "sister" (sandwich) the joist but it really did nothing. 
This stuff was so brittle and done. 
We loved the tree...the home owner said it can't be killed. It will grow back. 
More rotted lumber.... no bueno
It never dies, so off it went this tree. 
It was more than we anticipated. 
Finally a clear work site for us to start to figure out how to build the frame. 
We end up resting the lumber on concrete footings very similar to regular builds but with out the 6x6 posts. 
We did some excavating and it created an extra day of work.
We couldn't use the 2x10's like we like so we doubled up on smaller dimension lumber and spaced the joists at every 12" on-center instead of the normal 16" on-center we usually do. 
]It turned out awesome - notice the square concrete footings? 
Great looking deck frames. 
Missed it by that much! 
This was a beast to deal with. 
Remember that fence? There is is in the back ground left. 
Oh, here's the retaining wall the homeowner added to the project. The ground didn't even seem that high but it created a lot of dirt and two more days of work. 
But it was certainly the right decision to make. Over time the ground would've likely eroded towards the beautiful new deck. 
Finally some decking is making on to the deck. We're a happy bunch when that happens. 
More progress...this pic shows the grey conduit & junction boxes we use for the lights. 
Coming together nice. 
Back to the Future
It don't get no betta...you betta, you betta, you bet.
Simply beautiful...the pergola posts are 4x4 posts with COMPOSITE POST SLEEVES. Not only does it look great, but the posts never have to be painted. 
Can't wait for the tree to grow back,  

Almost done...
Here you have it...done with riser lights and post lights as well. We're proud of this job. 
We do a lot home improvements and home repairs. Here we are building a new gate for this home. This particular fence had simply to much wood to serve as a frame. We use a Simpson Strong-Tie steel product (RTA2Z) that holds corners rigid strong, reduces lumber costs, barely noticeable, & only costs $1.98 each (only used 4 per side)
Here we are in Roswell updating a handrail system, plus a few other things. We replaced the trim wood on the chimney, did some facia/soffit repairs, replaced a broken 4x4 fence post, & added some Simpson Strong-Tie galvanized joist brackets & 1/2 lag screws for the deck. AND we did some interior electrical work as well as lowering the exterior entrance light to accommodate a nicer one. 
What exactly is that we do? We provide a little help for a little while for a lot of things. From home improvements & home repairs, to moving services, handyman help, exterior house painting and more. 
Really enjoyed working for this client, super nice guy.
We removed his old fence and installed a new pressure treated privacy fence with extra wide gate for easy access.  When working with treated (green) wood make sure your fasteners (nails) are galvanized or stainless steel to prevent corrosion. Regular nails/screw will not last long & the corrosion will leave an ugly run down the wood.
On gates we use Simpson Strong-Tie galvanized corner brackets to eliminate sagging. Simpson Strong-Ties are what you see under decks, what's used in roofing, commercial construction & more. Good stuff.
Our services include help with : Home Improvement - Home Repairs - Handyman - Exterior House Painters - Movers
Had a great opportunity to install approximately 120' of split-rail fencing in Alpharetta. 
Nice day, plenty of shade, but a very weak auger - it was uh strugglin'.
Give us a call if you need a little help for a little while for a lot of things (or just one). We do all sorts of home improvements. 
Handyman help movers home movers home repairs exterior house painters home improvement moving companies
Felt like the Hunt for Red October on this one. We visited five (5) home improvement centers (red) and had no luck selecting a dozen good french (gothic) posts - unusual but true. We had to switch to the other home improvement center (blue) to find what we were looking for - you too might can relate? 
As usual, and sincere, we're appreciative for the opportunity to help homeowners. We built a box fence (alternating boards on both sides), with a decorative half-moon cut. Mrs. M. was sooo nice, we had hot tea and pastries. Thank you
Below are before and after looks per stage of the project (sort of)
BTW, day two and three were started in the teens, I don't think it reached over 32 .
Home Improvements - Home Repairs - Handy Man Help - Moving Services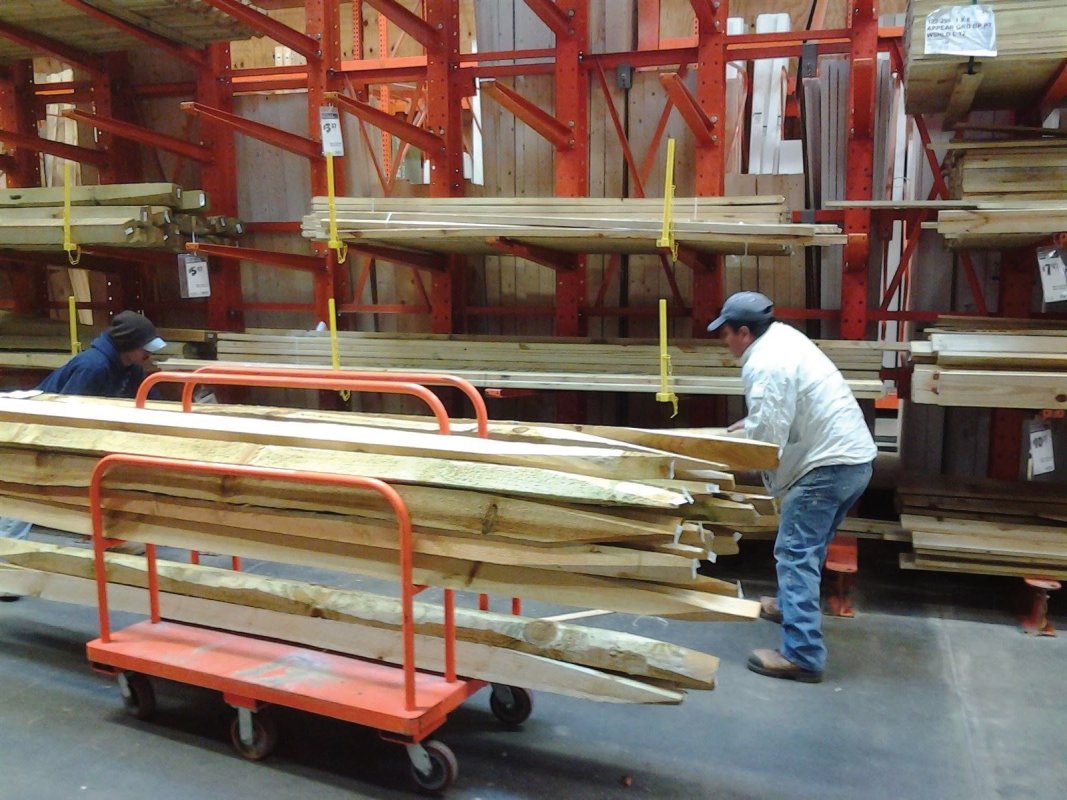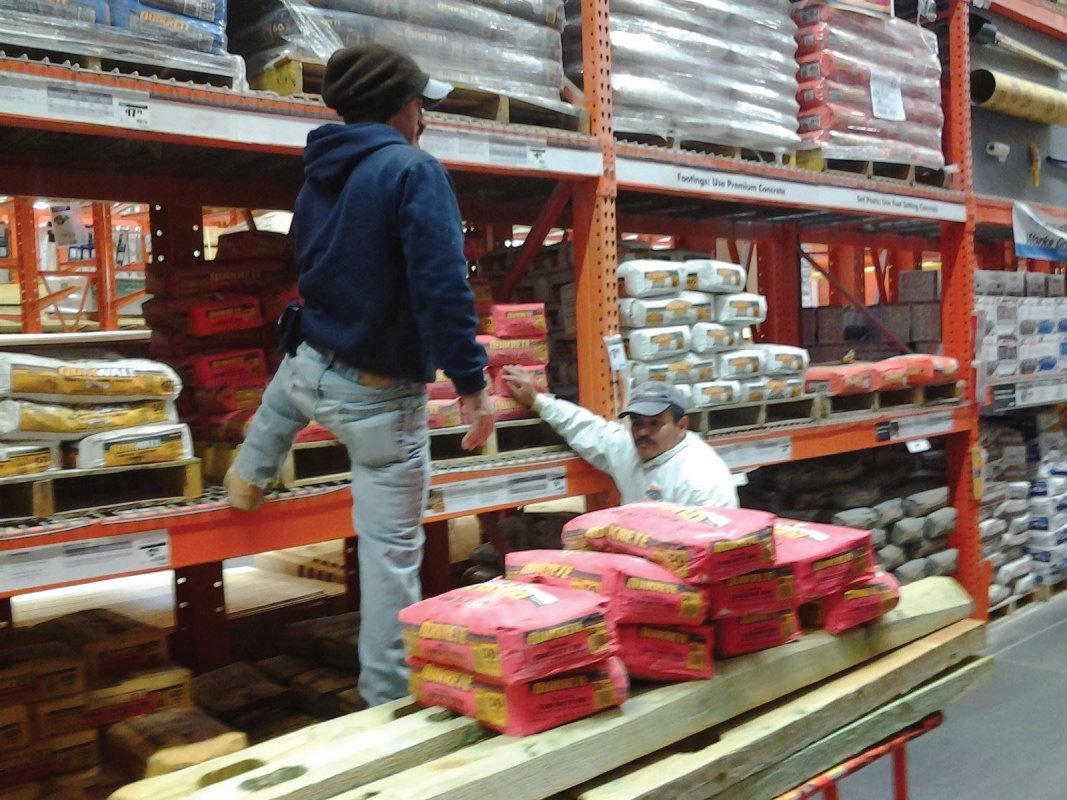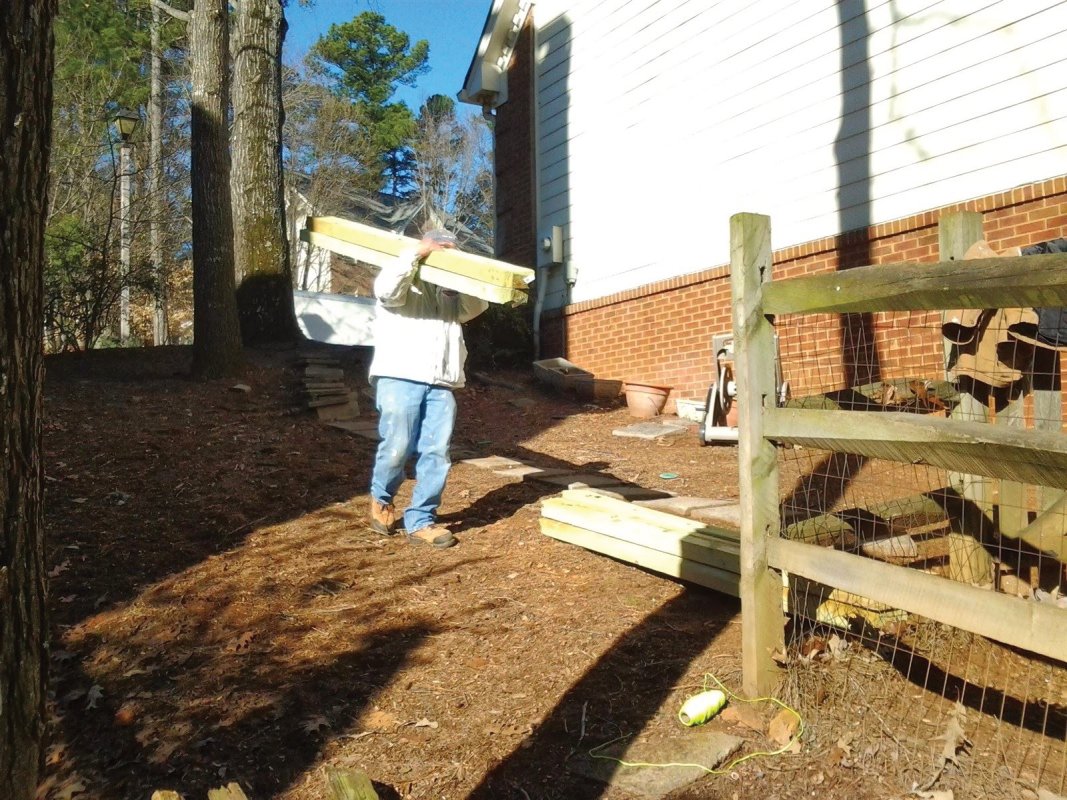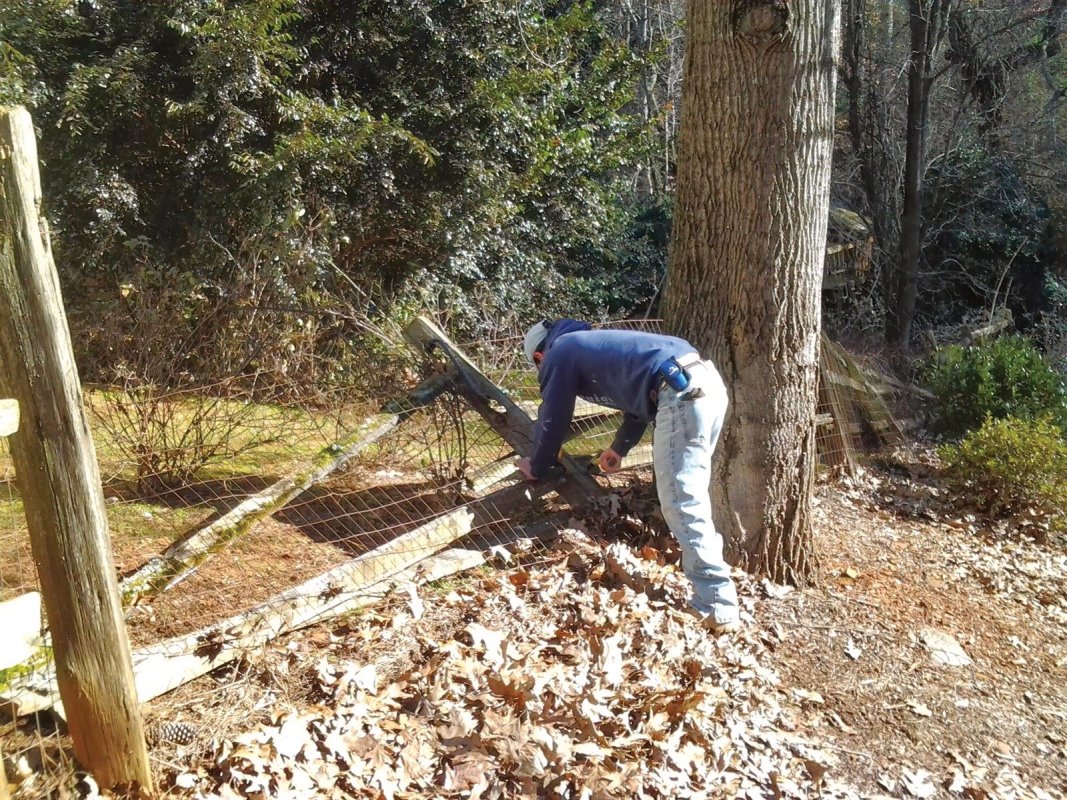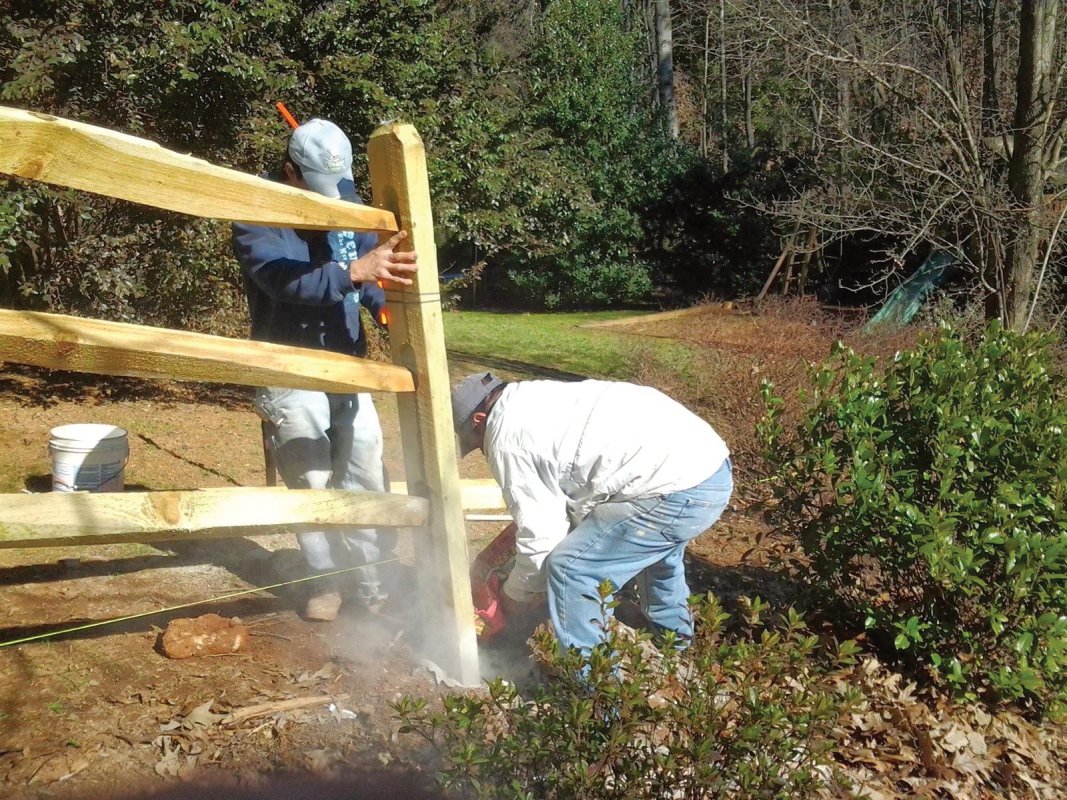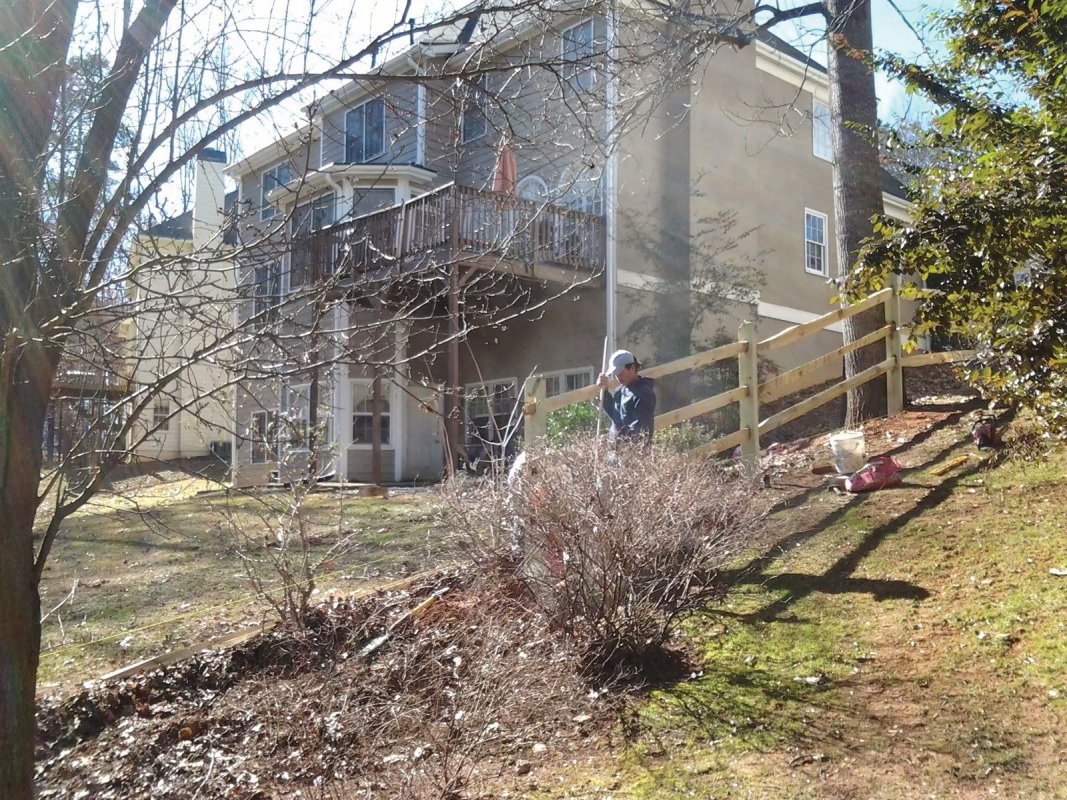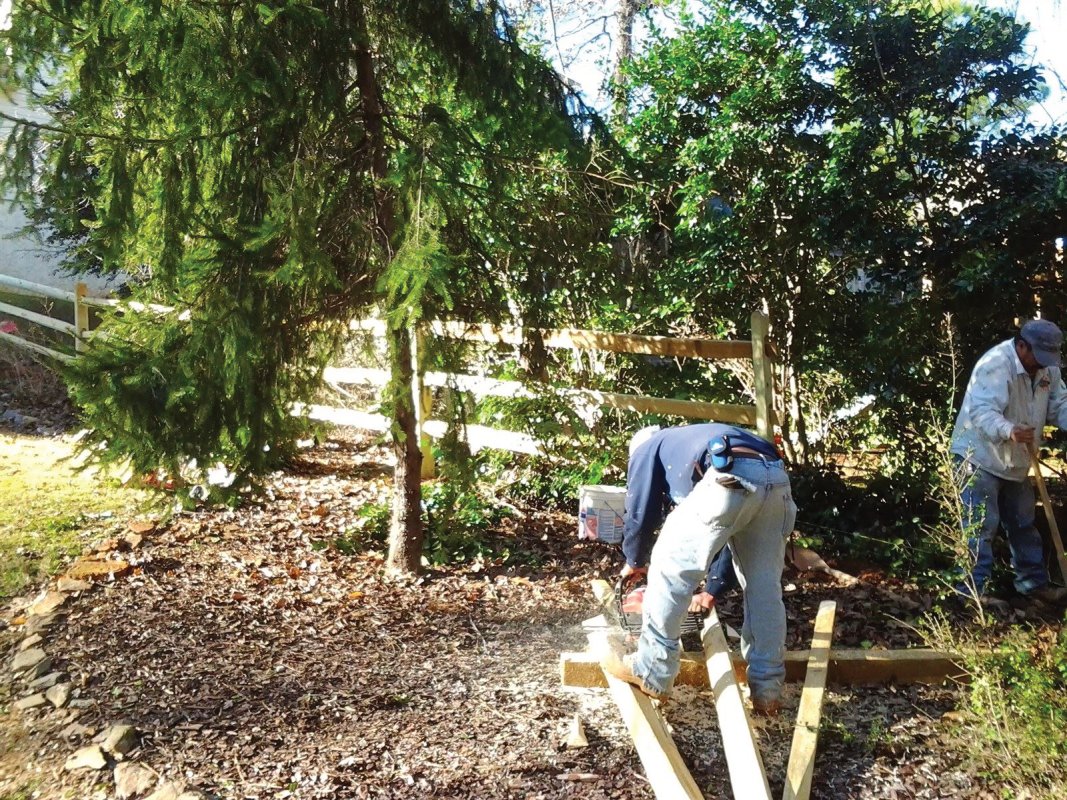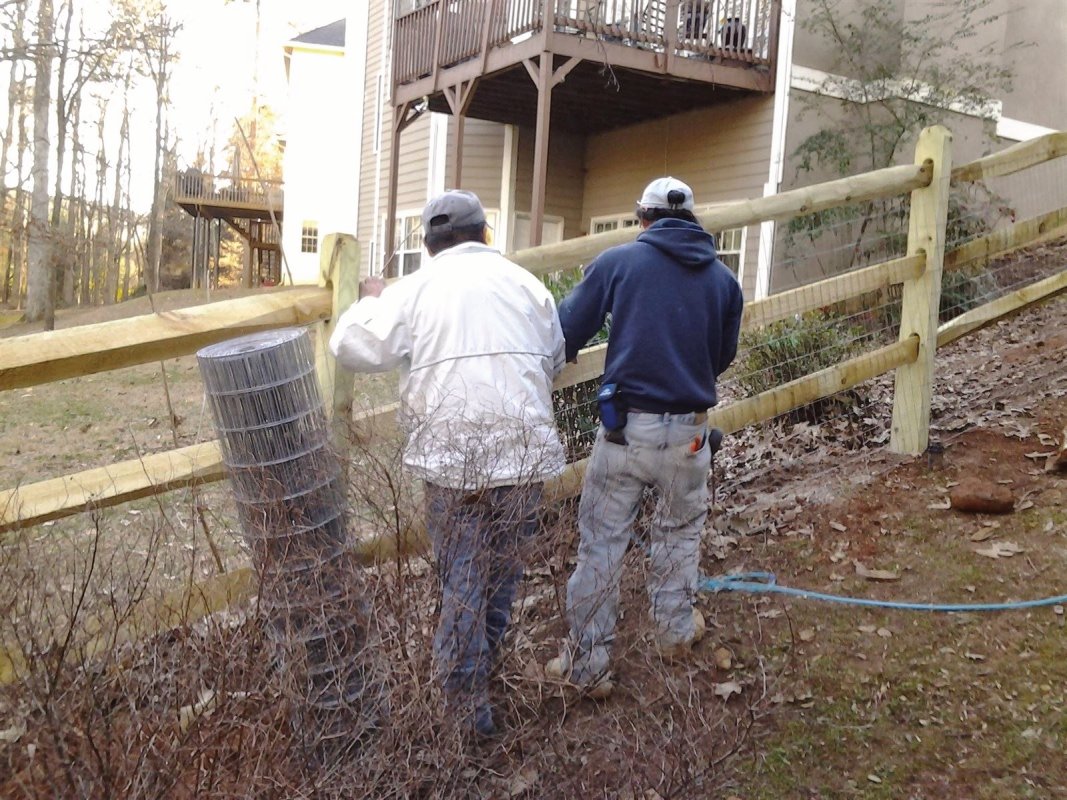 Had a great opportunity to help replace 81 feet of damaged split-rail fencing in Windward (Alpharetta). 
We stopped at our second home to select the wood and pick up the rest of the materials then headed to the job site afterwards. 
Our services include help with : Home Improvement - Home Repairs - Handyman - Exterior House Painters - Movers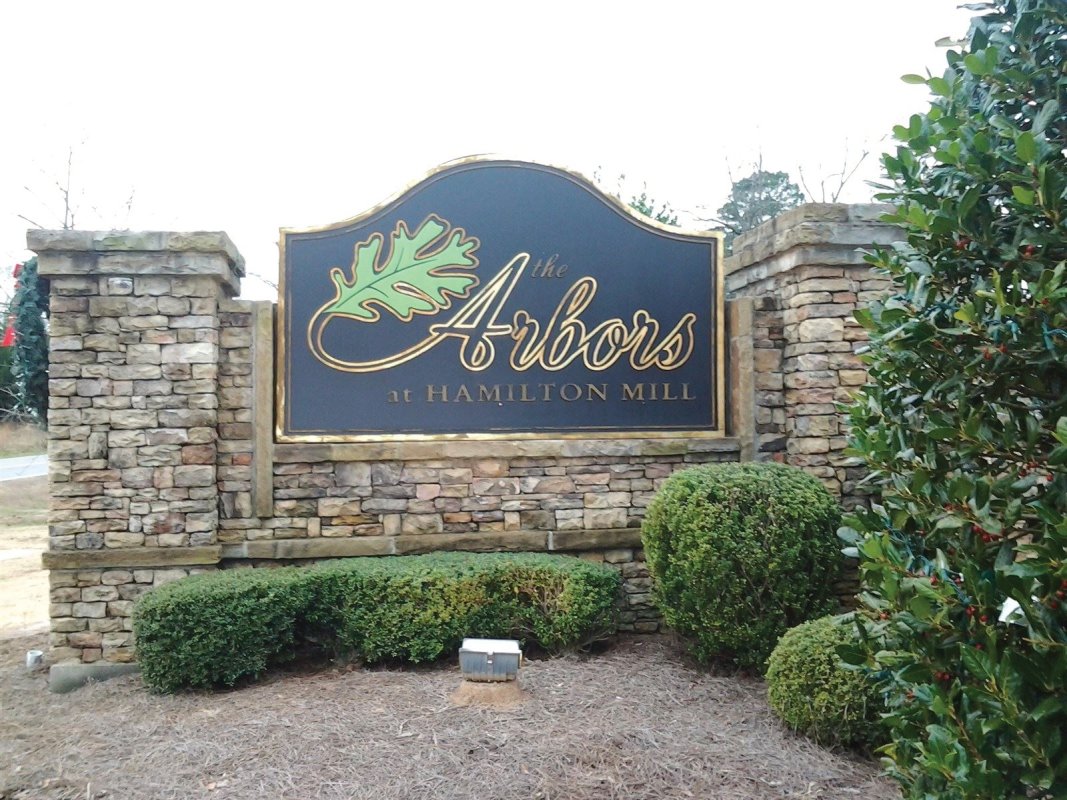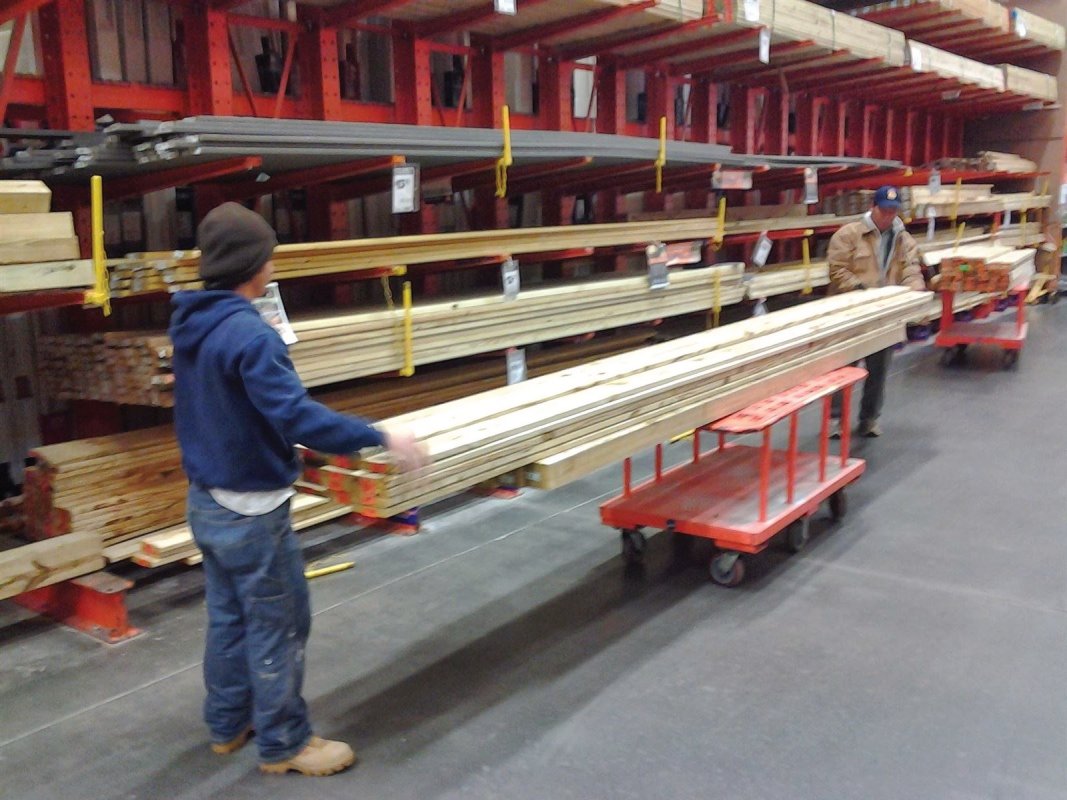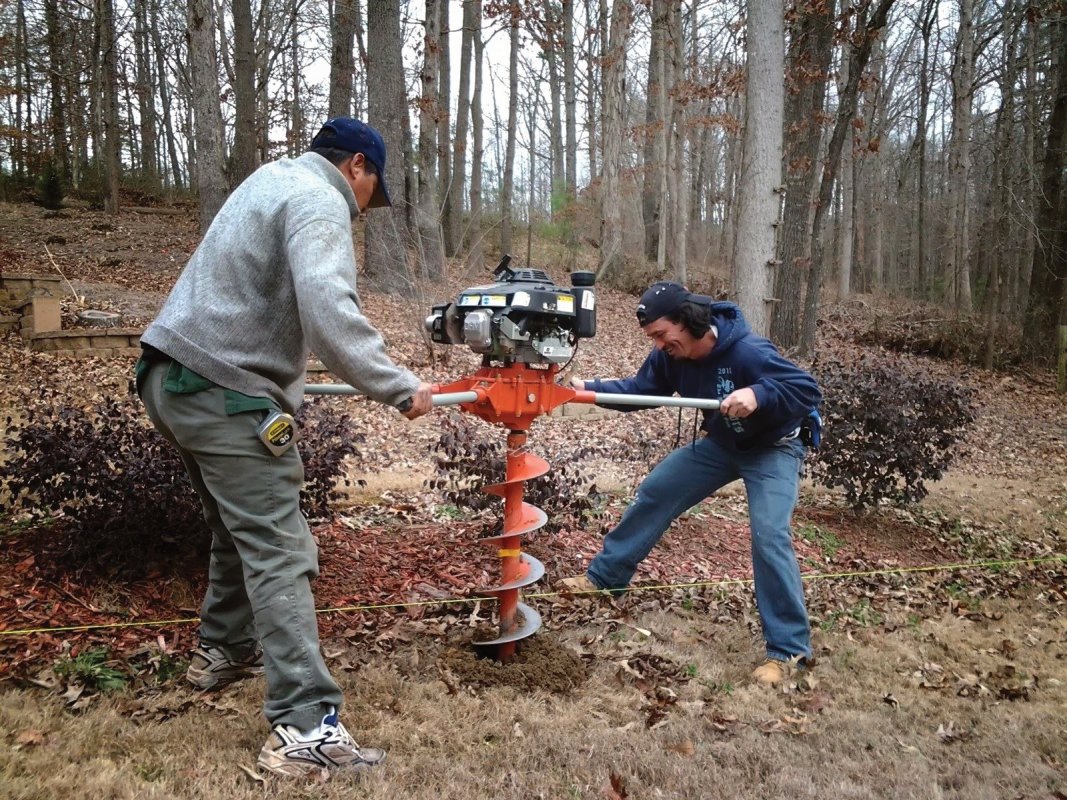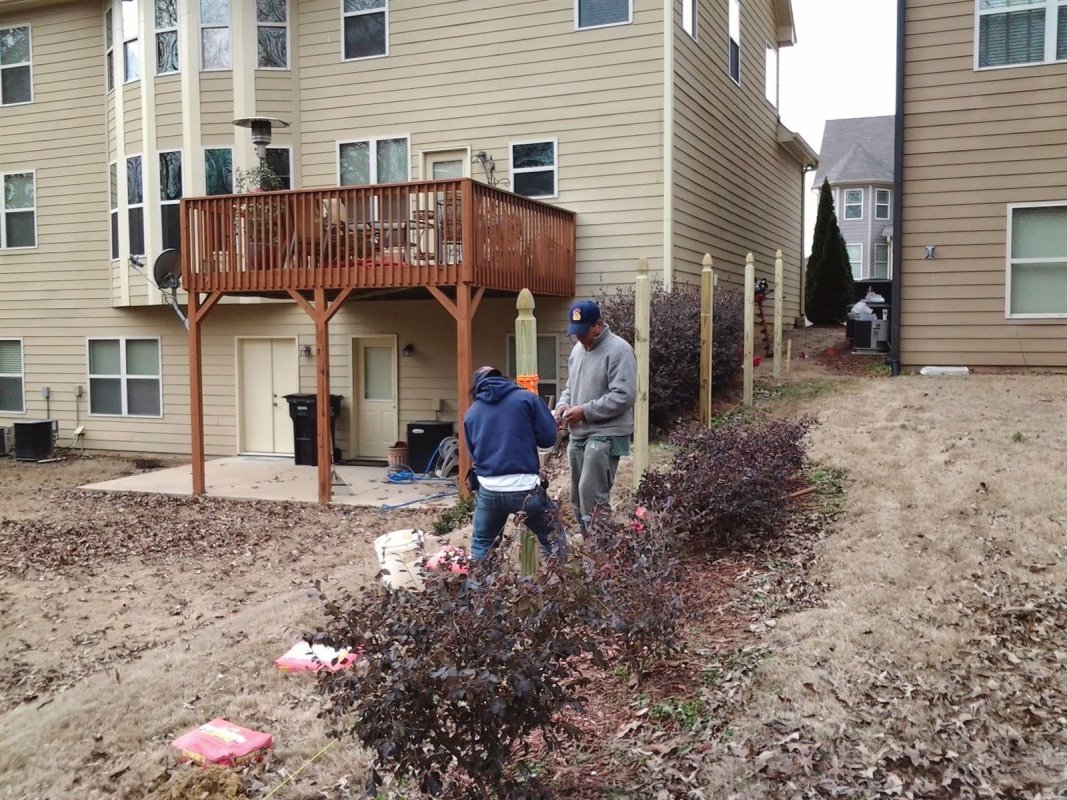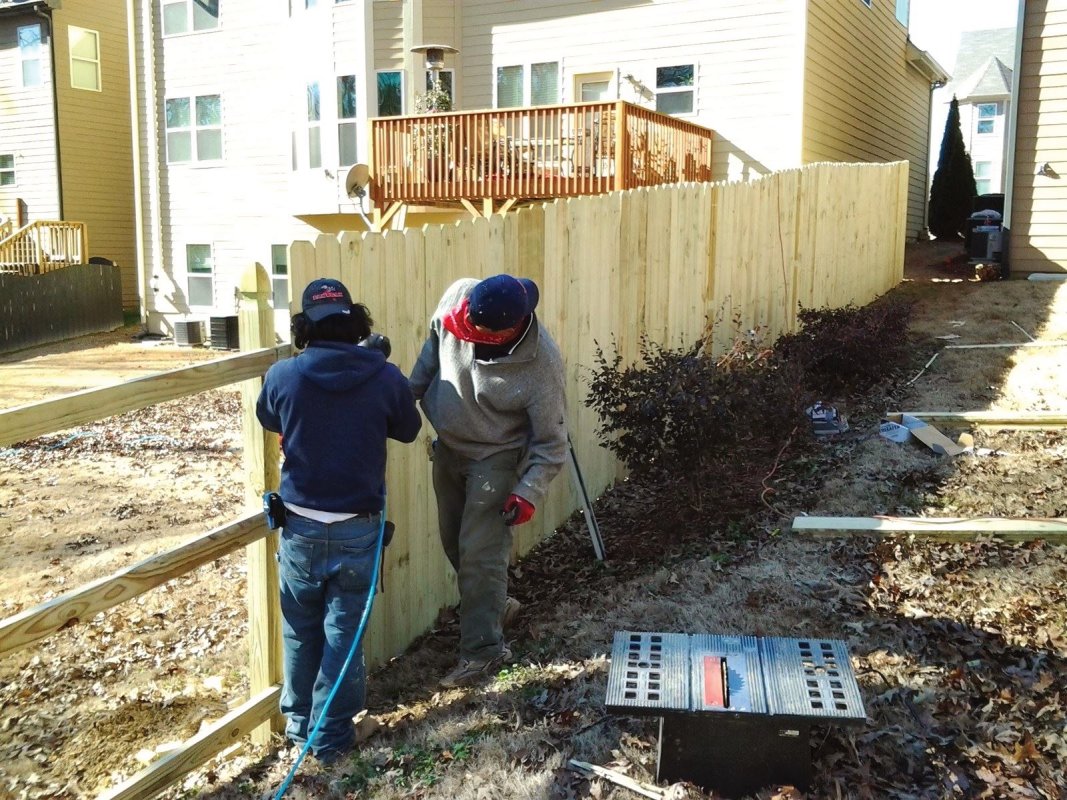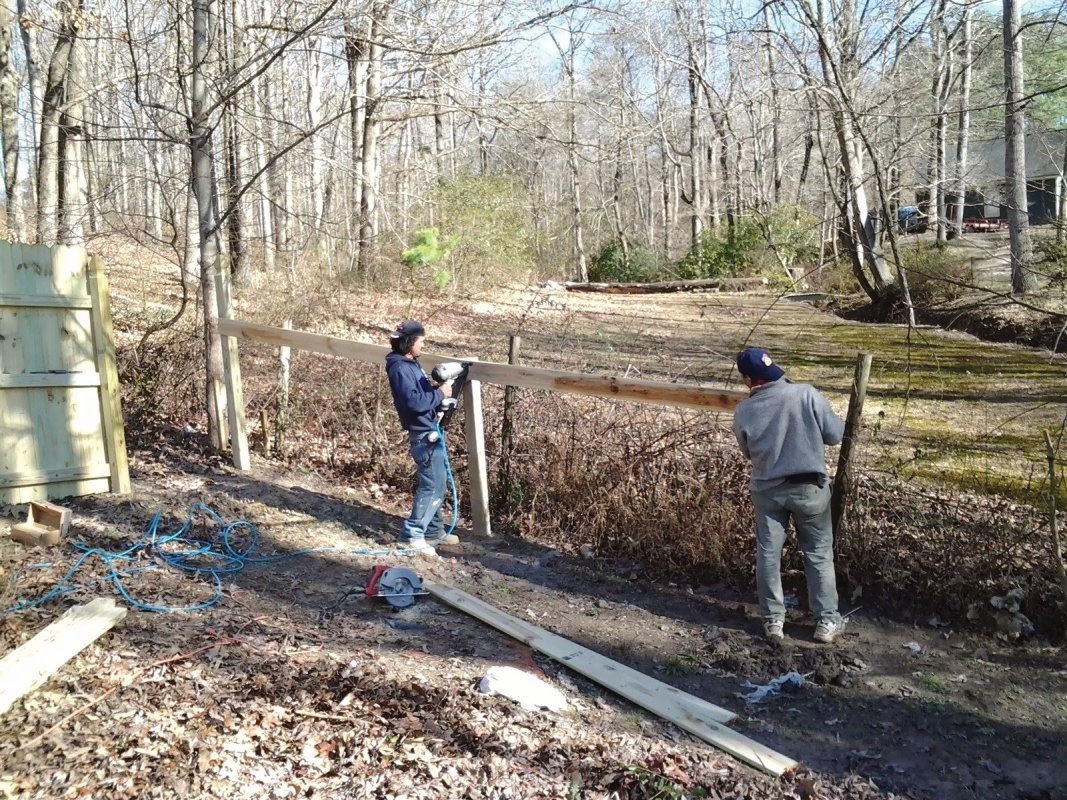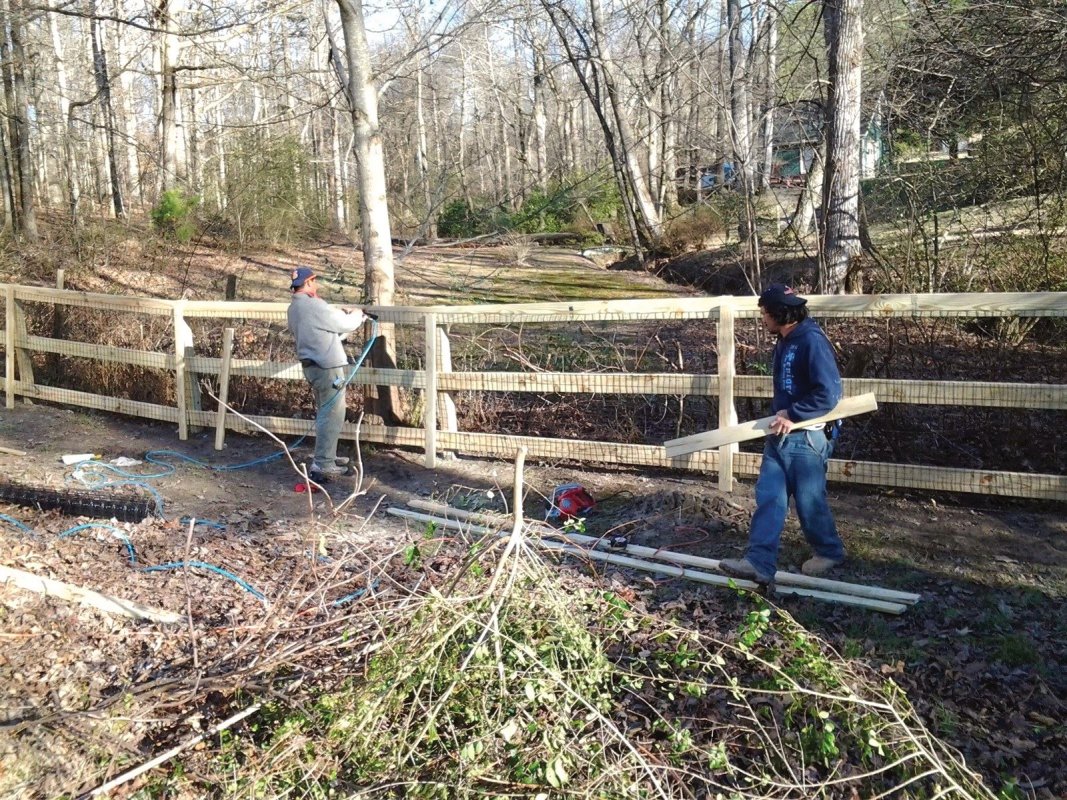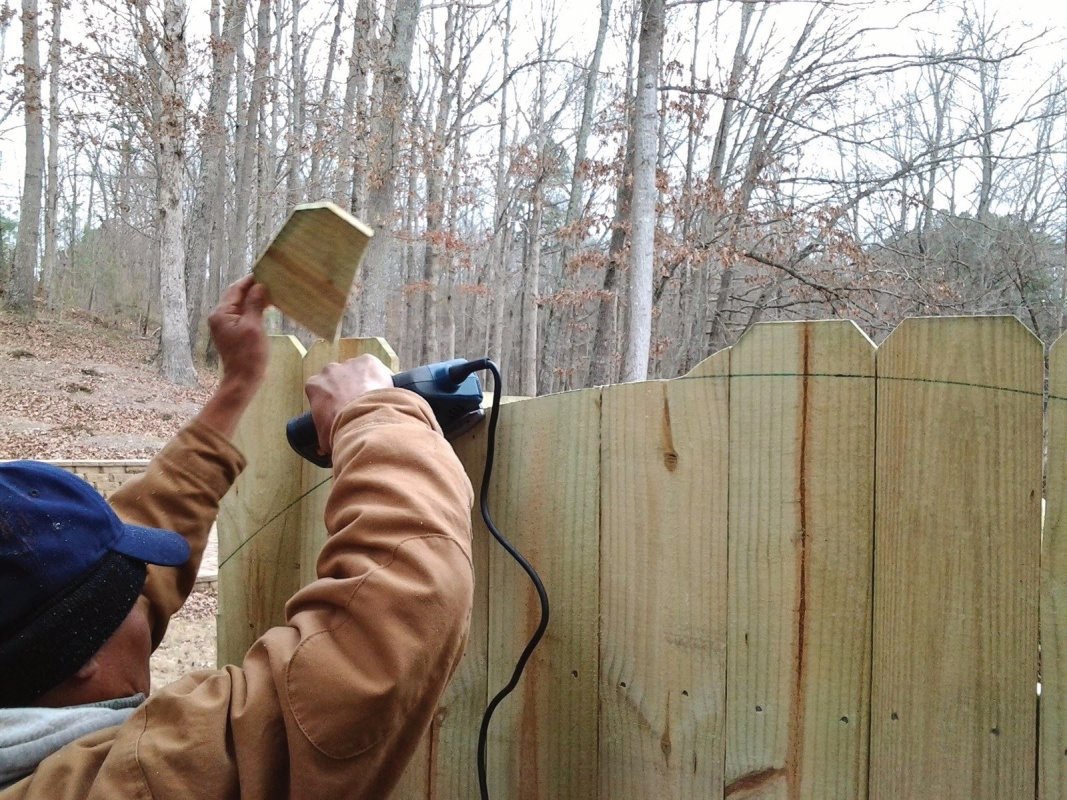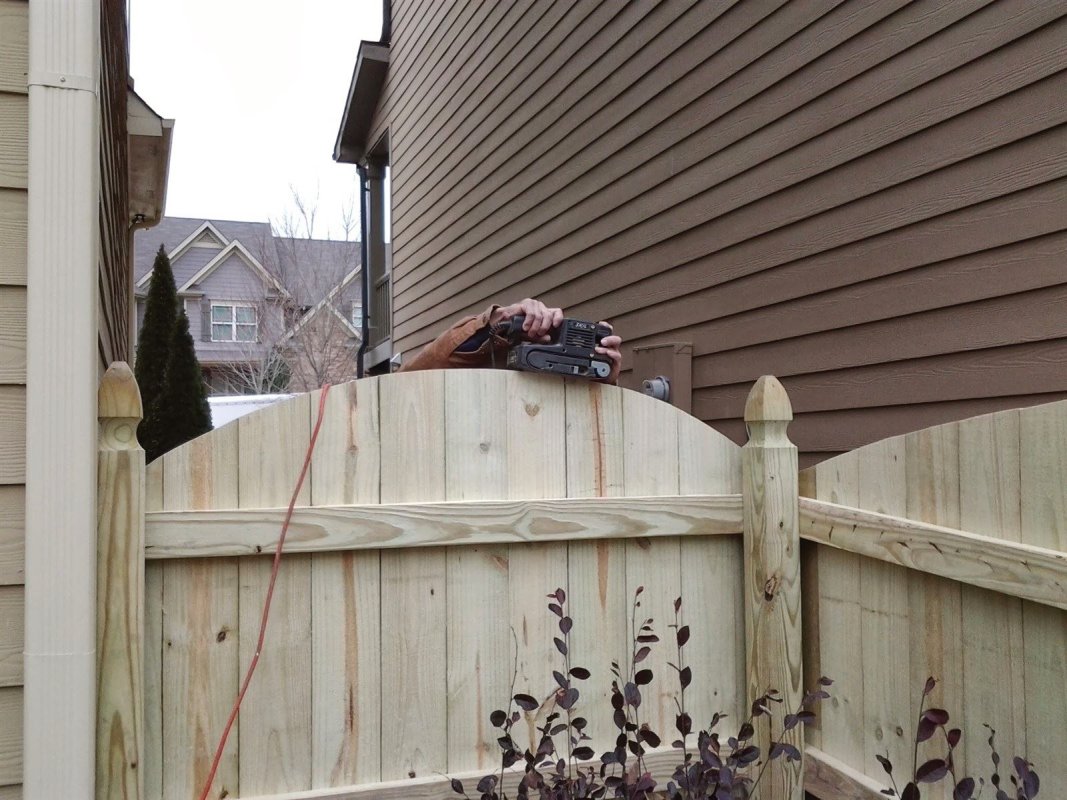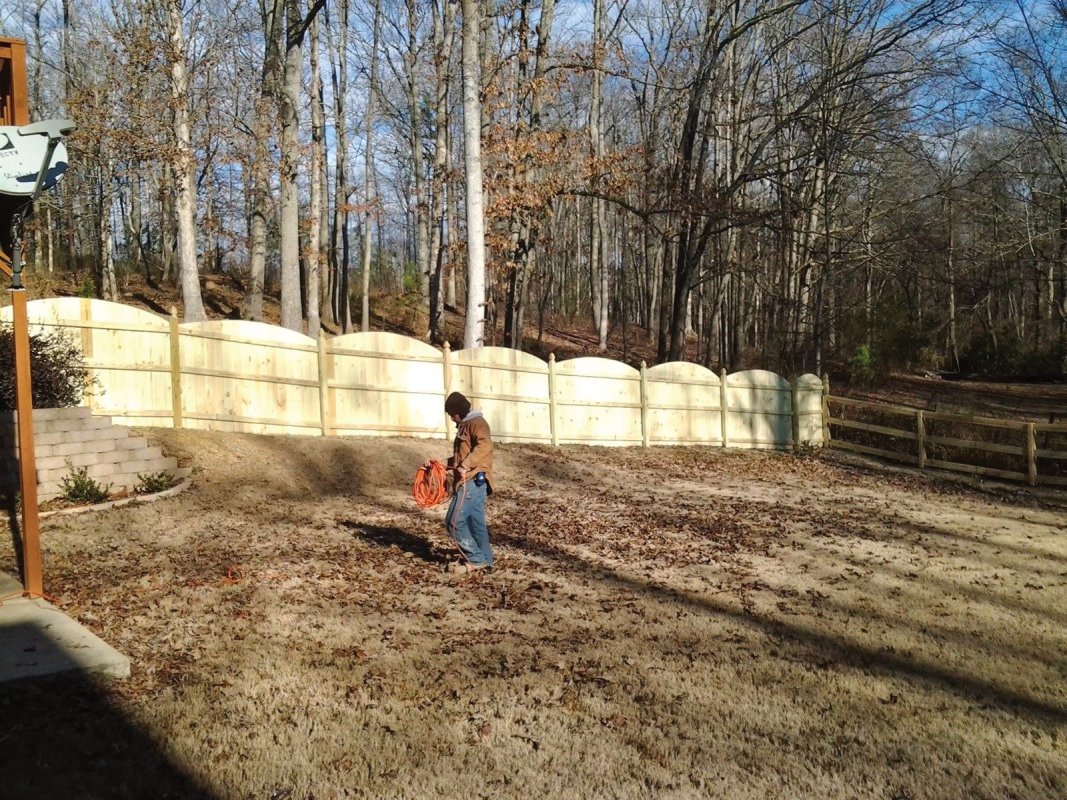 `How lucky can one guy get` goes the song but in our case we were lucky to have done the moving job for this family 1st. After moving in they wanted a new fence installed to let Paris and Ponce roam free in the back yard. 
We were fortunate to win the bid and earn their business once again. 
Below is a step-by-step  (sort of) of what we did  - For instance, it's much easier for us to order the lumber and have Home Depot drop it off, but we really prefer to pre-select the wood in advance. Between selecting lumber, gathering the supporting materials, loading up the bags of concrete its a couple of hours of work.
The type of side fence we installed is a half-moon with french cut posts.  The last picture shows the finished product. In all we built it 152 lf of fence.  
Our services include help with : Home Improvement - Home Repairs - Handyman - Exterior House Painters - Movers
/