Shopping Cart
Your Cart is Empty
There was an error with PayPal
Click here to try again
Thank you for your business!
You should be receiving an order confirmation from Paypal shortly.
Exit Shopping Cart
Improving the American Dream

It's amazing how much work goes into a small 8'x15' patio. 
From selecting the flagstone, to getting it delivered to completion it's surprising.
The weeds had to pulled and and the small concrete slab busted up. Look how much concrete just in that small area.  

We cleaned up the area, got the wrong substrate delivered. It created extra work but we made it happen. 
Here's Amrando (probably not happy with the crushed stone gravel) but he's doing a good job. 
Next we made an awesome bech/storage out of pressure treated lumber. We placed a PVC lid to make it water proof. 
The finish is wood composite deck board from TimberTech. This product comes with a 30 year fade & stain warranty. 
The homeowner did a great job in softening the look and making it cozy. 
ALPHARETTA: What in the world can be do with a bunch of rocks? You'd be surprised. 
This is the old look...plain, nothing especial. We were doing a lot of work on this home and had a great hunch that this portion of the project would look awesome. 
We're removing the old siding getting it ready for all those dumb stones.
We removed the old siding and foam, and installed new plywood, then black roofing paper, then special wire mesh to hold the mortar and stones.
Off we go one stone at a time. Yes, ONE stone at a time. 
         Time's three. :) 
         It's still a process.
Let me tell you it looks sharp. Really complements the beautiful deck we installed. 
Look how well it goes with the Tigerwood Decking from TimberTech Decking. 
It looks cozy, and warm like it was intended to do. 
ALPHARETTA: We always appreciate inside work and on this particular home we did a LOT of inside and outside work. 
We removed the drywall to install new 2x6's for eaiser and batter placement of the soon to be installed tv mount. We do this to prevent being at the installation mercy of the 2x4 studs.
We also opened the wall to have proper support for the 4x12 rough-sawn cedar mantle. We didn't want exposed support brackets because of our end vision. 
With the pre-work done we commenced the main scope of the project. The mantle is protected. 
BAM!! We installed new stones that will make a refreshing and drastic improvement to this living room. 
Buh-Bam! In goes the hearth. One beautiful 6' piece stone from the Stone Center of Georgia (Roswell) 
Wrapping up the last details but it's essentially done. 
  Looks great!!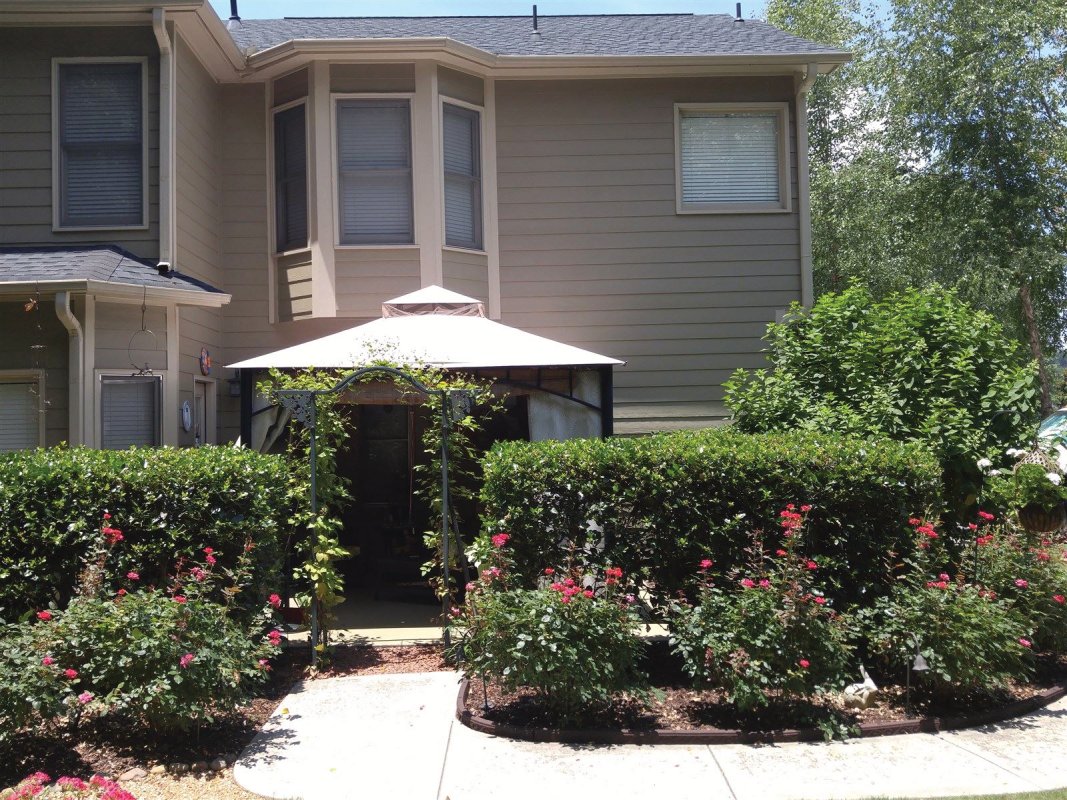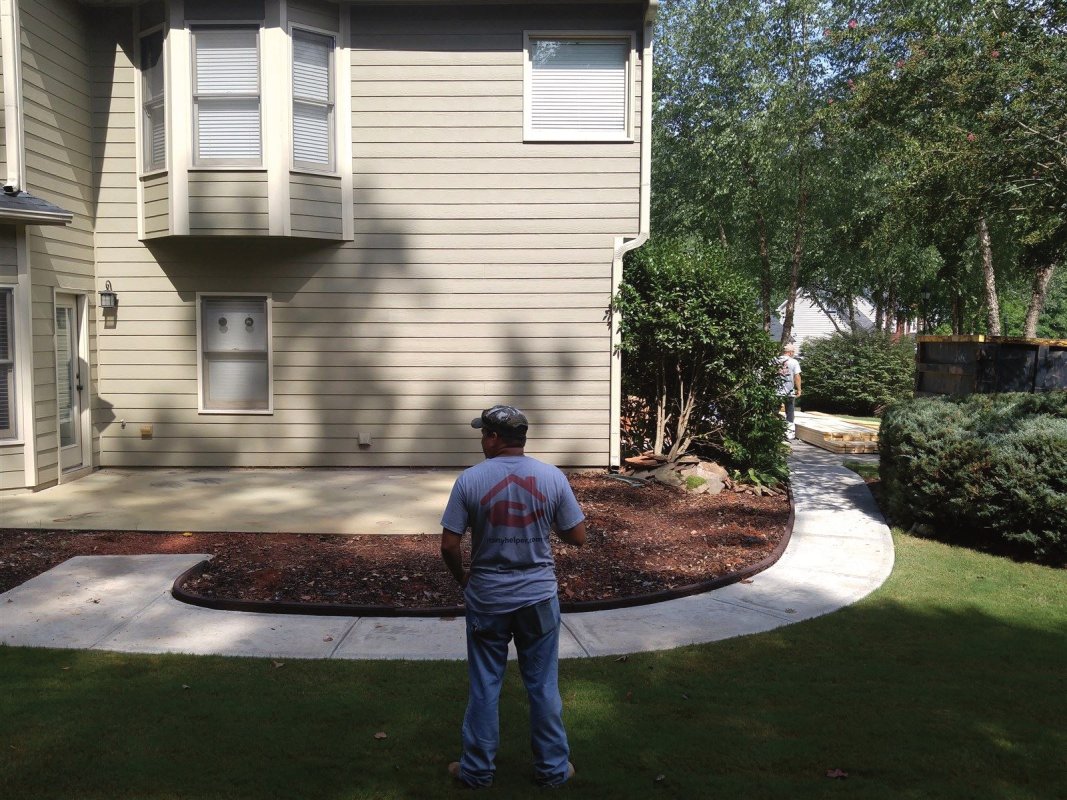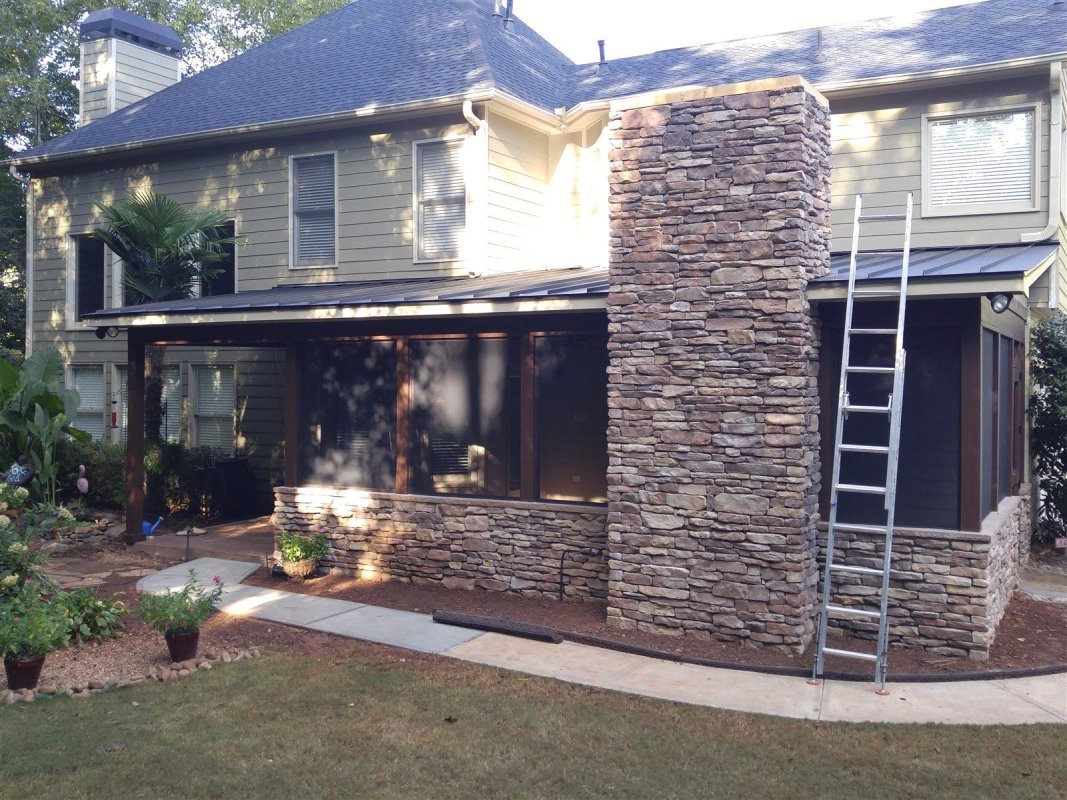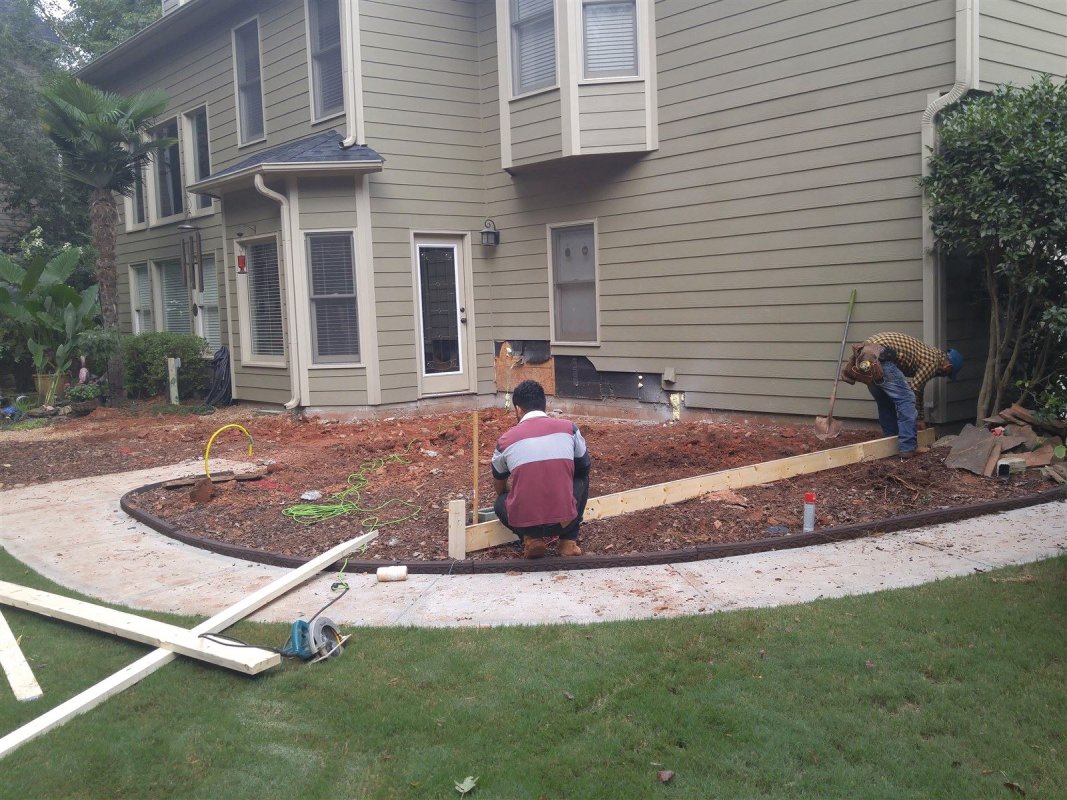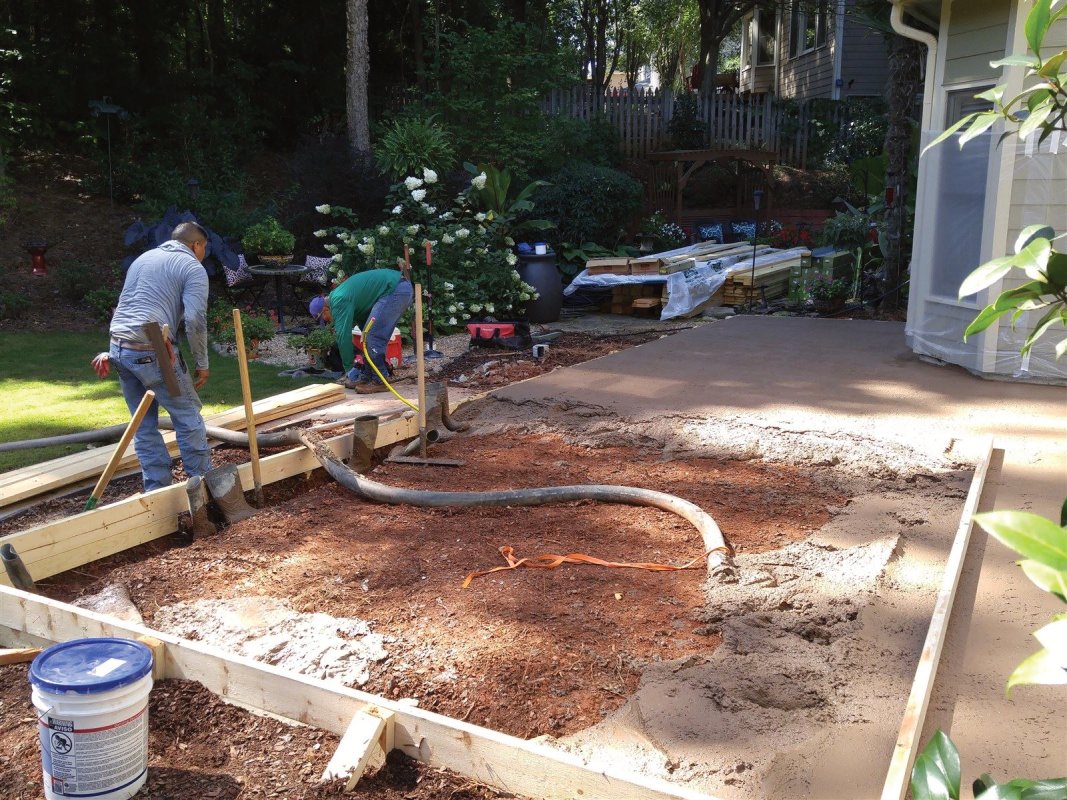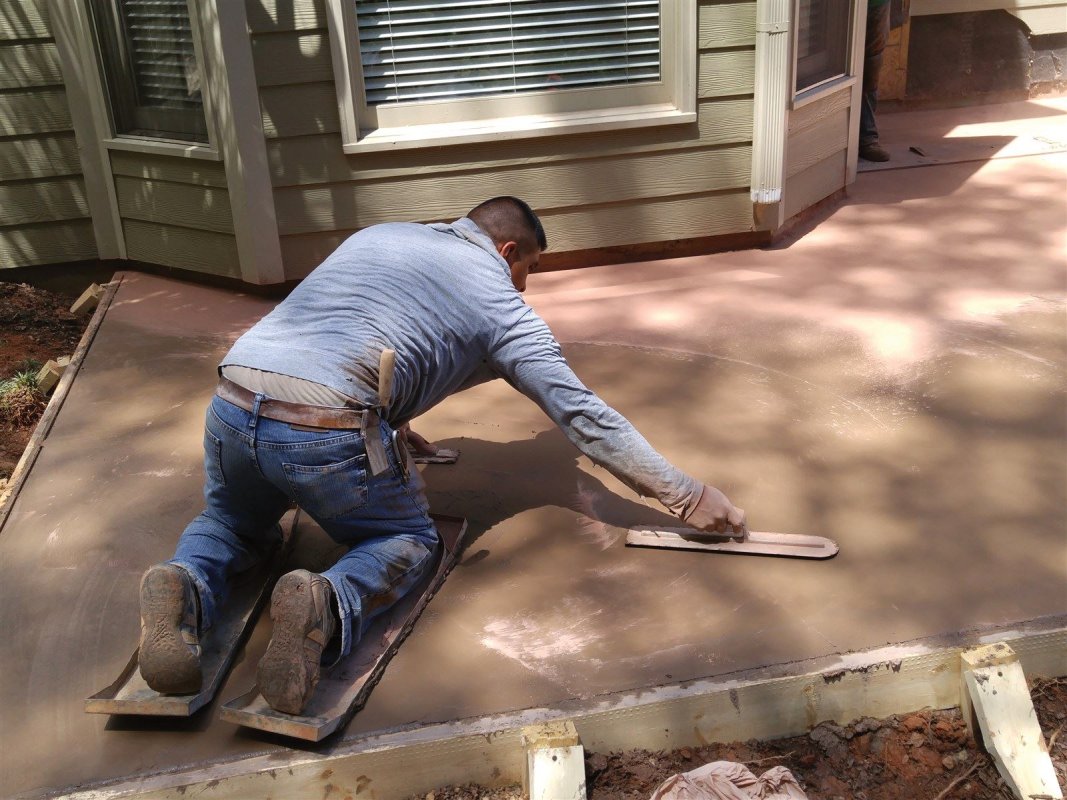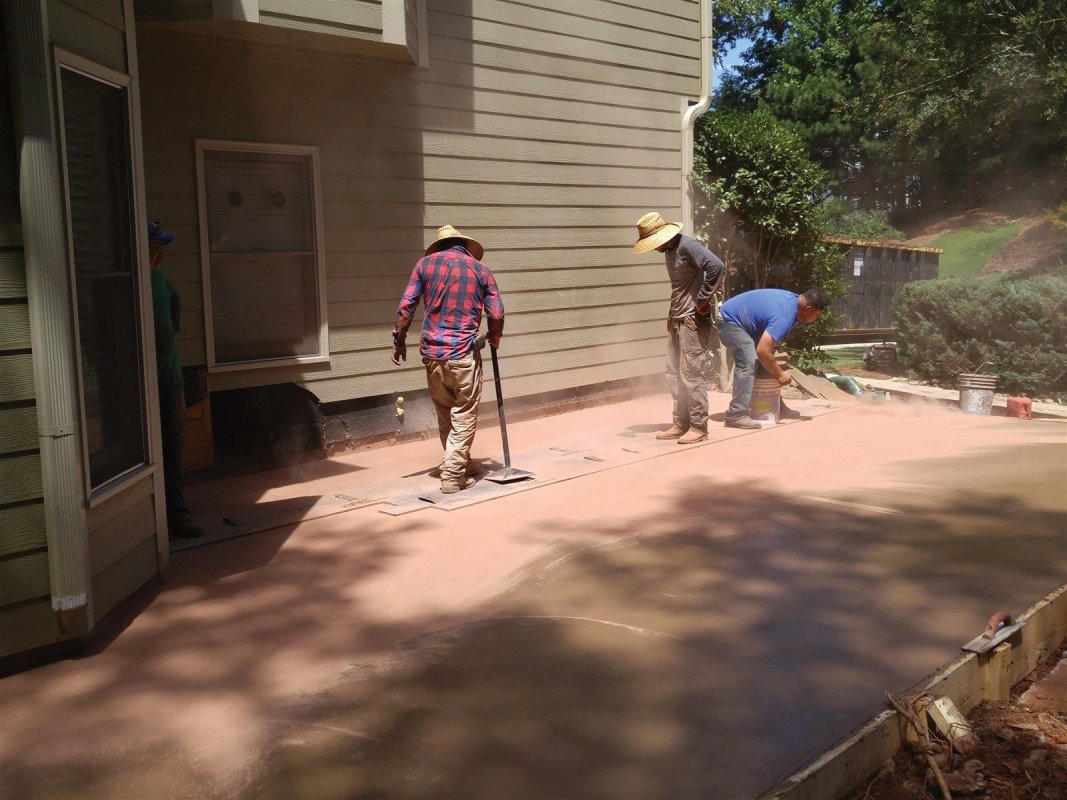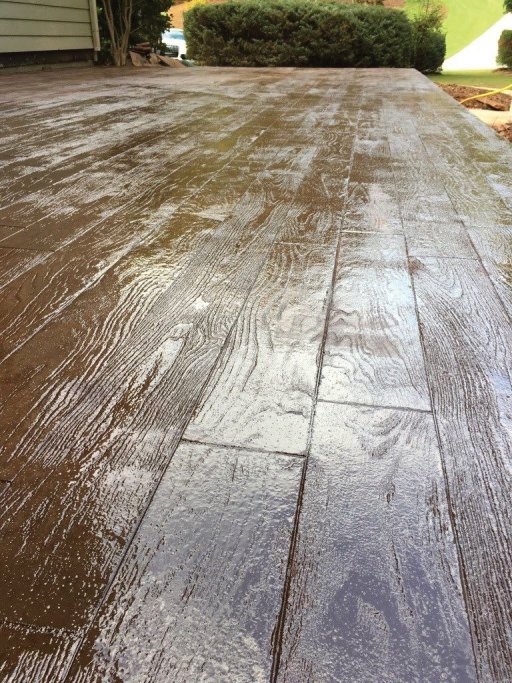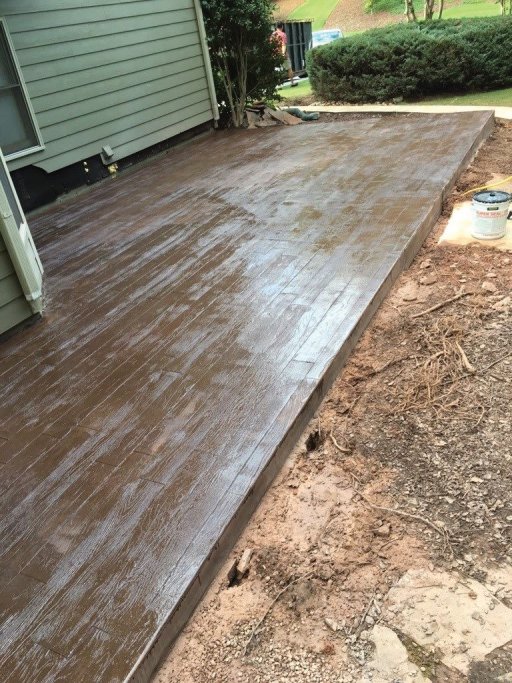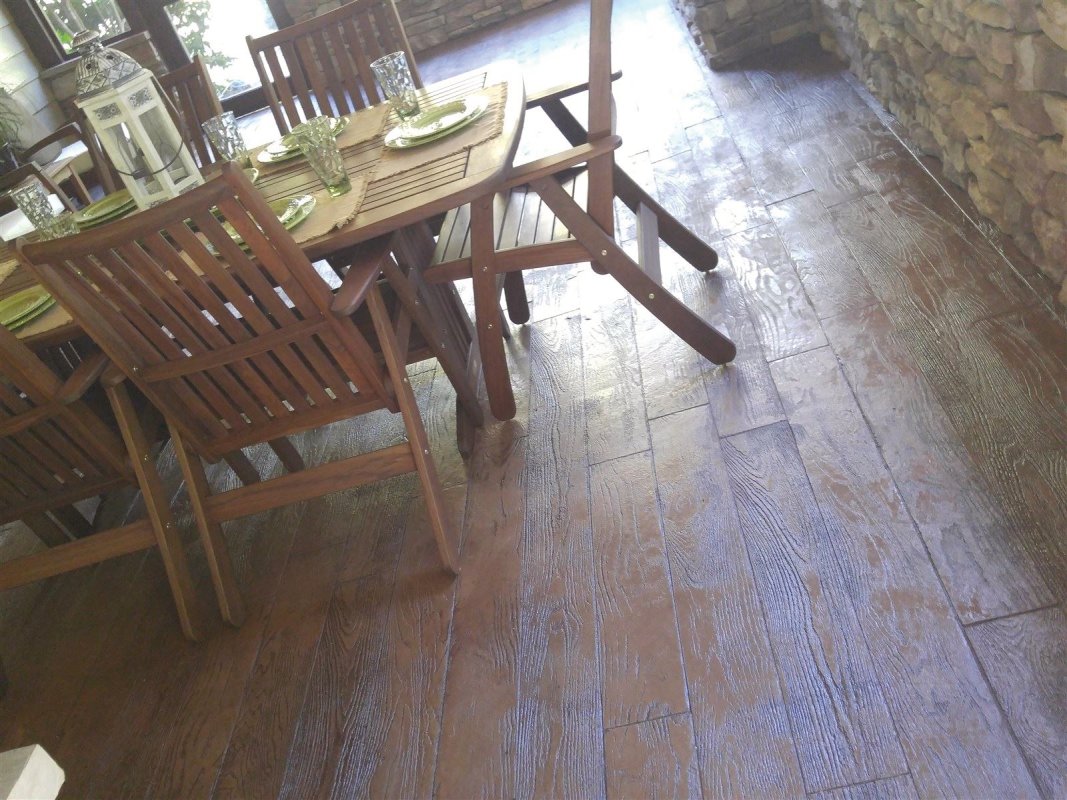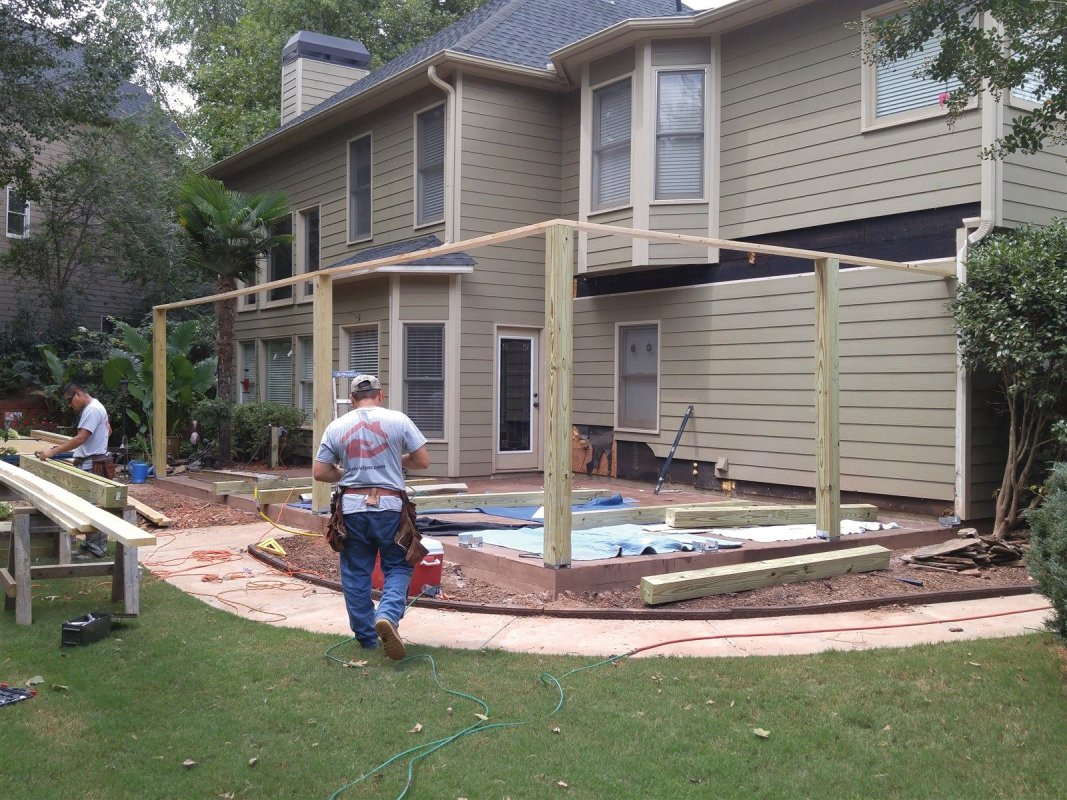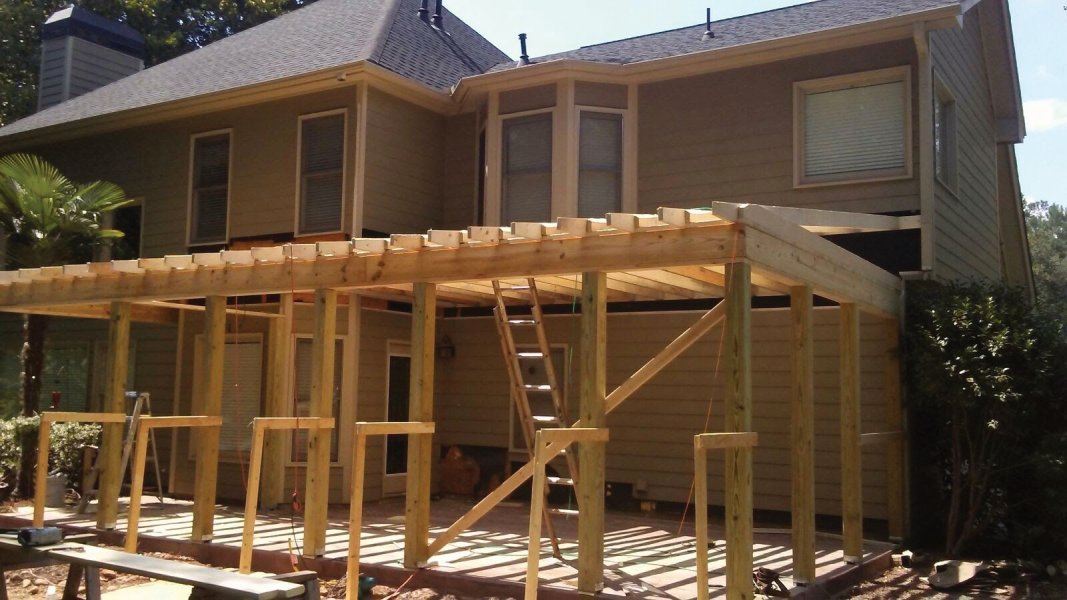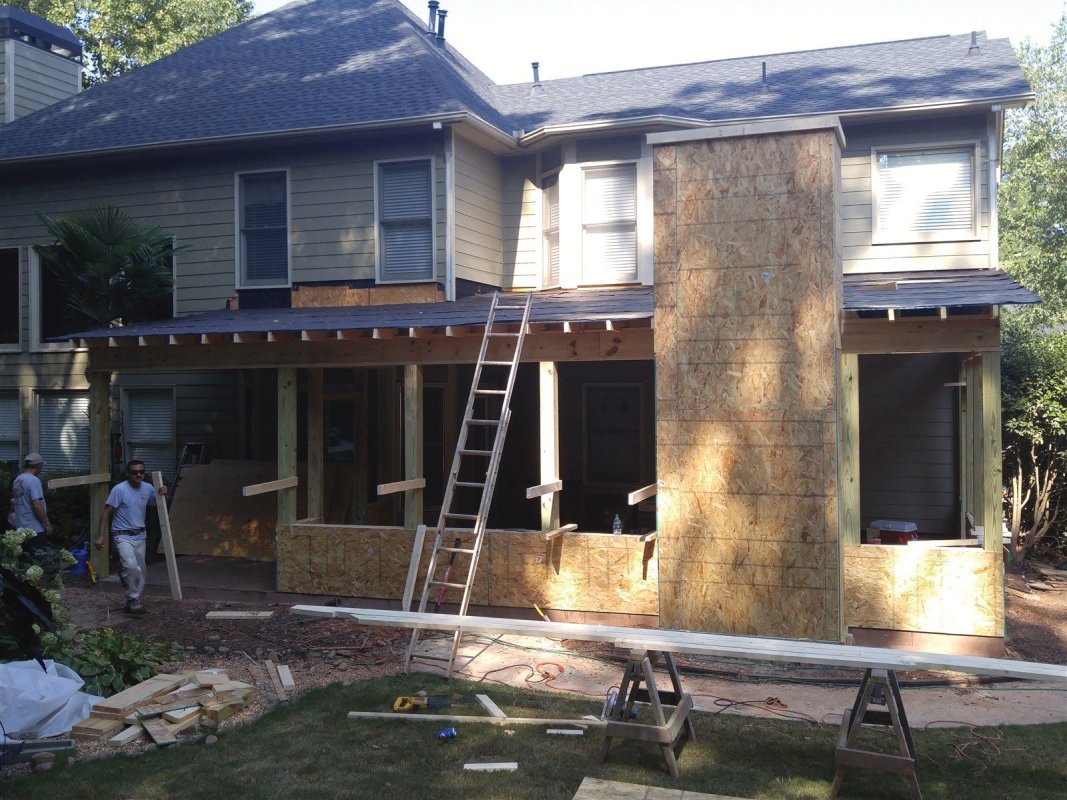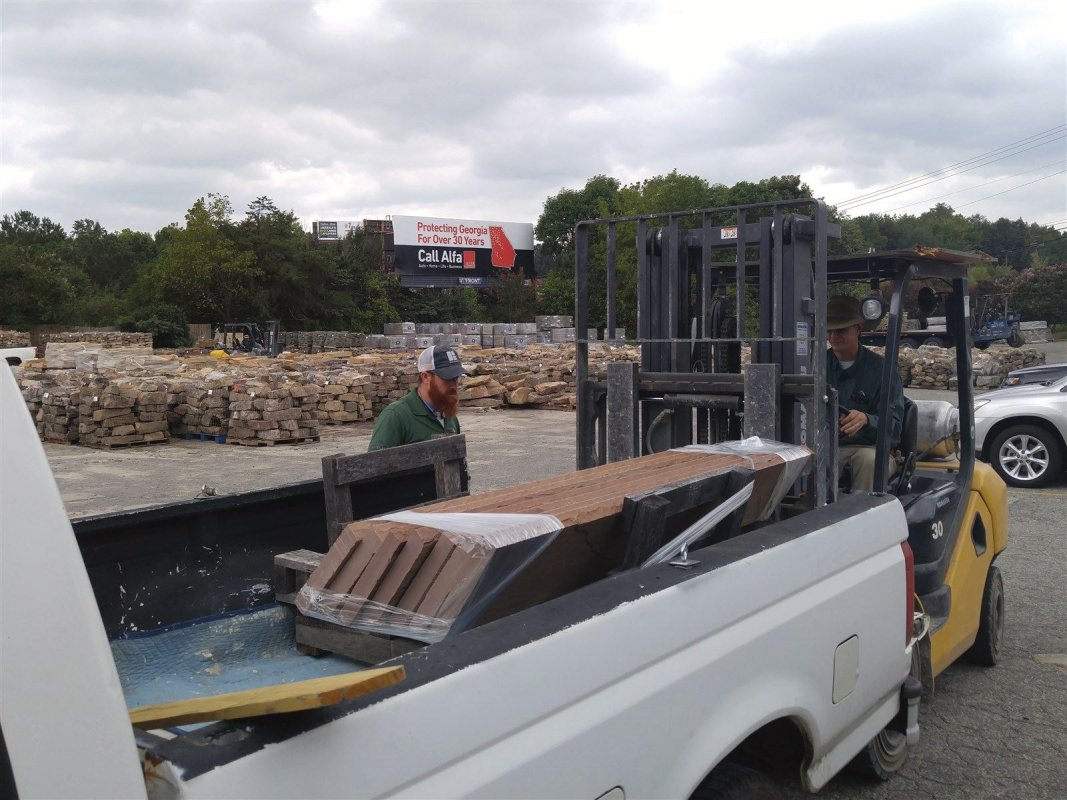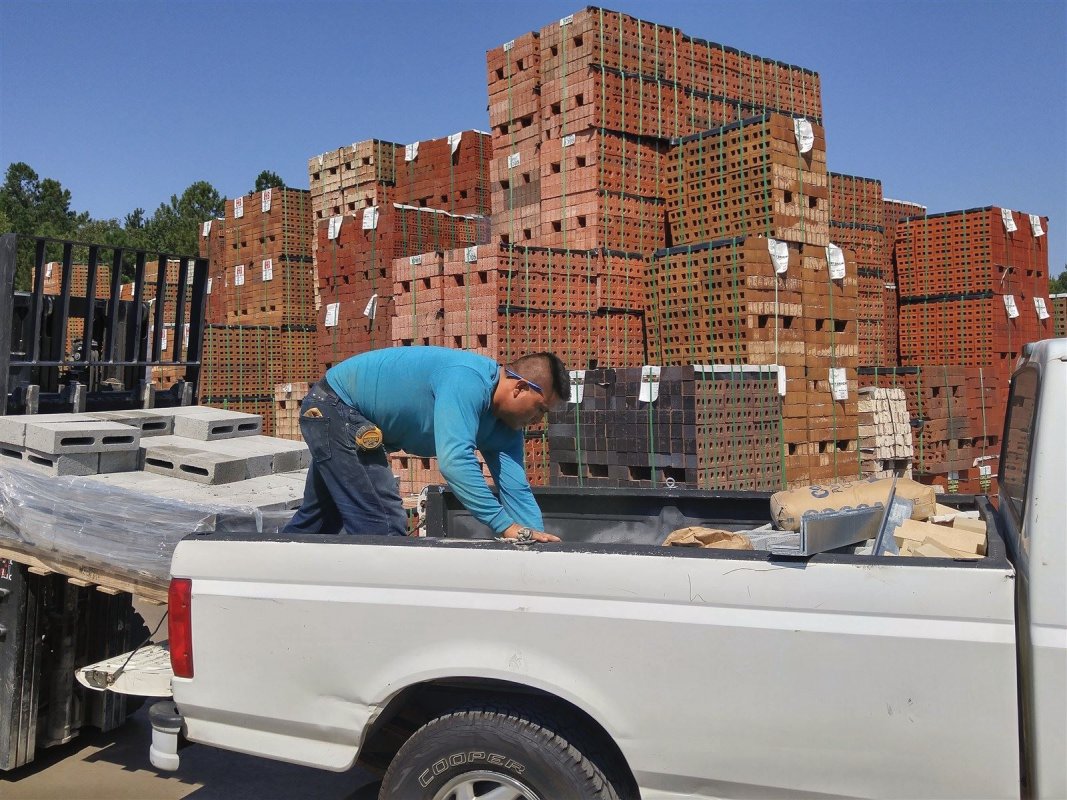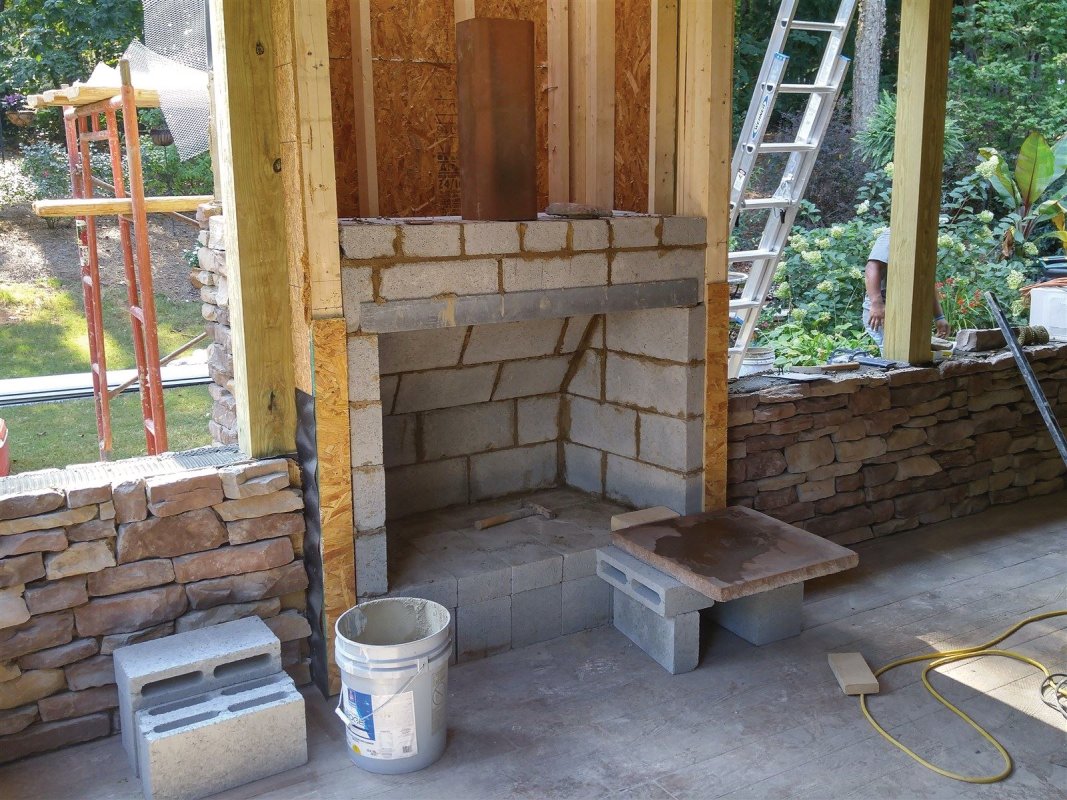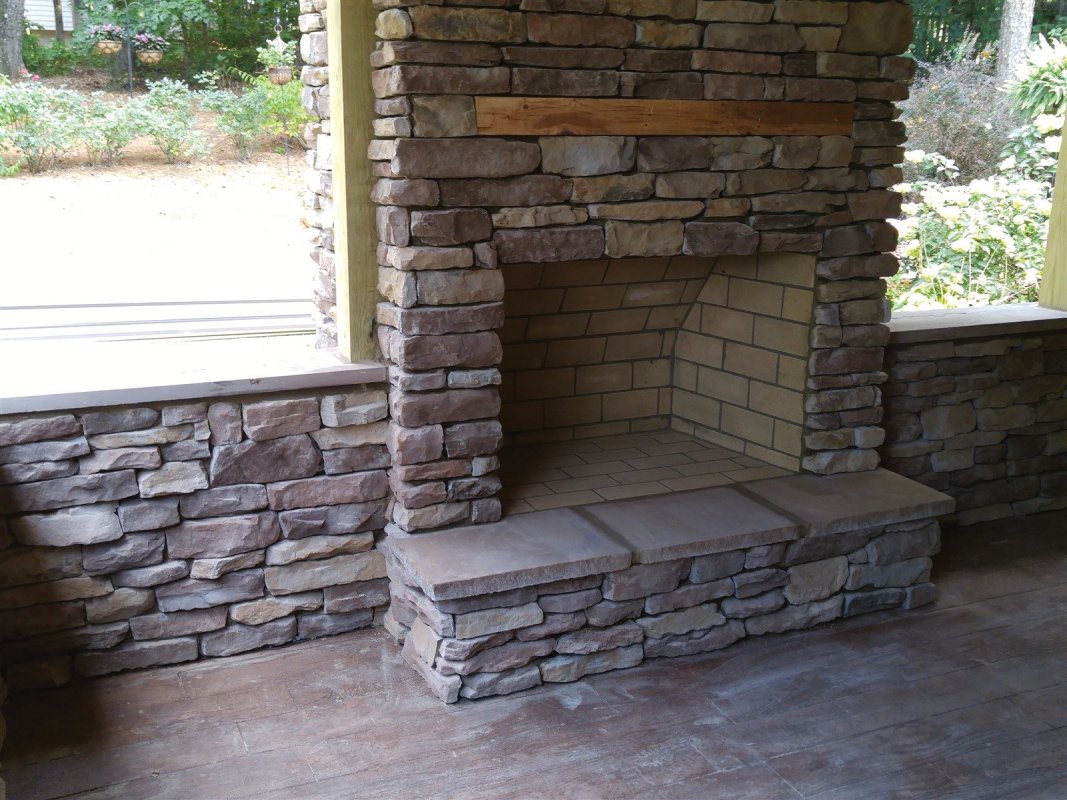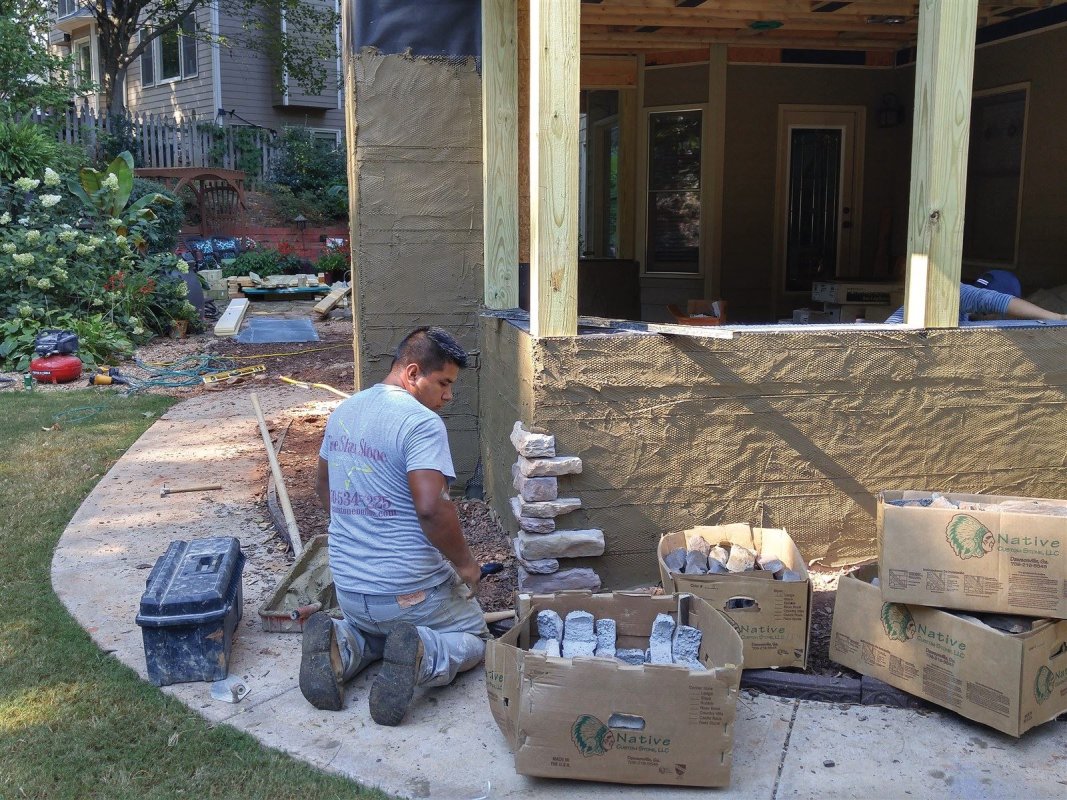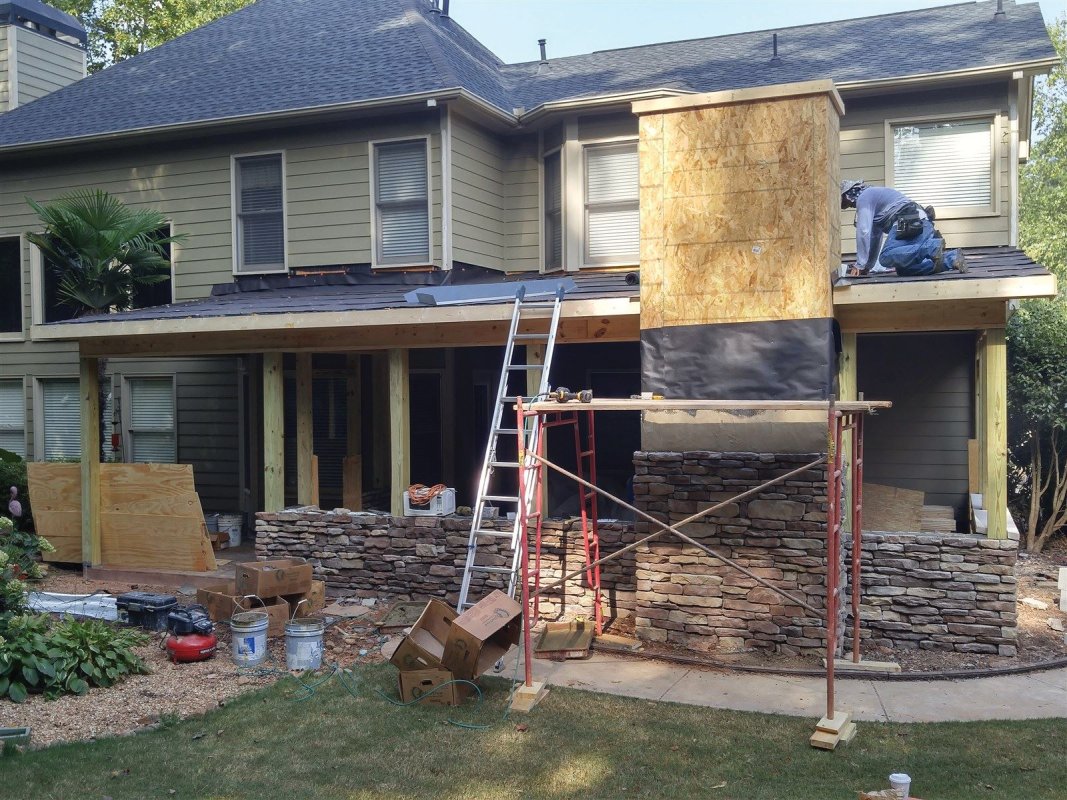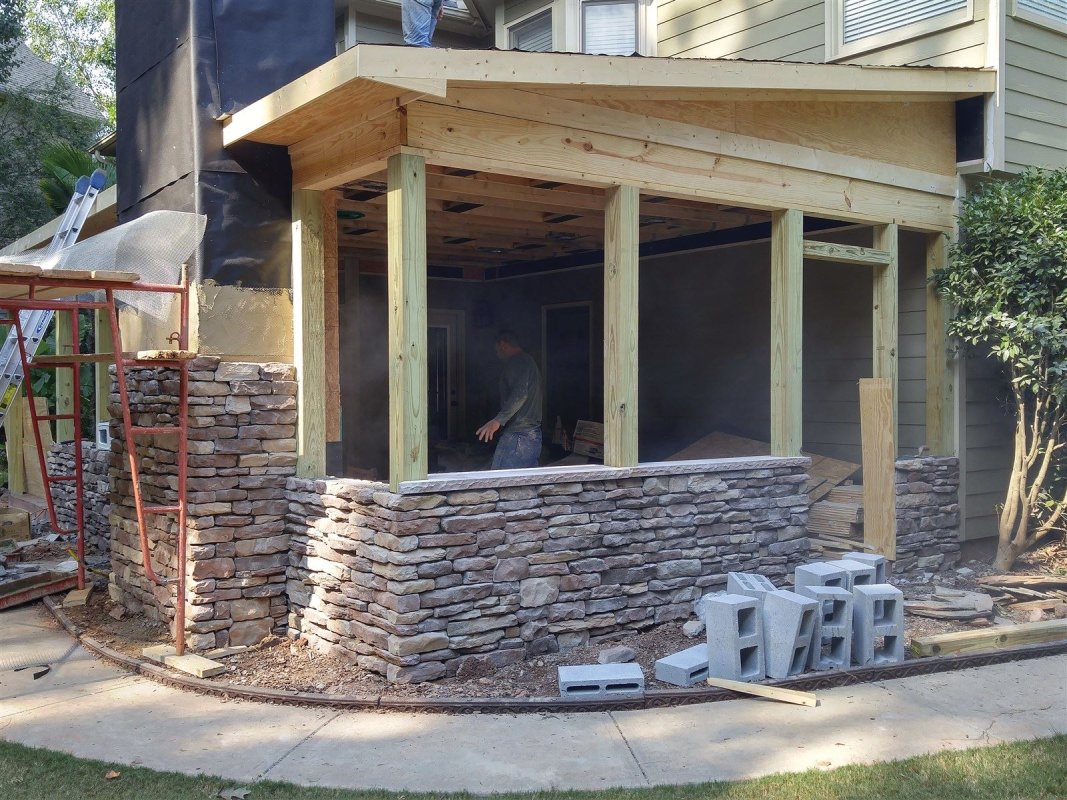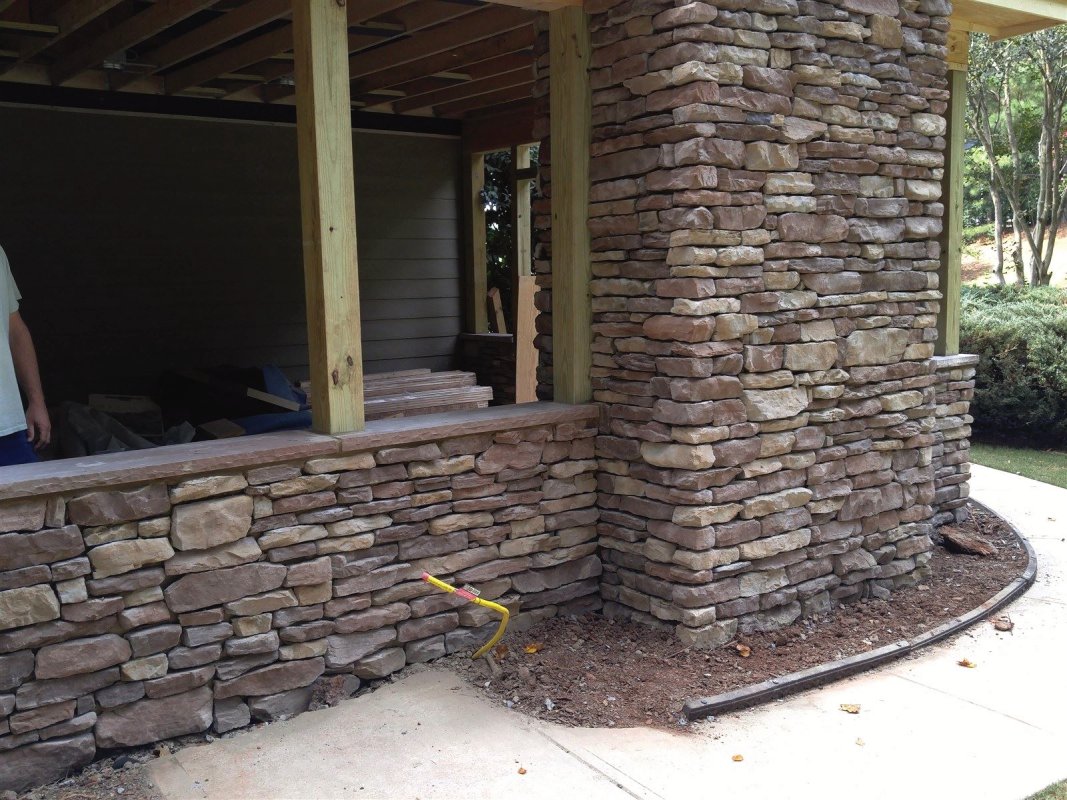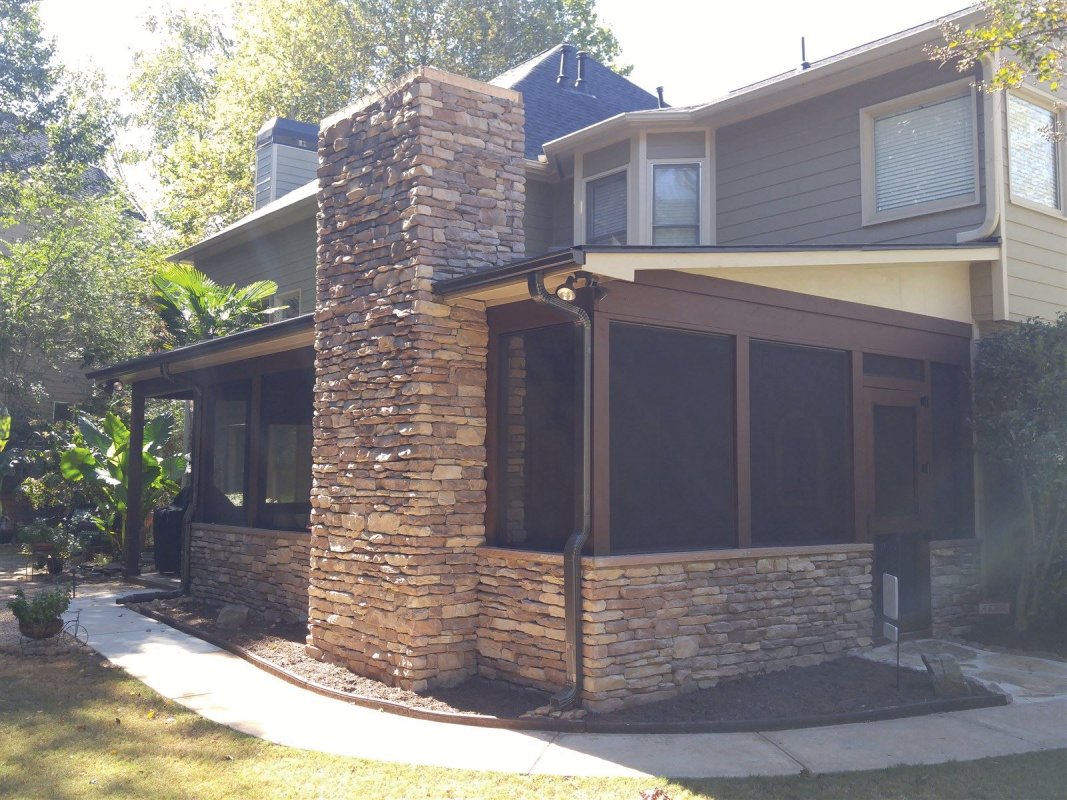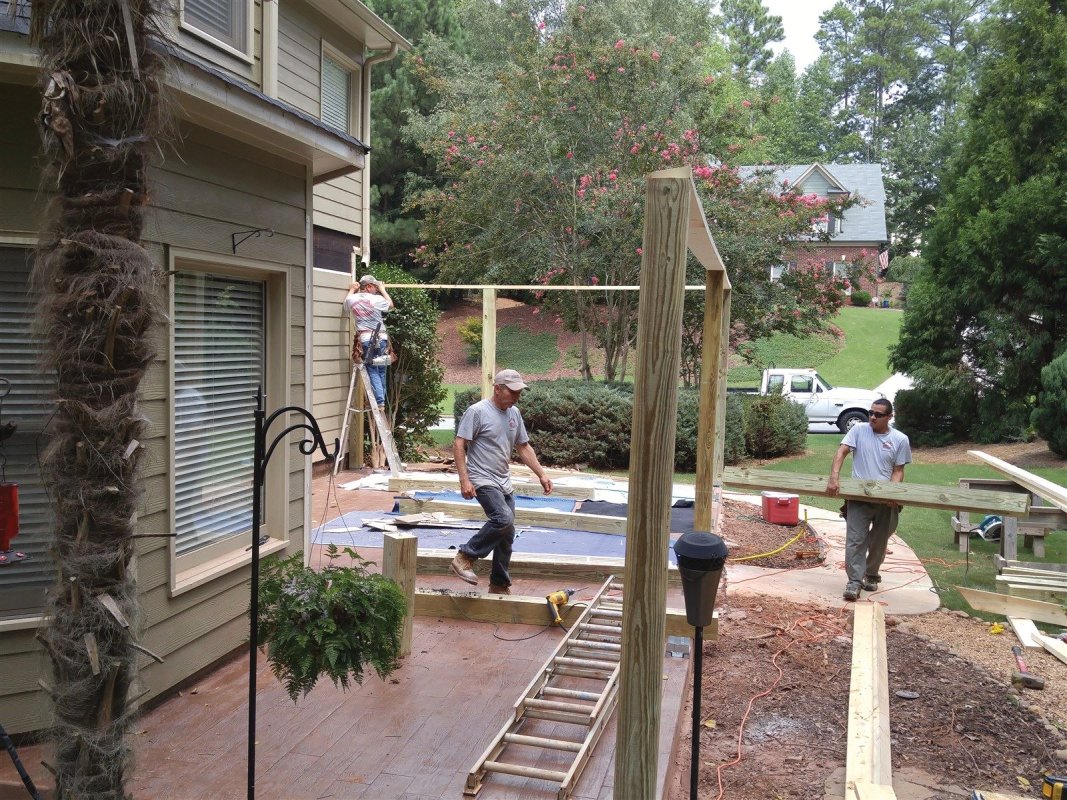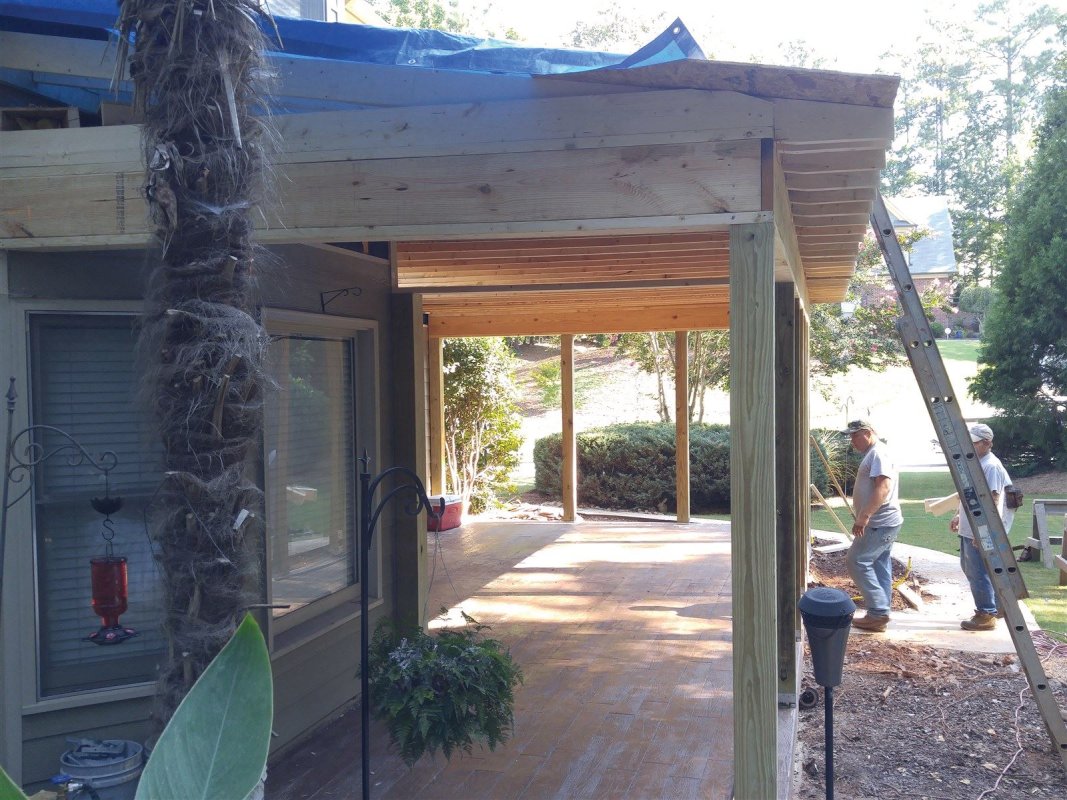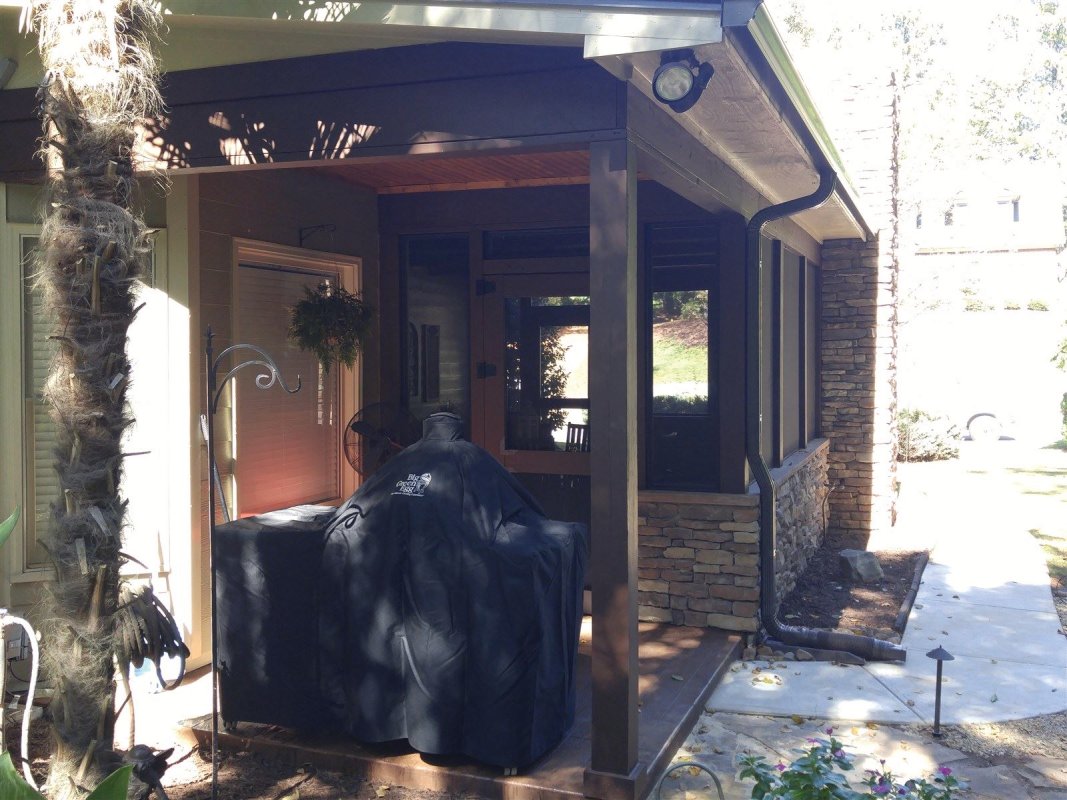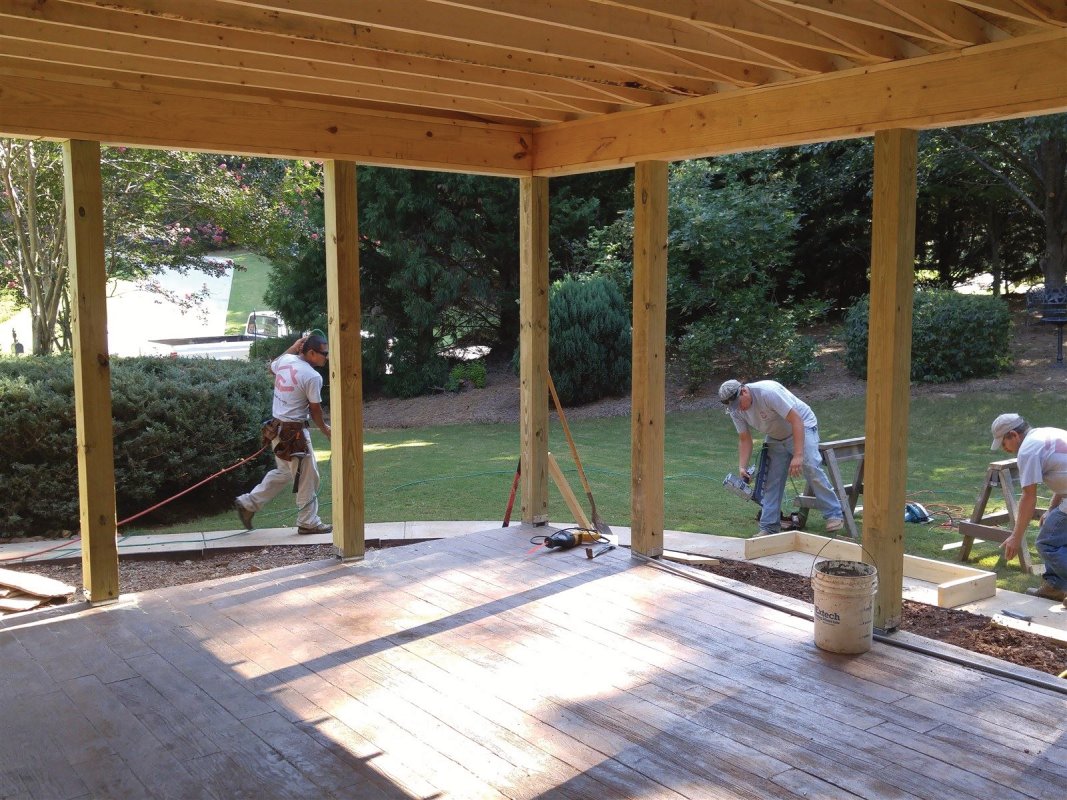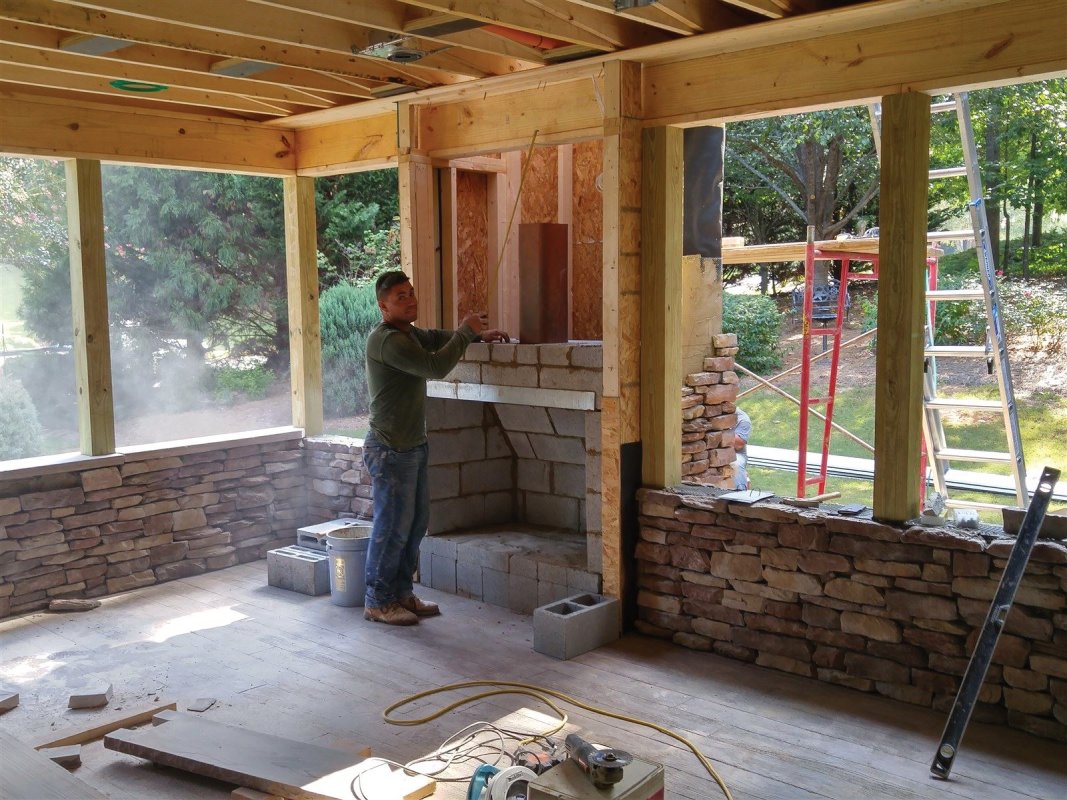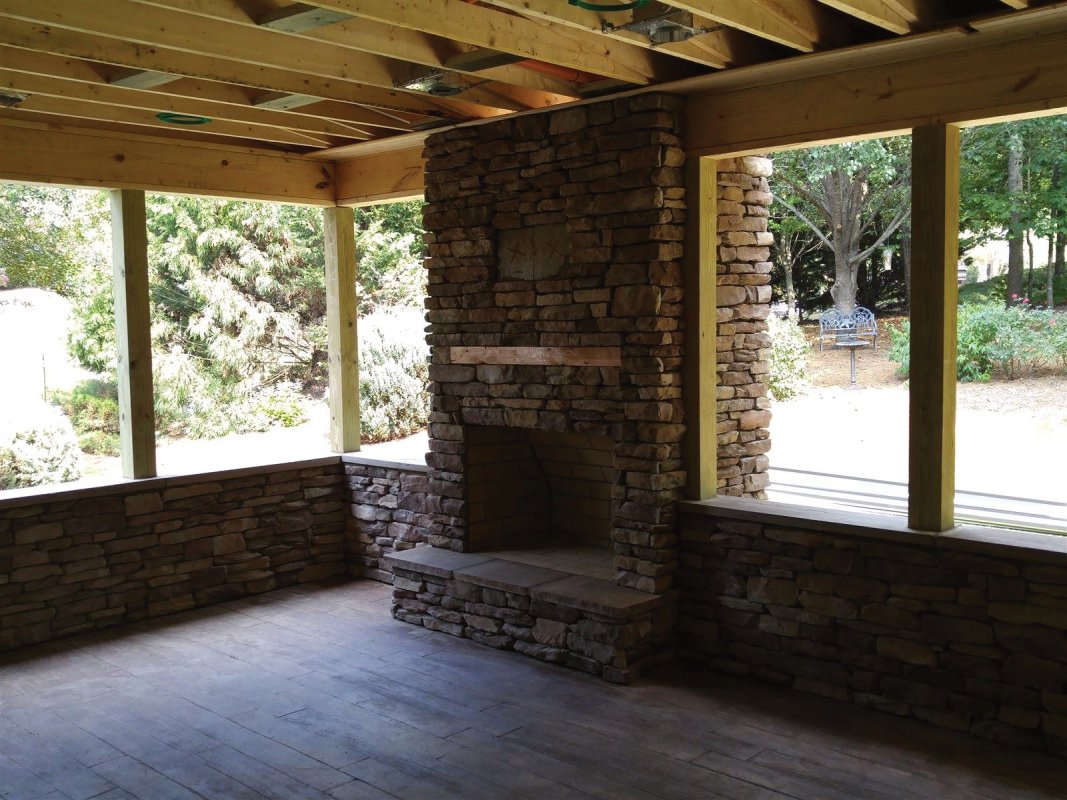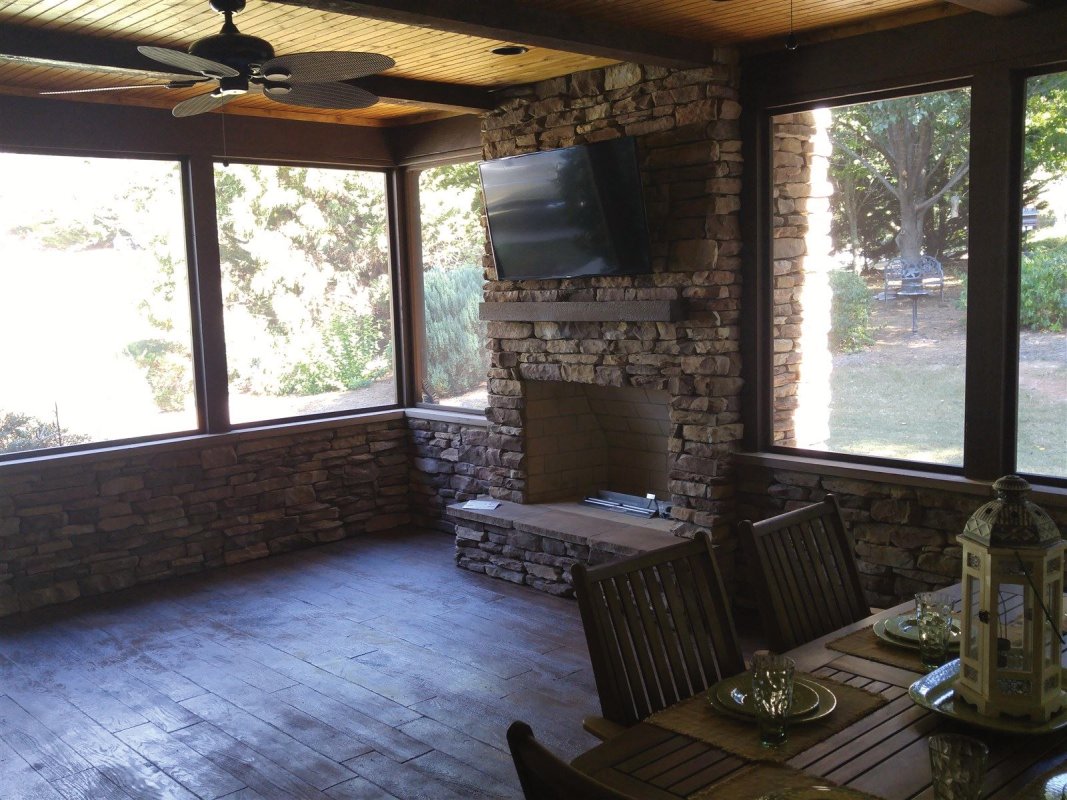 CUMMING: We try to do good business and good work for many good reasons. And what do we get? We get our objective which is to be referred by our clients and we're very thankful when it occurs. 
Here is our referral project. Great homeowners, really, really good people. But, we had to tear this little oasis down to build a new one.
Armando in thought as he's the one leading the project. The clients actually removed all the plants and furniture. 
Here's the pretty much finished project but it's the pics below that demonstrate the process. 
We busted up the concrete that was unusually thick for a patio slab.
And we're off to pouring the new slab. 
             This is certainly a skill....
The slab is poured, pretty much dried and onward to the next step...
                   BAM!!!!
How awesome is this huh? Wood plank stamped concrete. It's not a cheap process but it is a great looking product. The clear coat is still wet but it'll tone down some. 
the color is Leather - with a semi-gloss clear coat finish.
Here it is with furniture....looks really nice. 
This was the start....
The framing went up pretty quick...
The knee walls, chimney and roof...
This is the fireplace mantel....I went to PMC Building Supplies for a 4x6 rough-sawn cedar mantle. Walked the warehouse with Joe from PMC Building Supplies, and found our piece way up on a shelf, needed the forklift to bring it down it was so high. 
We went to Stone Center of Georgia to select the knee wall stone caps...they had to match the stones selected by the homeowner.
Here were are at the North Georgia Brick yard getting fire rated bricks and stones for the chimney we're building.
There's the start...
There's the finish....rough-sawn cedar mantel, knew wall cap stones, and fire rated brick for the chimney.
The stone processes start with this corner first....
Stone work is yet another skill....
Looking nice...
Look at this....beautiful
All that's missing is the custom ordered chimney cap....screen in 3-season addition...
       The start from afar....
Looking nice....
           Looking Done!!
My corner, my view....
Making it happen....
Beautiful stone work
BAAAAMMM! look at the ceiling....tongue & groove ceiling, stained. 4x6 rough-sawn cedar beams, recessed lights, ceiling fans (the clients had speakers installed). This looks great
We replaced the damaged stone in te patio, connected the drainage from the garage gutter, and installed a drain box that led to a drain in the retaining wall. 
Yeah, we did a pre-tty, pre-tty good job. 
What exactly is that we do? We provide a little help for a little while for a lot of things. From home improvements & home repairs, to moving services, handyman help, exterior house painting and more. 
/