Shopping Cart
Your Cart is Empty
There was an error with PayPal
Click here to try again
Thank you for your business!
You should be receiving an order confirmation from Paypal shortly.
Exit Shopping Cart
Improving the American Dream

We're really glad to have been part of this small project. The homeowner is a great person. 
She wanted to update her master shower and tub tile and we did just that. 
We strip everything down to the studs and build new. Here you see the rubber membrane, then the mortar on the bottom right and the shower tile on the bottom left. 
It's a cumbersome process getting rid of the old tile because afterwards there's prep work needed for the new tile. 
But it sure looks awesome when it's done. 
Here's a view of the 2x4 studs where Fernando is getting ready for to install the membrane. 
The pic is the James Hardie BackerBoard sealed with shower mesh tape and liquid cement to prevent water from leaking out. 
A nice little before and after.
Very nice looking tile and excellent tile work. Pics don't do this project justice. 
(below) 
Done.  

We're out of Alpharetta and this is a road I always cross but have only be on it once before this job. Isn't that wird?
The homeowner did a good job and bought all her tile from the good people at Floor and Decor. This small pallet weighs a ton (no pun intended) 
One of our concerns is always protecting the flooring, particularly on demo day. 
Here's part of the original bathroom...pretty typical for the area and age of the home. It was time for a an update. 
We demo'd just about everything including vanity you see in the pic. 
Here's our lead, Fernando, making it happen. We only use James Hardie BackerBoard, not fans of Duroc. It's a .5" fiber cement board, seal with cement board mesh tape and Red Gard liquid cement on the joints to prevent leaks.
And what you see here is BAM! This bathroom had a TON of tile (haha, get it?). 
I think the homeowner did a great job with her vision and tile selection. It really feels like a far away Calgon moment. 
This is the "before" - notice the window wall?
Bare bones...the window wall now has James Hardie Backer Board instead of drywall for a good reason. 
Oh my goodness...
BAM BAM! The window wall has beautiful tile! Click on the pic for a closer look. 
Beautiful. 
JOHNS CREEK: One vanity, one sink, one wall on the left.
We loved what the homeowner asked us to do...I thought it was cool. 
She asked us to eliminate the wall between the vanity and the toilet/tub room. 
From the tub here's the view with the vanity and wall removed from the left side.
Look close....we added plumbing for a second sink. The tile is a beautiful 12"x12" tile sheet but a pain in the caboose...it requires extra attention because it's flimsy unlike a 12"x12" piece of tile.  
We installed new bead board with trim...looking nice
NICE!!! Tile looks great, all white with a bit of nostalgia with the floor tile. Nice sink and pedestal sink. 
All the tile came from
Floor and Decor
... ask for Carmen (Pro Services Roswell) and tell her Mario referred you. 
BAM!!! This looks really nice. Our homeonwer had a good vision and it turned out nice. We love it. This room is the kids bathroom and is perfect for the girls. 
The old tile with an inadequate substrate. 
So what did we do? Tore that sucker off...piece by piece!!
A view from the sink side...the far side
We're getting there....
Wow!!!!! This is a great looking bathroom in white. Kudos to the homeowner....totally different than what she had. 
This was the second bathroom we remodeled in the same cono (see Cute Condo Bathroom Remodel I).
We took everything out and put all new stuff in. :) 
Yes, even the toilet got replaced. 
No tub, no vanity, ceiling, no floor....
So far, new tub, new floors, new ceiling...looking nice.
Wow! New tub tile with mosaic trim, new water fixtures and NEW PAINT!
It don't get no bettah....new recessed lights, new vanity and top, & NEW TOILET.....tp was extra.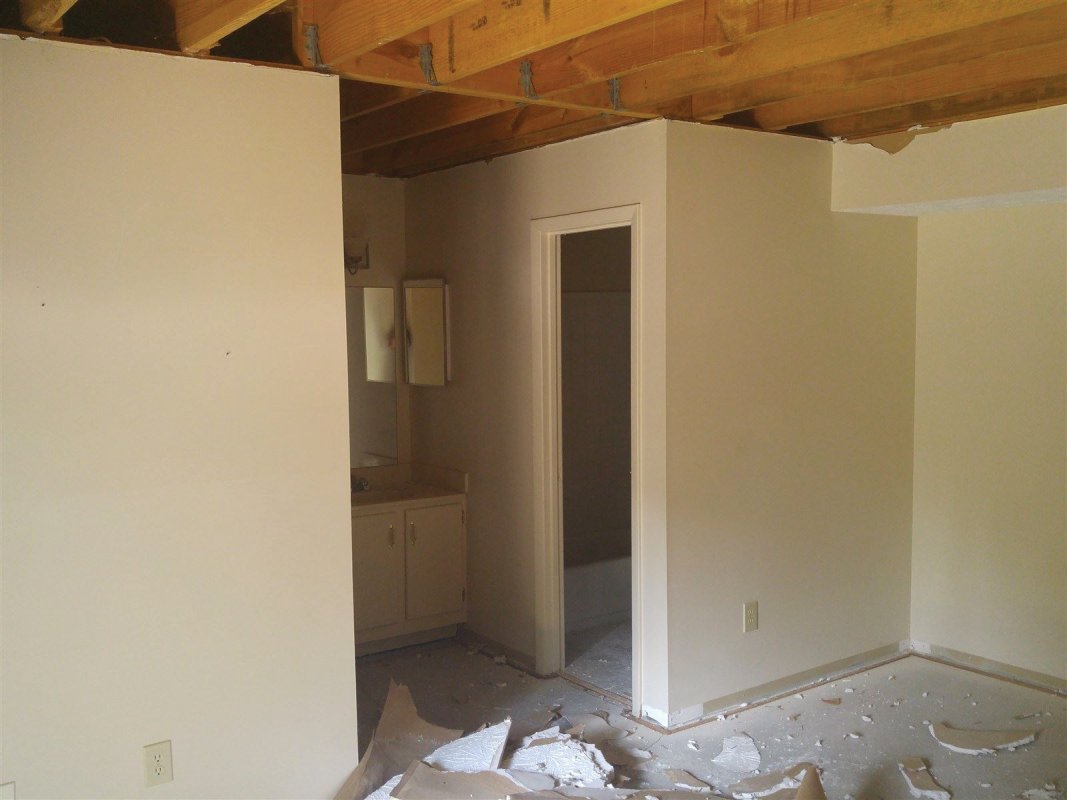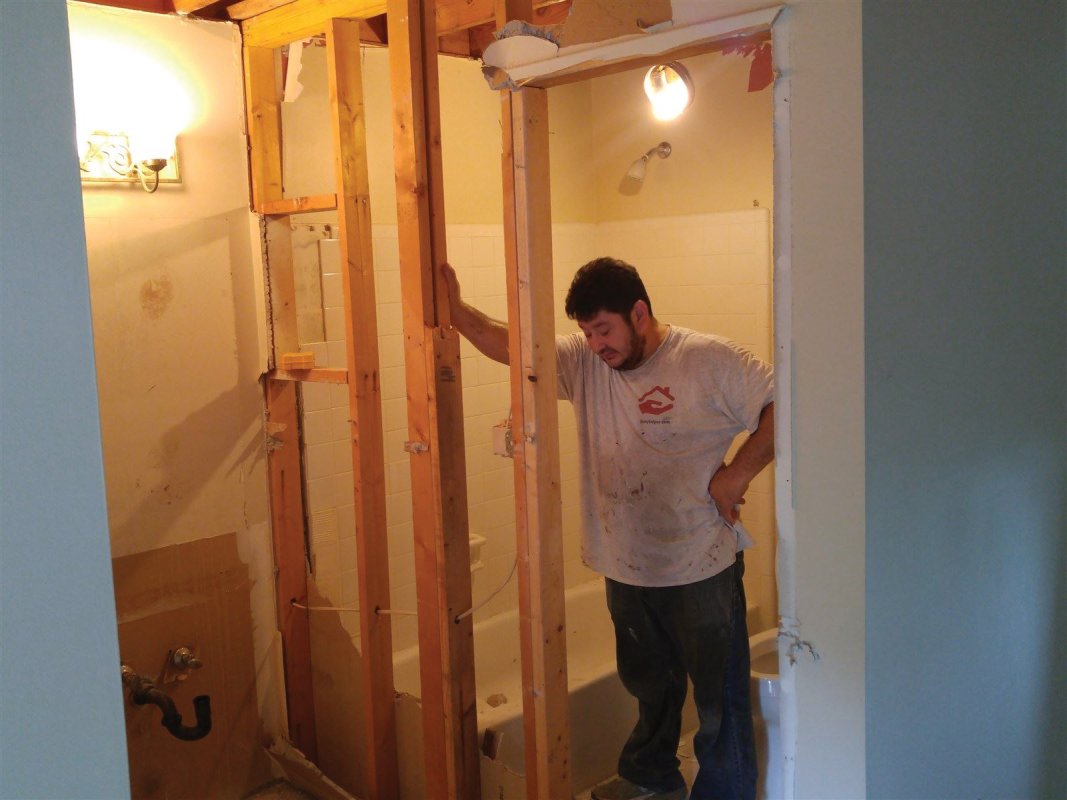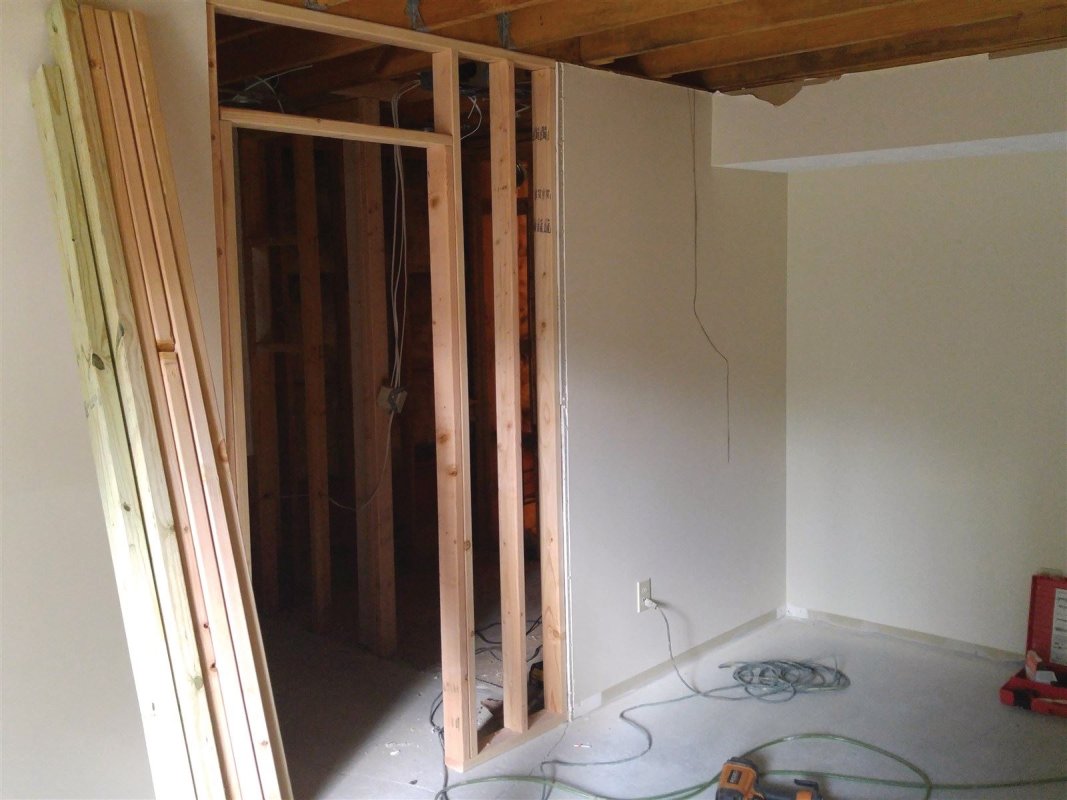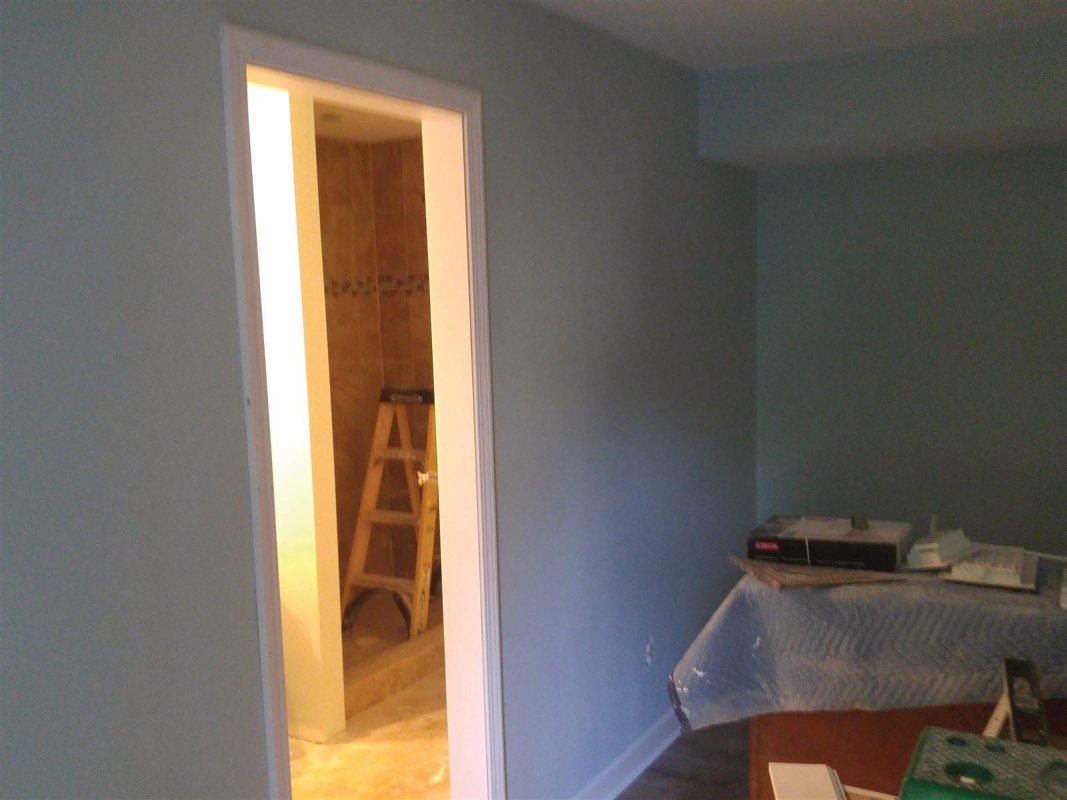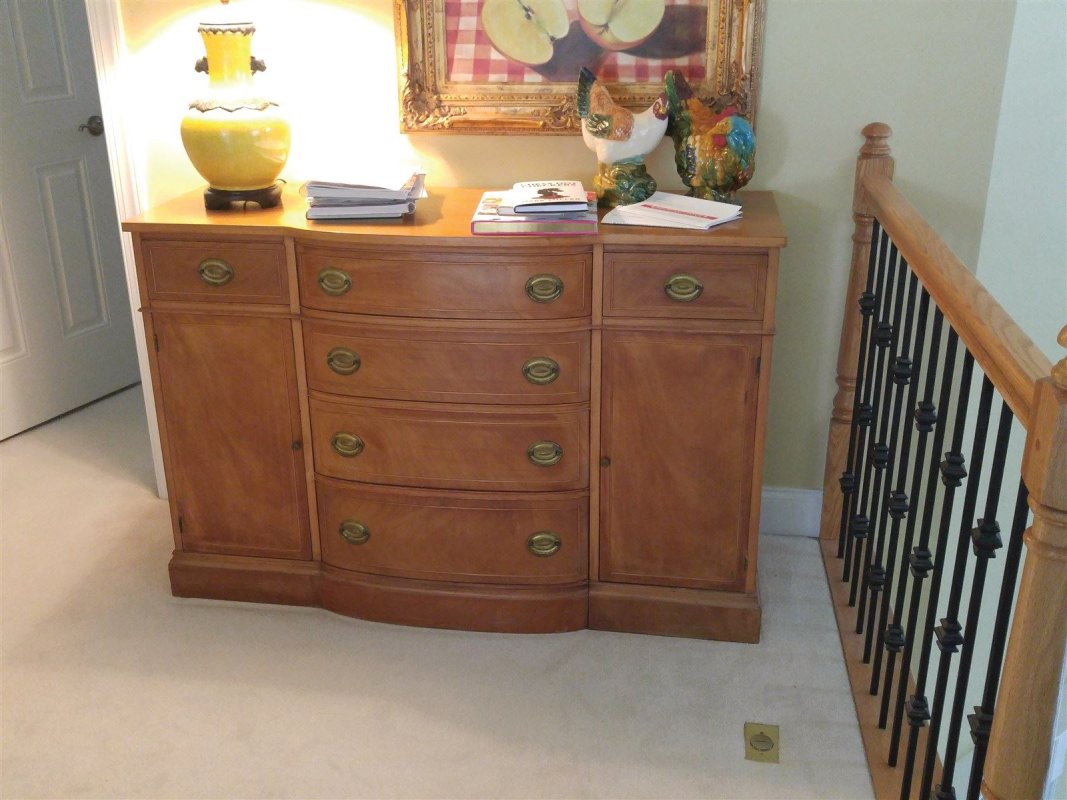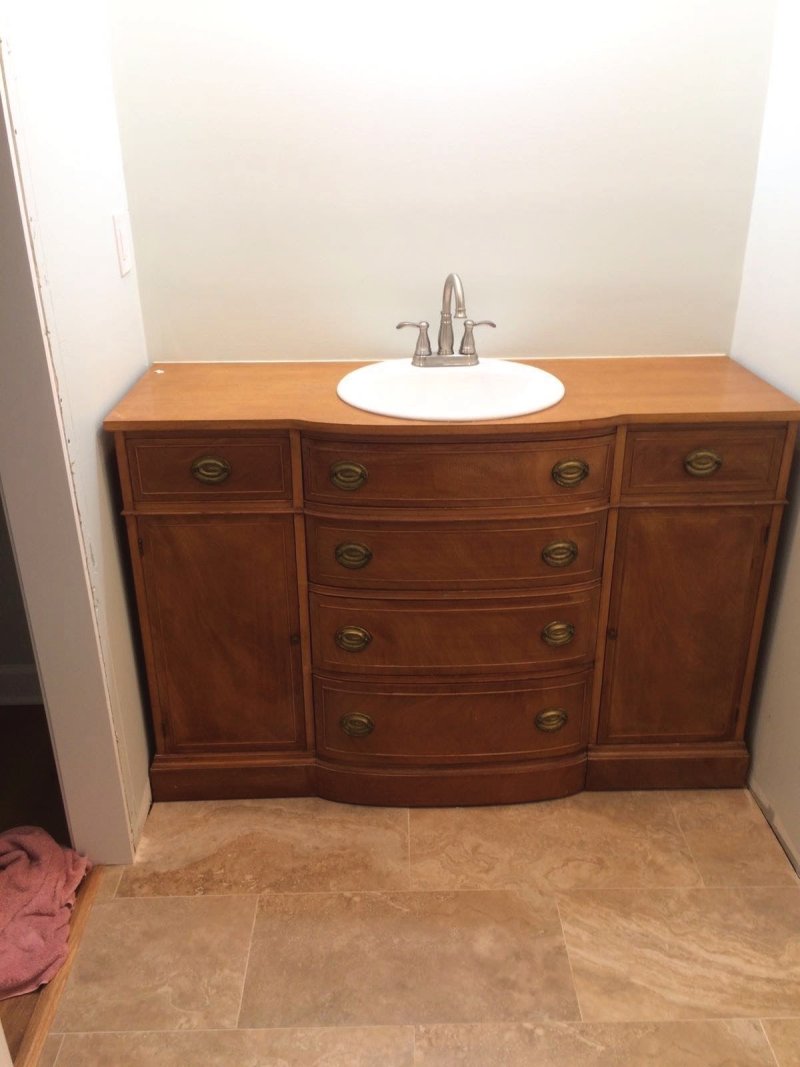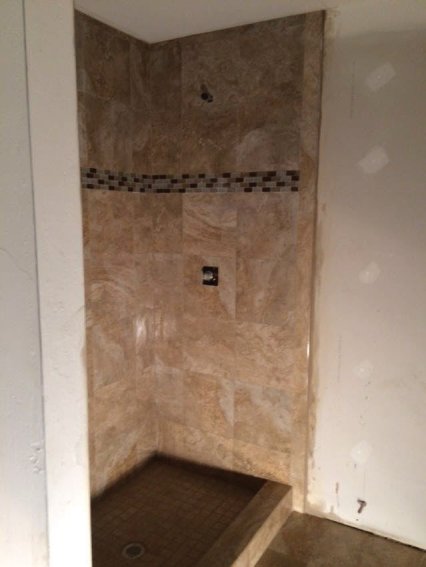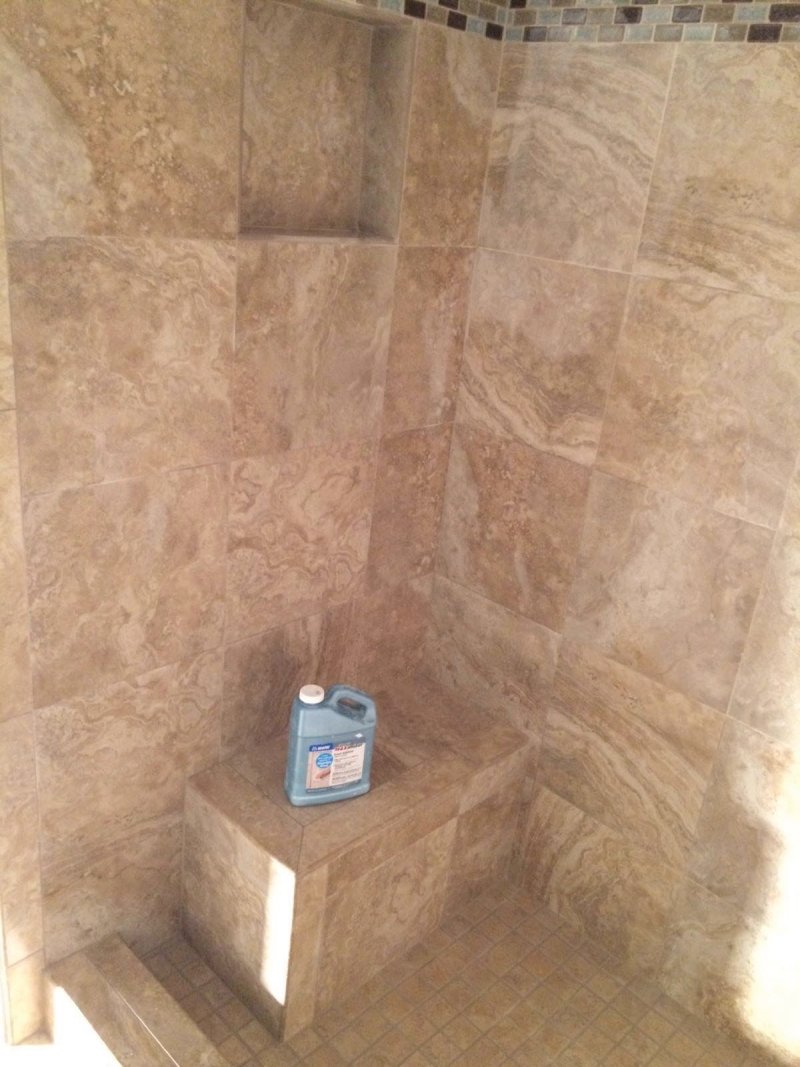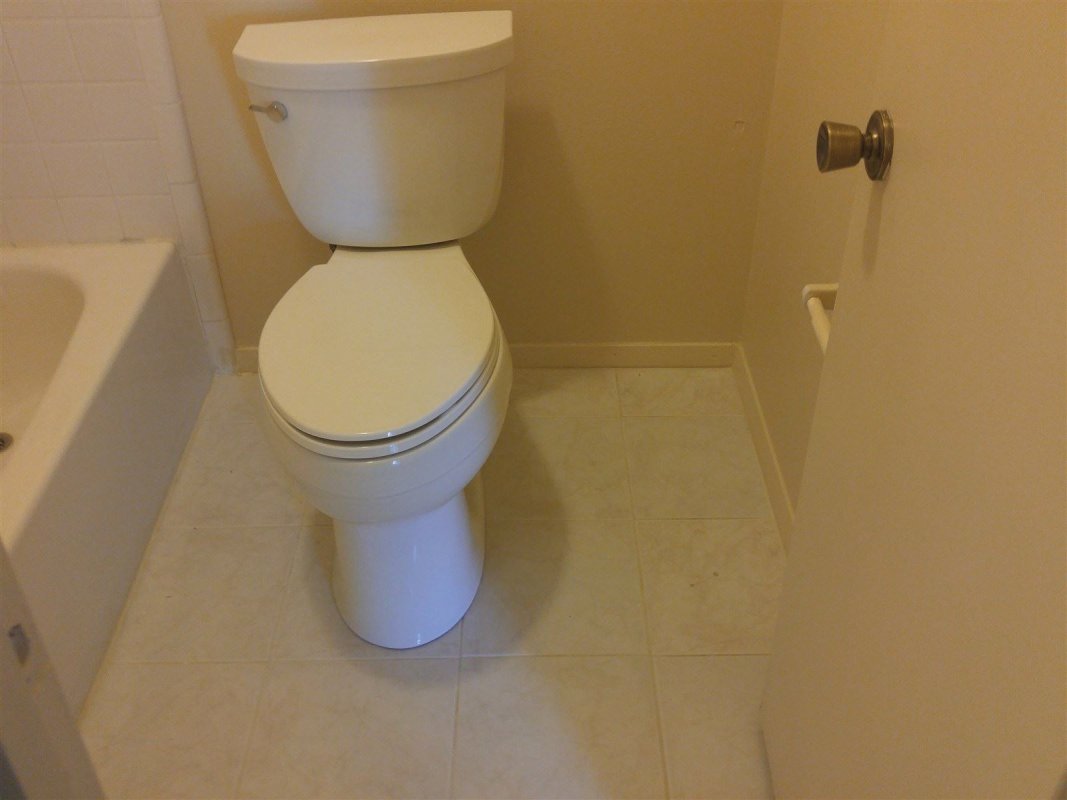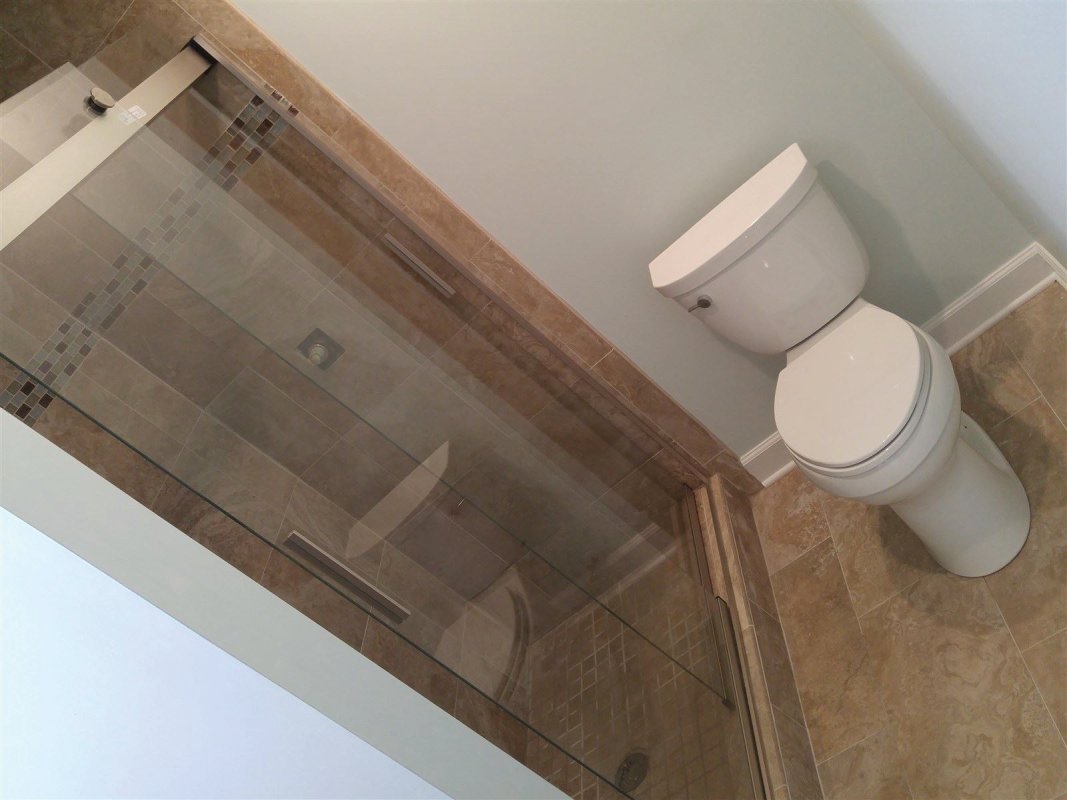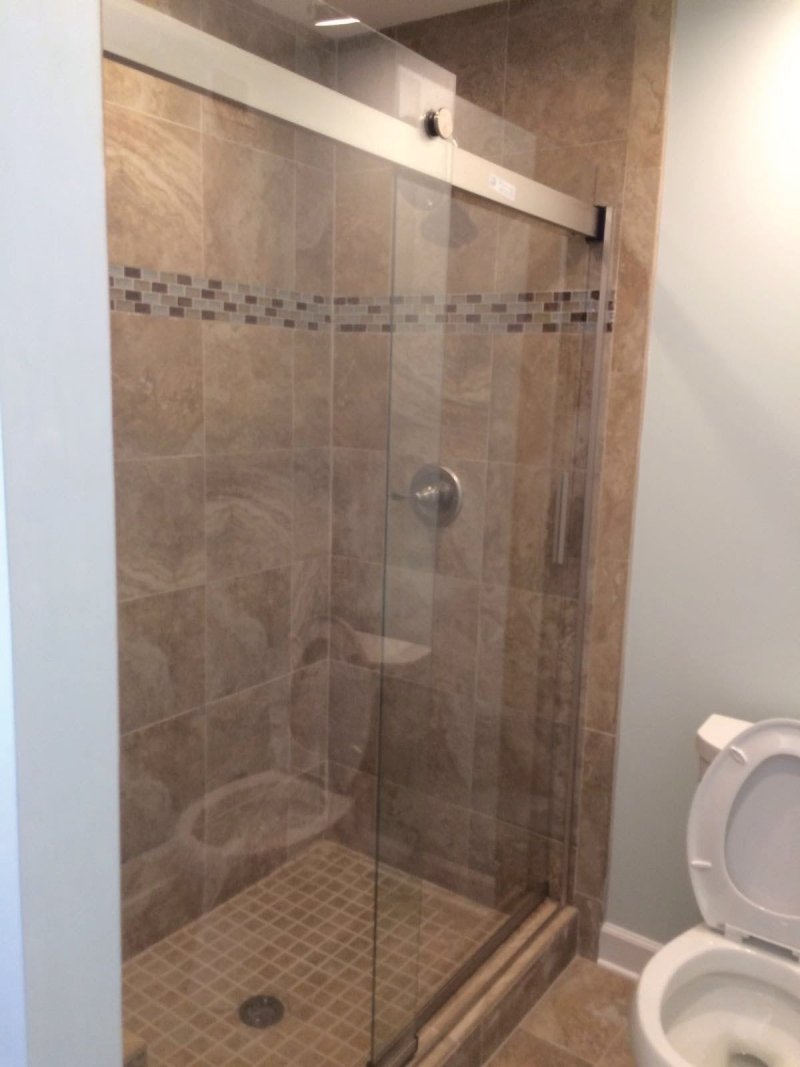 EAST COBB: We were referred to this client (we love referrals) and did a lot of improvements...two bathrooms (here's one of them), the kitchen, all ceilings, recessed lights every where, floors, painting, trim the works. 
To the left is the mast bedroom with a tub...old 80's floor plan. 
The homeowner wanted the tub replaced with a shower and the opening closed in some. 
Here's the bathroom gutted and cleaned....
We're framing things in to reduce the opening. 
Here it is!!! But there's more....
The homeowner's mum had this nice dresser that has sentimental value to both ladies and by pure luck it fit the space perfectly. 
Here it is!!! Looks awesome!!
The pic is little dark b/c not all lights were up... but you can see the progress.
This is the opposite wall..a niche and a sitting corner. 
If you look you can see that this toilet is too close to the tub....not centered. 
Well we fixed that too. We couldn't redo this bathroom and not move the toilet. 
The finished product!!!
ALPHARETTA: We appreciate very much friends and family selecting us for the their home improvement needs. 

This was small Jack & Jill that we converted from a tub to a shower with  new floor tile, color etc...
Notice the wall outlet by the red towel then see it below on the next pic. 
Notice the outlet how much closer it is to the vanity? The clients decided to keep the same vanity - they repainted the vanity AND raised it. They did a great job.
The old look
The New Look: Beautiful floor tile planks, great wall color....nice.
The Old Tub 
Demo-ing the old tub....
We love the mosaic floor our clients selected. It took almost three times the grout but it turned out nice.
                           Here it is!!! 
From a different angle....Notice the red paint? It's a liquid cement to seal the joints of the HardieBacker Board substrate.
                         This turned out great!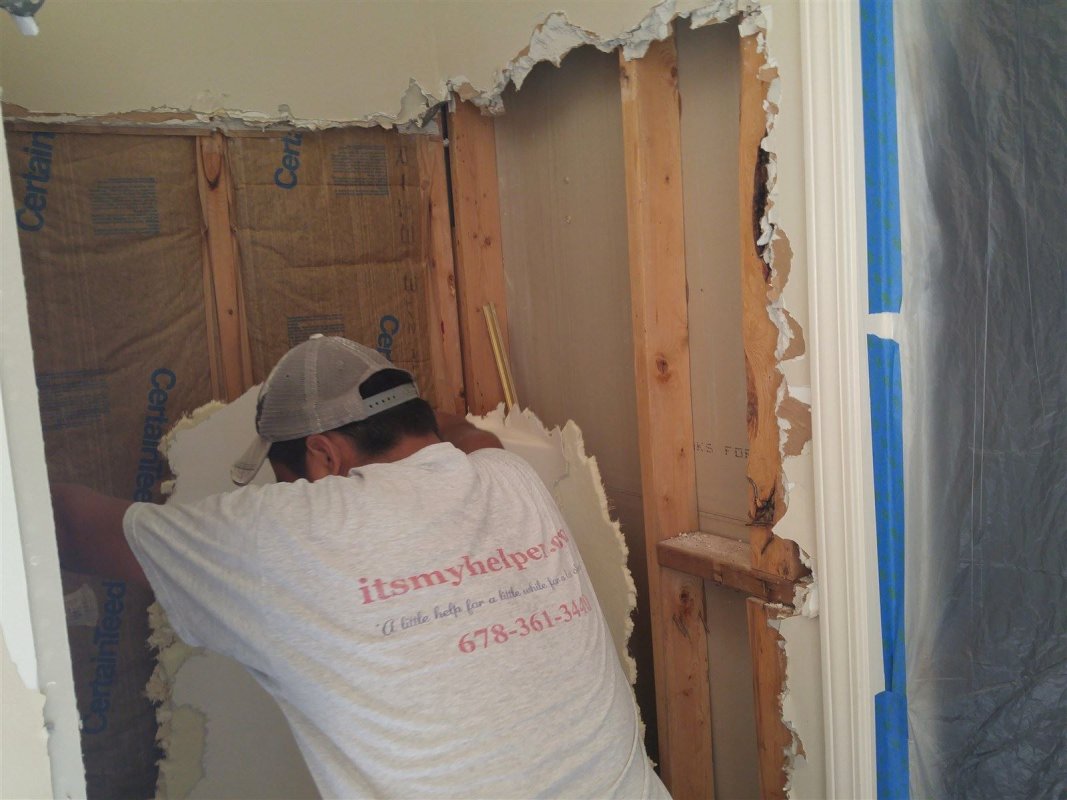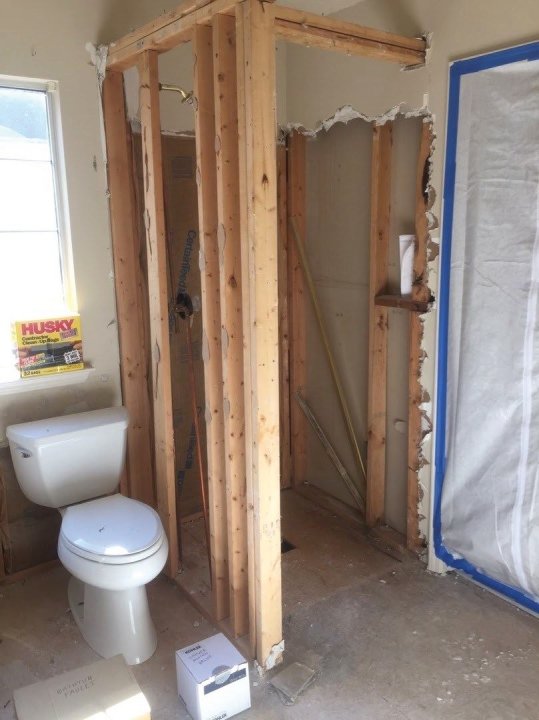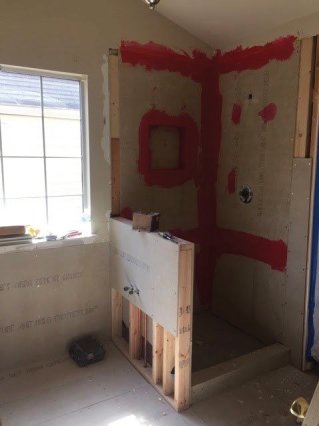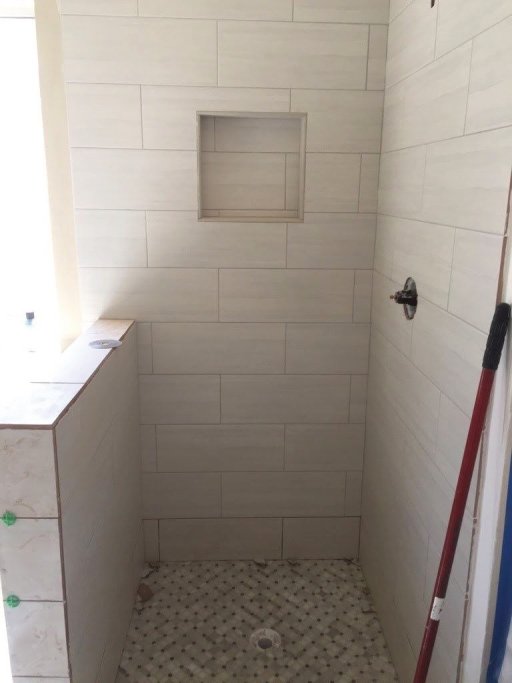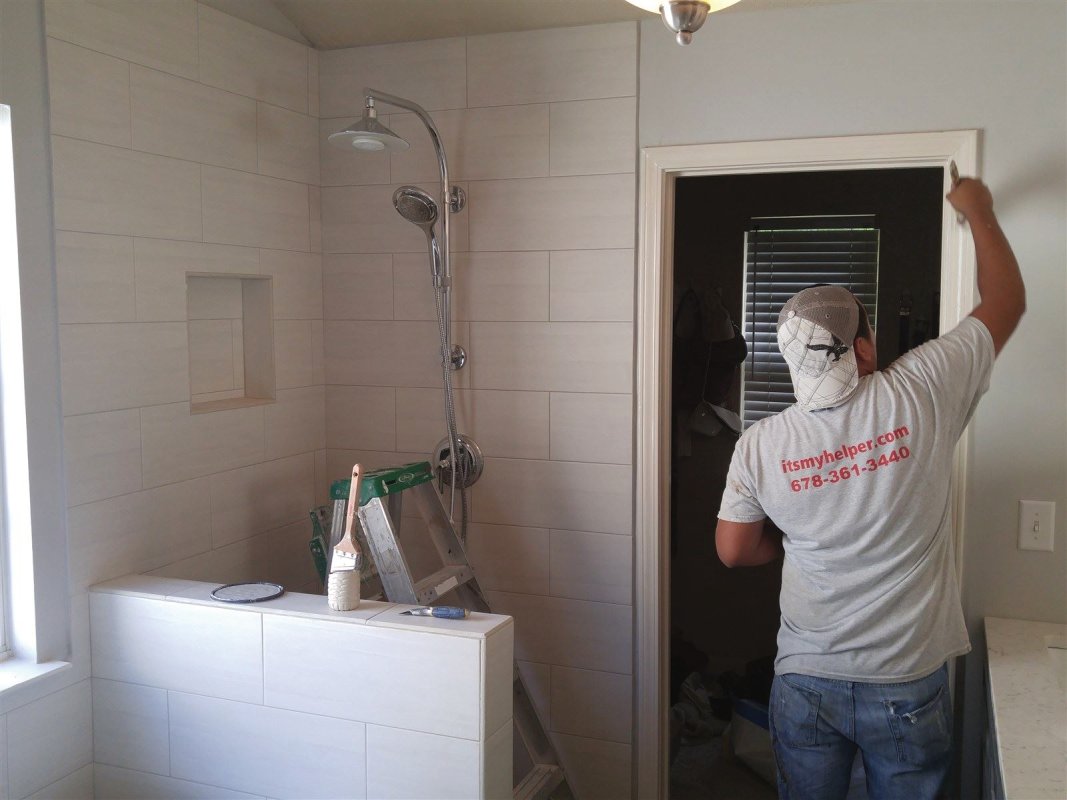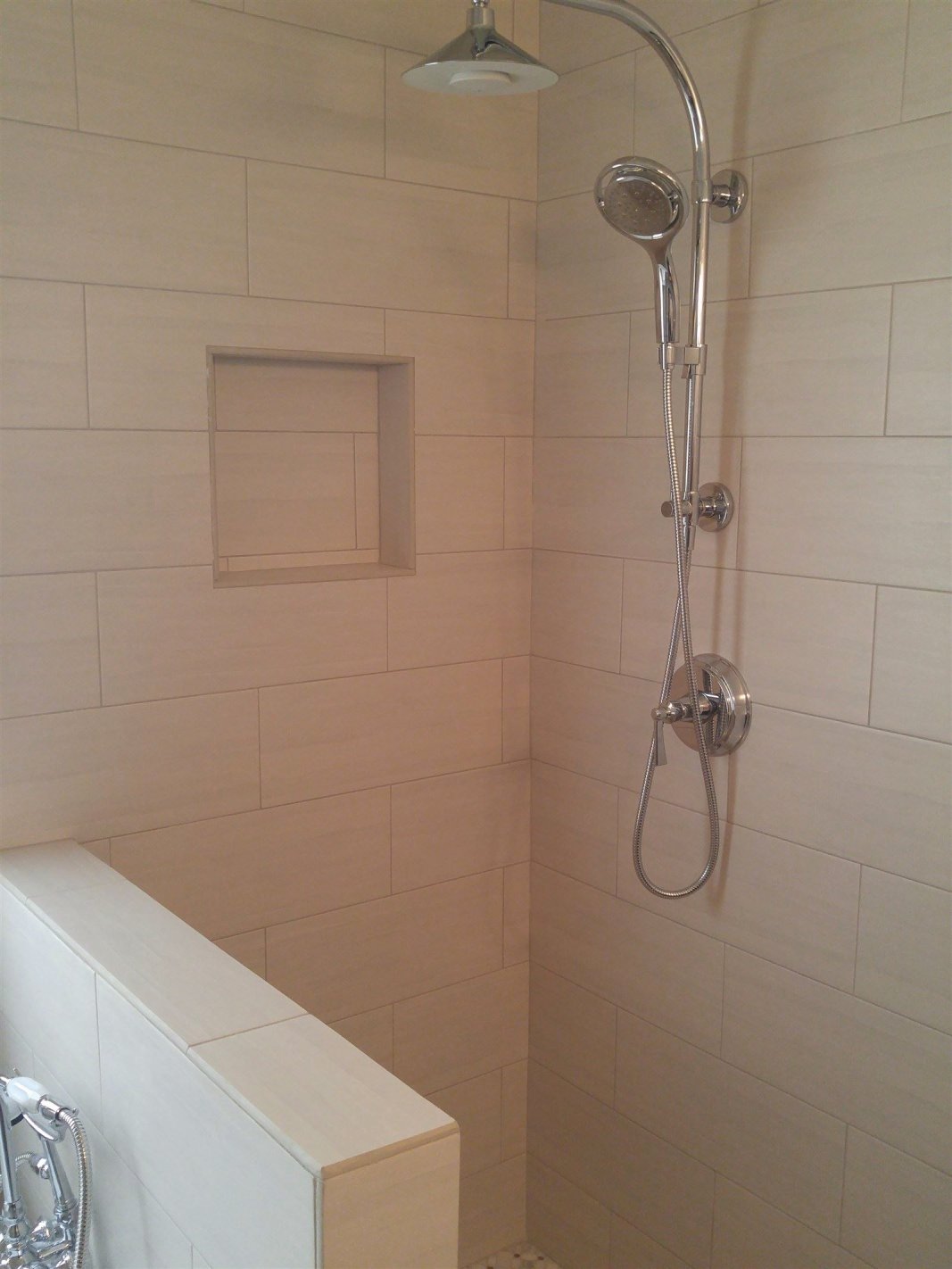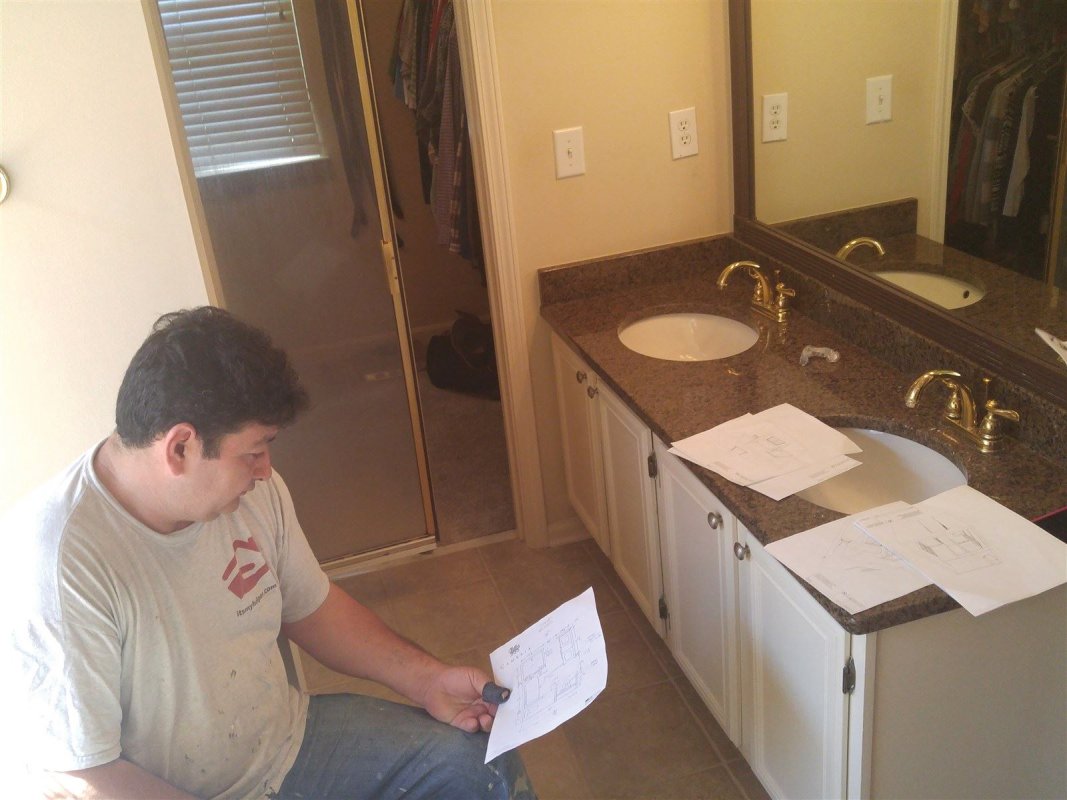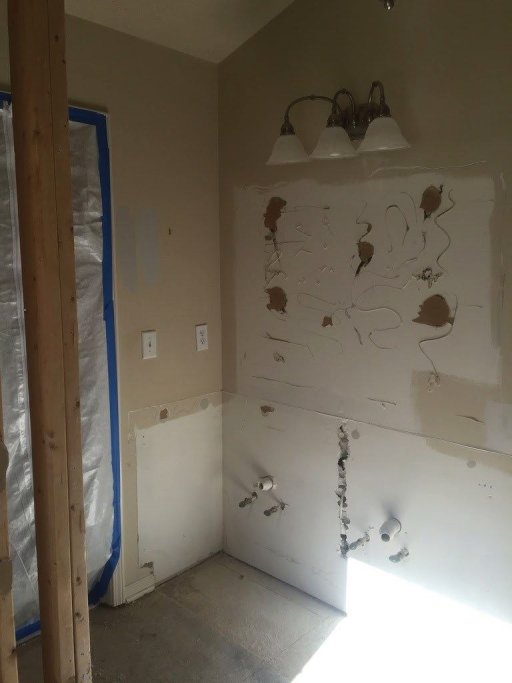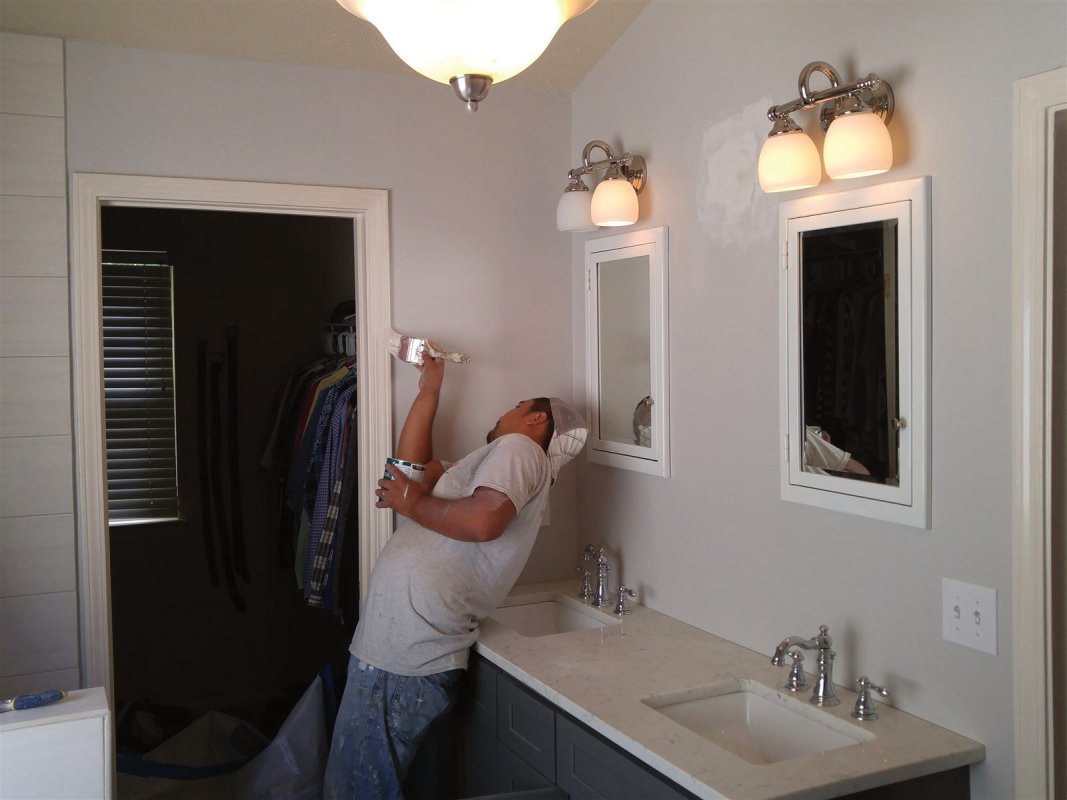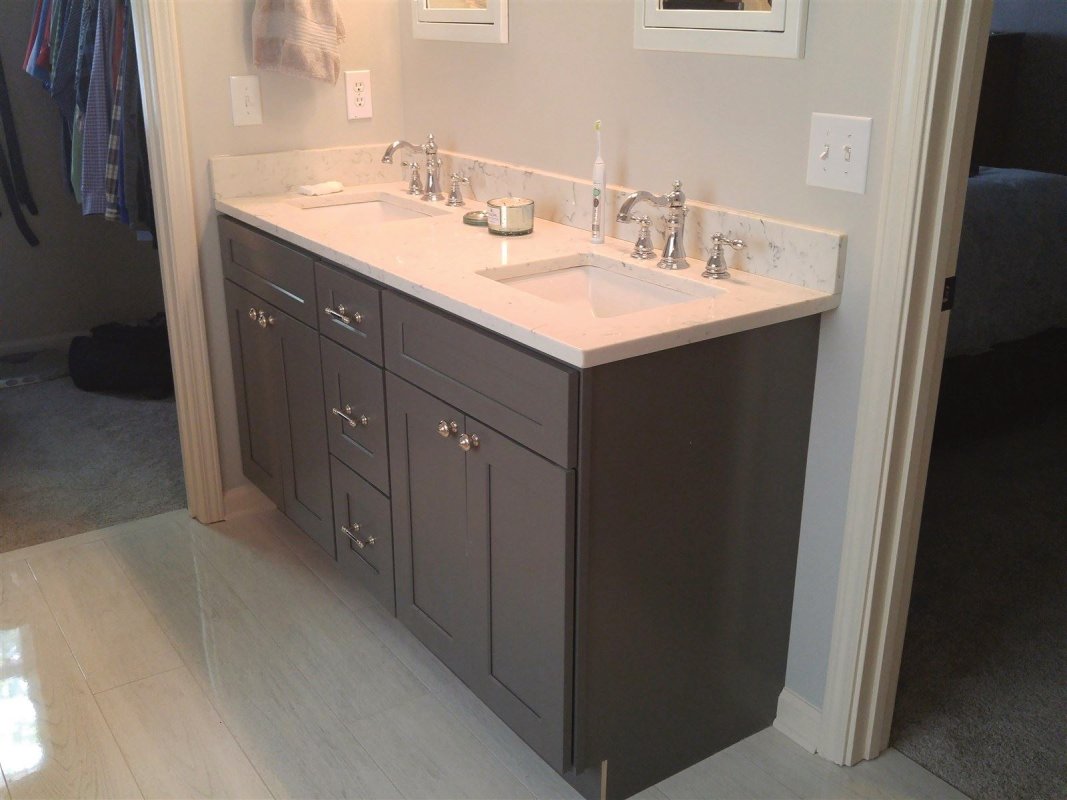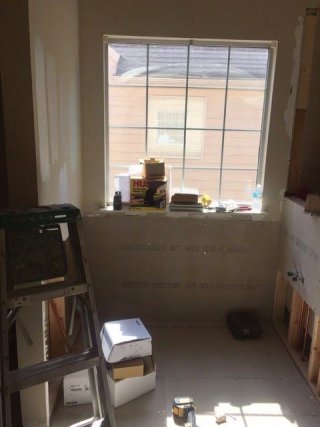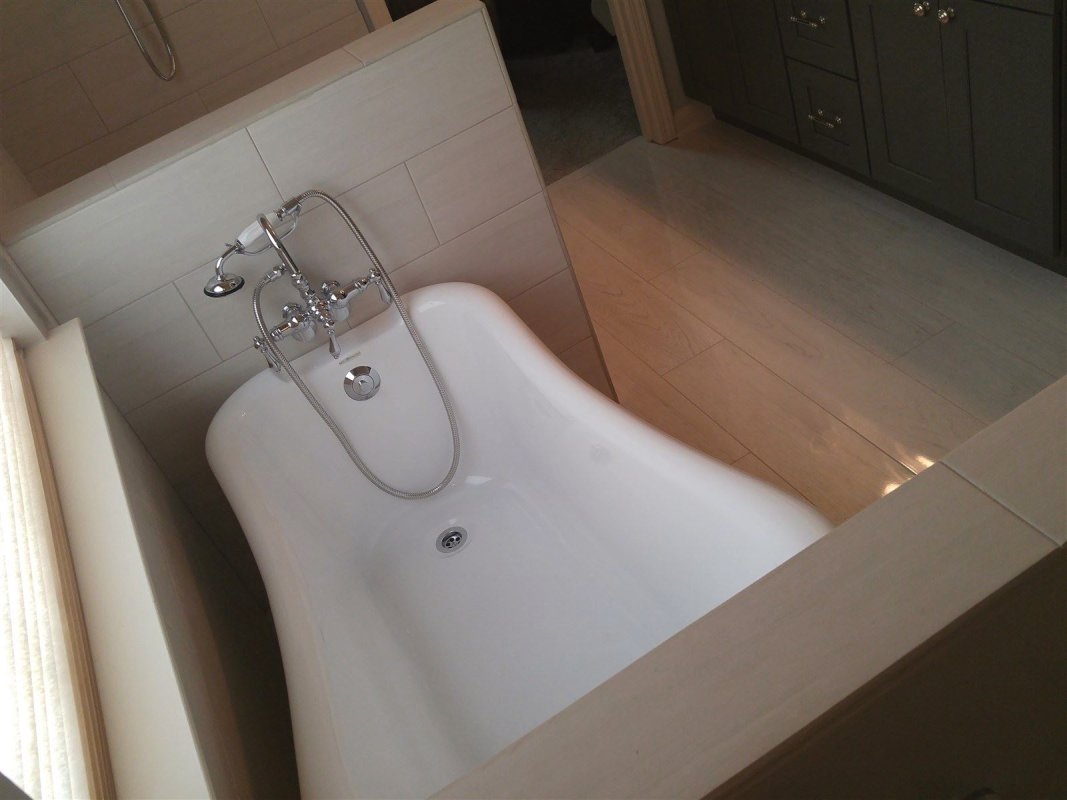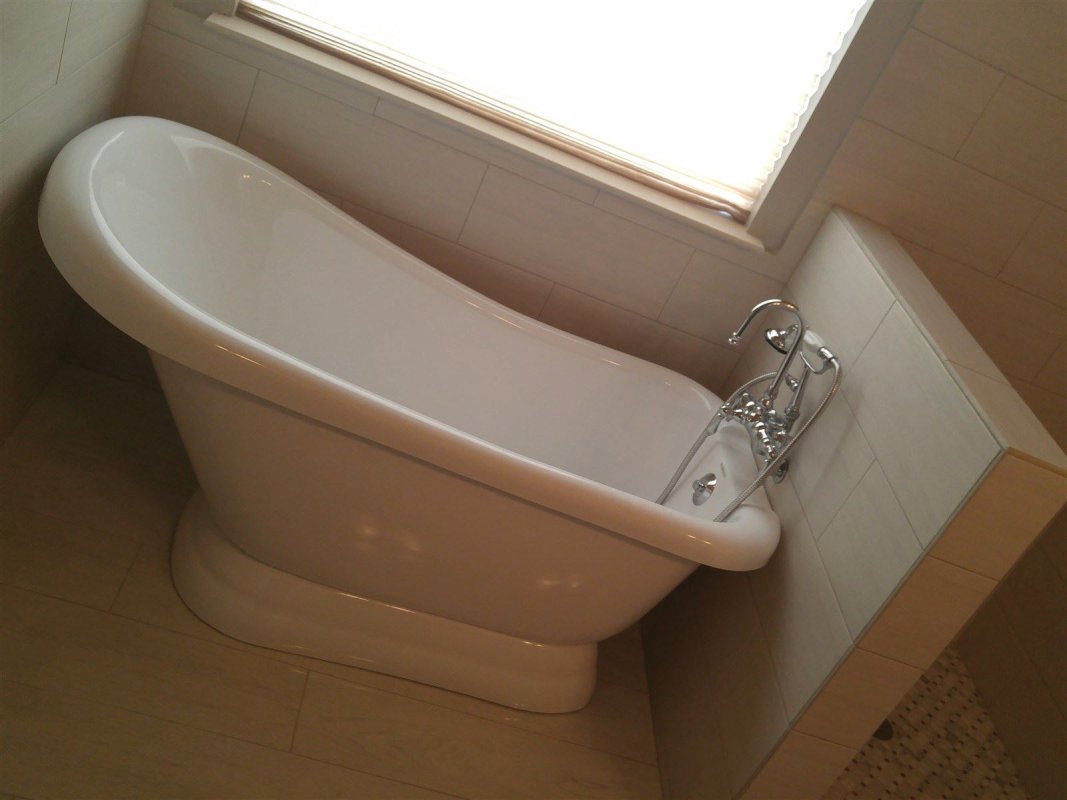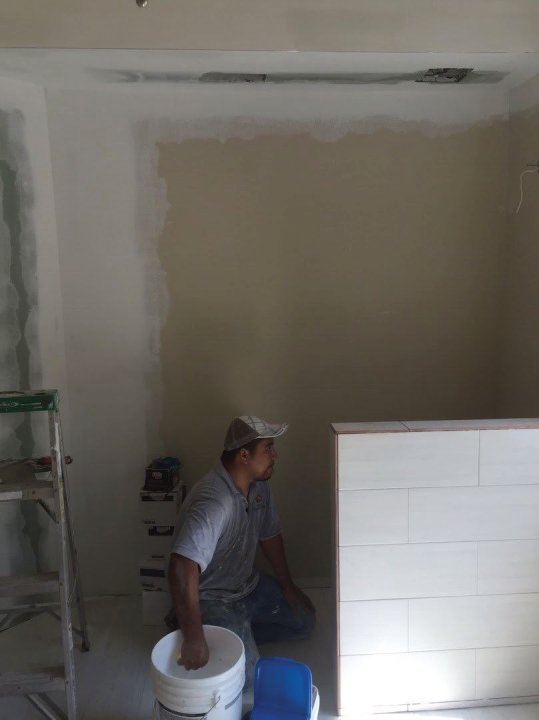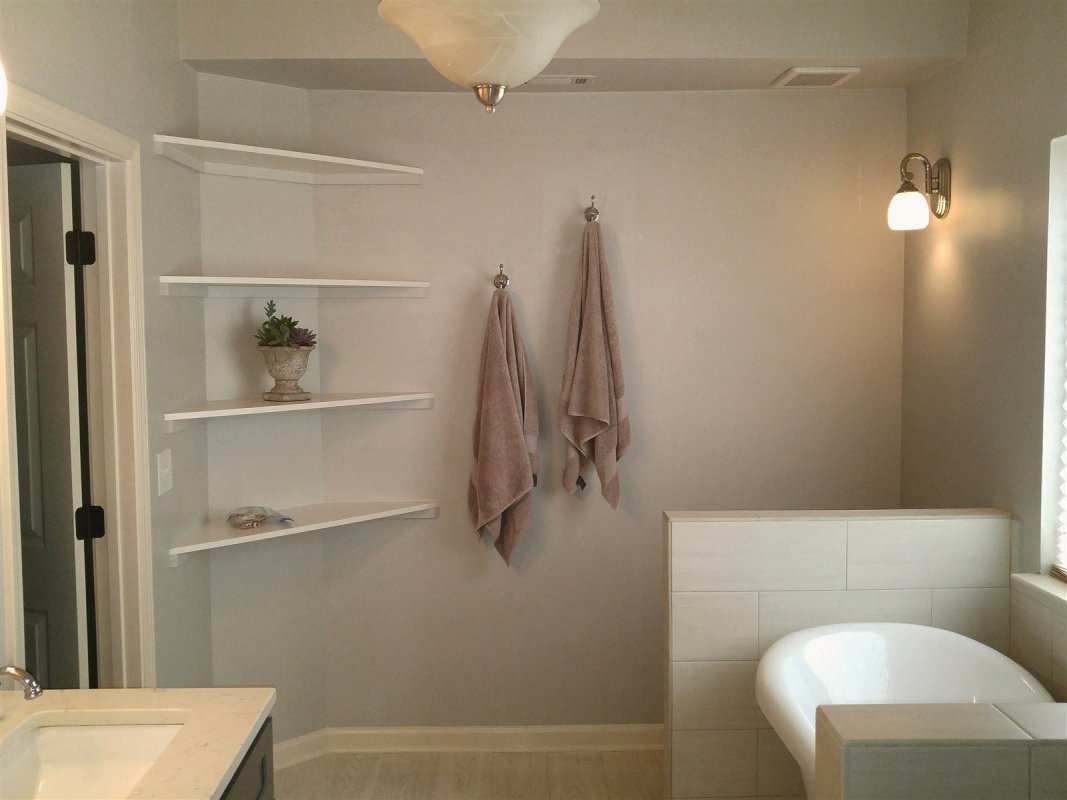 ALPHARETTA: There are times when our clients hit a stylish home run and that was this case with this bathroom. We were really impressed with the everything the clients selected....the bathroom turned out awesome...much nicer in person. 
This bathroom had too many walls one both side and it looked dark. 
We demo'd the entire bathroom, and got busy. What's that red stuff? Liquid cement to seal the joints between the HardieBacker board (another step to prevent water from going where it isn't supposed to go). What's HardieBacker Board - it's a fiber cement substrate (same like HardieSiding) for the tile to be properly secured.
Beautiful dahrling, beautiful....
Touching things up...
Oh my god, it's awesome.!!!!
The old not too tall vanity
Vanity gone! Notice the light fixture? Wait to you see the next pic
Wow. looks awesome
This vanity is really really nice. 
I wish I had a pic of the old tub but the boys demo'd it before our photographer (me) arrived. 
The tub is small but so it the missus....
It's small but really cute. Notice the fixtures come from the knee wall. We had to move the drain as well. Lot's of plumbing. 
Another before pic I regret not having. There was a wall with a door and made the place look too dark and too small. 
It's an open floor plan. The window can light up the entire bath. 
ALPHARETTA: It feels sooo good to be referred to friends and family, it really means a lot to us. 
This new homeowner was referred to us by clients we did work for almost 12 months prior & we appreciate being considered. 
On the left is our lead, Jose and Raul.
As you can see to the right, this house had walls and walls of wallpaper that unfortunately sucks up a lot of time.
<--These next three pics are one view of the master bedroom. It had two separate closets with glass bi-fold doors and a dust collector on top of the closet (notice the roof line?)
<--We closed the roof line and a closet door. We also had to prime the walls for the new color because the green was too strong/dark of a color. 
<---What a difference huh? 
The old master bath worked but it was just too dated. 
We do a lot of drywall work and here we are making things smooth again.
It's all in the details. 
The master bedroom and bath from a different view 
Wonder-Twins Power activate!!
BAM!!
Yes, our homeowner has a lot of shoes. :) 
Check out the walls, corner cabinet and counter top wall
All gone....homeowner wanted a pantry in lieu of what was there.
Bam!!!!
The Old
The Transition
The Almost
The Bam!!!
We're past the first phase on this pic
Something new? Recessed lighting didn't exist prior
The finished product being lived in. 
We tore down stuff, painted, installed engineered flooring, a little floor, made closets bigger, and more.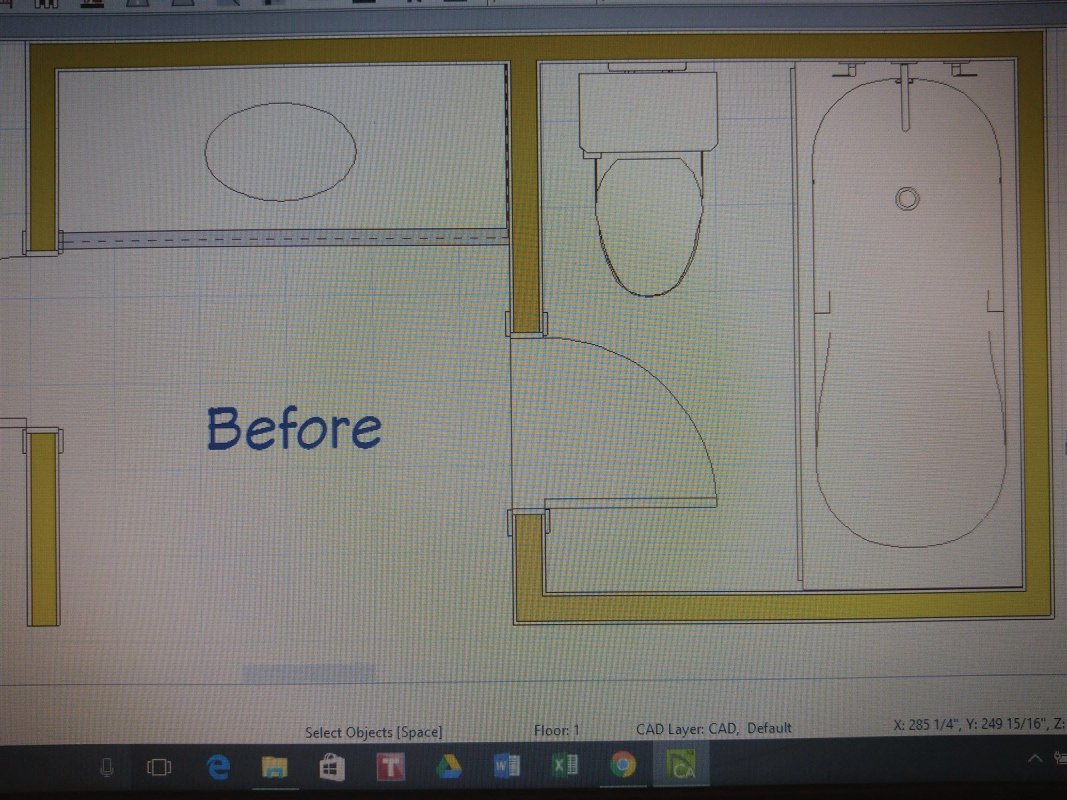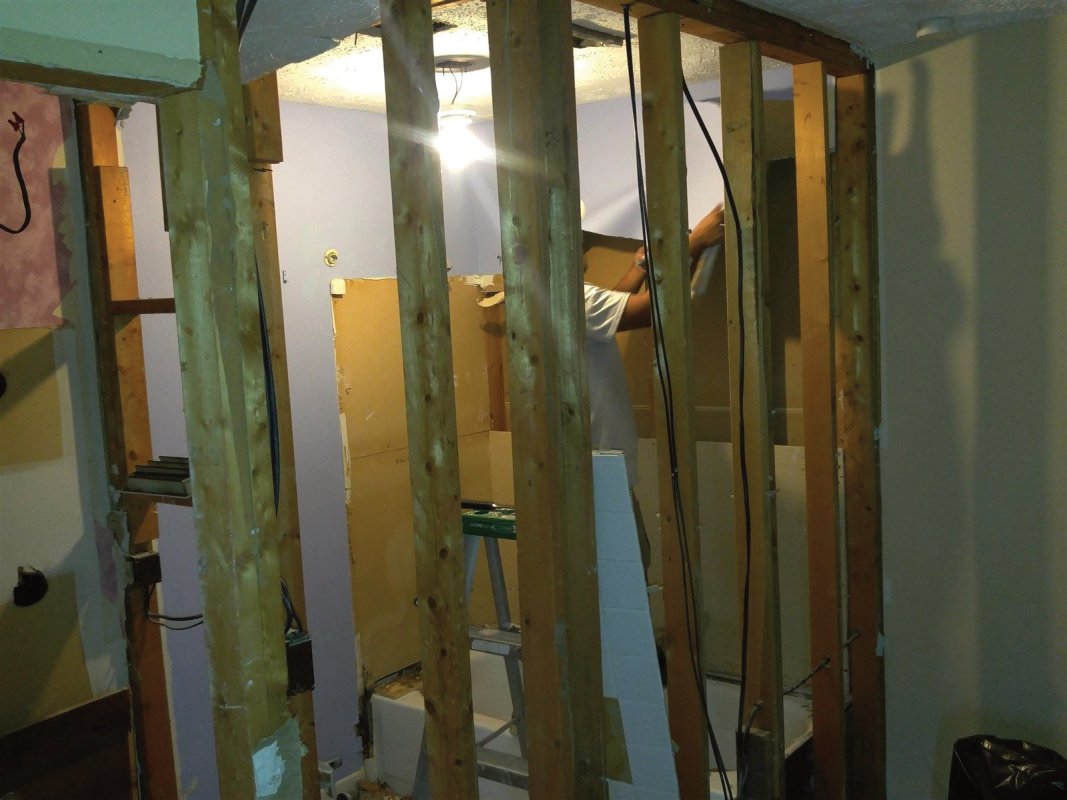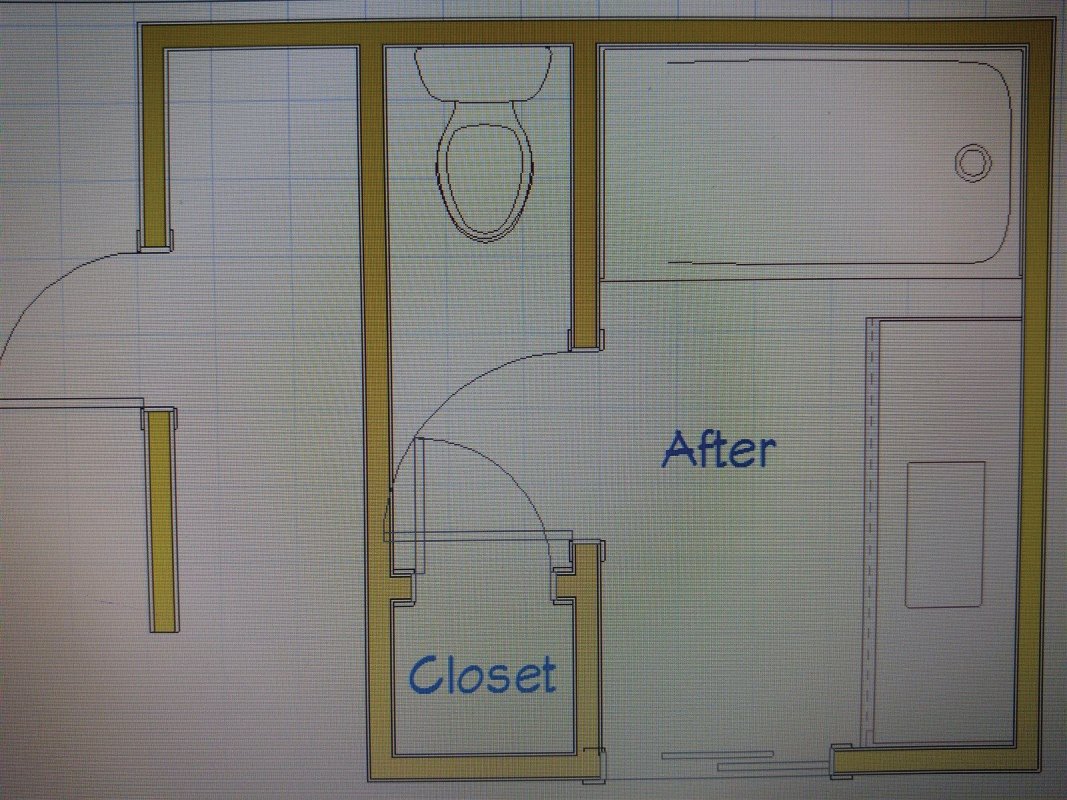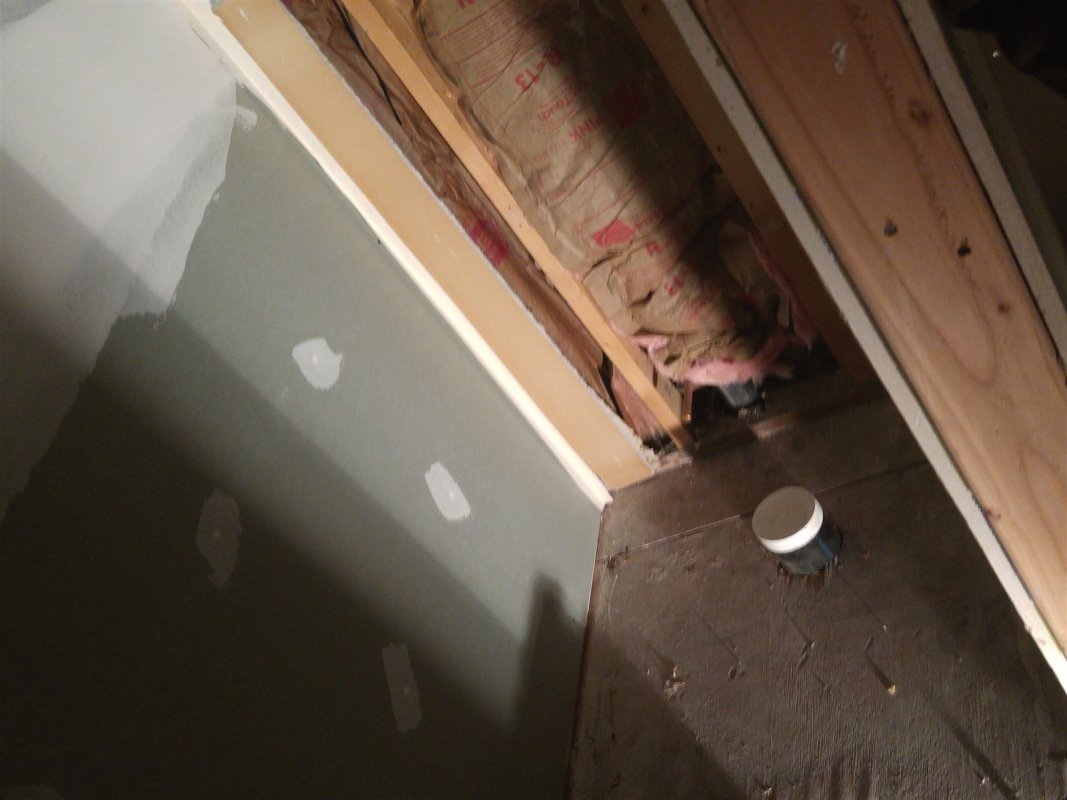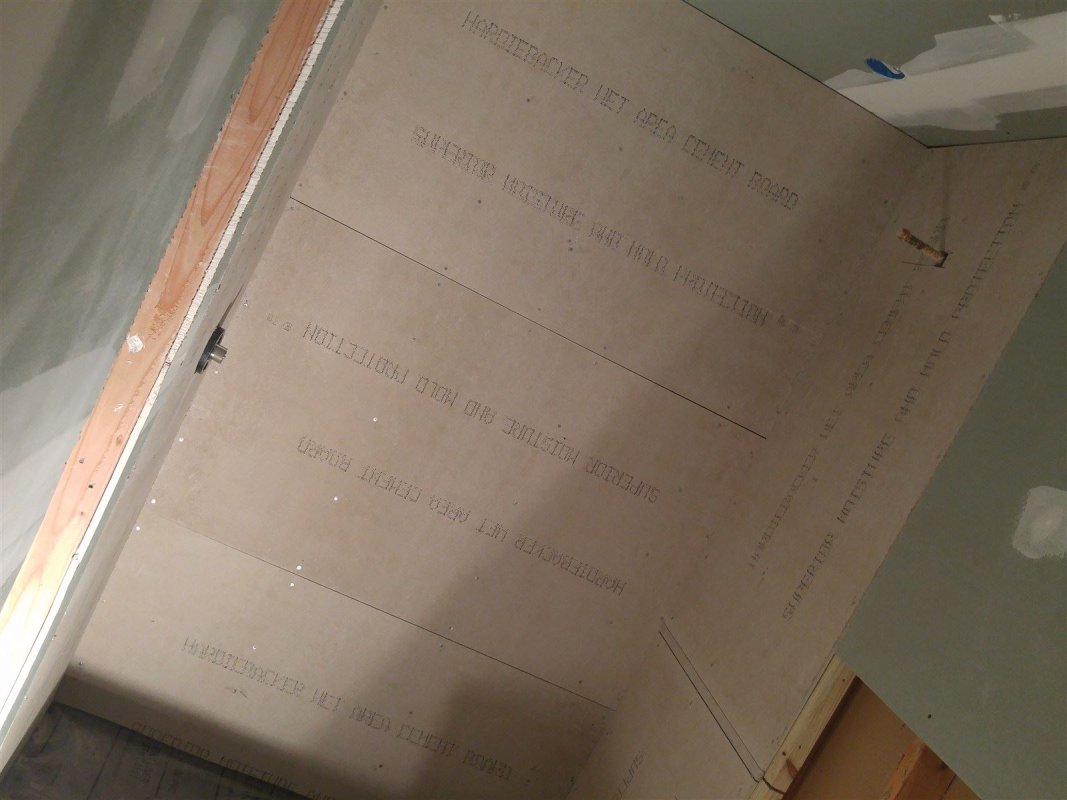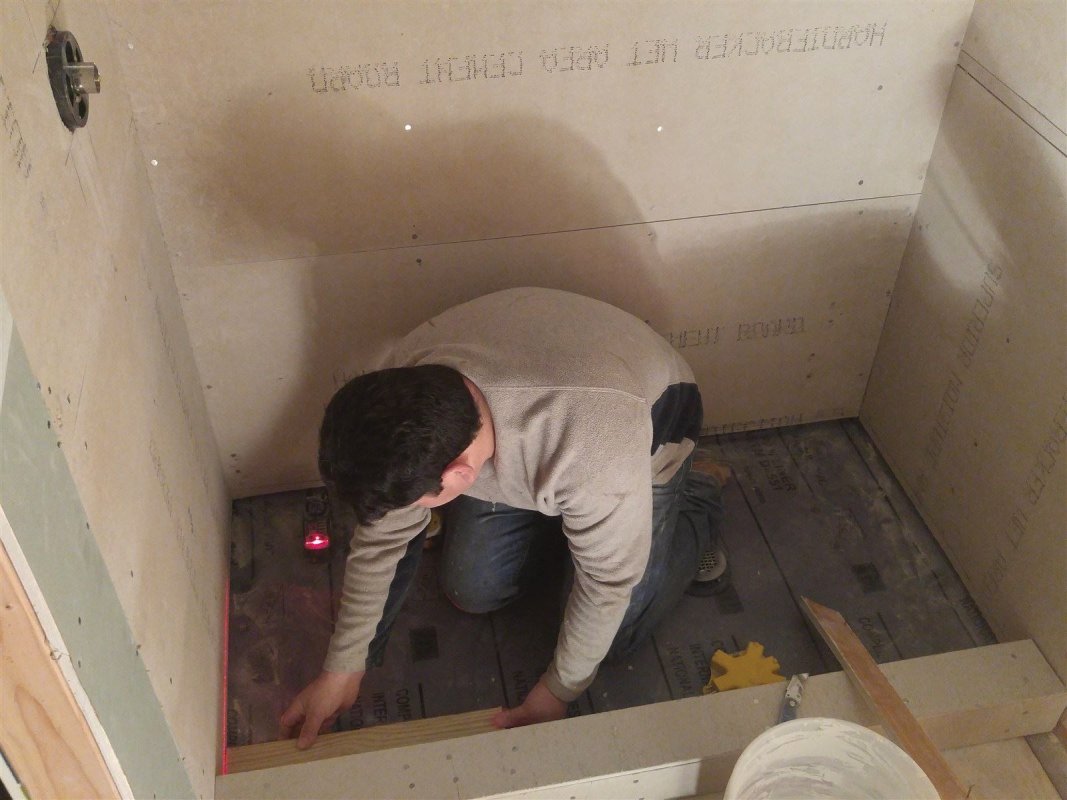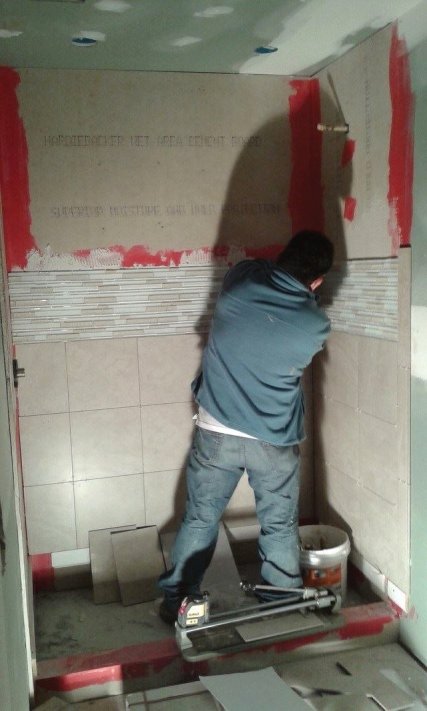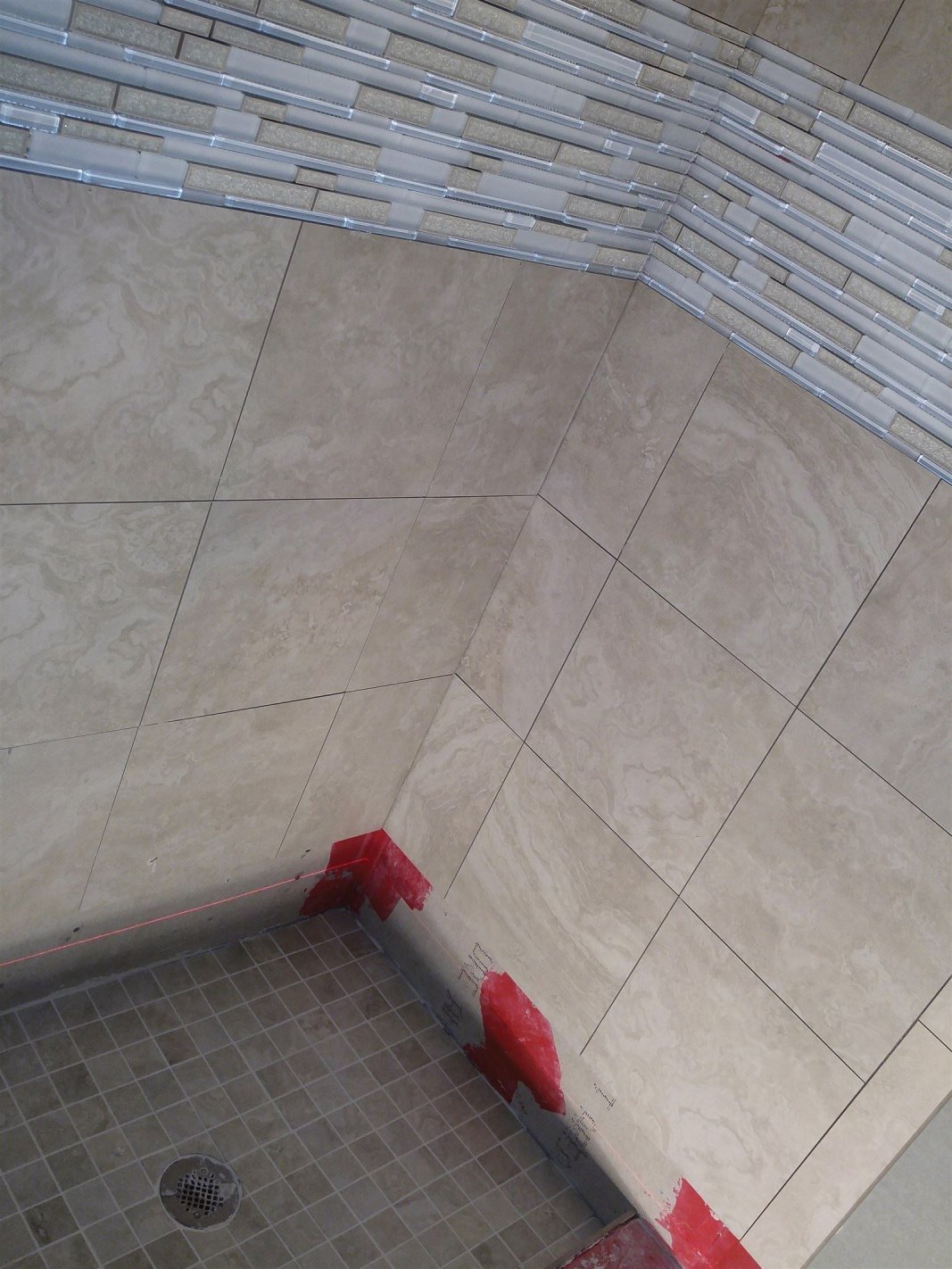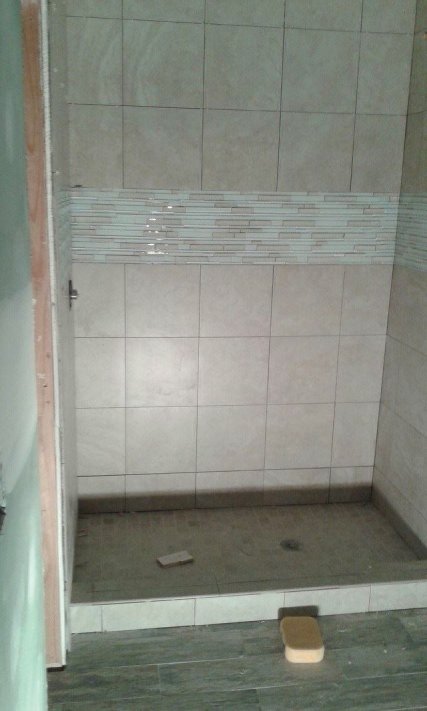 EAST COBB: We were glad to be hired for the bathroom re-do. The homeowner wanted a bigger bathroom and made a great decision on starting with a new floor plan. The existing floor plan was date with a super tight space in the toilet/tub room. 
The walls came down and a larger bathroom (below) was built. 
Somehow the only pic for the new toilet.
We only like to use Hardie BackerBoard (same makers of Hardie Lap Siding) - this is substrate for tile. We seal the edges with reddish liquid cement - the drywall has a greenish tint because it's "greenboard" & it's a special mold resistant drywall used for bathrooms.
To the left (shower base) is a rubber membrane that goes up to 6" up and behind the BackerBoard to prevent water leaks. 
Our lead, Jose, builds showers from scratch.
There's the reddish liquid cement I mentioned earlier....if you don't see it on your bathroom remodel: demand it. 
Nice close-up
Looks clean--->>>
Above: The finished product
<--To the left, barn doors everywhere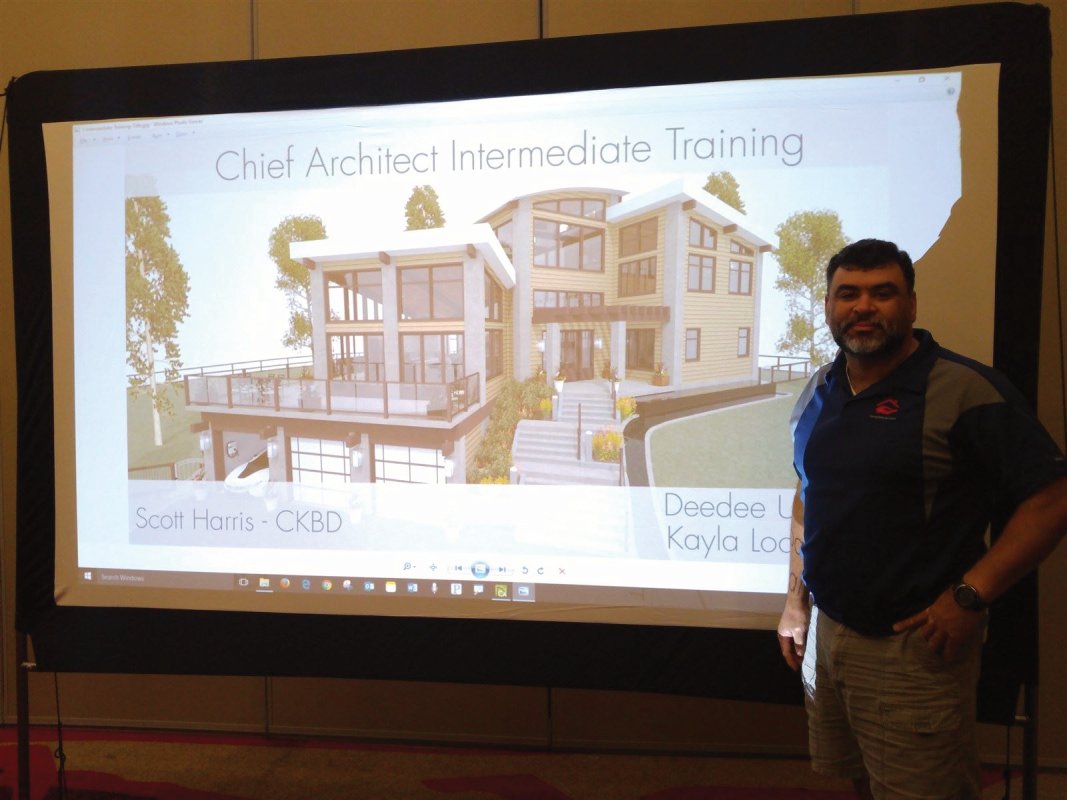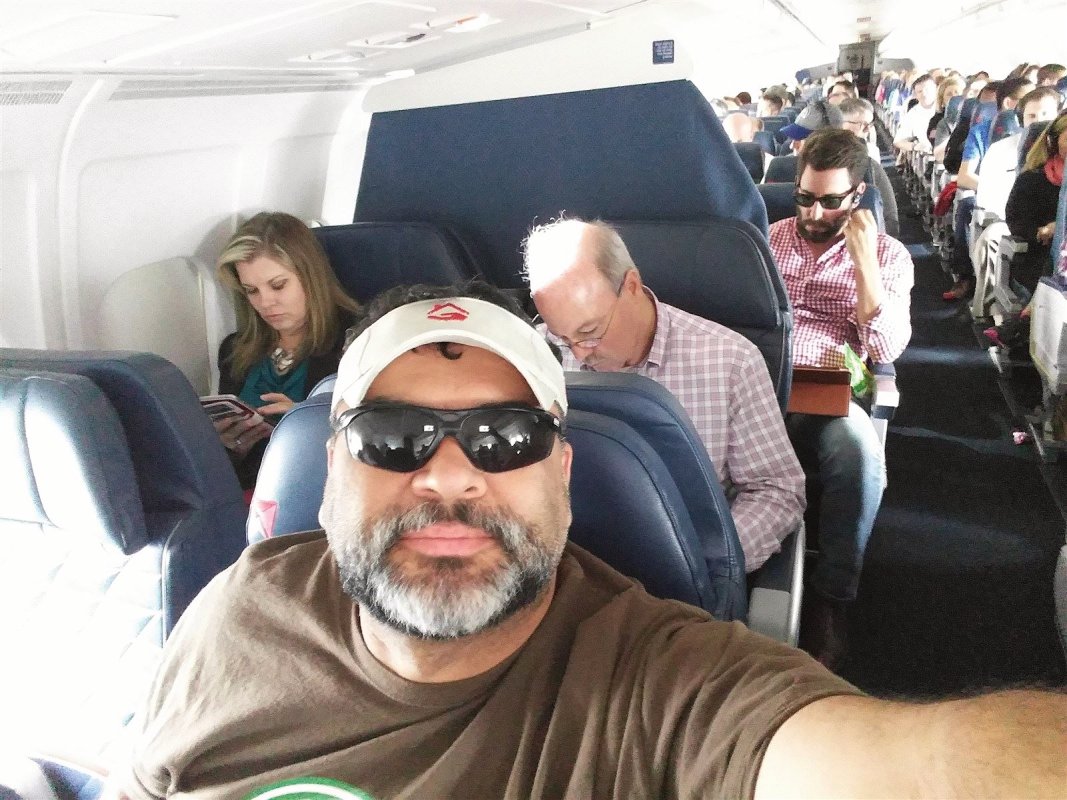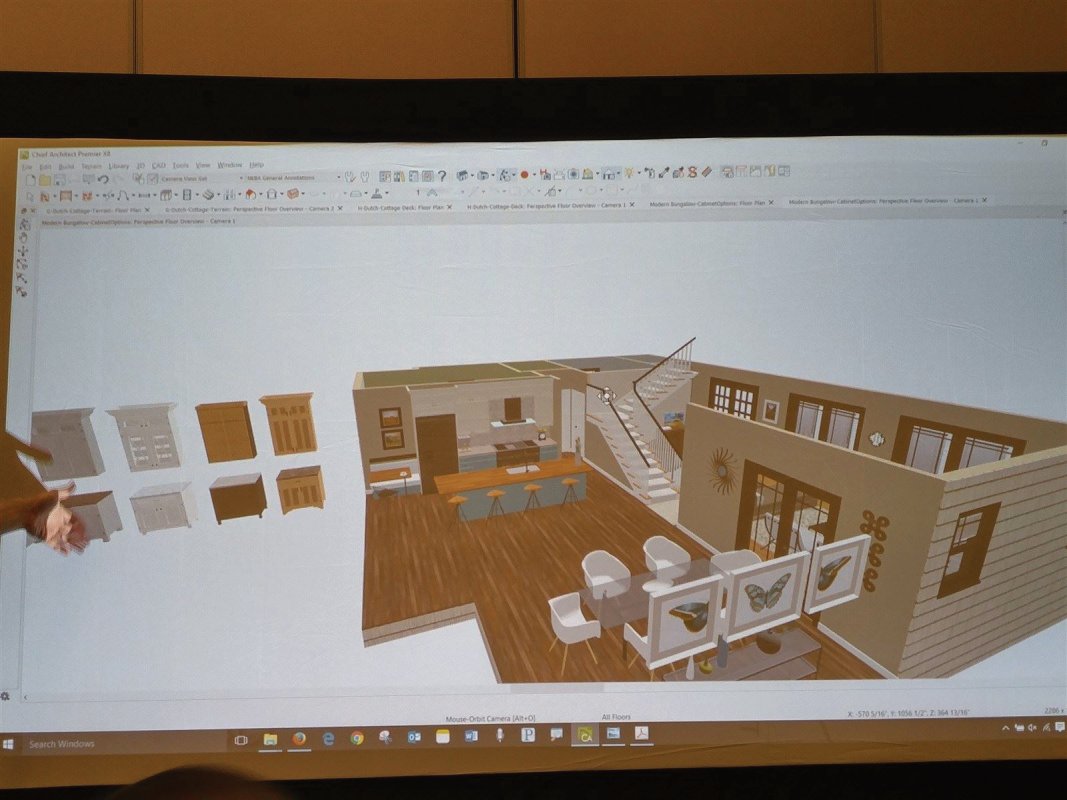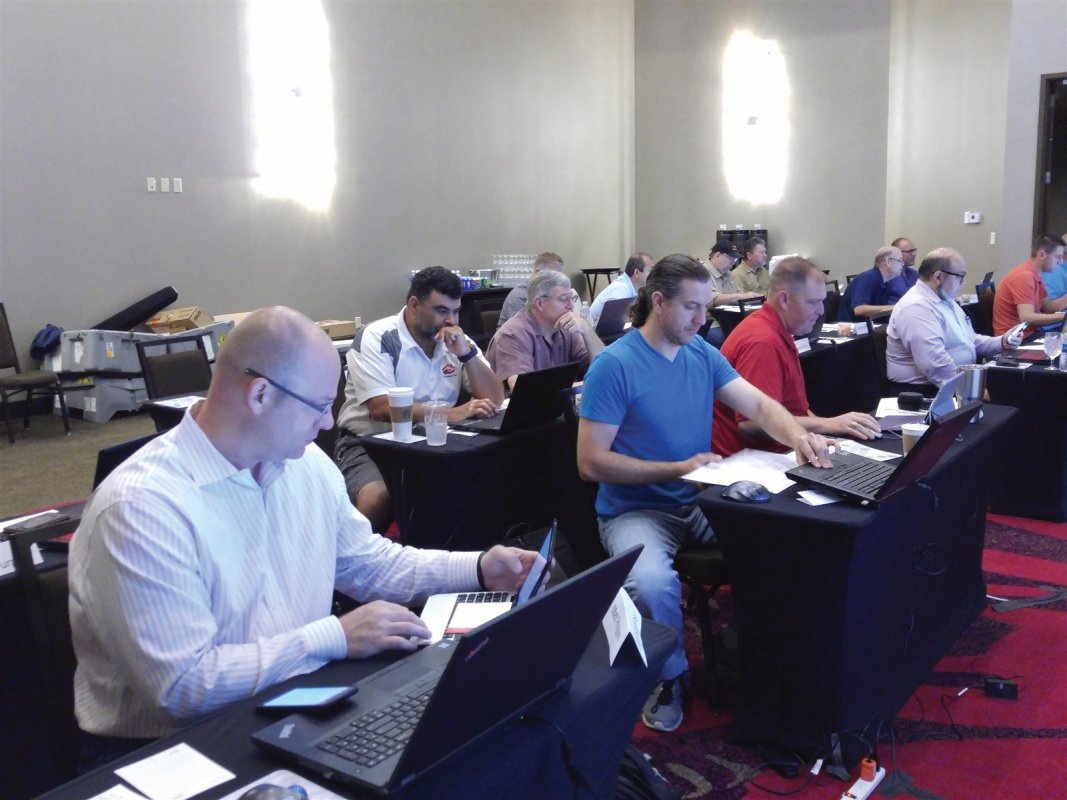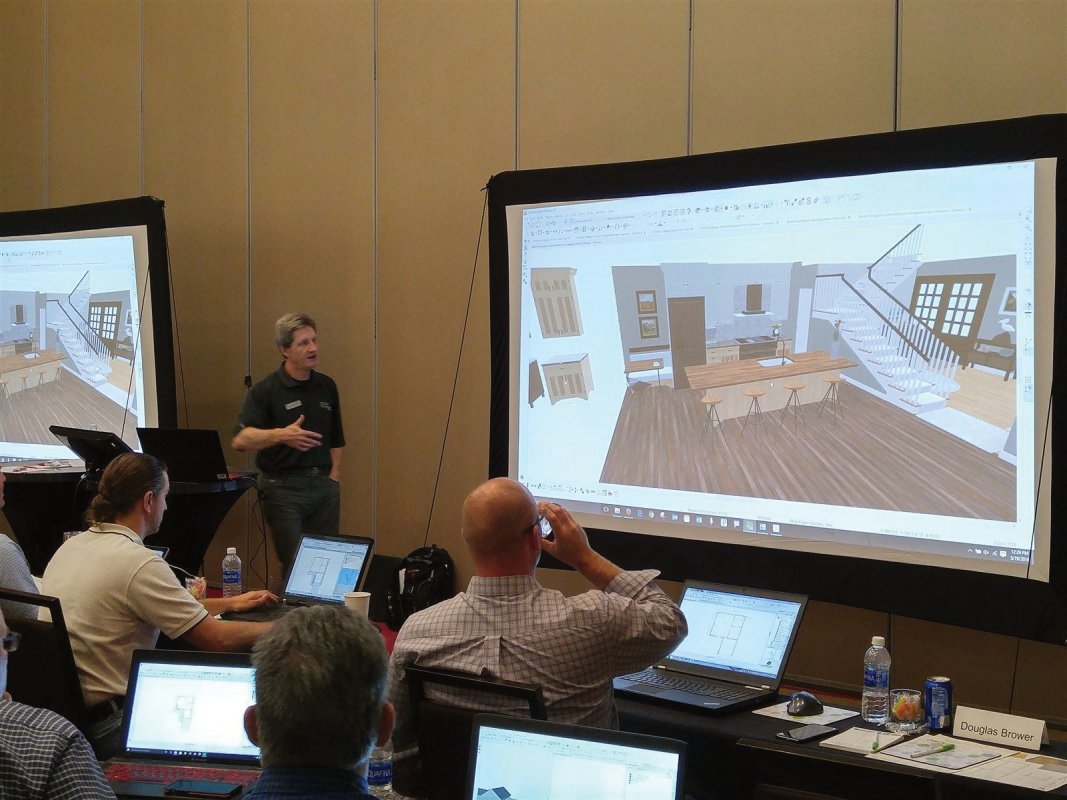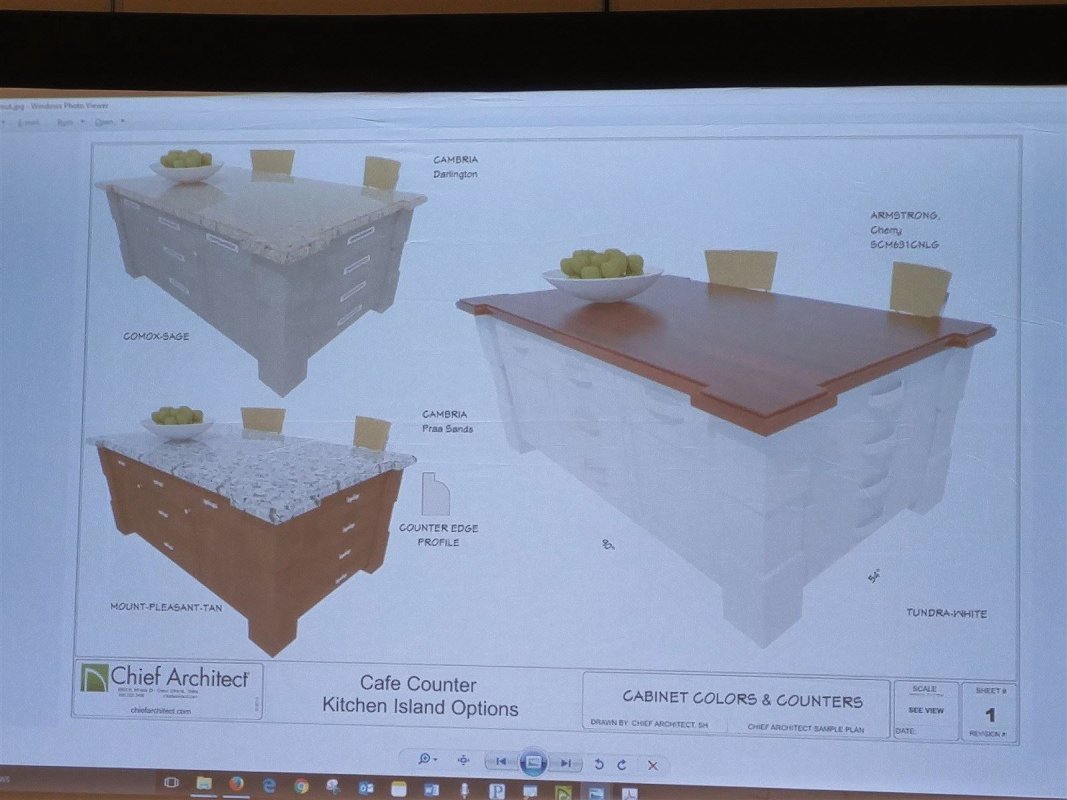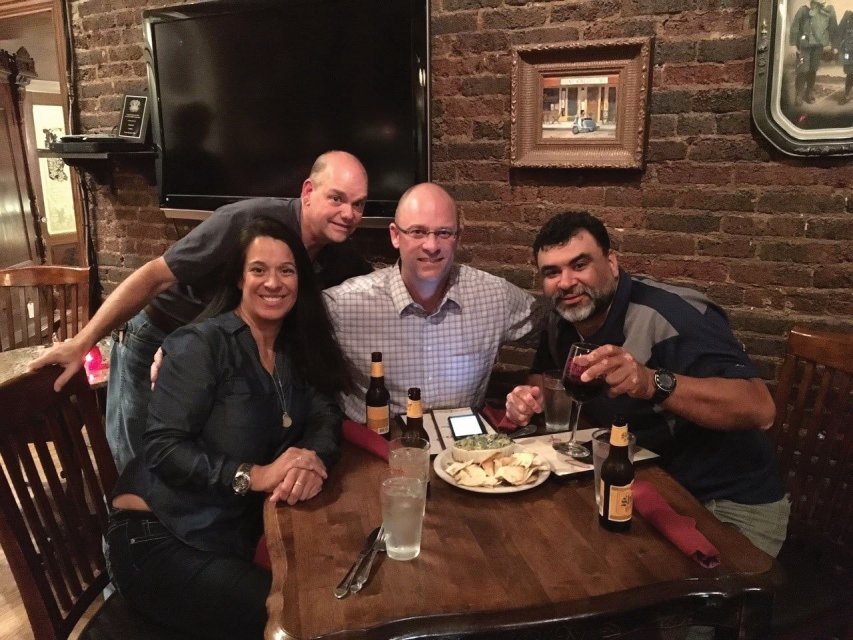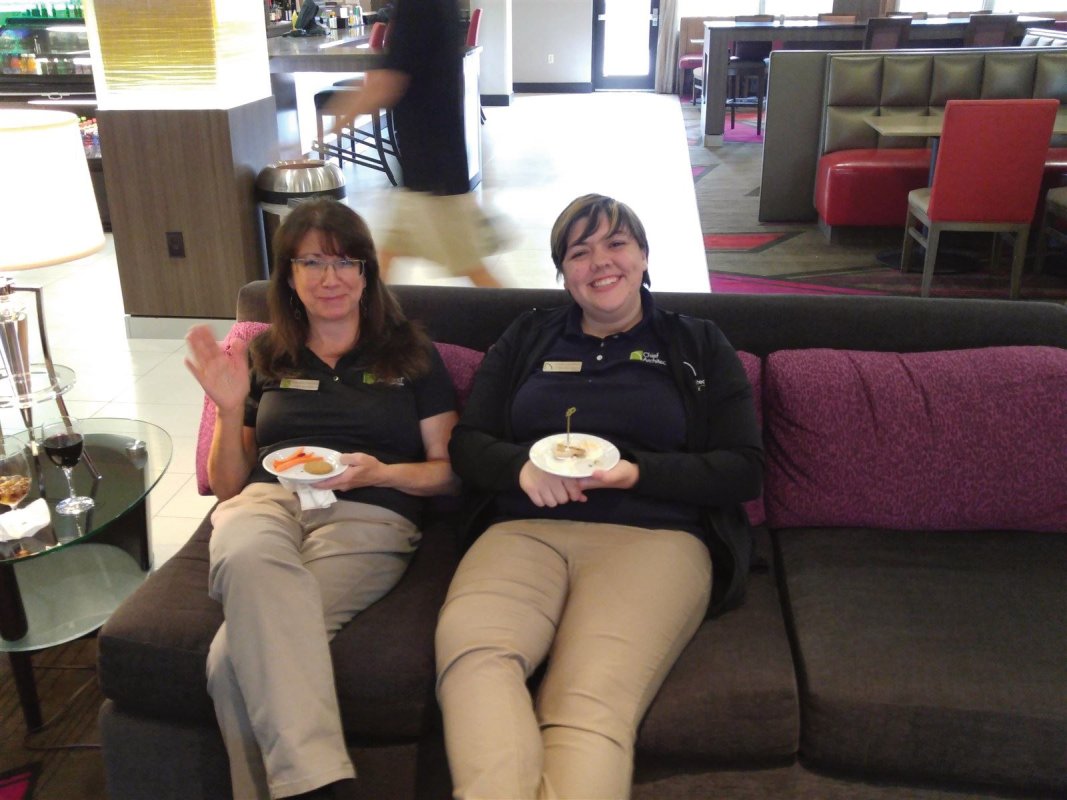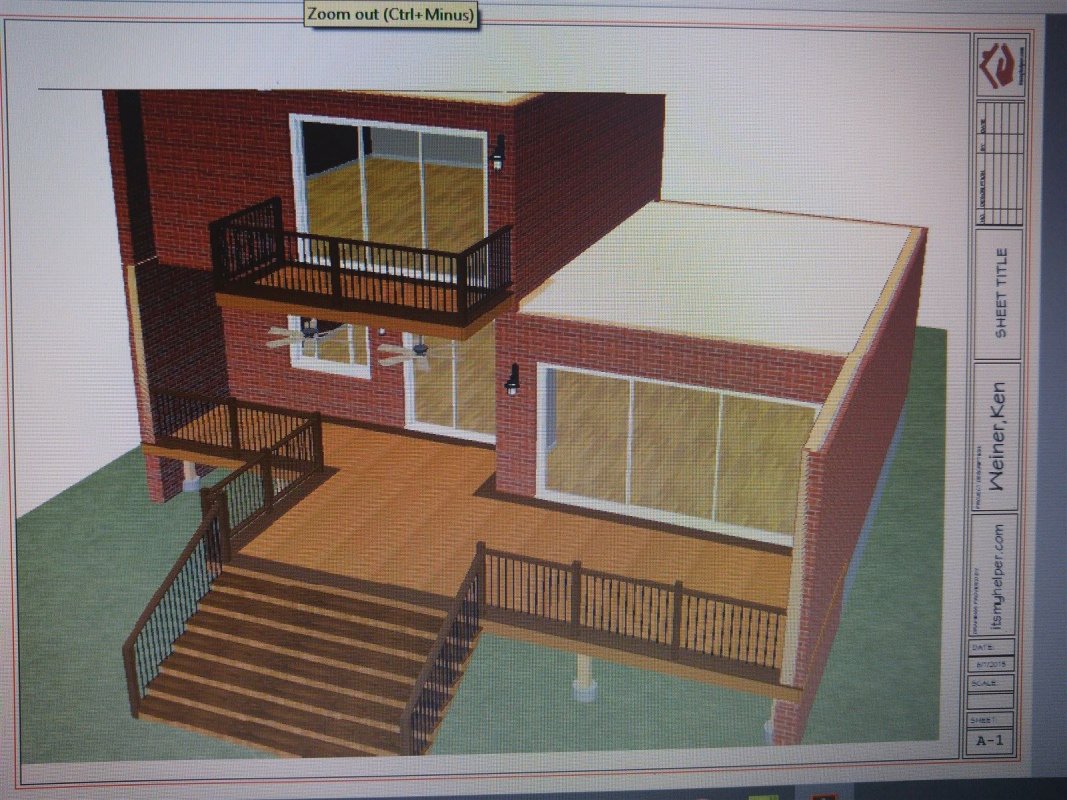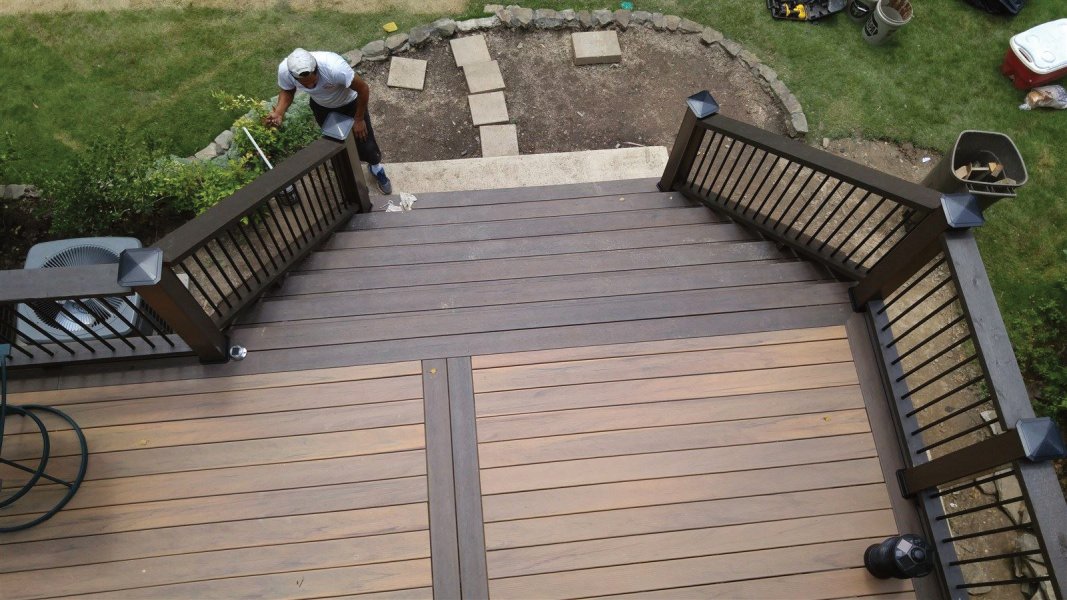 We're always in pursuit of improvement and here we are in Dallas, Texas at a CHIEF ARCHITECT Intermediate Training. We've had Chief Architect for almost two years and use often. Our goal is to become experts and use it daily. 
Lots of points earned got us 1st class seats. 
An example of what Chief can do
In class trying to master things....
You would not believe how comprehensive this software is. When I worked at the National Park Service I used IBM's Maximo Asset Management software and find this program more comprehensive. 
More soaking in....
Great features for our Kitchen & Bath Division
A little R&R in downtown Grapevine, TX. This litte aea was a real bonus for the trip. Four winery's within 2 small blocks. Awesome. 
Chief Architect Experts. I wanted to bring one home for a week of personal training. All the instructors know sooo much. 
This is a rendering created by us for the deck below. 
/