Shopping Cart
Your Cart is Empty
There was an error with PayPal
Click here to try again
Thank you for your business!
You should be receiving an order confirmation from Paypal shortly.
Exit Shopping Cart
Improving the American Dream

We really enjoyed the project below. We built a deck, a retaining wall, and fence. 
The home owner decided on TimberTech's Tropical Collection: Antigua Gold for the main deck and Antique Palm for the borders. This collection has a beautiful real wood grain look. One of my favorites. 
Here's the design the home owner approved. 
Notice the fence in the back ground? We built it too.
It's amazing how compact all the materials are when delivered. 
One of our concerns from the initial visit is how low the deck sits. Low-lying decks are actually more laborious and challenging than a normal height deck. 
We certainly did not want to build the frame directly on the ground. But we didn't want to excavate too much of the Earth (none of it really) because we didn't want to create an issue with pooling water. 
This is what happens when lumber lays on the ground. It appears that some joist rotted and the fix was to "sister" (sandwich) the joist but it really did nothing. 
This stuff was so brittle and done. 
We loved the tree...the home owner said it can't be killed. It will grow back. 
More rotted lumber.... no bueno
It never dies, so off it went this tree. 
It was more than we anticipated. 
Finally a clear work site for us to start to figure out how to build the frame. 
We end up resting the lumber on concrete footings very similar to regular builds but with out the 6x6 posts. 
We did some excavating and it created an extra day of work.
We couldn't use the 2x10's like we like so we doubled up on smaller dimension lumber and spaced the joists at every 12" on-center instead of the normal 16" on-center we usually do. 
]It turned out awesome - notice the square concrete footings? 
Great looking deck frames. 
Missed it by that much! 
This was a beast to deal with. 
Remember that fence? There is is in the back ground left. 
Oh, here's the retaining wall the homeowner added to the project. The ground didn't even seem that high but it created a lot of dirt and two more days of work. 
But it was certainly the right decision to make. Over time the ground would've likely eroded towards the beautiful new deck. 
Finally some decking is making on to the deck. We're a happy bunch when that happens. 
More progress...this pic shows the grey conduit & junction boxes we use for the lights. 
Coming together nice. 
Back to the Future
It don't get no betta...you betta, you betta, you bet.
Simply beautiful...the pergola posts are 4x4 posts with COMPOSITE POST SLEEVES. Not only does it look great, but the posts never have to be painted. 
Can't wait for the tree to grow back,  

Almost done...
Here you have it...done with riser lights and post lights as well. We're proud of this job.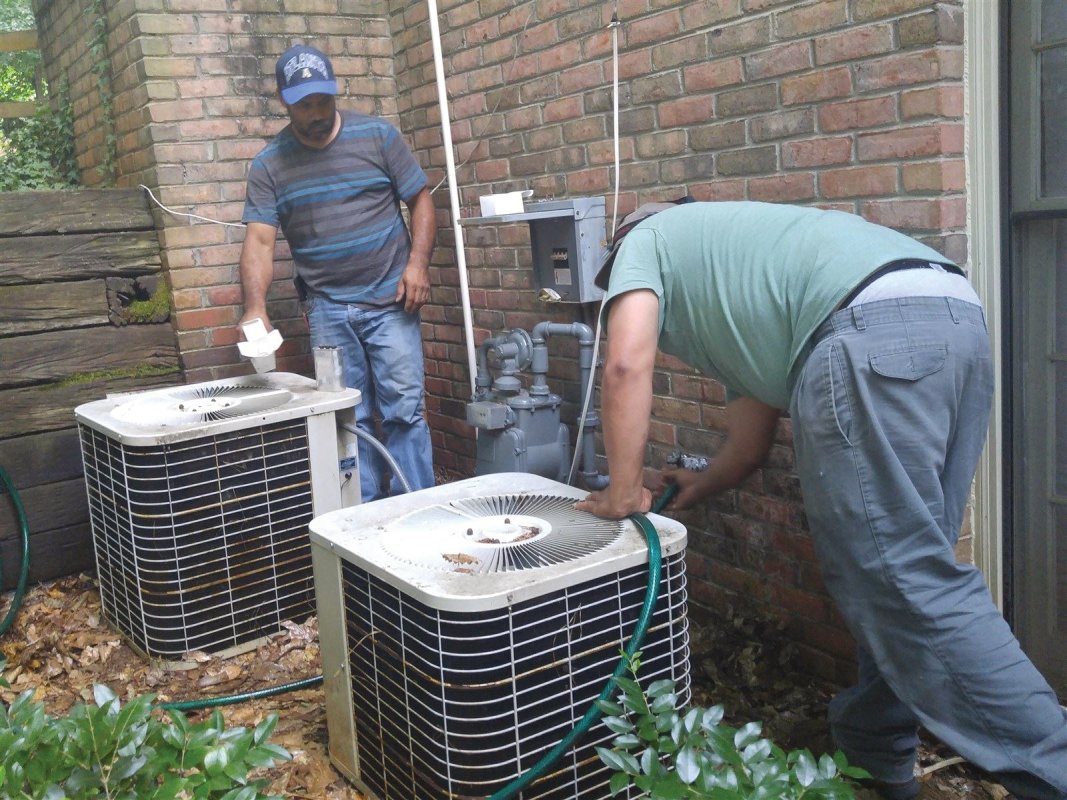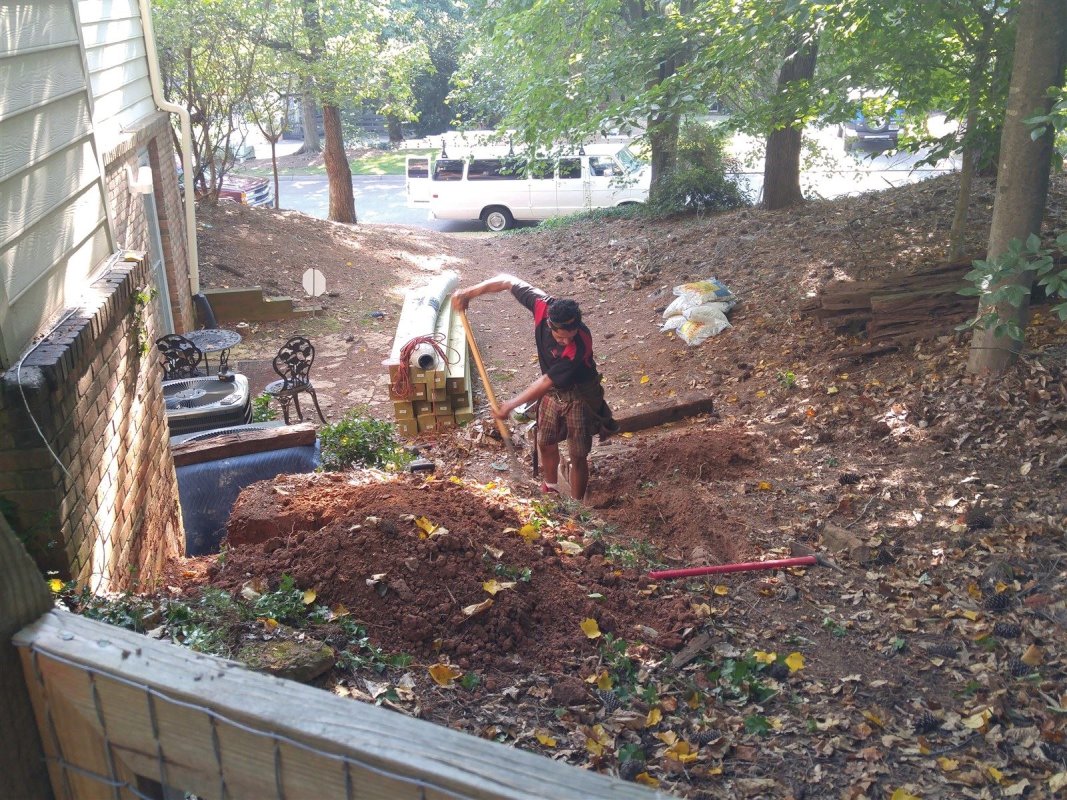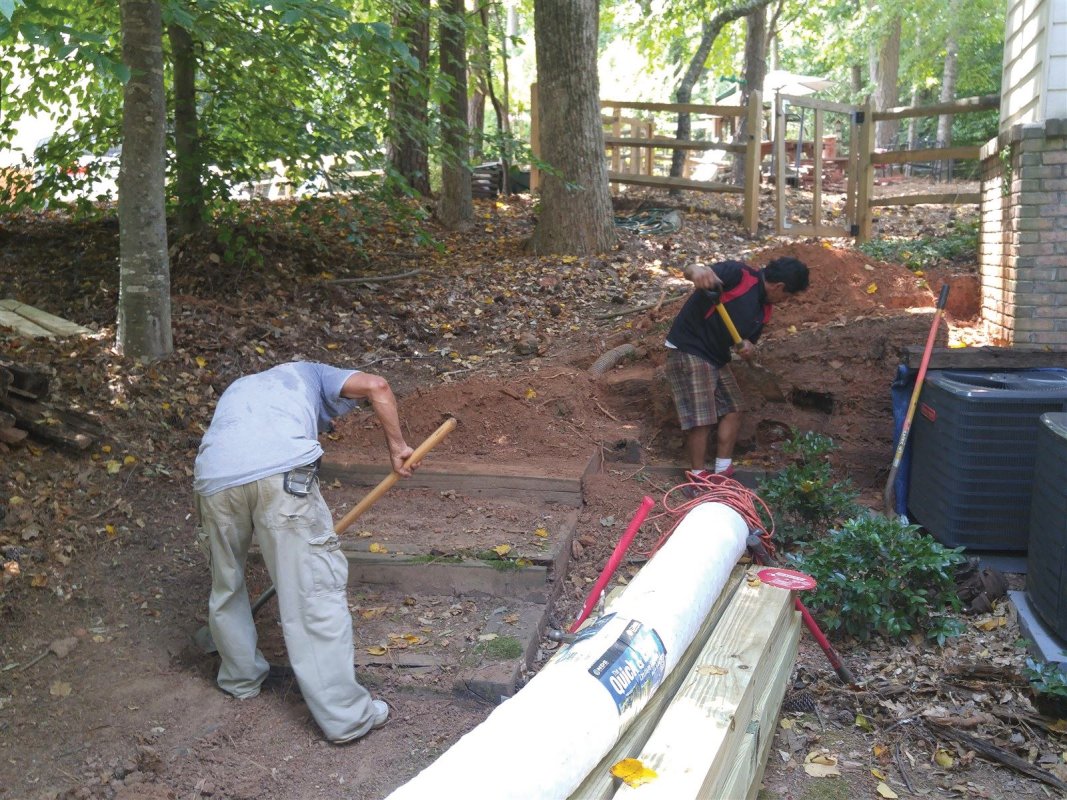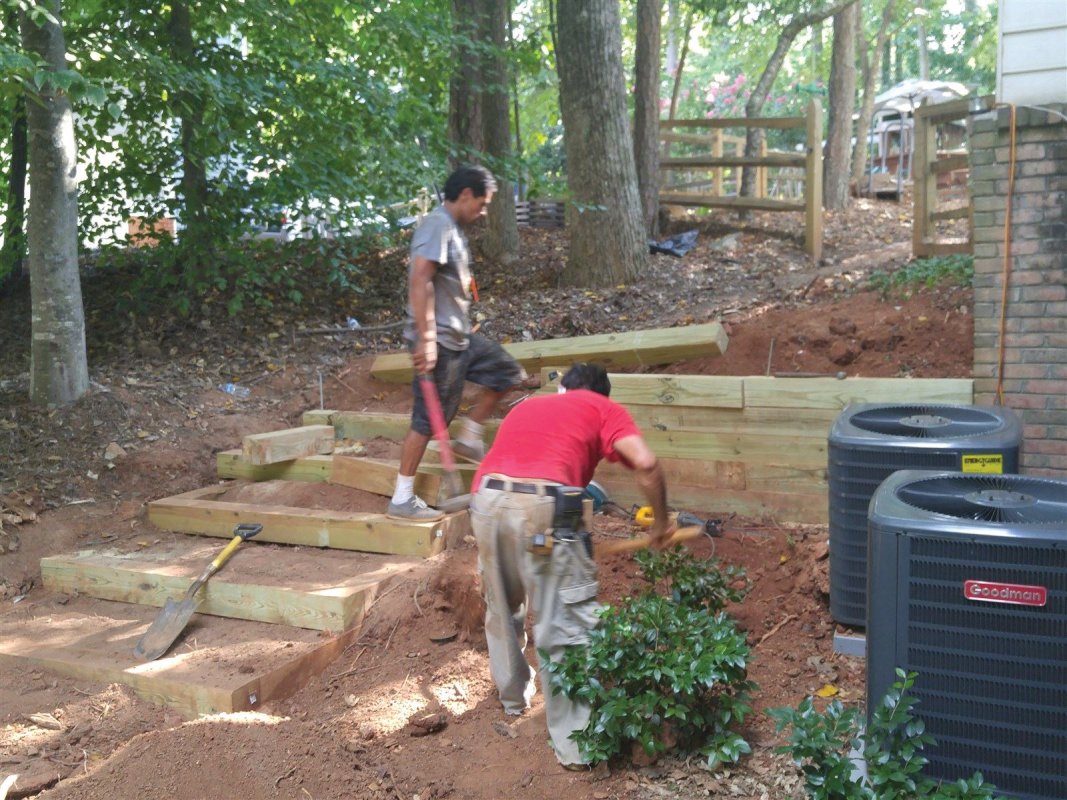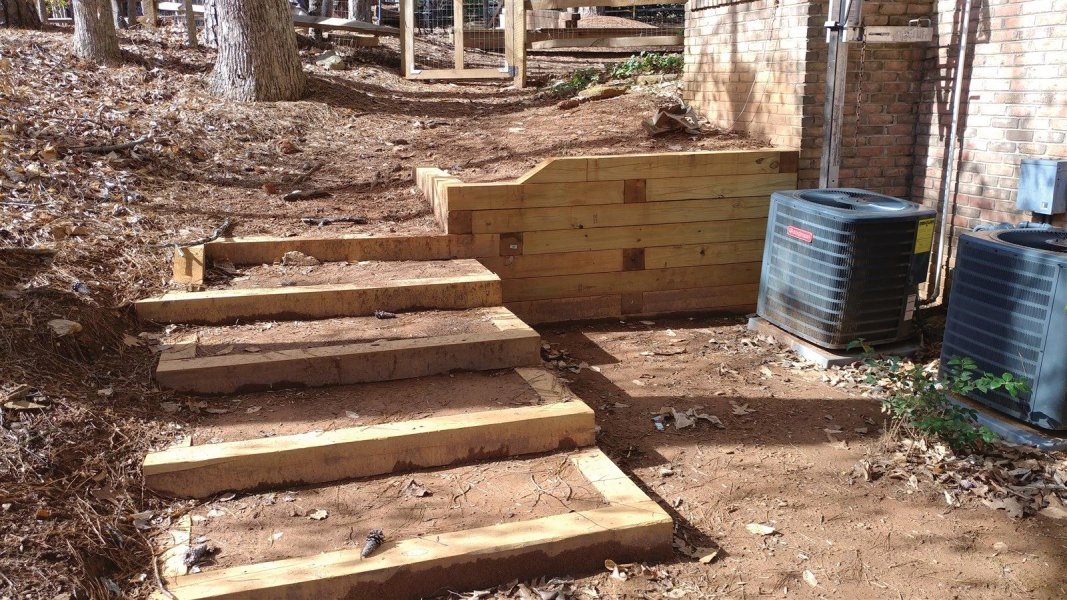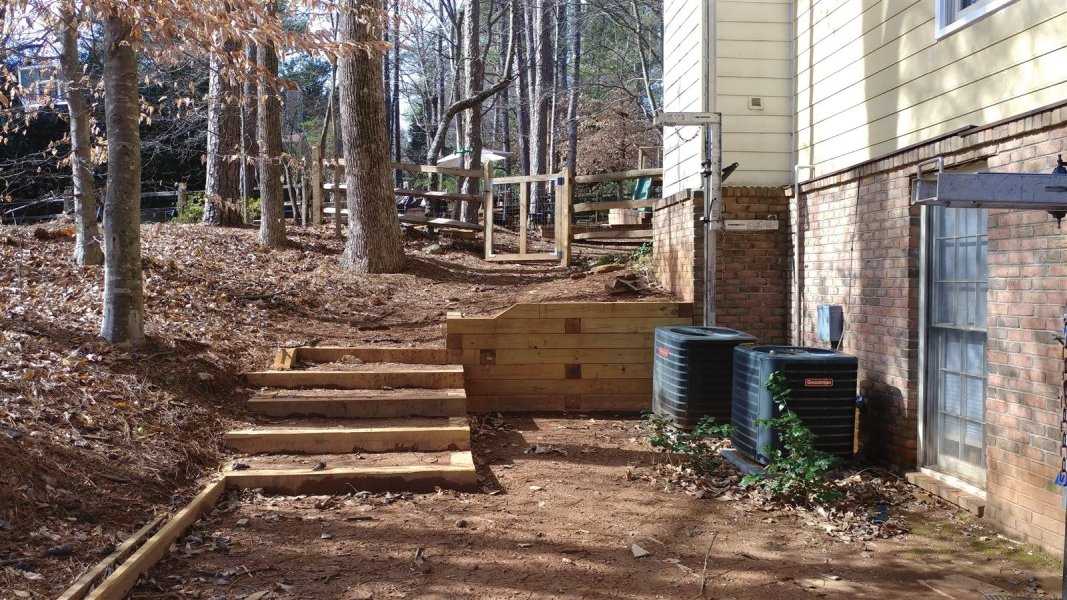 ALPHARETTA: We did a lot to this property, including replacing the HVAC unit, however, this blog is about the old retaining wall in the back. :) 
As small as the wall is you'd be surprised how long it takes to move some Earth. 
It's a lot of work just with two shovels. :) 
Alas the new wall makes a peak on this blog
Here she rests...6x6 pressure treated lumber from Home Depot
Looks nice...maybe some stain would look nice. Not sure.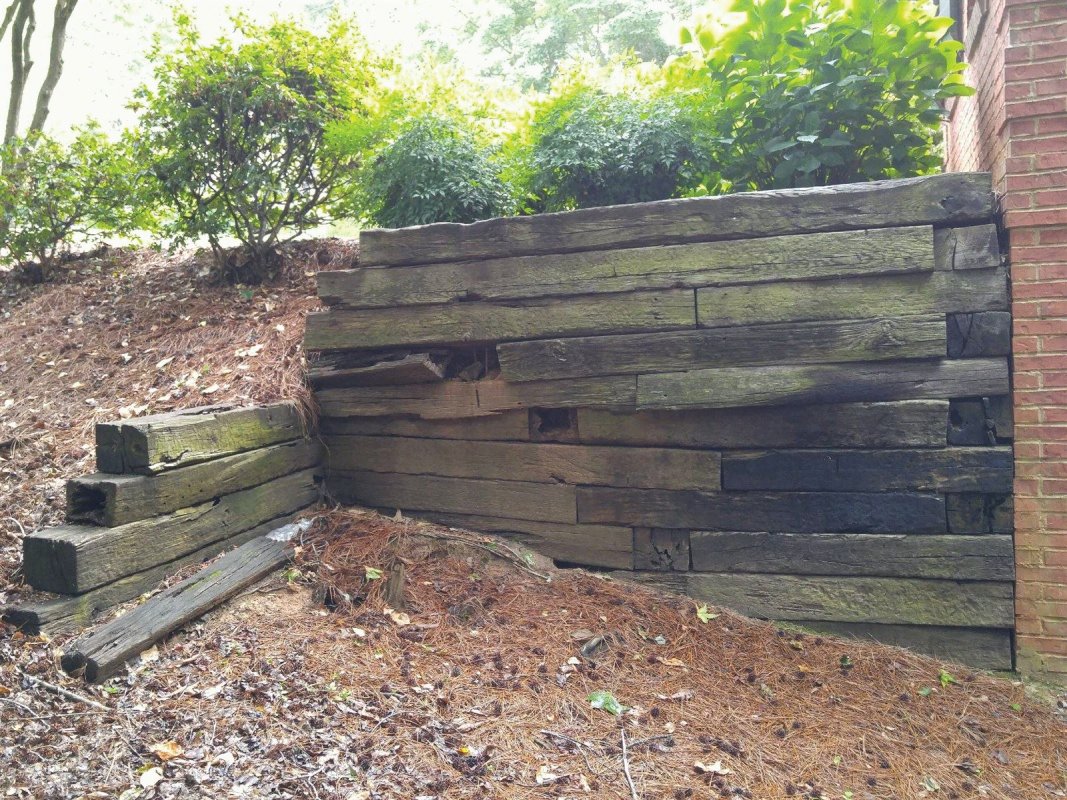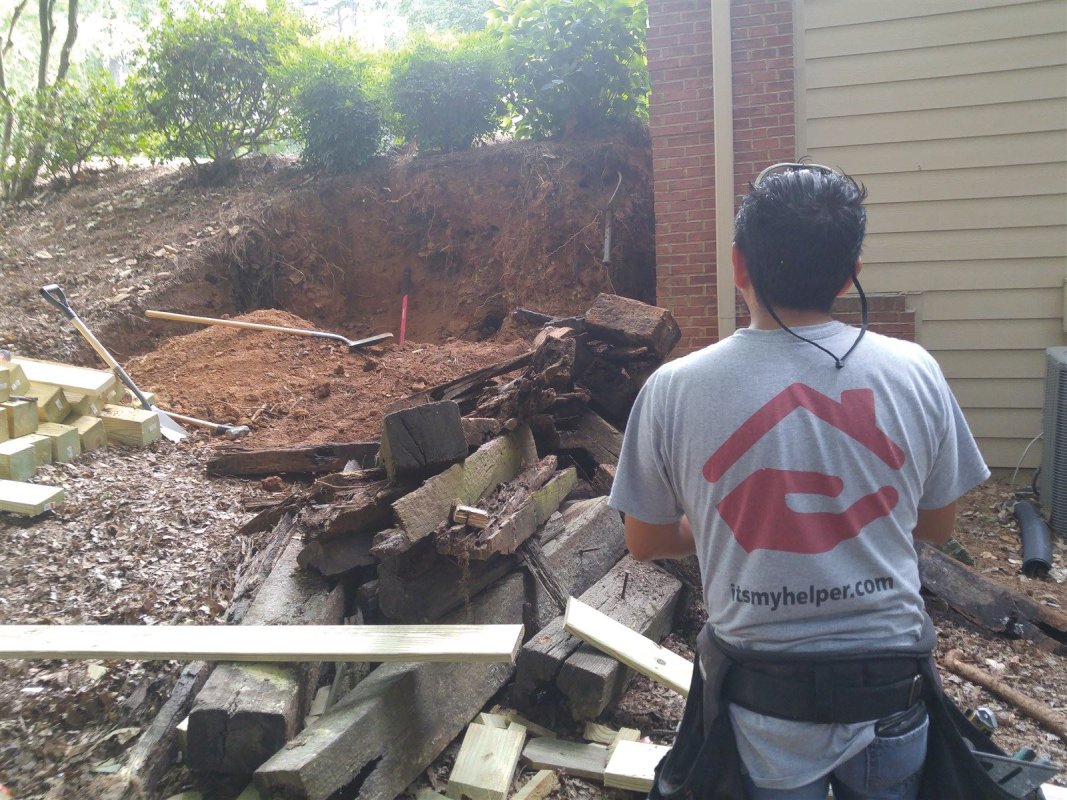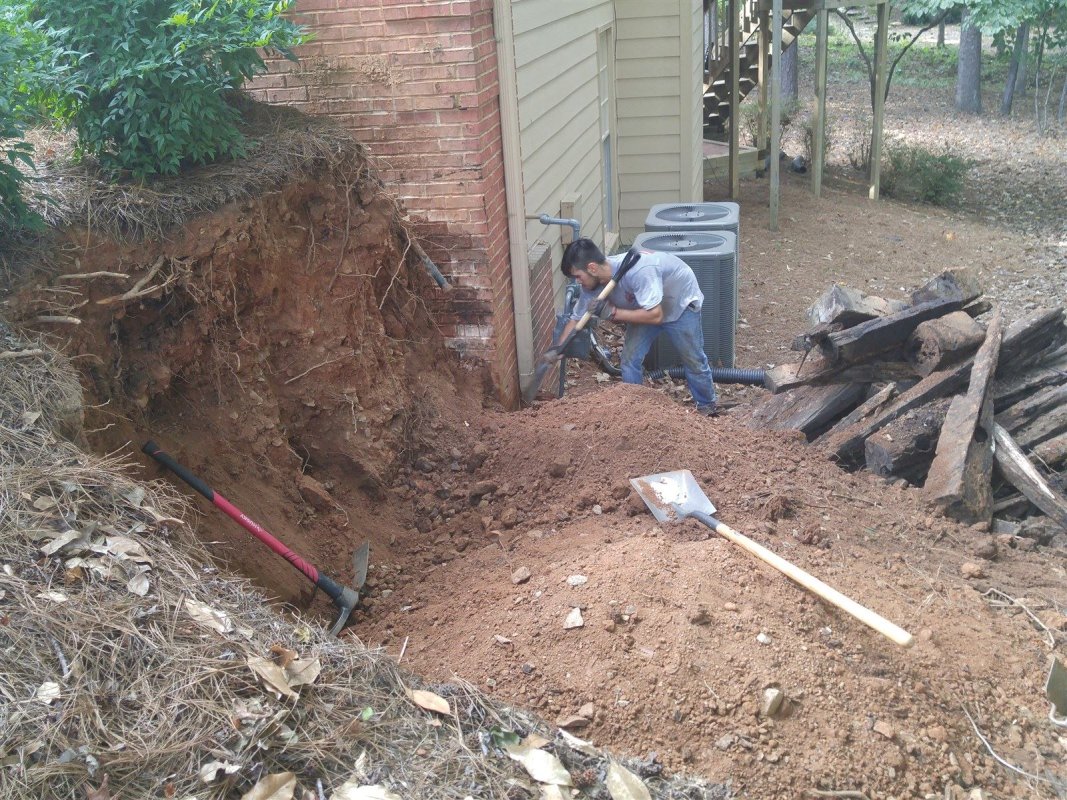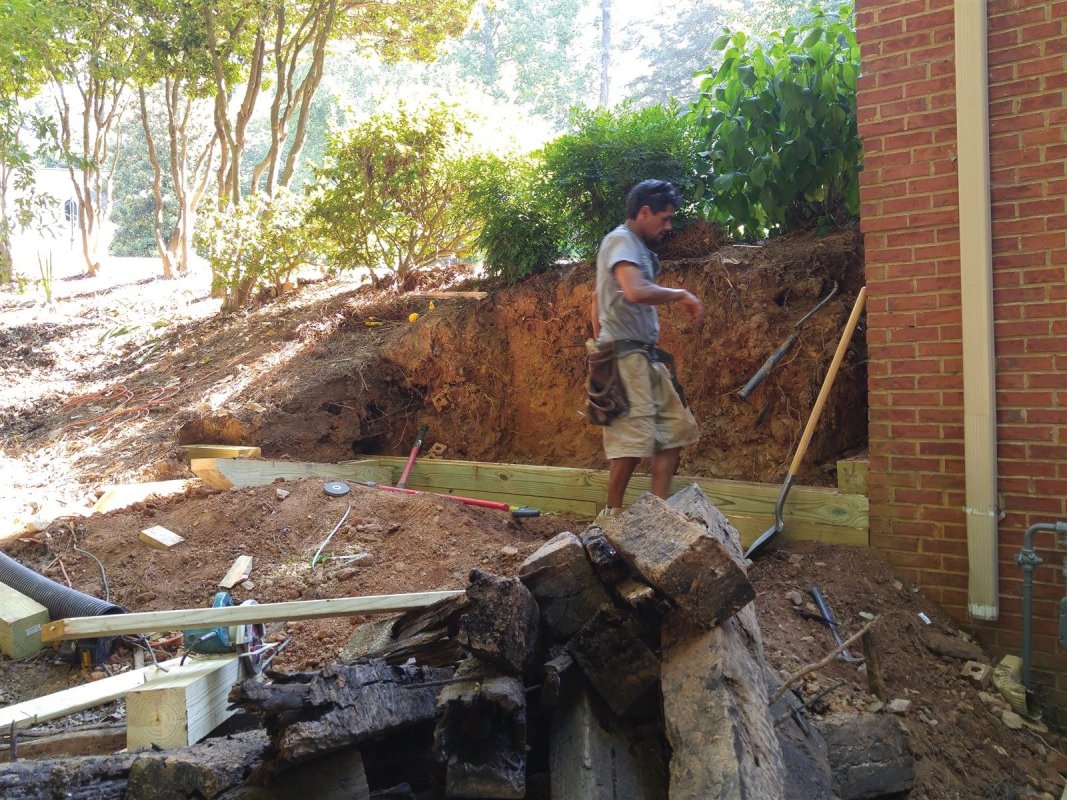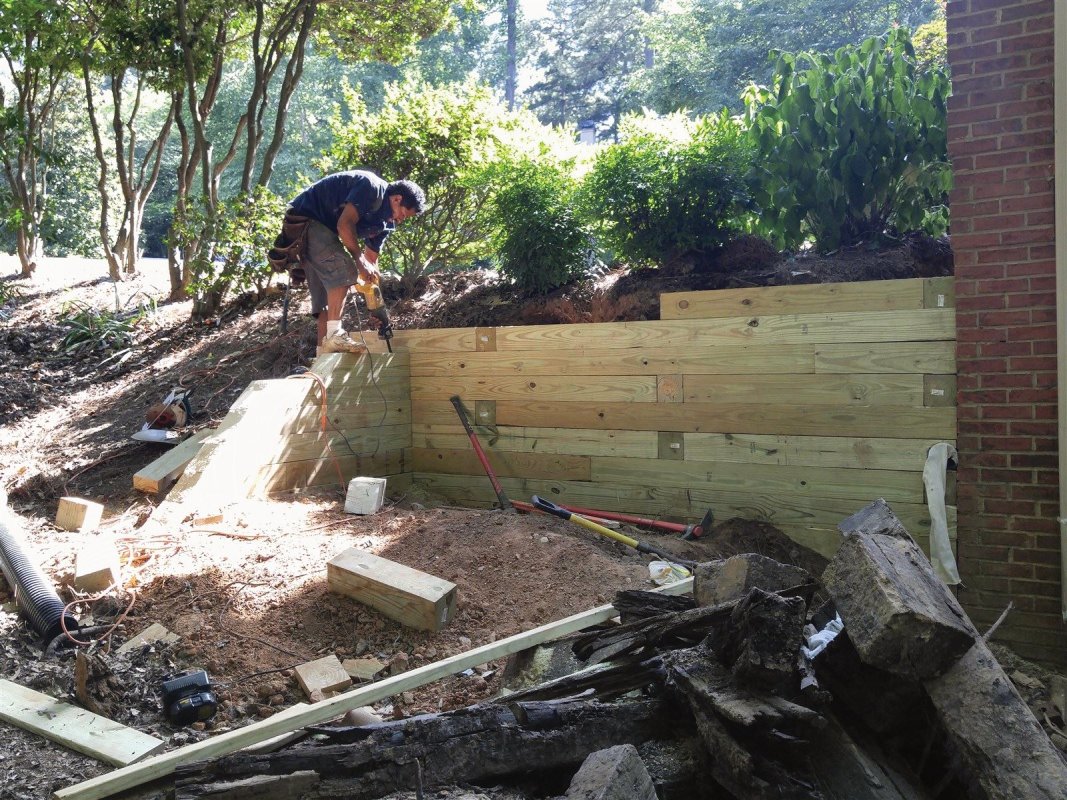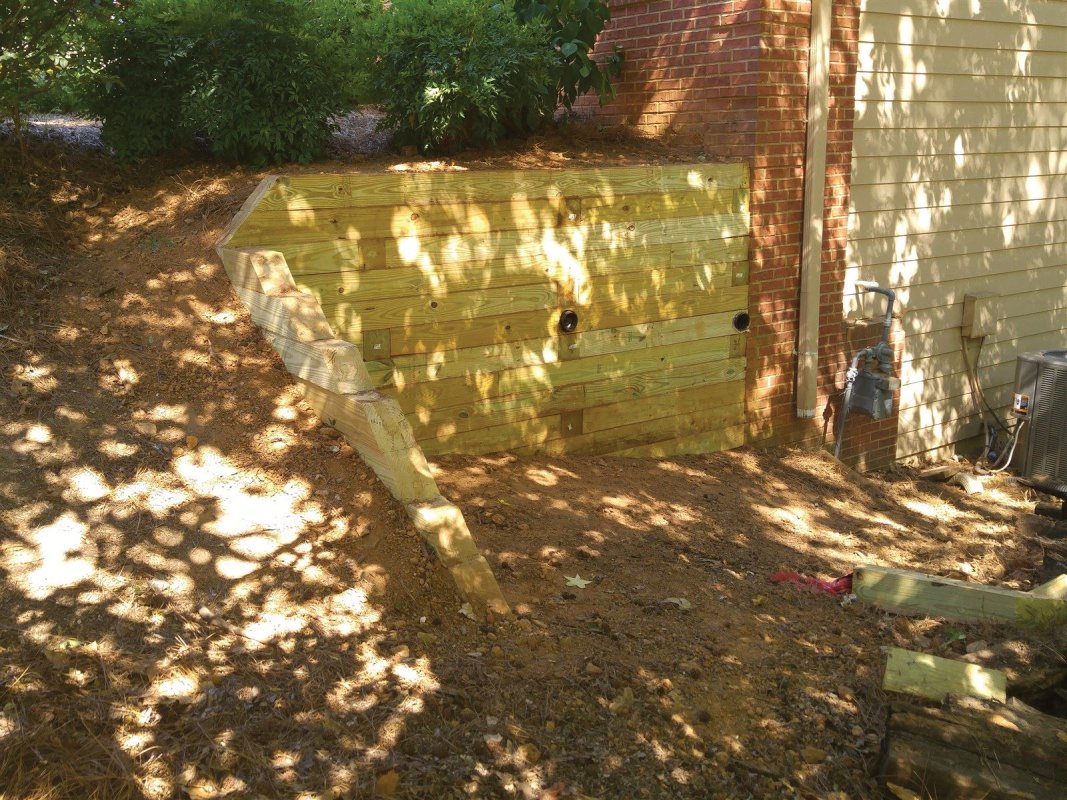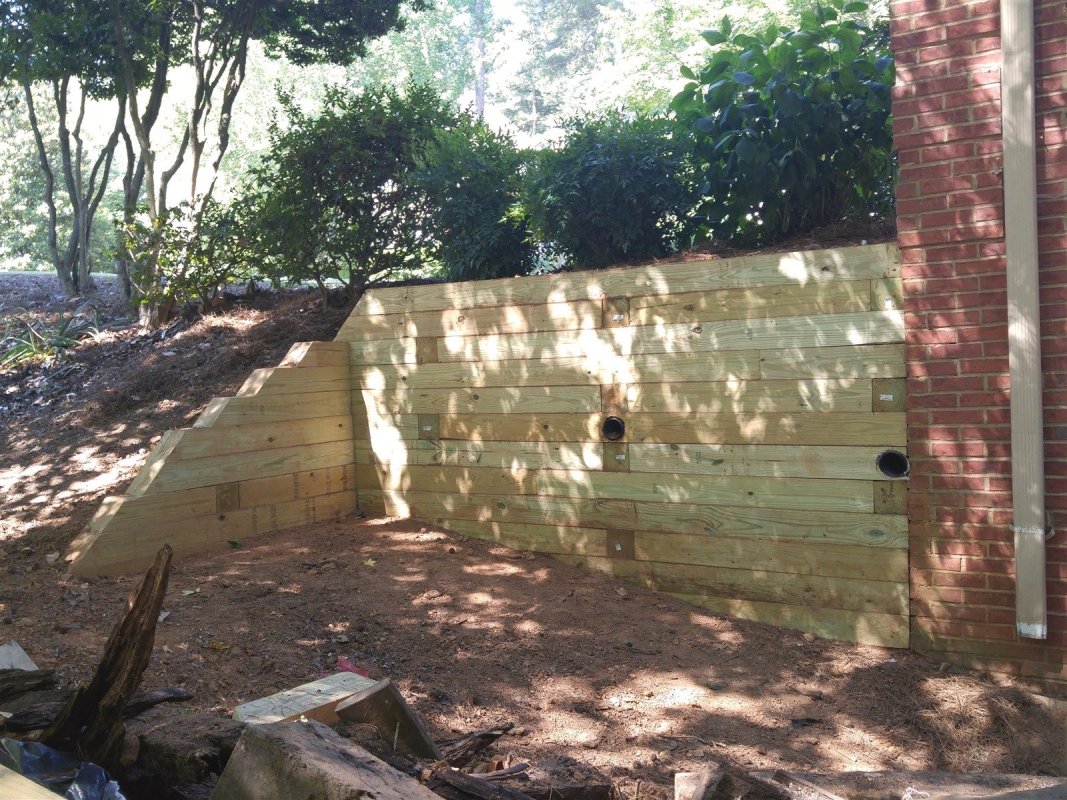 ALPHARETTA: Have I mentioned that we so very much appreciate referral business? Well we certainly do and here are  as a result replacing this retaining wall. The owners were getting the home ready for the market as they were retiring sooner than soon. 
It make not have looked like much but it was a lot of work tearing it down and moving some earth. 
Luckily we had some youth to help out some older backs. 
Then the reinforcement came in to wrap (or build) things up. 
Almost done....
              Here she stands!!!
Looking awesome!!!
/